Countries With the Most Police Officers Per Capita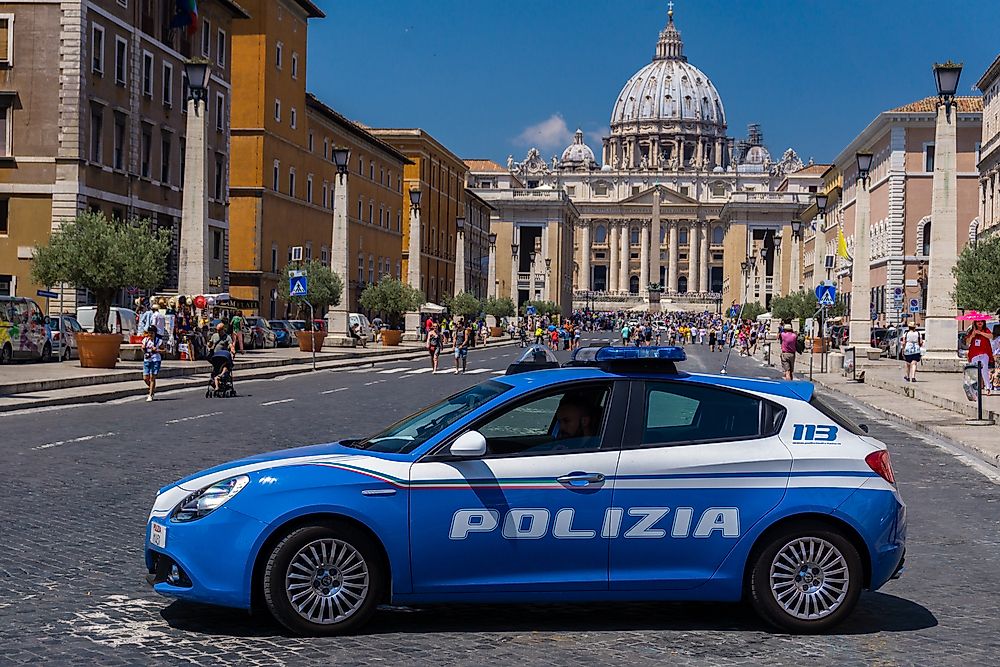 The generally accepted police to civilian ratio is 1:450 or approximately 225 police officers for every 100,000 people. There is no written or recommended ratio because societies differ in levels of crime, however, it is necessary for jurisdictions to have a good balance of police per given population so as not to strain the police service or leave citizens unprotected. Highly volatile societies definitely need more policemen than the relatively peaceful ones. Relatively peaceful and secure societies may need an additional police presence to protect institutions or places of interests. The Vatican, the Pitcairn Islands, and the Palestinian Authority are examples of jurisdictions with a high number of police officers per capita.
Countries With the Most Police Officers Per Capita
Vatican City
The Vatican City State is the smallest and least populated sovereign state on earth with an estimated population of about 1000 people which fluctuates and can go to as low as less than 500 depending on if the Pope is in or out of this jurisdiction. Considered to be one of the most secure places on the planet, the Vatican City covers a small area of approximately 110 acres. With this number, this state probably needs two or three officers but this is not the case as the Vatican has the highest police officers per capita, translating to 15,439 police officers for every 100,000 civilians. These are mainly the Gendarmerie Corps led by an Inspector General and the Swiss Guard who secure the Pope, dignitaries and all papal properties. The Gendarmerie uses the 9 mm semi-automatic Glock 17 as a standard firearm but, occasionally, they carry the Beretta M12 and Heckler & Koch MP5. When there is a possibility of riots, these officers are issued with tear gas canisters, paper spray, teasers, and batons.
The Pitcairn Islands
Also known as the Pitcairn, Henderson, Ducie, and Oeno Islands, the Pitcairn Islands is a British Overseas Territory made up of an archipelago of four volcanic islands in the Southern Pacific Ocean. With a total area of 18 square miles and only 50 permanent inhabitants, this territory has a high number of police officers per person that translates to 1,754 for every 100,000 people. Generally, countries that have overseas territories usually enlist a high number of security personnel for several reasons. Some of the reasons may be to tame any internal revolt or to protect the territory against external human hostilities. Also, this territory's location predisposes it to natural disasters like storms, earthquakes, and volcanic activities and therefore heavy specialized police presence needed. Another reason may be due to the high number of tourists to this territory who ultimately need protection. In 2004, residents of Pitcairn surrendered 20 guns during a sexual assault trial, a very high number of guns for the population.
Palestinian Authority
The term Palestinian Authority refers to the State of Palestine which is in the Middle East and, most UN member states recognize it though it is under constant territorial conflicts with Israel. The conflict between the two states over Israeli occupancy of areas they consider historically and religiously theirs has led to an increase in the number of extremists on both sides. Palestinian Authority has no army since Israel insists, in the Israeli–Palestinian peace process, that it will always demilitarize any form of a Palestinian army. Therefore, the state has a high number of police officers, 1,250 policemen in every 100,000 people, who use light weapons approved by Israel. These policemen are in different specialized units like Civil Police, Public Security, and Intelligence with the head of state as their commander-in-chief.
Why Countries Need the Police
The need for police arose when societies became complex and needed a security system to deal with internal civilian disorder while leaving the military to deal with external aggression. From that point to date, the police have the mandate of maintaining law and order as well as intervening in situations considered dangerous for non-trained civilians. Ideally, the police ought to act within the confines of the law and be accountable to citizens.
Countries With the Most Police Officers Per Capita
| Rank | Country | Police Officers Per 100,000 People |
| --- | --- | --- |
| 1 | Vatican City | 15,439 |
| 2 | Pitcairn Islands (UK) | 1,754 |
| 3 | Montserrat (UK) | 1,544 |
| 4 | Belarus | 1,442 |
| 5 | Monaco | 1,302 |
| 6 | Palestinian Authority | 1,250 |
| 7 | Niue (New Zealand) | 1,088 |
| 8 | Brunei | 1,068 |
| 9 | Saint Kitts and Nevis | 973 |
| 10 | Sint Maarten (Netherlands) | 967 |
| 11 | Saint Helena, Ascension and Tristan da Cunha4 (UK) | 924 |
| 12 | Grenada | 871 |
| 13 | Bahamas | 793 |
| 14 | Nauru | 793 |
| 15 | Bermuda (UK) | 757 |
| 16 | Singapore | 713 |
| 17 | Dominica | 709 |
| 18 | Antigua and Barbuda | 695 |
| 19 | Bulgaria | 694 |
| 20 | Montenegro | 677 |
| 21 | Tuvalu | 676 |
| 22 | Serbia | 635 |
| 23 | Macau (China) | 628 |
| 24 | Saint Vincent and the Grenadines | 628 |
| 25 | Cyprus1 | 621 |
| 26 | Cayman Islands (UK) | 567 |
| 27 | Macedonia | 564 |
| 28 | Argentina | 558 |
| 29 | Cook Islands (New Zealand) | 552 |
| 30 | Spain | 533 |