Countries With The Highest Expenditures On Medicines As A Percentage Of GDP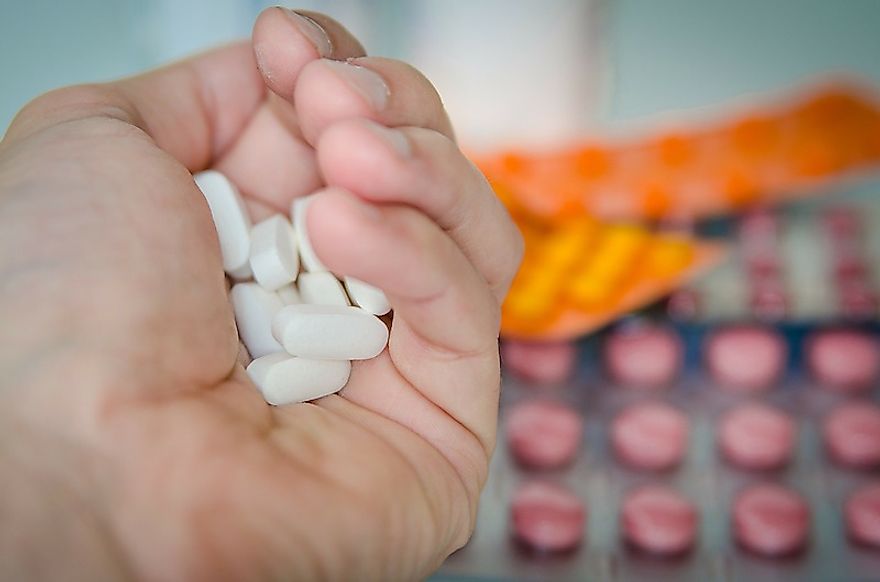 Many countries in the world today have graying populations or baby boomers that are in the 65 years old and above age range. In 2000, the estimate of the aged population in the world was about 600 million senior citizens. This is a historical phenomenon that started in the 1950s and continued to affect the world economy. This trend has caused the public expenditure to shift to healthcare causing governments to impose higher taxes or a reduction in its role in healthcare.
The increase in public drug spending has been studied and according to F. Lichtenberg's work, health outcomes has been seen on longevity, quality of life, and work productivity. Most of these have been due to new active substances in drug novelty. New pharmaceutical technologies have also increased productivity and employment rates. Private spending on drugs makes up for a larger portion of the total pharmaceutical spending in developing countries. However, in lower-income countries, pharma drug spending makes up for the total spending on health expenditure. The share of GDP expenditure on pharmaceutical drugs is seen as having a similar pattern in most regions.
United States
In the United States where spending on pharmaceutical drugs accounts for 2% of its GDP, it has been a common practice to turn to Mexico for cheaper drugs for many decades now. Although the bulk of pharmaceutical drugs sold are used for legitimate medication, there is that big share of drug addiction to painkillers and using them for recreational purposes as well. This accounts for about 16,000 deaths and 475,000 emergency room visits annually.
Japan
In Japan, pharmaceutical drug expenditure accounts for 1.9% of its GDP. In recent years, the government has instituted drug price cuts and allowed pro-generics policies to prosper to control drug spending. This situation should increase generics drug use to 59% estimate in 2017 and reach a possible 70% in 2025. As a result, Japanese pharma companies are looking to increased their revenues from overseas sales. A yearly drug price cut is also being proposed by the government.
Greece
In Greece, public pharmaceutical drugs spending has reached a 1.8% ratio to its GDP. In recent years, Greece has been hit by a low supply of pharmaceutical drugs due to the government's public spending cuts and capital restrictions. Although this has not decreased the demand, government measures such as cost containment and market regulations have made a difference in public drug expenditure.
Portugal
In Portugal, public expenditure on pharmaceutical drugs accounts for 1.8% of its GDP. The spending on pharmaceutical drugs in the country is seen in the overall environment of health expenditure. Recent drug price cuts have been seen as good for the people, and the government has lesser amounts to reimburse, but this price cut could lead to pharma drug supply shortages. The government's reimbursement scheme has four tiers according to law.
Spain
In Spain, public pharmaceutical drugs spending has reached 1.5% ratio to its GDP. The government has introduced drug price cuts, increased cost-sharing, and an overall budget for pharma drugs expenditures. One other issue is the lack of a drug generics market and budgets for doctors. A recent list of drugs that are no longer qualified for the reimbursement program has also caused issues. The last 15 years, however, showed a 264% increase in real pharma drug expenditures.
Other major EU countries also showed an increase in its public pharmaceutical drugs expenditures such as in France, where it accounted for 1.4% of its GDP. In Italy, it accounted for 1.3% of its GDP while in Germany, it accounted for 1.3% of its GDP. In Belgium, public pharma drugs expenditures made up 1.2% of its GDP while in Ireland, it was 1.1% of its GDP.
Countries With The Highest Expenditures On Medicines As A Percentage Of GDP
| Rank | Country | Expenditure As A % Of GDP |
| --- | --- | --- |
| 1 | United States | 2% |
| 2 | Japan | 1.9% |
| 3 | Greece | 1.8% |
| 4 | Portugal | 1.8% |
| 5 | Spain | 1.5% |
| 6 | France | 1.4% |
| 7 | Italy | 1.3% |
| 8 | Germany | 1.3% |
| 9 | Belgium | 1.2% |
| 10 | Ireland | 1.1% |