Cities With the Most Michelin Star Restaurants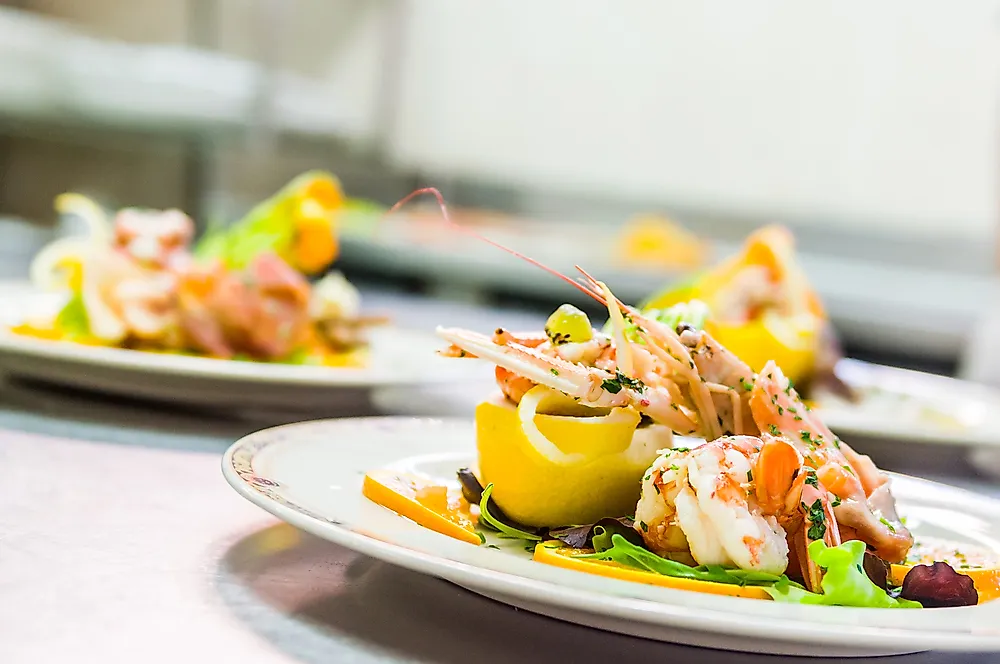 The Michelin Star award is the most sought-after honor of the restaurant world. It is regarded as the hallmark of fine dining. The award recognizes the best restaurants in terms of settings, quality, and service.
The Michelin Star system has its humble beginnings as a guide created to show French drivers where the local amenities such as restaurants were. The stars are organized into three categories, one star meaning "worth a stop," two stars meaning "worth a detour," and three stars meaning "worth a special trip." Michelin guide has inspectors who visit the restaurants but remain anonymous and grade restaurants according to the quality of service and quantity of food.
10. Brussels - 31
Brussels is one of the top foodie destinations in Europe. It is the third most starred European city by Michelin with 26 restaurants holding at least one star. However, the city has no three-star restaurants. One of its best Michelin-starred restaurants include Sea Grill for sea and fish food, making it one of the restaurants for such fare in Belgium. Bon Bon restaurant offers diners the option of a three-course Manu du Marche or a five-course Manu Impro inspired by table request. Other starred restaurants include La Truffe Noire, Comme Chez Soi, and Le Chalet de la Foret.
9. Chicago - 35
Chicago is not only known for the large population but also as a leisure travel destination. The hospitality industry in the city has been growing to meet the high demand from the locals and travelers. Although Chicago has hundreds of restaurants, 35 were awarded at least one Michelin star. Two restaurants, Grace and Alinea, retained their three-star statuses while five restaurants were awarded two stars. A record 19 restaurants received one star. Alinea has been awarded three stars since 2011 because of its innovation. Two Michelin-star restaurants include Acadia, 42 Grams, Oriole, Sixteen, and True.
8. San Francisco - 46
San Francisco will never disappoint when it comes to dining. With a total of 46 Michelin-starred restaurants, the city has no shortage of fine dining options. The Bay area has six three-star restaurants, same as New York City. Quince restaurant was upgraded from a two-star to a three-star restaurant in 2017 while Saison, Benu, Meadowood, Manresa, and The French Laundry maintained their accolades. Along with six three-star restaurants, there are seven two-star, and several one-star restaurants including newbie. The Michelin-starred restaurants in San Francisco are popular for refined modern cuisine in an innovative restaurant setting. Two of the city's restaurants, All Spice, and Ame, were dropped out of the Michelin star list. The two have since closed down.
7. London - 79
London hosts the best restaurants in the UK. It is a major foodie destination not only in the country but also in Europe. London is the second most Michelin Starred city in Europe with more than 60 starred restaurants. The city also hosts some of the award-winning chefs like Gordon Ramsey and Michael Roux Jr. Two of London's restaurants, Alain Ducasse and Restaurant Gordon Ramsey were awarded three Michelin stars. There were 8 new one-star entries in 2017 with only one restaurant, Raby Hunt, gaining a second star. The new entries include Pidgin, The Ninth, The Ritz, Trinity, and Ellory among other restaurants.
6. Hong Kong - 87
Hong Kong is a huge financial hub with high demand for upscale dining and cuisine. Over sixty restaurants in the city hold at least one Michelin star. Six of the Hong Kong's restaurants have been awarded three stars for their exceptional cuisine. These restaurants include Bo Innovation, Lung King Heen, Sushi Shikon, T'ang Court, and Bombana. 14 restaurants were awarded two stars while 44 were awarded one star. Some of the new entries included Kashiwaya, Ta Vie, Beefbar, and Epure. Hong Kong had over 49 different cuisines listed in the Michelin guide. The Japanese cuisine has also become popular in the city with more Japanese restaurants opening.
5. New York - 99
New York is one of the food capitals of the world. It has the most Michelin star restaurants in the United States. It has 77 starred restaurants out of which six have been awarded the top accolade of three stars. The six restaurants include Eleven Madison Park, Table at Brooklyn, Jean-Georges, and Per Se. There are 10 two-star restaurants in New York with Aska as the new entry while 62 one-star restaurants were awarded one star. Some of the new one-star restaurants in New York include Agern, Contra, Faro, Gunter Seeger, Kanoyama, La Sirena, and Nix.
4. Osaka - 117
Japan is rapidly becoming a top food destination in the world with three of its cities making it to the top five food destinations. Osaka is home to several top quality restaurants that offer first class fare. The city has 91 Michelin-starred restaurants. Three of the restaurants have been awarded the top accolade of three stars while 20 and 68 restaurants have been awarded two stars and one star respectively. The three Michelin star restaurants in Osaka include Taian, Fujiya, and Koryu. Other top Michelin starred restaurants include Hajime, Takama, Asai, and Pierre. The restaurants not only offer top quality food but also cool settings and services that make guests want to come back again and again.
3. Paris - 134
Paris is the top food destination in Europe. It is considered the continent's foodie capital with hundreds of restaurants and eateries. Paris restaurants offer a wide variety of cuisines due to its diversity. The city is home to 100 Michelin-starred restaurants with ten of the restaurants receiving the highest accolade of three stars. The latest upgrade to the three-star category is the Cheval Blac restaurant whose chef, Yannick Alleno, holds three Michelin stars placing him in the esteemed group of "Six Star Chefs." Paris also boasts 14 two-star restaurants and 76 one-star restaurants.
2. Kyoto - 135
Kyoto is a historical center of culture, religion, and cuisine. It is not only known for some of the oldest shrines in the world but also as a home to some of the oldest eateries in the world. Kyoto boasts of over 100 Michelin starred restaurants offering food that ranges from traditional Japanese to modern fusion style. The city has 7 three-starred restaurants including Hyotei that has been in existence since the 17th century and Nakamura which dates back to the Edo Period. 25 restaurants were awarded two stars in 2017 while 64 were awarded one star.
1. Tokyo - 304
Tokyo is considered the food capital of the world. For much of the last decade, the city has held the world record for the highest number of Michelin-starred restaurants, beating great cities such as Paris, London, and New York. Tokyo has more than 225 restaurants holding at least one Michelin star. Twelve restaurants in the city including Ginza Kojyu, Ishikawa, Joel Robuchon, and Azabu Yukimura have been awarded three Michelin stars. 54 restaurants boast of two stars while 160 have one Michelin star each. One of the three-star restaurants, Usuki Fugu Yamadaya, specializes in fugu, one of the deadliest foods if not well prepared.