Biggest Cities In Nigeria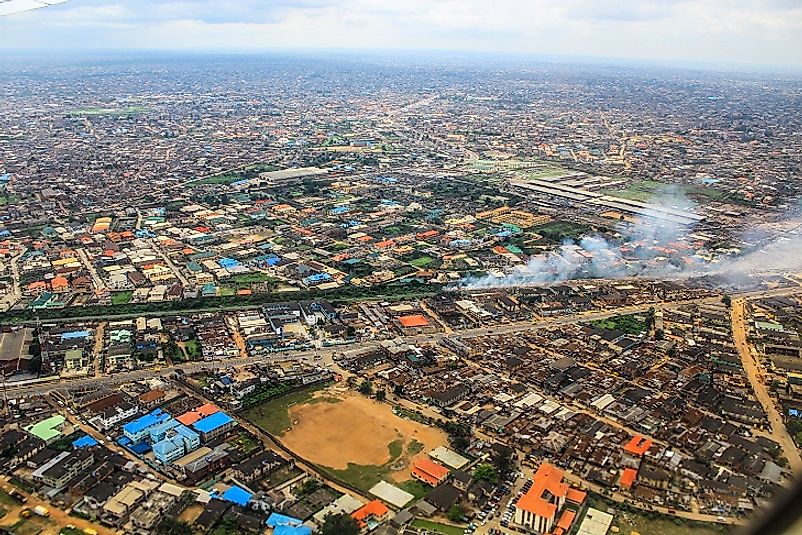 Nigeria is an emerging economy in Sub-Saharan Africa, and the most populous country in Africa. The population of Nigeria was approximately 182.2 million people as of 2015. Nigeria's cities have been increasingly growing due to economic progress and have become destinations for rural-to-urban migration. The population in Lagos city has primarily surged over the years, with millions of people being lured by economic opportunities and better infrastructure. Some of the biggest cities in Nigeria are looked at below.
1. Lagos - 8,048,430
Lagos is one of earth's largest urban areas. The city was the capital of Nigeria between 1960 and 1975. The city is situated on four main islands namely, Lagos, Victoria, Iddo, and Ikoyi which are all connected by a network of bridges. Lagos is a financial, commercial, educational center in Nigeria. Industries that thrive in the city include textiles, automobile assembly, food and beverage processing, metal works, and pharmaceuticals.
Lagos is also an important sea port and fishing zone. Lagos has increasingly become the destination base for companies venturing into Africa due to the competitive business market in the continent. Population in Lagos is diverse in ethnicity due to local and global migration. The Yoruba are the largest ethnic group, alongside other groups such as the Igbo, Fulani, and Hausa. With its economic growth, economic disparities among the population have become a phenomenon in Lagos.
2. Kano - 2,828,861
Kano boasts of a population of 2,828,861 residents, and it is situated in the North Western region of Nigeria. The Hausa people mostly dominate the area and around 98% of the total population is Muslim. The Hausa language is widely spoken in the region while the official business language is English. Kano has a bustling industrial sector with industries such as textiles, food processing, plastics, pharmaceuticals, chemicals, cement, soap, metal works, and furniture.
The city is also an agricultural center for produce such as peanuts, wheat, cotton, millet, rice, and maize. Kano's prominence has been widely challenged by insecurity from radical groups such as Boko Haram. The uncertainty has caused traders to leave the city and unemployment to rise.
3. Ibadan - 2,559,853
Ibadan City boasts of housing around 2,559,853 people and is the capital city of Nigeria's Oyo State. It is situated on the South Western Part of Nigeria. Ibadan was founded in the 18th Century by the Yoruba community, who are still predominant in the city to this day. Industries in Ibadan include cigarette manufacture, food processing, furniture, metal works, handicrafts, and soap. Cacao and Cotton are the major agricultural products produced in the city. Ibadan is also a major educational center and is home to Nigeria's first university, named the University of Ibadan. Ibadan is linked to local and national destinations through road and air transport infrastructures. An increase in population in Ibadan has led to pressure exerted on its existing public utilities. This situation has caused proliferation of slum dwellings, characterized by poor living conditions, poor sanitation, and open drainage system, which pose health hazards to Ibadan's population. Traffic congestion in Ibadan is a daily occurrence due to increased vehicular traffic.
Rapidly Expanding Nigerian Cities
Other massive cities in Nigeria in regard to their population sizes include Benin City with 1,147,188 residents, followed by Port Harcourt (1,005,904), Jos (821,618), Ilorin (777,667), Abuja (776,298) and Kaduna (760,084). The ever increasing Nigerian population is expected to reach 440 million by 2050, according to United Nation's statistics. Proper planning strategies are needed from Nigerian's government in regards to how to mitigate challenges caused by such high, and still growing, populations in the country's urban centers.
Biggest Cities In Nigeria
| Rank | Biggest Cities in Nigeria | Metro Population |
| --- | --- | --- |
| 1 | Lagos | 21,000,000 |
| 2 | Kano | 3,550,000 |
| 3 | Ibadan | 3,160,000 |
| 4 | Abuja | 3,000,000 |
| 5 | Benin City | 1,147,188 |
| 6 | Ilorin | 908,490 |
| 7 | Jos | 873,943 |
| 8 | Kaduna | 760,084 |
| 9 | Enugu | 722,664 |
| 10 | Warri | 557,398 |