Society
Biggest Cities In Florida
Miami, the biggest city in Florida, is a central point for finance, trade, commerce, culture, and entertainment in the state.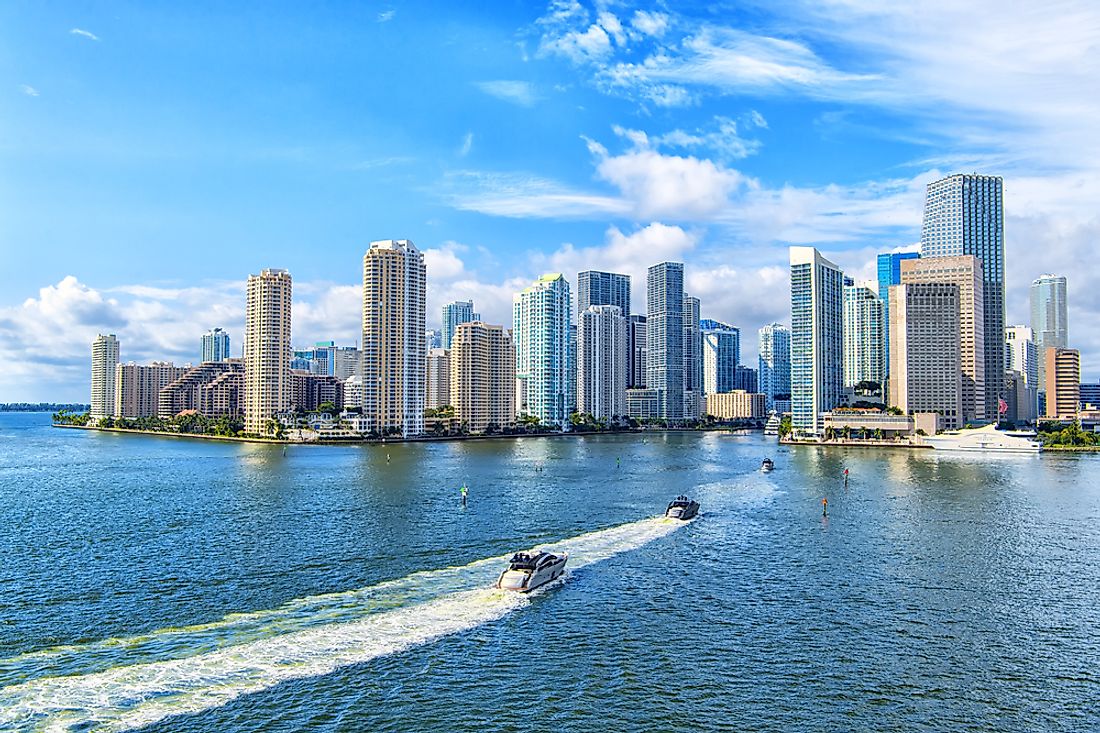 Florida State is in the southeastern part of the US. The state lies on the coastline of the Atlantic Ocean to its east and south and borders Alabama and the Georgia States by land. Stretches of beaches have made Florida a top tourist destination and tourism is subsequently a booming industry in the state. Florida state has the fourth largest economy in the US and relies on agriculture, manufacturing, international trade and financial services alongside tourism. Industries in Florida include electronics, machinery, and food processing and publishing. Oranges, potatoes, grapefruit, melons, and sugar cane are some of the products produced in the state. In regards to population, Florida ranks third in the US and is home to Latin Americans, Asians, and African Americans among the majority European Americans. The climate of the state is mostly warm and sunny, except for a rainy season between the months of May and October. Different cities in Florida rank differently regarding population and livability.

Biggest Cities in Florida
Miami
Miami is the biggest city in Florida, with a population of 5,502,379. Miami has earned the title of 'Capital of Latin America' due to its high Latin American population, primarily Cubans. Miami's culture has been influenced over the years by immigrants from Latin America and the Caribbean. Spanish and Haitian Creole are spoken widely in parts of the city.
Miami is a vital seaport city in Florida and the US for trade, and it also the top passenger port globally. As a tourism center, Miami is home to beaches, resorts, museums and parks. Being a financial hub, Miami is home to numerous International and Edge Act banks and company headquarters, which employ a substantial part of the population. Health care and technology are fast rising industries in the city. The city, however, ranks low on livability due to high crime rates, expensive housing, and a relatively high unemployment rate.
Tampa-St. Petersburg
Second among the biggest cities in Florida, the Tampa-St. Petersburg is home to 2,441,770 inhabitants. This population is employed in various industries such as food processing and packaging, agriculture, financial firms, aerospace and aviation, medical and health technologies, tourism, electronics manufacture, and technology. Marine science education has become rooted in the region, due to the proximity to Tampa Bay and the Gulf of Mexico. Plenty of sunshine throughout the year gives the area a pleasant climate. A low cost of living, relatively low unemployment rates, and an excellent infrastructure makes the city livable except for high crime rates.
Orlando
Ranking third among the biggest cities in Florida, the Orlando city, situated in Central Florida, boasts a population of 1,510,576 inhabitants. The city is renowned as 'The Theme Park Capital of the World'. The Walt Disney World vacation resort in the city is the most visited globally. Other resorts are Sea World and Universal Orlando Resort. Tourism is a booming industry in Orlando, boasting more than 50 million tourists annually. Quality healthcare, recreational facilities, quality education and modern infrastructure have all fueled the increasing population in Orlando over the years.
Top Cities in Florida
A high population does not always translate to high livability rankings. Factors such as education, employment, crime levels, the cost of living, weather conditions, social amenities, and housing contribute to a city's livability.
Biscayne
The Florida city of Biscayne is home to 12,774 inhabitants. Biscayne is an island city which borders the Atlantic Ocean and the Biscayne Bay, and it scored 88 % Livability index in 2016. The population of the city is small, a situation which has led to the cultivation of a good community life. Recreational facilities, low unemployment rates, and good schools make the city the most livable in the state.
Palm Beach
Palm Beach is also one of the top cities in Florida and has a population of 8,344 residents. It is a city island in Florida that has managed to become a top tourist destination in the state. Affordable housing, good schools, infrastructure, and a low unemployment rate make this city one of the most livable cities in Florida with a livability index of 87.
Florida's growing economy has been attracting immigrants from other places in the US and globally. The growing population has, in turn, fueled economic growth. This situation has resulted in a cycle of immigration and economic growth. Florida's cities are increasingly becoming attractive to potential residents, due to the development of facilities such as housing and infrastructure.
What are the Biggest Cities in Florida?
The largest cities in Florida are Miami, Tampa, Orlando, and Jacksonville.
Biggest Cities In Florida
| Rank | Name | Population |
| --- | --- | --- |
| 1 | Miami | 5,502,379 |
| 2 | Tampa-St. Petersburg | 2,441,770 |
| 3 | Orlando | 1,510,516 |
| 4 | Jacksonville | 1,065,219 |
| 5 | Sarasota-Bradenton | 643,260 |
| 6 | Cape Coral-Fort Myers | 530,290 |
| 7 | Palm Bay-Melbourne | 452,791 |
| 8 | Port St. Lucie | 376,047 |
| 9 | Palm Coast-Daytona Beach-Port Orange | 349,064 |
| 10 | Pensacola | 340,067 |
| 11 | Kissimmee | 314,071 |
| 12 | Bonita Springs | 310,298 |
| 13 | Lakeland | 262,596 |
| 14 | Tallahassee | 240,223 |
| 15 | Winter Haven | 201,289 |
| 16 | Fort Walton Beach-Navarre-Wright | 191,917 |
| 17 | Gainesville | 187,781 |
| 18 | Deltona | 182,169 |
| 19 | North Port-Port Charlotte | 169,541 |
| 20 | Ocala | 156,909 |
About the Author
Benjamin Elisha Sawe holds a Bachelor of Arts in Economics and Statistics and an MBA in Strategic Management. He is a frequent World Atlas contributor. 
This page was last updated on June 4, 2018.
Citations
Your MLA Citation
Your APA Citation
Your Chicago Citation
Your Harvard Citation
Remember to italicize the title of this article in your Harvard citation.