Biggest Cities In Andorra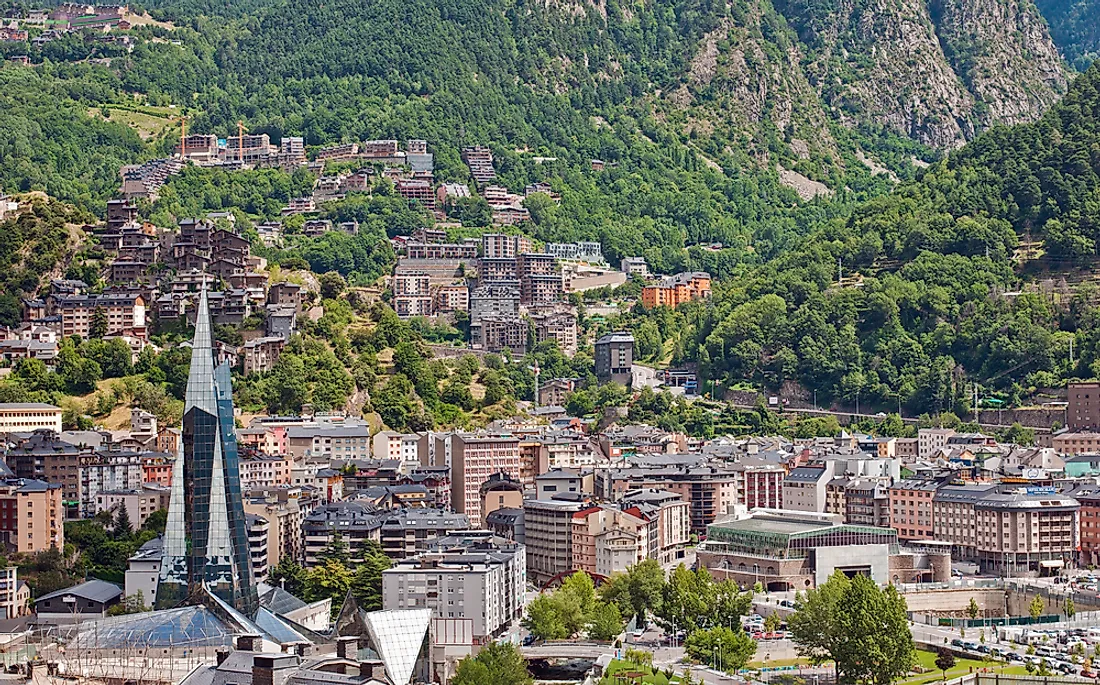 Andorra is a very small country in southwestern Europe. Because its total area is 181 square miles, Andorra is often referred to as a mini-state or microstate. This country is located between France and Spain in the Pyrenees mountains. Within this area lives a population of approximately 85,470. This article takes a look at the most populated urban areas in this country.
The 5 Most Populated Cities In Andorra
Andorra la Vella
Andorra la Vella is both the most populated city in Andorra and the country's capital. It has a population of 22,256, although the entire metro area has more than 40,000 inhabitants. Approximately 43% of the population is of Spanish descent and 33% is ethnic Catalan. Catalan is the official language here, however, French, Spanish, and Portuguese can also be heard given the significant immigrant presence. The largest minority groups are Portuguese (11%) and French (7%).
This city is located at 3,356 feet above sea level, which contributes to high levels of snowfall. The principal economic activity here is tourism, which makes up 80% of the country's gross domestic product. Around 10 million tourists come every year and many of these individuals visit the local ski resort. Other common industries include brandy and furniture production. Additionally, Andorra la Vella is known as a tax haven and has drawn the business of many banks and companies.
Escaldes-Engordany
The Parish of Escaldes-Engordany is comprised of 5 areas: les Escaldes, Engordany, Els Vilars d' Engordany, Engolasters, and El Fener. Together, these areas have a population size of 14,395. The two oldest urban areas in this parish are les Escaldes and Engordany, hence the province name. Engordany has been inhabited since around the 1st century BC. The earliest inhabitants of this area were farmers and livestock herders, but over time, specialized professions began to form. One of the most common of these professions was focused on the production of wool which gave way to a textile industry. This textile industry resulted in the foundation of Les Escaldes. During the Middle Ages, Les Escaldes was famous for its successful textile industry. Today, it is famous for the Santa Anna dance. This parish is also known for having the first spas in the country due to the large concentration of hot springs within the region.
Encamp
Encamp is a city located in the Encamp Parish along the Valira d'Orient River. This urban area has a population of 13,521 and sits at 4,270 feet above sea level. The surrounding mountains reach altitudes of over 9,000 feet. Tourism is the biggest economic contributor here and tourists come to take advantage of the skiing and hiking opportunities. A secondary effect of this tourism industry is a small retail market as well. This city is home to both a hydroelectric power station and a radio transmitter, which once broadcast for Radio Andorra. This radio station was famous during World War II for operating outside of the French monopoly and for remaining free of German and French control.
A list of other urban areas in Andorra can be found in the chart published below.
Environmental Issues In Andorra
Although Andorra is famous with tourists for its natural surrounding and outdoor activities, the country has experienced some environmental degradation of these areas. For example, the country was once covered in forests filled with a wide variety of trees and other plant species. However, as the population has increased over the years, human activity has destroyed these forests. One of the biggest problems is due to livestock grazing, particularly mountain sheep. As these animals eat large quantities of plants, the habitat changes and is more prone to erosion. This country is home to one threatened mammal species, the common otter, and two vulnerable species, the Apollo butterfly, and the lesser horseshoe bat.
Biggest Cities In Andorra
| Rank | City | Population |
| --- | --- | --- |
| 1 | Andorra la Vella | 22,256 |
| 2 | Escaldes-Engordany | 14,395 |
| 3 | Encamp | 13,521 |
| 4 | Sant Julià de Lòria | 7,518 |
| 5 | La Massana | 4,987 |
| 6 | Santa Coloma | 2,937 |
| 7 | Ordino | 2,780 |
| 8 | El Pas de la Casa | 2,613 |
| 9 | Canillo | 2,025 |
| 10 | Arinsal | 1,555 |