Assassination Attempts on US Presidents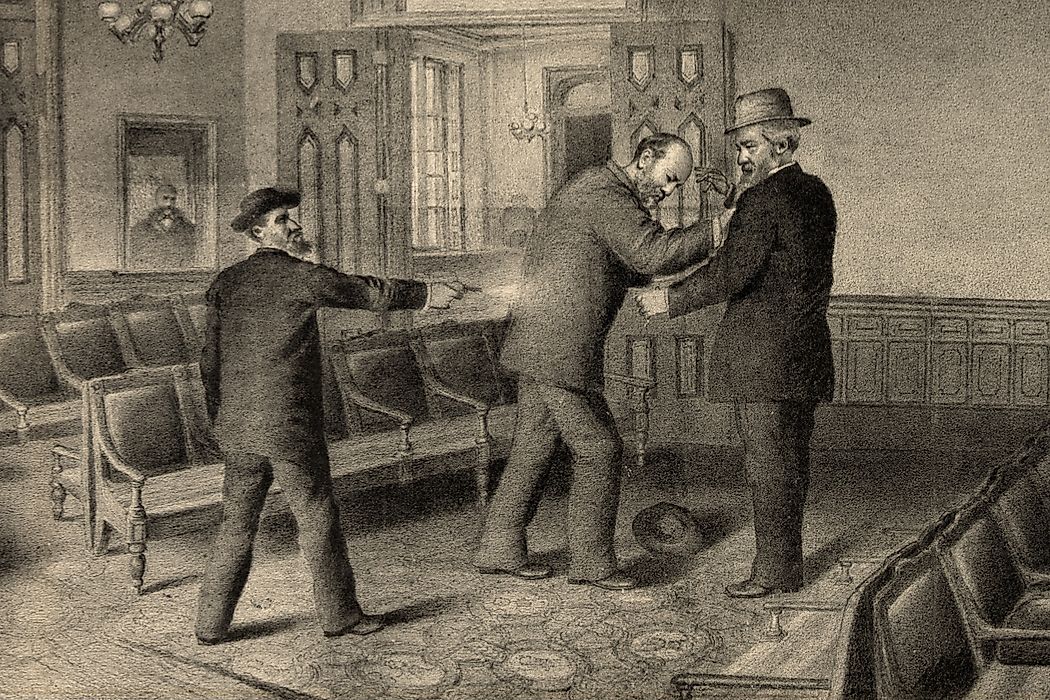 Being the president of the US is not only prestigious but also the most dangerous jobs in the country. The president is the most guarded individual in the country and the most powerful person in the world. Four out of 45 presidents have been assassinated while six nearly perished in the process. Several others escaped assassination attempts thanks to diligent guards, heroic bystanders, sheer luck, and misfiring pistols. Take a look at the presidents who have faced assassination.
16. Andrew Jackson
On January 30, 1835, a painter named Richard Lawrence attempted to kill President Andrew Jackson using a pistol. However, the assassin misfired and Andrew began beating him with his cane. In the process, Lawrence pulled out another pistol which also misfired. The pistols may have misfired because of the dampness in the air that day. Lawrence was apprehended and charged but was found to be insane. He was institutionalized instead.
15. Abraham Lincoln
Prior to his assassination, Abraham Lincoln survived two assassination attempts. The first assassination attempt was in February 1861 while he was on his way to the inauguration. However, some historians have claimed that the assassination threat on that day might have been imaginary. In August 1864, Lincoln's hat was shot off his head by a sniper as he took a ride on his horse. The assailant was not identified. On April 14, 1865, John Wilkins Booth shot Lincoln from the back. He died the next day.
14. James A. Garfield
President Garfield had been in the office for only four months when he was assassinated by Charles Guiteau, a lawyer by profession, on July 2, 1881. Guiteau shot the president from behind while he was walking along the Sixth Street Station. The assassin claimed that he had been instructed by the higher powers to kill the president. The doctors could not locate the bullet, leading to infection and blood poisoning. Garfield died on September 19, 1881.
13. William McKinley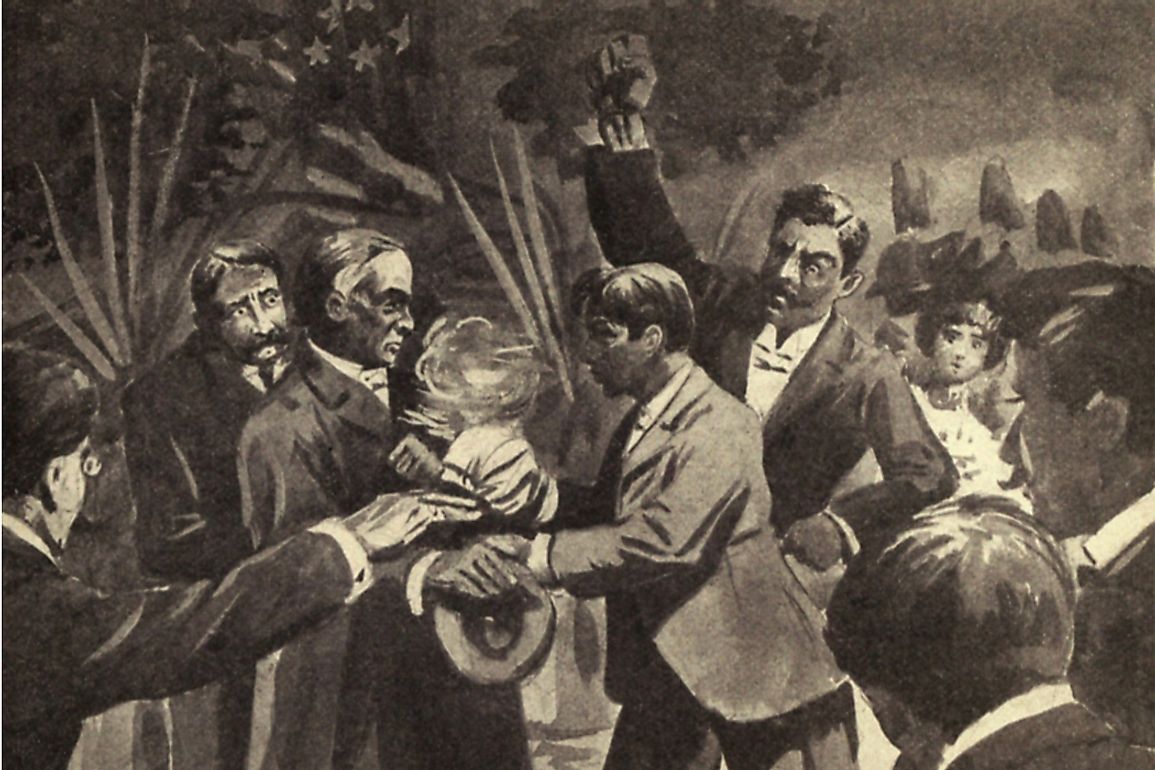 On September 6, 1901, President William McKinley was on a routine visit to Temple of Music in Buffalo, New York. Little did he know that he was falling into an assassin's hands on that day. His secretary was not for the idea of him visiting Buffalo that day and tried to change his schedule twice but the president was determined to conduct the visit. McKinley was shot twice by Leon Czolgosz. He died on September 14, 1901. The assassin was electrocuted on October 29, 1901.
12. Theodore Roosevelt
Theodore Roosevelt is one of the presidents who survived an assassination. On October 13, 1912, while giving a speech in Milwaukee, John Schrank tried to shoot the president around the heart. Although he aimed well, the bullet hit his eyeglass case that was in the president's chest pocket as well as the copies of his speech. The bullet lodged between his ribs. Interestingly, the president went on to give his speech before going to the hospital. The bullet remained in his body until his death in 1919.
11. Franklin D. Roosevelt
President-elect, Franklin Roosevelt, survived an assassination attempt on February 15, 1933, when Giuseppe Zangara fired wildly five times. Roosevelt was on a speaking engagement in Miami. Although the president-elect escaped unharmed, five people, among them the mayor of Chicago, were shot at. Unfortunately, the mayor died. Rumors had it then that the target was actually the mayor, Anton Cermak, and not the president.
10. Harry S. Truman
It is alleged in the Harry S Truman's biography that the president had received several threats through explosive letters from the Zionist gangs. On November 1, 1950, two men named Oscar Collazo and Griselio Torresola managed to access the home where the president was being housed as the White House was undergoing renovation. However, the home was heavily guarded and the violent confrontation led to the death of Torresola and one of the police officers. The president was unharmed.
9. John F. Kennedy
While on vacation in Palm Beach, Miami, on December 11, 1961, a former postal worker, Richard Pavlick, had the intention of smashing his dynamite-filled car into Kennedy's car. He delayed the mission after spotting Kennedy's wife and his daughters bidding him farewell. Pavlick was arrested before he could accomplish his mission. However, on November 22, 1963, President Kennedy was fatally shot while riding in a motorcade in Dallas by Lee Harvey Oswald. Oswald was killed two days later by Jack Ruby.
8. Richard Nixon
On February 22, 1974, Americans could have witnessed a movie-like assassination of their president. Samuel Byck had planned to kill Nixon by crashing a plane into the White House. He had previously sent a tape to the Washington Post highlighting how he would kill the president. Once in the plane, he shot the pilot and the co-pilot, killing the pilot after they refused to take off. Byck was shot through the window but he shot himself dead before he could be arrested.
7. Gerald Ford
President Ford was one of the lucky presidents to survive an assassination due to misfiring. In fact, he survived two assassinations attempts in the same month. On September 5, 1975, while in Sacramento, a lady named Lynette Fromme, tried to shoot the president at close range. She was quickly restrained and later sentenced for life but was released in 2009. A few days later, Sara Jane Moore shot at Ford but a bystander grabbed her arm and the bullet missed.
6. Jimmy Carter
President Jimmy Carter was a few moments away from giving his speech In Los Angeles on May 5, 1979, when Raymond Lee Harvey was arrested and detained by the police. He has a starter and several rounds. He claimed he was part of a larger gang that wanted to assassinate President Carter. Charges against Lee Harvey were later dropped since he had suffered mental illness in the past.
5. Ronald Reagan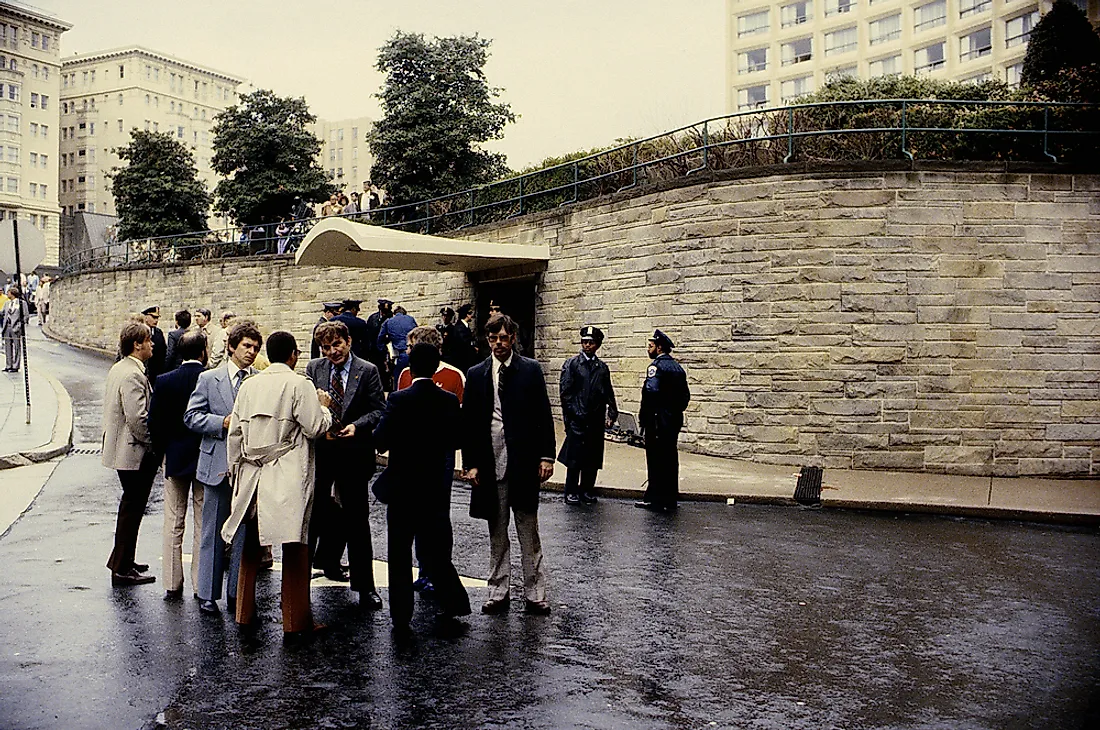 President Ronald Regan was almost killed by an assassin on March 30, 1981. John Hinckley, who is also believed to have wanted to kill President Carter but backed off, started firing as Regan was walking to his car from Washington Hilton Hotel. A bullet caught Reagan on the chest and was quickly rushed to George Washington University Hospital. He fully recovered and returned to the White House on April 11, 1981.
4. George H.W. Bush
On April 13, 1993, police in Kuwait arrested 16 people who had plotted to detonate a car bomb near Bush when he visited Kuwait University to give a speech. The people were believed to have links with Iraqi Intelligence Service under the rule of Saddam Hussein.
3. Bill Clinton
Bill Clinton survived several assassination attempts during his term in office. Three attempts took place in 1994. While on his daily jog on January 21, Ronald Gene Barbour wanted to kill him but backed off. On September 12th of the same year, Frank E Corder rammed a single-engine plane into the White House with an intention of killing Clinton. The following month, Francisco Duran fired several shots at the White House. In November 1996, Clinton's motorcade had to be diverted after a bomb was discovered under a bridge in Manila. He was to pass over the bridge. Osama Bin Laden was behind the plot to harm the president.
2. George W. Bush
George W. Bush was subject to two assassination attempts while in office. Robert Pickett shot towards the White House from outside the perimeter fence in 2001 and was sentenced to three years in prison. Luckily the president was unharmed. The second attempt was while while President Bush was giving a speech at Tbilisi, Georgia, on May 10, 2005. A live grenade was thrown at President Bush by Vladimir Arutyunian. Since the grenade was tightly wrapped in a handkerchief, it did not explode. Arutyunian escaped but was later arrested and sentenced to life in prison.
1. Barack Obama
Oscar Ramiro Ortega-Hernandez attempted to assassinate President Obama on November 11, 2011. He began shooting the White House after he claimed that the president was an anti-Christ. Luckily, the president was not in the White House. He was apprehended and sentenced to 27 years in prison.