Antonin Dvorak - Famous Composers in History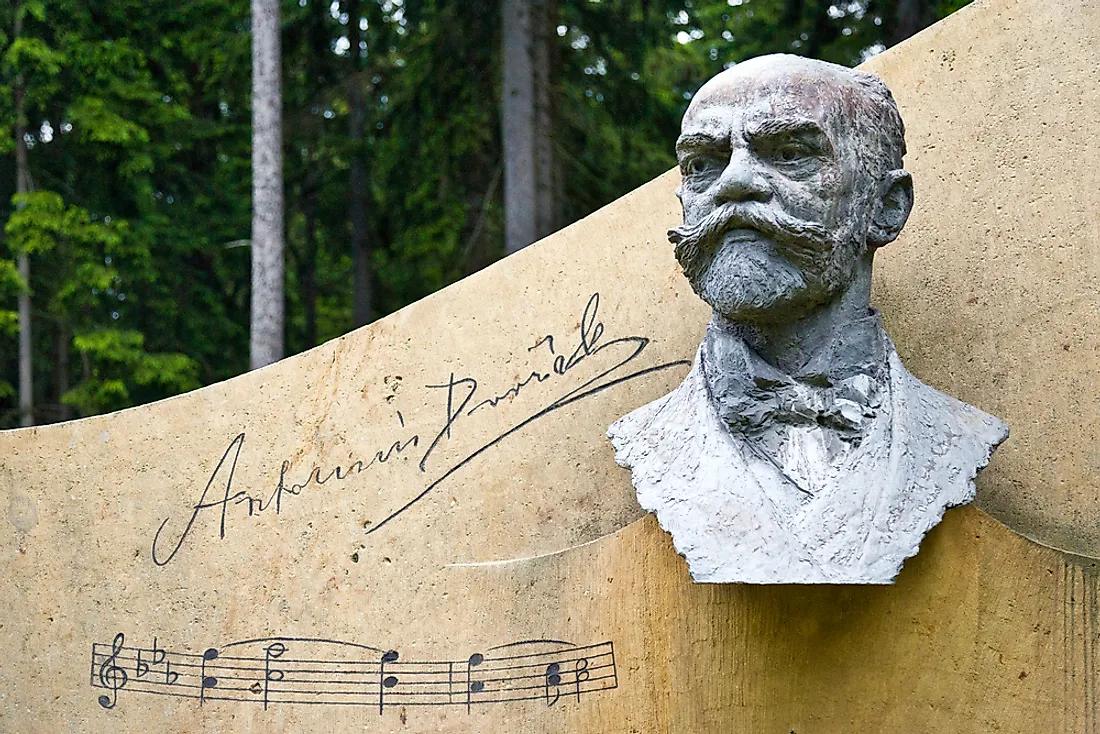 Antonin Dvorak was a talented Czech composer and the 2nd composer from Czech Republic to achieve worldwide recognition. Dvorak displayed his talent at an early age as a violin student by age 6, and this encouraged his father to allow him to pursue music. Dvorak was a nationalist composer who loved his country, and his work was intended to convey the national spirit of Czech Republic.
Early Life
Dvorak, the eldest son of Frantisek Dvorak and Anna Zdenkova, was born in Nelahozeves on September 8, 1841. Frantisek was a butcher, innkeeper, and a professional Zither player. Dvorak was baptized in the St. Andrews Church as a Roman Catholic, and this helped nurture his Christian beliefs during his early years which influenced his music. Dvorak joined the primary school in 1847 where he was taught how to play the violin by Joseph Spitz. In 1855 Dvorak moved to Zlonice to live with his uncle and learn German which influenced the 1st composition which he wrote in 1855.
Dvorak learned violin, piano, and organ from Anton Liehmann. Anton also taught him the music theory and introduced him to various composers. He also took some music lesson with Franz Hanke at the Ceska Kamenice and at age 16 his father allowed him to become a musician as long as he worked towards becoming an organist. In 1857, Dvorak joined an organ school where he studied music theory, singing, and organ. Dvorak married Anna Cermakova in 1873, the younger sister of his first love and they had nine children, but three died in infancy.
Career
In 1858, Dvorak joined the orchestra managed by Karel Komzak, and they performed in numerous balls and restaurants in Prague. Although he could not afford concert tickets, playing in the orchestra gave him a perfect chance to hear music and learn from other professionals. In 1863, Dvorak performed in a program which was devoted to Richard Wagner, a German composer who conducted the orchestra. To make extra cash, he started giving piano lessons, and it was through his private lessons he met his wife. Dvorak composed his 1st quartet in 1862. He wrote his 1st opera in 1870, which was publicly performed in 1905 and as a full opera in 1938. Dvorak played and composed for the Bohemian Provisional theater orchestra in 1871 when he left to concentrate more on writing music.
After leaving the theater orchestra, Dvorak got an organist job at St Vojtech under his previous teacher Josef Foerster. Dvorak applied for the 1874 Austrian State Prize and won. He won the Austrian award again in 1877 for his Moravian Duets which resulted in him meeting Edward Hanslick and Brahms who offered to publicize his work outside his hometown. Their influence helped give him international recognition, and led him to perform in London. Dvorak worked as the director of the National-Conservatory of Music in the United States from 1892 to 1895. He later became the director of Prague Conservatory in 1901, a position he held until his death.
Major Contributions
Dvorak completed nine symphonies which stuck to a classical style including the ''Bells of Zionice'' which he did in 1865 and the ''From the New World'' which was his last symphony in 1895. The Czech folk songs influenced the melodic shapes and Rhythm in his work. He also wrote piano music, choral music, chamber songs, the melody of string orchestras, and operas.
Challenges
After graduating from Organ school, Dvorak did not get the organist job; therefore he joined an orchestra where he earned $7.50 per month. He shared an apartment with five other people and to make more money he began offering music lessons. Despite his achievement, Dvorak lived in poverty because of unfavorable contracts with various music producers. In the United States, he was earning $15,000 annually, but after the 1893 economic depression, his salary reduced to $8,000 which Jeannette Thurber, his employer, paid irregularly.
Death And legacy
On April 18th, 1904, Dvorak was diagnosed with influenza, and he suffered for about five weeks. He later died on May 1, 1904, of an undiagnosed illness at age 62. His funeral was conducted on May 5, 1904, and his ashes interred in Vysehrad Cemetery.
Dvorak's work was infused by the spirit of his Czech homeland; therefore, his work remains a source of great national pride. His nationalism and love for Czech Republic are noticed in the Symphonic poems which he based on Czech folk and mythology legends. His Manhattan home was demolished in 1991 to make room for the Beth Israel Medical Center. Therefore to commemorate him, they erected his statue at Stuyvesant Square.
Antonin Dvorak - Famous Composers in History
| Rank | People in History |
| --- | --- |
| 1 | Early Life |
| 2 | Career |
| 3 | Major Contributions |
| 4 | Challenges |
| 5 | Death and Legacy |