Society
American Cities Who Commute by Bike
The following are the cities with the highest reported percentage of bicycle commuters, according to the American Community Survey.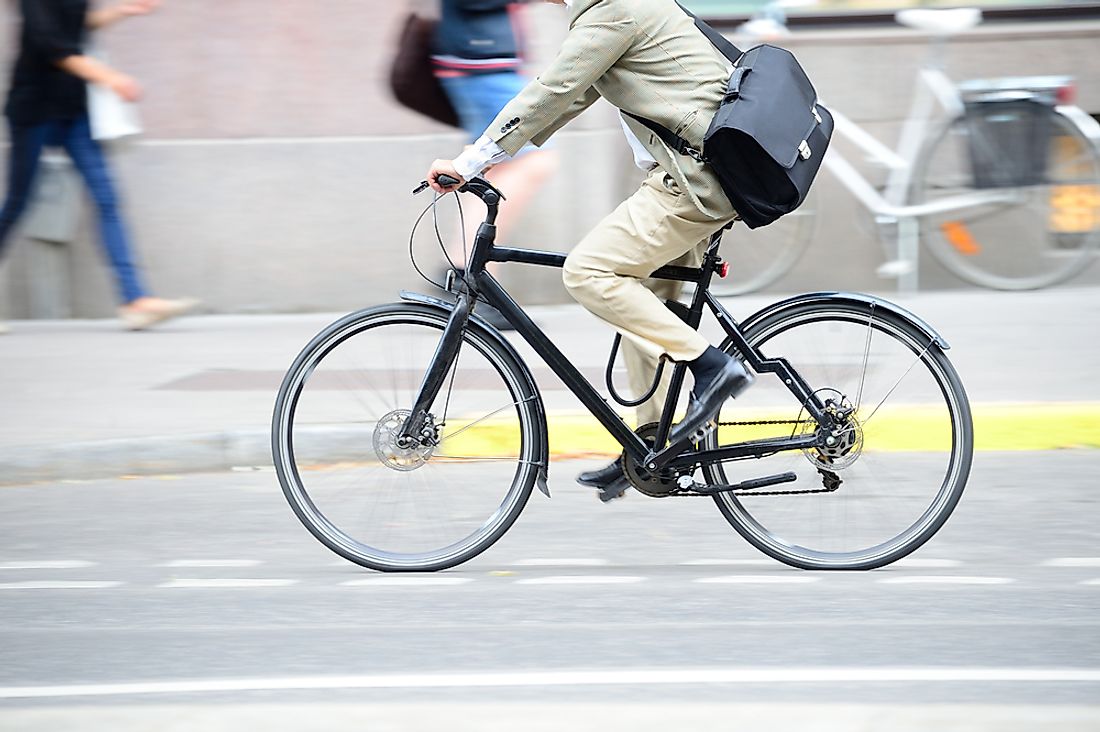 Commuting by bike is gaining popularity in the United States despite ever advancing technology in the automobile industry. Bicycling is a popular method of commuting because it is inexpensive and a great source of exercise. According to a survey in 2009, the number of trips made by bicycle that year amounted to 4 million. The American Community Survey ranked the American cities that have the highest rates of bicycle commuting.
Top 4 Cities
Davis, California
Davis is found in California and is Yolo County's most populous city. A high percentage of its population comes from students who attend the University of California at Davis. The students have greatly influenced the city's social and economic life and cycling has been a popular means of transport for decades. After a political debate about cycling infrastructure in the 1960s, the city pioneered cycling facilities in the 1970s. As the city grew, the facilities continued to be implemented and are still present today. Residents enjoy a widespread network of bike paths, bike lanes and separated bicycle crossings. The League of American Bicyclists recognized Davis as the first platinum level city in the United States.

Berkeley, California
Berkeley is found in Alameda County on the eastern shores of San Francisco Bay in California. The oldest campus of the University of California is found in this city. Berkeley has historic cycling paths such as the Ohlone Greenway and the San Francisco Bay Trail that provide easy access to the shores of San Francisco Bay. Apart from using bicycles as a form of transportation to work, many residents bike for recreational opportunities to view wildlife and also for environmental education. Cycling is popular among university students who ride to school or work.
Boulder, Colorado
Boulder is a municipality in Boulder County, Colorado. The city hosts the main campus of the University of Colorado. Boulder is famous for its bicycle culture and has a wide network of bicycle paths. The city also has 74 bike underpasses that provide safe riding throughout the city. B-cycle bike sharing was opened in May 2010 with 12 stations and 100 bikes. With over 30,000 students residing in the city, cycling is a popular way for students to commute to the university and back to their homes.
Somerville, Massachusetts
Somerville is found in Middlesex County in Massachusetts. The city is the most populated municipality in New England. Somerville is considered a highly bikeable city which was made evident when results indicated 7.8% of the city's commuters used bicycles in 2013. Biking to work is very popular in the city, but many residents also use biking as a method of exercise.
Conclusion
Cycling is commonly used by students due to its low cost and easy accessibility. The top cities for bicycling are communities that host a high population of students. In some cities like Boulder, bicycling is a culture that is embraced widely.

Which City Has the Most Cyclists?
Some of the cities in the United States with the most cyclists include Davis, Berkeley, Boulder, and Somerville.
American Cities Who Commute by Bike
| Rank | City | Bike Commuters (%) |
| --- | --- | --- |
| 1 | Davis, California | 23.2 |
| 2 | Berkeley, California | 9.7 |
| 3 | Boulder, Colorado | 8.9 |
| 4 | Somerville, Massachusetts | 7.4 |
| 5 | Cambridge, Massachusetts | 7.4 |
| 6 | Palo Alto, California | 7.3 |
| 7 | Portland, Oregon | 7.2 |
| 8 | Eugene, Oregon | 6.8 |
| 9 | Fort Collins, Colorado | 6.2 |
| 10 | Santa Barbara, California | 6.1 |
| 11 | Missoula, Montana | 6.1 |
| 12 | Bloomington, Indiana | 5.5 |
| 13 | Madison, Wisconsin | 5.3 |
| 14 | Flagstaff, Arizona | 5.2 |
| 15 | Ann Arbor, Michigan | 5 |
This page was last updated on August 1, 2017.
Citations
Your MLA Citation
Your APA Citation
Your Chicago Citation
Your Harvard Citation
Remember to italicize the title of this article in your Harvard citation.