Amah Rock - Unique Landforms of Asia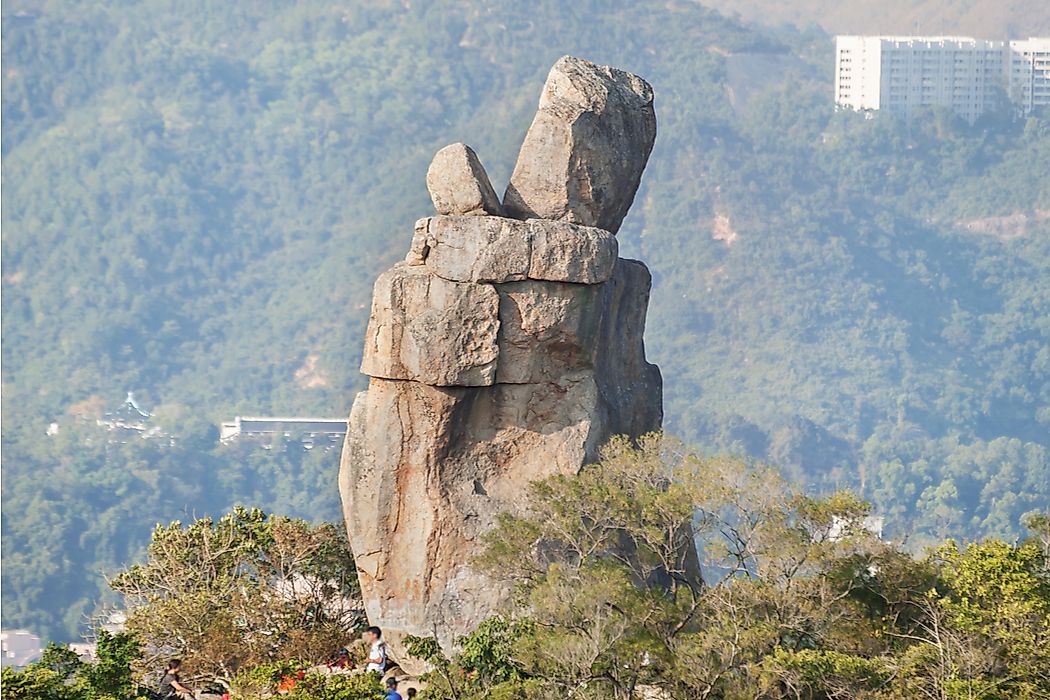 Amah Rock is a historical well-shaped rock that is located on the hilltop of Hong Kong's Sha Tin District. The rock is fifteen meters tall and stands above the entrance of the Tunnel of the Lion Rock. The Lion Rock is also a primary tourist attraction site in this area. The rock is famous due to its perfect resemblance to a lion. These two rocks, which are known as the Amah Rock and the Lion Rock, have contributed significantly to the number of tourists who visit this area to see this fantastic unique landform. Amah is a Cantonese word that means mother. The Amah Rock is perfectly shaped in a manner that resembles a woman carrying a baby on her back.

The Legend of Amah Rock
Several myths try to explain the origin of the Amah Rock. One of the most famous of all these folktales is the myth about a faithful women who had lost her husband in the seawaters. The folktale narrates that the woman was married to a fisherman and they had been blessed with a baby boy. One day the fisherman sailed out to his usual place, but he never came back. The wife, not knowing that her husband had drowned in the seawaters, made daily visits to this place to check if her husband had returned. She could carry her son and climb the hilltop in southwest Shah Tin from where she could see the shores clearly. Months and years passed but there was still no sign of her husband ever coming back. One day as the woman was on top of this hill, a huge thunderstorm swept through the hills turning the woman and her baby into the now famous Amah Rock. The thunderstorm is believed to have been caused by the Sea Goddess who acted out of pity. The Sea Goddess then transported her and the baby to heaven so that she could finally reunite with her husband leaving their bodies in the form of a rock.
Tourist Attraction
Amah Rock is one of the most popular tourist attraction sites in Asia. While standing at the site of the rock, the whole district of Sha Tin can be clearly seen. Although the natural form of the rock has been affected by erosion that has occurred over the years, it retains its magnificent form. The perfect resemblance of the woman with her baby on the back can still be clearly observed, and this has attracted many people to this site. The rock is also viewed as a sacred and pure place. It is also a place of prayer where Chinese women go to pray so that they can be blessed with loyalty and faithfulness like this woman. Several poems have also been dedicated to this rock.