World Facts
15 Biggest Cities In Africa
The most populous cities on the African continent, ranked in terms of their respective metro area populations, are experiencing both rapid growth and challenges.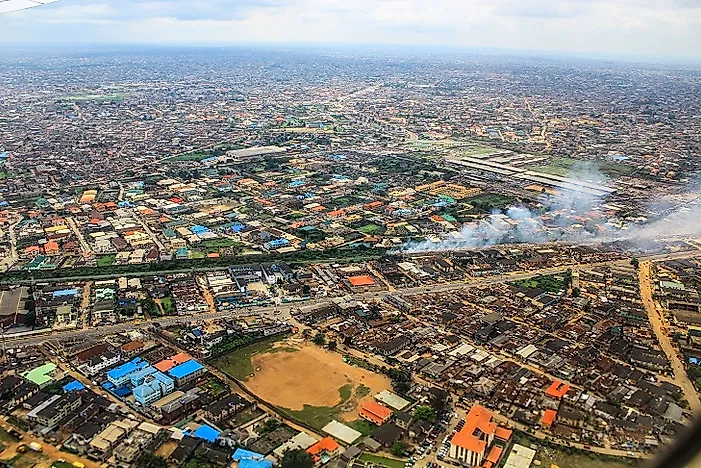 Africa's urban populations have been rapidly increasing in recent years. The increase is creating opportunities and challenges alike as these cities struggle to adapt as more residents compete for urban resources that are stretched to the limit. However, the rise in population is also creating new opportunities on fiscal, technological, and social fronts.
Analysis of the Largest African Cities' Populations and their Socioeconomic Roles
Lagos, Nigeria – 21 million
Lagos City in Lagos State is Nigeria's largest city and its economic capital, located along the Atlantic Ocean. According to Heinrich-Boll-Stiftung (HBS) Foundation research it's the 7th fastest growing city in the world, with a population of 21 million, according to a 2014 report by the National Population Commission of Nigeria. The Borgen Project reports an annual growth of 2 to 3 percent of Nigeria's population. Unlike other states dependent on oil revenues Lagos City economy is diversified to manufacturing, transport, construction, service, wholesale, and retail sectors. The state covers 0.4% of the country's territorial land and is the smallest division in the country. Still, it accounts for over 60 percent of industrial and commercial ventures of the nation, according to Heinrich-Boll-Stiftung Foundation research. A 2015 report by the Economist states that annually Lagos State generates $90 billion dollars in goods and services. If it were a country, Lagos State economy would be number 7 in Africa making it bigger than that of Kenya, Cote D Ivoire, and Ghana. Though Lagos City has affluence a study on Financial Times in 2012 reported two thirds of the population as slum dwellers. Crime is also a problem in the city, and the United States' Overseas Security Advisory Council (OSAC) gives it a crime rating of critical. Kidnappings, extortion, carjacks, assaults, rapes, armed muggings, and burglaries are common in the city.
Cairo, Egypt – 20.4 million
Cairo is Egypt's largest city and its capital. It's heralded as the cradle of civilization and in the Middle East, is also the largest city, and with its metropolis has a population of over 20.4 million. According to a 2014 Population Reference Bureau report, the country's population is growing at a rate of 2.6 percent annually. Cairo is Egypt's economic hub with two thirds of the country's Gross Domestic Product generated in the greater metropolitan section, according to City Data. Textile and food processing, iron and steel production, consumer good productions, are some of the job creating sectors in the city. Cairo is also vibrant hub of tourism, commerce, finance, and government services. Since the January 2011 revolution, economic growth has been affected negatively with food and medicine prices increasing, and unemployment rising. Crime is also a problem in Cairo, with OSAC rating it high. According to UN data, the Greater Cairo area, with 8 overcrowded informal settlements, has large population segments living under the international poverty level of living below $2 a day. In those settlements, education levels are low, malnutrition high, health conditions poor, and diseases rife among children.
Kinshasa, DR Congo – 13.3 million
Kinshasa is the Democratic Republic of Congo's capital and the largest city in the country. It's located next to the Congo River and after Paris, is the second largest French speaking city in the world, according to CNN. Kinshasa's population is estimated to be from 10 million to 13.3 million by various sources. The World Bank reports that DRC's population as 74.88 million. According to the United Nations (UN) report on population growth in the cities of 2015, Kinshasa's population grew at a rate of 9.2 percent. Though the country is mineral rich, 64 percent of the population lives below the poverty line according to FINCA International. Besides minerals, gas, oil, agriculture, and timber are the key sectors sustaining Kinshasa's economy. But due to corruption and perennial conflicts most of the population doesn't benefit. Crime levels are rated as critical by OSAC with one is likely to be a victim of street gangs, pick pockets or home burglars.
Luanda, Angola – 6.5 million
Luanda is Angola's capital and the country's largest city. The city's population was recorded at 6.5 million according to preliminary data in 2014, but the number was revised to 6.94 million according to the National Statistics Institute (INE). According to a Swedish Embassy report, Luanda has the highest annual growth in population in Africa, and by 2030 will have 9 million residents. The city hosts the country's busiest seaport off the Atlantic Ocean coast. The seaport is a gateway to export petroleum, diamonds, iron ore, and fish products, Angola has in bulk. It's also used to import iron, steel, machinery, flour, and coal. Wealth from the mining and oil sectors has catalyzed a boom in construction in Luanda as high-rise offices and posh homes are built. Banking, finance, telecommunications, and tourism sectors are also booming in Luanda. But due to shortage of accommodation facilities in the capital, hotel and rental charges are very high. Among major world capitals Luanda in recent years has gained a reputation as among the most expensive cities to live in. Crime levels in Luanda are classified as critical by OSAC, with ongoing threats coming from gangs and cyber criminals. Poverty levels are high in Luanda with millions living in slums. About 55 percent of Angolans live on less than one U.S. dollar a day.
Nairobi, Kenya – 3.5 million People
Nairobi is Kenya's capital and the country's largest city. It has an estimated population of about 3.5 million residents of whom, 60 percent live in slum poverty according to a 2014 World Policy report. With suburbs included, it has an estimated population of 6.54 million according to the World Population Review. Nairobi is the only city in the world near a game reserve the Nairobi National Park. It's a vibrant commerce, technology, manufacturing, industrial, and financial hub for East and Central Africa. As such Nairobi contributes 60 percent of Kenya's Gross Domestic Product, or the nation's wealth. Major airlines and charter plane companies operate from Jomo Kenyatta International Airport, thereby opening East Africa to the rest of the world. Crime levels in Nairobi are classified as critical by OSAC with robberies, burglaries, carjacks, and street crimes prevalent. Crime levels are high in slums like Kibera and Mathare where incomes are low. The slums are classified as the biggest in Africa.
Mogadishu, Somalia – 2.1 million people
Mogadishu is Somali's capital and the country's largest city. Due to being one of the worlds's most dangerous cities, no meaningful census has been conducted there. But it's estimated to have a population of about 1.4 million people according to the World Population Review. A study by US's Demographia Consultancy, reports the population at Mogadishu at about 2.1 million, and is annually growing at a rate of 6.9 percent. Other estimates by TBN place the population at 1.5 to 3 million. Also according to TBN, 43 percent of the population lives in abject poverty on this 640 square mile city. A 2002 UNDP/World Bank survey reports 73 percent of the population as living on less than $2 a day. Regardless of these challenges, Mogadishu is Somalia's administrative and economic hub with foreign countries pouring aid to fund projects to kick-start this war torn country's economy. The First Somali Bank was the first bank created in the country after many years in 2013, to serve the people there.
Abidjan, Ivory Coast – 4.707 million
The 818 square mile Abidjan City is the economic capital of Ivory Coast. It has an estimated population of about 4.707 million people as at 2014, who represent 20 percent of the country's population. A study by the University of Ontario – Institute of Technology (UOIT) reports that annually, the population of Abidjan grows by 2.83 percent. The city has a population density of 8578 per square kilometer. Abidjan is Ivory Coast's hub of industrialization and urbanization. The city accounts for 18 percent of national employment, 52 percent of secondary and tertiary urban employment, and 50 percent of the country's Gross Domestic Product, according to a study by the University College London. Besides Cocoa, oil and natural gas sectors are other major economic contributors and Abidjan, has a refinery that processes crude oil. The petroleum extracted is then exported or used to process oil products locally. Still Abidjan grapples with children roaming the city without parents and guardians due to past civil conflicts.
Alexandria, Egypt – 4.7 million
Alexandria is a 115.8 square mile historical Mediterranean port and beach city in Egypt, founded in 331 BC by Alexander the Great. It's the second largest city in the country with a population of about 4.7 million people, according to Egypt's Central Agency for Public Mobilization and Statistics. Yearly its estimated Alexandria's population grows by 1.7 percent according to Professor Shahira Sharaf El Din, of Pharos University, Alexandria. The city annually contributes US$46 billion to the Egyptian economy according to UOIT. Its economy is anchored largely by tourism and is thereby referred to as the Pearl of the Mediterranean. Nearly half of Egypt's industrial activity is in and around Alexandria, making the city a major water consumer. In the ten years up to 2011, there had been a 50 percent rise in water demand in the city. Agriculture, growing population, and rapid urbanization are other factors increasing the water needs in Alexandria, according to a report by the French Development Agency. The city is run by a Governor appointed by the President. Since the 2011 Egyptian revolution there has been heightened crime and terrorists threats in Alexandria as in other parts of the country.
Addis Ababa, Ethiopia - 3.4 million
The 540 square-kilometer urban area of Addis Ababa is Ethiopia's capital city and commercial hub. It has a population of 3.4 million according to the country's Central Statistical Agency's 2014 report. In 2014, Bloomberg reported that the city's population is expected to reach 8.1 million, by 2040. Addis Ababa's average annual Gross Domestic Product according to Lloyd City Risk Index is $32.04 billion, and is annually growing at the average rate of 12.18 percent. The city is an industrial and manufacturing hub which contributes 4 percent to the country's economy according to Focus Africa. Construction boom is also being experienced in Addis Ababa with high-rise building sites sprawled all over the capital. In 2015, the first ever modern urban rail service was launched, built at a cost of $470 million, through funding from the Exim Bank of China. This rail service is first of its kind in Sub Saharan Africa. Still poverty is high and there are many homeless people in the capital or living in slums. It's estimated in Ethiopia, 80 percent of urban dwellers live in slums. Crime levels are relatively low in the capital due to the presence of police some in plain clothes. But petty crimes like pick pocketing or purse grabs happen. These incidences are common where there are many pedestrians like open air markets according to OSAC.
Johannesburg, South Africa - 4.4 million
Johannesburg is the largest city in South Africa, and the capital of Gauteng, the wealthiest province in the country. It has a population of 4.434 million according to a 2011 report by Statistics South Africa. From 2001 to 2011 when census was done, population increased by 3.18 percent. Johannesburg generates 17 percent of South Africa's wealth and is the 27th largest city economy in the world, according to the Department of Economic Development Johannesburg. The city is a vibrant hub of manufacturing, retail, technology, fashion, and service sectors like hotels. Johannesburg is also a continental financial hub hosting major world banks, and Africa's largest stock in Sandton. Poverty is also rife in the city with over a million people living in the city's slums. Such conditions have served to make Johannesburg among the most dangerous cities in the world, in terms of crime and homicide. Annually there are about 28.2 murders per 100,000 people according to Africa Check 2014/2015 report.
Dar es Salaam, Tanzania – 4.36 million
The 565 square-kilometer Dar es Salaam is Tanzania's largest city. It's also the largest port city in East Africa, and has a population of about 4.36 million residents according to 2012 country census. These account for 10 percent of Tanzania mainland population, excluding Zanzibar, according to a UNFPA 2013 report. According to a World Bank report, 70 percent of Dar es Salaam residents live in informal, unplanned settlements on about a dollar a day. The settlements lack proper roads, water, toilets and sanitation is poor. Still Dar es Salaam is Tanzania's hub for industry, education, and the economy. This former capital according to UN Habitat generates 70 percent of the national gross domestic product. As a city by the ocean, new external investment is being directed to port expansion. In 2015, the World Bank signed a $565 million deal to double the port's capacity by 2020 according to Reuters. At that capacity Dar es Salaam can make an annual profit of $2 billion. However the city has a problem of crimes like mugging, purse snatching, pick pocketing, armed robberies, and burglaries, according to Country Reports.
Casablanca, Morocco – 4.3 million
Casablanca is the largest city in Morocco though the country's capital is Rabat. This port city has a population of about 4.3 million people according to Nations Online. It's the main industrial, economic, trade, and fiscal centre for Morocco. Casablanca's port is the largest in North Africa, and among the largest of artificial ports in the world. According to Euromonitor International, compared to the rest of the country, the labor force in Casablanca is better educated. 12 percent of the population in Casablanca over 15 years old has higher education, compared to 8.1 percent, in the rest of the country. Poverty is rife in the slums on the city's periphery. There are about 700,000 to a million people living in these slums lacking clean water and basic amenities. In the slums, drug trafficking, prostitution and Islamic radicalization occur posing a threat to Casablanca tranquility as a whole.
Accra, Ghana – 4.1 million
Accra is the capital of Ghana and Ghana's largest city. It has a population estimated at 4.1 million, according to a 2013 report by Ghana's Financial Intelligence Centre. Ghana's Statistical Services, 2012 reports the growth rate of Accra's population from 2000 to 2010 as 3.1 percent. Accra is the country's main commercial, manufacturing, technology, transport, innovation, and communications hub. It's also the gateway to the world through Kotoko International Airport, the country's largest airport. The city's formal and informal economy contributes about $3 billion, to the country's economy, equivalent to 10 percent of Ghana's Gross Domestic Product, according to Next City report. Accra is largely safe but there are cases of muggings on beaches and crowded places and pick pocketing in markets are reported.
Durban, South Africa – 3.4 million
Durban is a port city in Kwazulu Natal province of South Africa. It's the country's third largest city after Cape Town and Johannesburg, and also has Africa's largest port. Durban and its metropolis population is 3.4 million according to Durban Experience. According to Statistics South Africa, from 2001 to 2011, the average annual growth in population at the city was 1.13 percent. As a port city, Durban handles the most cargo than other South Africa's ports. That contributes 20 percent of its Gross Domestic Product, and 1.5 to 2.0 percent of the nation's, according to the Durban Government Study. Manufacturing, agribusiness, tourism, and technology are other avenues that anchor this city's economy. Durban has also distinguished itself as a global financial hub attractive to international investors. Though the city is in the affluent in Kwazulu Natal province, there are 3 million people living below the poverty line. Also crime is spilling over from the slums to city, hotels, and beaches.
Kano, Nigeria – 2.8 million
Kano is the capital city of Kano State in northern Nigeria, with a population 2.8 million people, according to 2006 census. It's the country's second largest city by population after Lagos. Annually, the population grows by approximately 3.5 percent, according to a 2013 report by Kano State Government Investor's Handbook. Kano is the economic centre of northern Nigeria, with an average annual gross domestic product of $29.38 billion, according to Lloyd's 2015 City Risk Index. Kano city acts as a regional trade center that services a market of over 300 million people, in northern Nigeria, Niger, Chad, Cameroon, and Sahel/North Africa, according to a 2013 Kano State Government report. The most pronounced threat in Kano comes from terrorist attacks prominent in the north perpetrated by Boko Haram. These attacks happen on public holidays, market days, public and religious holidays. A report commissioned by Kano State Governor in 2012 credited poor governance, poverty, and unregulated migration to causing the problem of insecurity in Kano City.
Age-old Infrastructure Stretched to the Breaking Point by Rising Populations in Major African Cities
Adapting to increasing numbers of people in the urban areas remains the biggest challenge for African cities. That is because in some cities the infrastructure that is existing dates back to the European Colonial Era on the continent. As a result, ongoing rises in population in these cities is pressuring the infrastructure and diminishing the quality of living conditions. That effect is exposing these populations to poor living conditions and susceptibility to prospective illnesses and vices.
Largest Cities In Africa By Population
| Rank | Largest Cities In Africa | Estimated Metro Population |
| --- | --- | --- |
| 1 | Lagos, Nigeria | 21.0 million people |
| 2 | Cairo, Egypt | 20.4 million people |
| 3 | Kinshasa, Democratic Republic of the Congo | 13.3 million people |
| 4 | Luanda, Angola | 6.5 million people |
| 5 | Nairobi, Kenya | 6.5 million people |
| 6 | Mogadishu, Somalia | 6.0 million people |
| 7 | Abidjan, Ivory Coast | 4.7 million people |
| 8 | Alexandria, Egypt | 4.7 million people |
| 9 | Addis Ababa, Ethiopia | 4.6 million people |
| 10 | Johannesburg, South Africa | 4.4 million people |
| 11 | Dar es Salaam, Tanzania | 4.4 million people |
| 12 | Casablanca, Morocco | 4.3 million people |
| 13 | Accra, Ghana | 4.1 million people |
| 14 | Durban, South Africa | 3.4 million people |
| 15 | Kano, Nigeria | 2.8 million people |