10 US States With The Lowest Voter Turnouts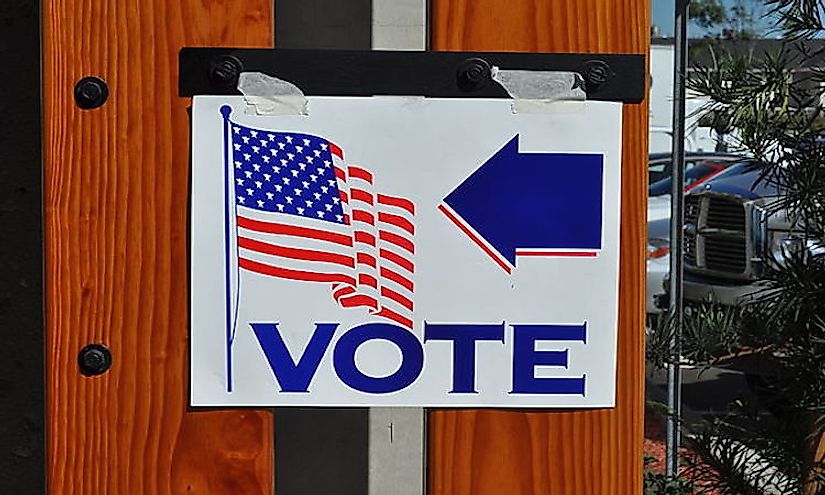 Each and every state in the union has a unique historical and cultural identity. Residents in some regions may be more (or less) politically aware and/or active than other citizens in another part of the country. If Al Gore's 2000 election loss proved anything it's that the results from just one state can literally make or break a campaign. With that in mind here are the states with the lowest voter turnout rates in the nation.
10. Georgia
The state of Georgia is located in the southeastern portion of the continental US and is home to a population of over ten million residents. In regards to US political history, it's interesting to note that the so-called Peach State was established in 1732 and was the last of the original thirteen colonies. Georgia was also one of the original Confederate states and the final one to rejoin the union in 1870. Despite its rich cultural past recent stats confirm that only 59.3% of eligible citizens turn out to vote election time. Democrat Jimmy Carter, the 39th President of the US, was a native of Georgia.
9. New York
It seems surprising that New York, the hub for a great deal of the nation's economy and home to a very large and diverse population, ranks among the bottom in terms of voter turn out with only 59.2% of eligible voters casting ballots. Not only is New York state home to the largest city in the US (just short of 8.5 million) but Wall Street is the epicenter of America's economy. After the September 11th attack, NYC also became a powerful symbol of the nation's war against terror. The Empire State boosts a culturally rich population base which is largely centralized in its urban centers. According to statistics from 2013 besides English New Yorkers speak a variety of languages including Spanish, Chinese, Russian, and Yiddish.
8. Arizona
Arizona has an average voter turn out rate of 58.4%. Like its neighbor, New Mexico, illegal immigration is a major issue in the Grand Canyon State. Arizona also has the third largest Native American population in the country and is home to twenty Indian reservations. In recent years The Copper State has been a red (or Republican) stronghold. In 2008 Arizona Republican senator John McCain unsuccessfully ran for President losing to Barack Obama. The state also made news for its conservative policies such as the passing of Prop 102 which denies same-sex marriage rights by defining the institution as a union between a man and a woman. In 2010 Arizona also passed controversial legislation involving rigorous crackdowns on illegal immigrants.
7. Oklahoma
Only 58.3% of eligible voters living in Oklahoma show up to the polls on voting day. Nicknamed The Sooner State-Oklahoma is known for being the homeland for a number of Native American tribes. Indeed, California is the only state with a greater number of Native American residents. The state is largely agricultural with its economy based on producing products such as cotton, wheat, and beef. As with several other states at the lower end of the voter turn out spectrum Oklahoma is part of America's so-called Bible Belt. According to recent figures, 53% of its population identify as Evangelical Protestants which is approximately two times the national average.Because of this, it's safe to assume that religious affiliation has a major influence on this politically conservative state.
6. Nevada
The state of Nevada is known by most people as being the location of Sin City aka Las Vegas, home to glitz, glamor, high rollers, and some of the biggest casinos in the world. Despite a population of nearly three million the Silver State only manages a 57.7% turnout rate during election time. With its share of libertarian laws concerning marriage, gambling, and prostitution Nevada as a state has regularly flip-flopped in terms of political allegiances. In 1992 and 1996 Democrat Bill Clinton took the state while in 2000 and 2004 George W. Bush was the clear winner in Nevada. Then during the 2008 and 2012 national campaigns, Democrat Barack Obama took Nevada. Because of its correct prediction of the overall Presidential winner the desert state has earned the title of a trendsetting bellwether state.
5. Texas
Texas is the largest state in area in the country but latest on the low end of voter turn out with only 55.3% participating in the election process. With a population of approximately 27 million The Lone Star State certainly doesn't lack for eligible voters but getting them out to vote is clearly another matter. Those Texans who do cast ballots tend to support the Republican Party. In 2004 Texas was won by George W. Bush, in 20008 John McCain took the state, and in 2012 voters chose Mitt Romney as their pick for president.
4. Tennessee
With a voter turnout rate of 54.6%, the Volunteer State is among the states with the lowest overall voter participation. Historically Tennessee played a large part in the Civil War as a vital member of the south's Confederate Army. In modern times Tennessee is better known for its agricultural products as well as its significance in pop culture for its crucial role in the development of both country and blues music. In terms of national politics, Tennessee is primarily a Republican state with support for Democratic candidates coming primarily from urban areas such as the cities of Nashville and Memphis as well as among members of the African-American community.
3. Arkansas
With a rate of 54.3%, Arkansas ranks as the third lowest voter turnout in America. This southern state is the birthplace of the 42nd President Bill Clinton who also served as its Governor from 1979 to 1981 and again from 1983 to 1992. Arkansas relies largely on agriculture, natural resources as well as manufacturing and service industries in order to fuel its economy. Conservative forces in the state may, in large part, be driven by its status as part of the Bible Belt which is made up of various Protestant denominations. In keeping with its right wing reputation it should be noted that Arkansas is a right to work state which is also known for its rejection of same-sex marriage as well as its stance against abortion.
2. West Virginia
On average only 52.9% of voters show up to the polls on election day. West Virginia is well known for its natural resources (particularly coal mining and logging) as well as the beauty of the Appalachian Mountain range. It's interesting to note that the state holds a unique place in American political history due to the fact that during the Civil War it was the only state to secede from the Confederacy (in this case Virginia). In recent years economic and social markers have predicted that the state may be facing a troublesome future. According to statistics from the 2012 US Census Bureau West Virginia's population has consistently been in decline with the death rate among its citizens surpassing its birth rate. The median age for local residents is 41 and the cultural make up is far from diverse with Caucasians making up almost 94% of its total population.
1. Hawaii
Coming in with the worst voter turnout rate in the entire US is the island state of Hawaii with 50% of its residents successfully managing to cast a ballot.The Aloha State is located in the Pacific Ocean about 2,100 miles away from the mainland. It's the only state which has an official second language (Hawaiian). Perhaps the physical distance which separates the state from the rest of the US is reflective of a deeper political detachment from federal politics. Citizens living on this series of tropical islands come from various cultural backgrounds including Chinese, Japanese, Korean, and Polynesian. Since becoming a state in 1959 Hawaii has consistently voted Democrat and is the birthplace of the 44th and current President Barack Obama.
10 US States With The Lowest Voter Turnouts
| Rank | US State | Voter Turnout |
| --- | --- | --- |
| 1 | Hawaii | 50.0% |
| 2 | West Virginia | 52.9% |
| 3 | Arkansas | 54.3% |
| 4 | Tennessee | 54.9% |
| 5 | Texas | 55.3% |
| 6 | Nevada | 57.7% |
| 7 | Oklahoma | 58.3% |
| 8 | Arizona | 58.4% |
| 9 | New York | 59.2% |
| 10 | Georgia | 59.3% |