The Indigenous Peoples of Australia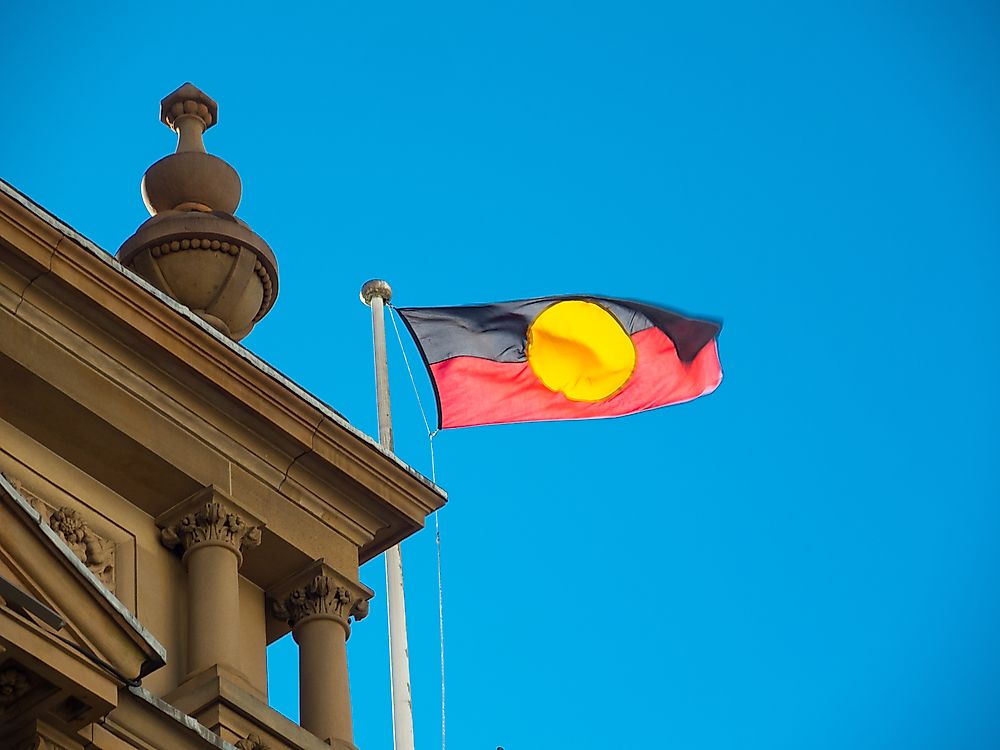 The term Indigenous or Aboriginal Australians refers to two major groups of people who were the original inhabitants of the island of Australia and surrounding areas. Generally Indigenous Australians are characterized by two groupings:
Indigenous, or Aboriginal, Australians who lived across the territory of what is today Australia.
The Torres Strait Islanders people who primarily lived in the Torres Strait Islands in between Australia and Papua New Guinea.
These sub-groups have their own different and distinct cultures, languages, and ideas. In fact, there were at one time over 500 Indigenous Australian nations. Today, only around 145 Indigenous nations remain, most of which are endangered. At the time of the arrival of European settlers, many Indigenous people were victims of massacres, disease, and violence. Today, the Australian government has been attempting reparations and has put several policies in place to recognize Indigenous groups.
Regional Groups
There are several communities of Indigenous Australians. These communities include the Murrawarri, Koori (Koorie), Ngunnawal, Goorie, Murrdi, Murri, Nyungar, Yamatji, Wangai, Nunga, Anangu, Yapa, Arrernte, Yolngu, Bininj, Tiwi, Anindilyakwa, and Palawah who numbered close to 750,000 at the time of the first European settlements. Most of these sub-groups have smaller ethnic branches. The second group, Torres Strait Islanders are relatives of the Papuan people found in New Guinea although Australia normally includes them as Aboriginals. The Torres Strait Islanders live on the over 100 Torres Strait Islands.
Languages
Indigenous Australians speak several language groups, more than 100 of which have close linguistic ties. Some of the languages have speakers numbering only between 50 and 100 people. The languages fall into two main classes: Pama–Nyungan and non-Pama–Nyungan languages. The Pama–Nyungan language family is the larger of the two. Speakers of the non-Pama–Nyungan language groups generally live in the north and the western part of the country from Kimberley to the Gulf of Carpentaria. Torres Strait Islanders speak the Papuan language.
Demographics
Defining who is an Indigenous Australian or a Torres Strait Islander was a challenge in Australia for a long time. In 1983, the Judiciary defined the two groups as "persons of Aboriginal or Torres Strait Islander descent who identify themselves as Aboriginal or Torres Strait Islanders and are accepted as such by the community in which they live." In 2016, Indigenous Australians numbered 590,056 whereas Torres Strait Islanders numbered 32,345. Those who were both Indigenous and Torres Strait Islanders were 26,767. The total Indigenous population, as per these figures, made up 2.8% of Australia's population. The distribution of the Indigenous population in 2006 was as follows: New South Wales – 216,176, Queensland – 186,482, Western Australia – 75,978, Northern Territory – 58,248, Victoria – 47,788, South Australia – 34,184, Tasmania – 23,572, and Australian Capital Territory – 6,508 among others spread across territories under Australia.
Culture
Many Indigenous Australian nations have a strong history of storytelling. Oral history indicates that the belief systems involved reverence for the land and "Dreamtime." Dreamtime involves dreaming that stretches back in time to the periods of ancestors and the "First Peoples." Almost all indigenous Australians also had traditional healers who were individuals who commanded respect in the society and were also the ones who interpreted Dreamtime stories. They also practiced rock art, bark painting, ball games, and weapon games among others.
Challenges Facing the Indigenous Community
The term "Stolen Generations" refers to members of the Indigenous community who were affected by a government policy that began in the 1800s and ended in the 1970s. Throughout this time period, the government and church missions forcibly removed many Indigenous children from their families and placed them in orphanages, missions, and foster families. They gave the children new identities and new religions in the name of assimilation into Australian society. Repercussions from this traumatic shared history are still felt in Indigenous communities today.
Indigenous Australians were not granted the right to vote until 1962. In 1967, the Australian government finally amended the constitution to allow for Indigenous Australians to stand for elective parliamentary positions.