World Facts
10 Interesting And Unique Facts About Botswana
One of the Seven Natural Wonders of Africa is located in Botswana.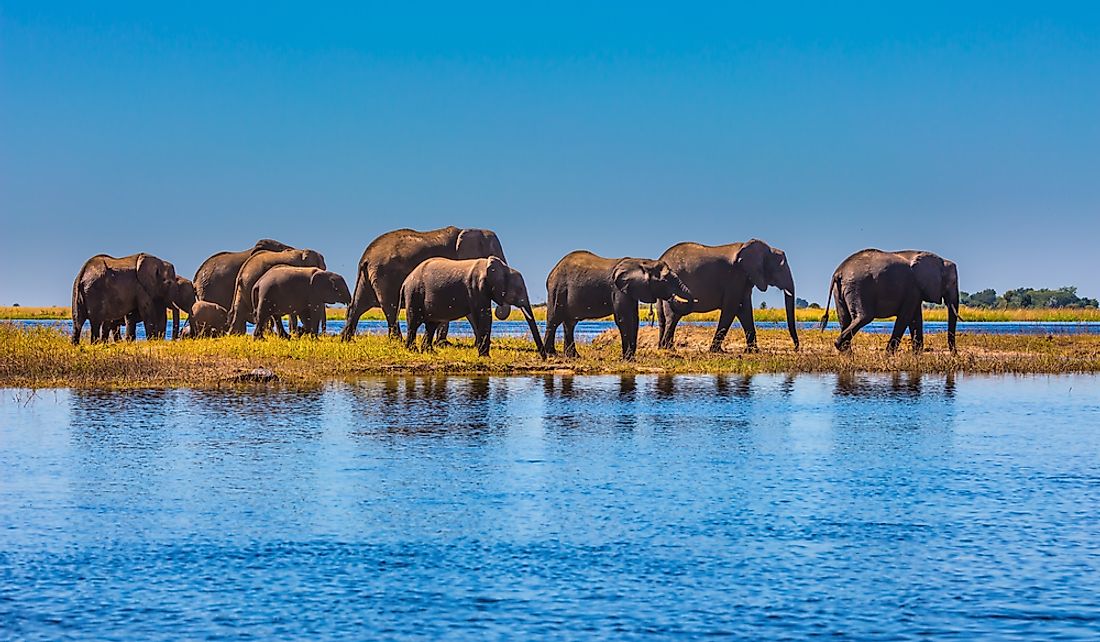 Botswana is a landlocked nation located in Southern Africa. The country covers an area of 224,610 sq mi and has a population of 2,250,260, which makes it one of the least densely populated in the world. Botswana is a former British protectorate, and its economy and standard of living rank among the highest in Africa. The country features diverse landscapes and humans have inhabited the region for at least thousands of years. A series of interesting and unique facts about Botswana are highlighted below.
10. Botswana Has Africa's Highest Concentration of Elephants
Botswana is home to approximately 130,451 elephants. Additionally, the country has a density of 1.28 elephants per square km, which is the highest elephant concentration in Africa.
9. Over 70% of Botswana's Total Area Is Desert
The semi-arid sandy savanna of the Kalahari Desert occupies over 70% of Botswana's total area.
8. One of the Seven Natural Wonders of Africa Is Located in Botswana
The Okavango Delta is a massive inland delta located in the Kalahari Desert of Botswana. Formed by the Okavango River in a tectonic trough of the desert, the delta is an endorheic basin that loses its water through evaporation and transpiration. The delta is covered by swampland vegetation and is inhabited by numerous mammals, birds, reptiles, amphibians, and fish. The Okavango Delta is one of the Seven Natural Wonders of Africa and has been designated as a UNESCO World Heritage Site.
7. Botswana Is Africa's Oldest Continuous Democracy
Botswana was formerly a British protectorate named Bechuanaland. After gaining its independence on September 30, 1966, the independent state was renamed Botswana. Since that time, Botswana has maintained an uninterrupted tradition of democratic elections, making it Africa's oldest surviving democracy.
6. Botswana Is the Best Place to See Meerkats in the Wild
Meerkats are small carnivorans from the mongoose family. The species is endemic to Southern Africa, and is common throughout the Kalahari Desert. Botswana offers the best opportunity to observe these unique and interesting animals. Many wildlife tours offer meerkat safaris in Botswana.
5. Botswana Has One of the World's Third Highest Prevalence Rate of HIV/AIDS
Botswana suffers from one of the world's worst HIV/AIDS epidemics, after Swaziland and Lesotho. The country has an adult HIV prevalence rate of 24.8%. The high socioeconomic costs of managing HIV/AIDS at a national level are challenging to the nation's economy.
4. Botswana Is One of the World's Biggest Diamond Producers
Botswana is the world's second largest producer of diamonds. In fact, the country produced 40 million carats of diamonds in 2016.
3. The Name of Botswana's Currency Means "Rain"
The pula is the currency of Botswana. The word pula literally means "rain" in the local Setswana language. Since much of Botswana is desert, rainfall is a rare event in the country, and is therefore highly valuable and considered to be a blessing.
2. Botswana Is Nature-Friendly
Approximately 38% of Botswana's territory is protected as national parks, sanctuaries, reserves, and wildlife management areas.
1. Botswana Contains One of the World's Largest Salt Pans
Located in the dry savanna of north-eastern Botswana, the Makgadikgadi Pan is one of the largest salt pans in the world. The pan is situated in an area that was once covered by the massive Lake Makgadikgadi.
About the Author
Oishimaya is an Indian native, currently residing in Kolkata. She has earned her Ph.D. degree and is presently engaged in full-time freelance writing and editing. She is an avid reader and travel enthusiast and is sensitively aware of her surroundings, both locally and globally. She loves mingling with people of eclectic cultures and also participates in activities concerning wildlife conservation.
This page was last updated on March 15, 2019.
Citations
Your MLA Citation
Your APA Citation
Your Chicago Citation
Your Harvard Citation
Remember to italicize the title of this article in your Harvard citation.