World Facts
10 Facts About Guyana
The small South American country of Guyana is a fascinating place full of mysteries.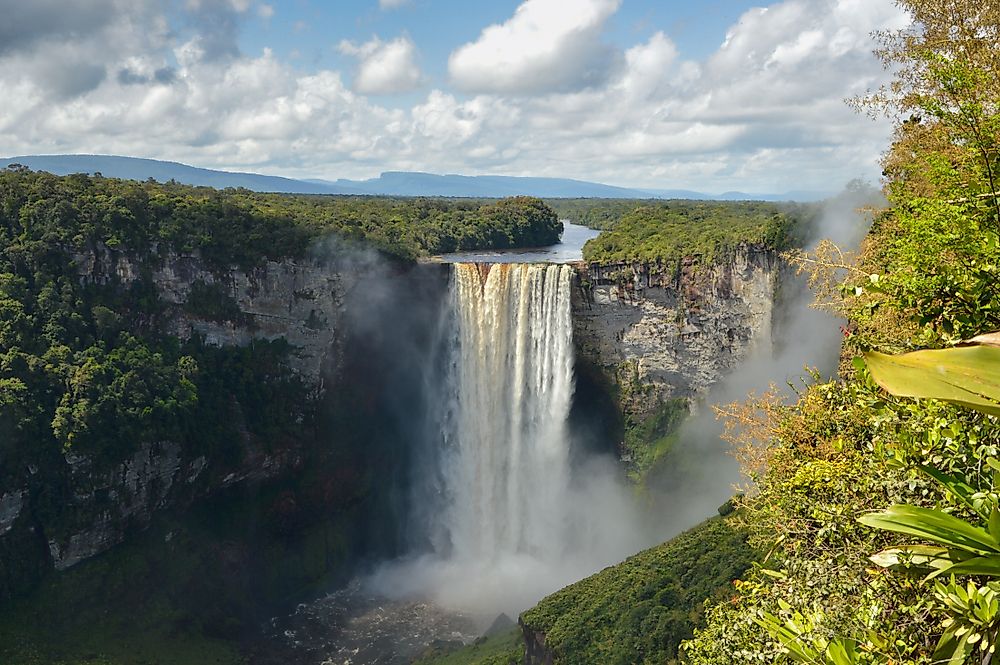 The small South American country of Guyana is a fascinating place full of mysteries. The country's varied landscapes, rich and unique flora and fauna, and diverse cultures attract tourists from across the world. Here is a list of some of the facts that make Guyana an extremely interesting place to visit.
10. It Is The Only South American Country With English As The Official Language
Guyana has English as the official language, a legacy of British colonial rule in the country. It is the only nation in South America where English is the official language.
9. Christopher Columbus Visited Guyana
Christopher Columbus sailed by Guyana in 1498 while on his third exploration voyage.
8. Conan Doyle's "The Lost World" Is Based On Guyana's Landscapes
It was the tepui landscape of Guyana that inspired Arthur Conan Doyle to write his novel "The Lost World" in 1912. A tepui is a table-top mountain that usually does not exist as a continuous chain but as isolated entities. The relative isolation of such tepuis allows unique flora and fauna to flourish on their surface.
7. The World's Largest Single Drop Waterfall Is Located In Guyana
The Kaieteur Falls in Guyana holds the title of being the "World's Largest Single Drop Waterfall" by volume of water flowing over it. This waterfall is 226 meters high. Its average flow rate is 663 cubic meters per second. It is located in the Potaro River and is part of a national park called the Kaieteur National Park.
6. Guyana Has One Of The World's Highest Suicide Rates
Not all is fine with the country. Guyana has the second highest suicide rate in the world. There is very little awareness in the country about mental illness. Only about 10 psychiatrists work full-time in the nation. There is also a shortage of psychologists and social workers who would help with the counseling of those suffering from depression. It is very difficult to pinpoint a single factor that is responsible for Guyana's high suicide rates. According to some researchers, extreme poverty, alcohol abuse, exposure to certain pesticides and herbicides, could contribute to depression and suicidal behavior in the country.
5. Guyana Has Large Impenetrable Rainforests That Humans Cannot Access
Guyana has one of the continent's largest rainforests that have not been explored by humans. Vast tracts of these forests are out of human reach due to their extreme remoteness.
4. Guyana's Rainforests Are A Scientist's Paradise
Many species of flora and fauna exist in the rainforests of Guyana including several that are unknown to humans. Every year, new species are discovered in these forests. The unique ecosystem, the mystery associated with these forests, and the undiscovered life forms residing there have attracted scientists from across the world to Guyana.
3. Some Of The World's Largest Floating Bridges Are Located Here
Guyana is home to the world's world's fourth longest floating bridge, the 1,851 meters long Demerara Harbour Bridge. The bridge is located on the Demerara River near Georgetown. The world's sixth-longest floating bridge, the Berbice Bridge, is also located in the country. It is 1,571 meters long.
2. Nesting Site Of Four Sea Turtle Species
Four of eight species of sea turtles, the Leatherback, Olive Ridley, Hawksbill, and Green sea turtles nest on the Shell Beach located in the Barima-Waini region of the country on the coast of the Atlantic Ocean. Although turtles visiting the beach were killed for meat in the past, today they receive protection as part of a non-governmental conservation program.
1. Mashramani Celebrates Guyana Becoming A Republic
Guyana became a Republic in 1970. Since then, an annual festival called Mashramani or Mash has been celebrated in Guyana in February. The festival includes vibrant float parades, costume competitions, street dancing, games, masquerade band, feasting, and other fun and entertaining activities.
About the Author
Oishimaya is an Indian native, currently residing in Kolkata. She has earned her Ph.D. degree and is presently engaged in full-time freelance writing and editing. She is an avid reader and travel enthusiast and is sensitively aware of her surroundings, both locally and globally. She loves mingling with people of eclectic cultures and also participates in activities concerning wildlife conservation.
This page was last updated on April 2, 2019.
Citations
Your MLA Citation
Your APA Citation
Your Chicago Citation
Your Harvard Citation
Remember to italicize the title of this article in your Harvard citation.