Map of Yucatan - Mexico Maps, Yucatan Peninsula Facts Landforms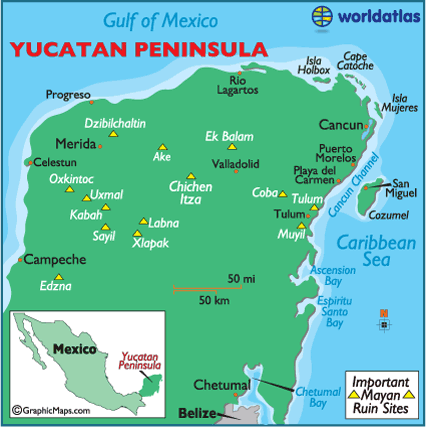 Mexico's Yucatan Peninsula is one of the most popular tourism destinations.
Major attractions include Cancun, the islands of Cozumel and Isla Mujeres, coral reefs, white-sand beaches, emerald-green waters, and perfect weather; all of them strong magnets for international travelers.
The peninsula is also home to a large grouping of Mayan archeological sites; major ones include Chichen Itza, Coba, Edzna, Kabah, Tulum and Uxmal.
Many areas of the peninsula are blanketed by a thick jungle, and in the southeast, tropical rain forests merge into the borders with Belize and Guatemala.
This page was last updated on September 3, 2020.