Gulf of Alaska – Map & Description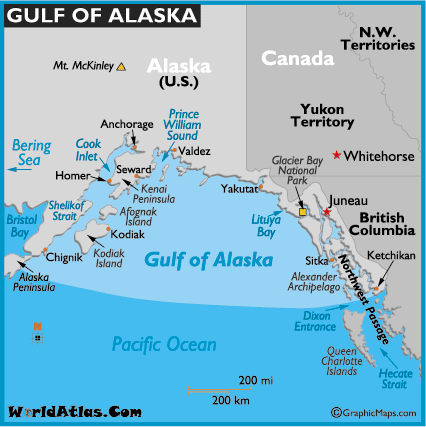 The Gulf of Alaska, an arm of the Pacific Ocean, extends along the southeastern coastline of Alaska from the Alaska Peninsula to the Alexander Archipelago.
Because of strong surface currents and the much colder arctic air that continually sweeps across its waters, the Gulf of Alaska is the recognized genesis of the heavy rain and snow storms that inundate southern and south-central Alaska.
It also helps to generate much of the seasonal rainfall along the coastline of British Columbia and in the states of Washington and Oregon.
Weather aside, this is a breathtaking place, with spectacular vistas at every turn. Places of note include Glacier Bay National Park, Kodiak Island, Alexander Archipelago, Alaska Peninsula and the snow-capped Chugach, Kenai, Fairweather and St. Elias mountains that ring its shorelines.
In addition to stunning scenery, the Gulf of Alaska has made front-page news many a time. In 1989, in Prince William Sound, the Exxon Valdez spilled 11 million gallons of crude oil. In 1958 a 1,742 foot high tsunami (the largest ever) consumed Lituya Bay, destroying everything in sight; pictures here!
Major ports include Anchorage, Juneau, Seward, and Valdez, the site of the trans-Alaskan pipeline terminal that receives vast quantities of oil from Alaska's North Slope and Prudhoe Bay.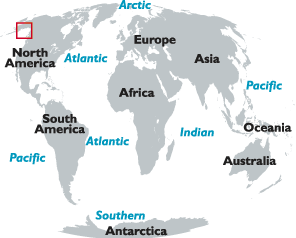 This page was last updated on September 3, 2020.