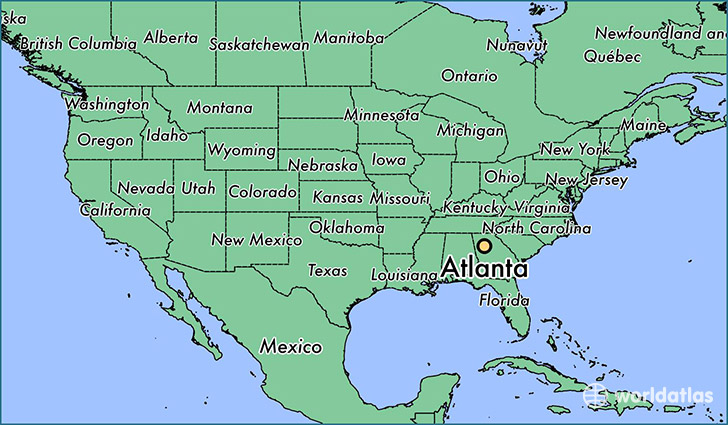 Atlanta is a city found in Georgia, The United States Of America. It is located 33.75 latitude and -84.39 longitude and it is situated at elevation 336 meters above sea level.
Atlanta has a population of 420,003 making it the biggest city in Georgia. It operates on the EDT time zone.
Quick facts
Description
With its classic views of magnolias and southern plantations, the stylish city of Atlanta inspires thoughts of gracious living. As the capital and largest city of Georgia it successfully weds that mystique with thriving ambitions that keep it one of the faster growing major U.S. city.
Atlanta is home to soaring skyscrapers and major corporations, co-existing within blocks of stately historic homes. New residents continue to flock here from all over the country to experience its attractive ambiance and high-quality lifestyles.
Positioned in northeastern Georgia amidst gently rolling hills, it's a sprawling city consisting of many neighborhoods, each displaying its own unique characteristic.
Did you know?
Atlanta's Hartsfield-Jackson International Airport is one of the world's busiest airports, in terms of both passengers and number of flights.
The Center for Disease Control and Prevention (CDC) was founded shortly after World War II in Atlanta and is now the world's source for statistics, research and vaccine development for dangerous human illnesses.
The City of Atlanta was the site of one of the most devastating battles in the American Civil War. The Burning of Atlanta devastated the town and the morale of the South, both taking decades of time and effort to recover.
LARGE, printable, Atlanta map
LARGE, printable, Atlanta metro map
Attractions
Check out the Atlanta attractions map for many of the great things to do on a Georgia vacation!
Martin Luther King, Jr. Historic Site
Established in 1980, the Martin Luther King, Jr. National Historic Site consists of several buildings surrounding Martin Luther King, Jr.'s boyhood home. The historic site features a museum that chronicles the American Civil Rights Movement; the "I Have a Dream" International World Peace Rose Garden; and a memorial tribute to Mohandas K. Gandhi, the great visionary from India.
World of Coca Cola
The World of Coca Cola exhibition is an Atlanta museum dedicated to the world's favorite beverage! The history of the Coca-Cola Company and its unique advertising campaigns are showcased in interactive ways that will please every generation. Journey through Coke's rich history in a 3D studio with moving seats and become a soda pop connoisseur as you taste 60 Coca-Cola products from around the world. This 60,000 square foot funhouse is located in the downtown area at Pemberton Place, and is a great Georgia vacation stop for all ages.
Georgia Aquarium
This amazing Atlanta aquarium may well be the largest in the world, with over 100,000 animals of 500 different species in 8 million gallons of water. Rarely seen in captivity, the Ocean Voyager's 6.3 million gallon tank is home to four enormous, yet gentle whale sharks from the waters off Taiwan. The Georgia Aquarium exhibits a Great Hammerhead Shark and a Manta Ray from South Africa named Nandi, along with many rare species seldom seen in the United States.
Maps
This page was last modified on October 2, 2015.