South Sudan Flag and Description
South Sudan Flag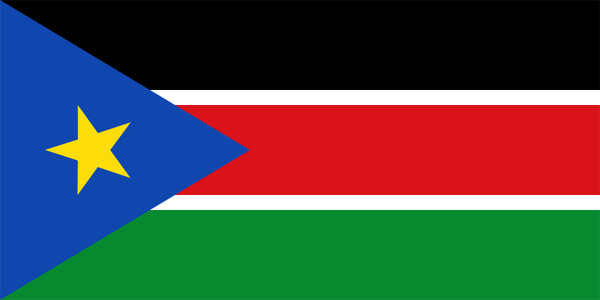 Buy this flag,
or any country flag
here
DESCRIPTION
The flag of South Sudan was adopted following the signing of the Comprehensive Peace Agreement that ended the Second Sudanese Civil War. The flag was previously used as the flag of the Sudan People's Liberation Movement.
The flag bears striking similarities with both the flags of Sudan (from which Southern Sudan seceded in 2011), and Kenya. It shares the black, white, red, and green of the Sudanese flag (though different symbolism is given to the colurs), in addition to having a chevron along the hoist. The horizontal black, white, red, and green bands of the flag share the same design as the Kenyan flag, and the Pan-African symbolism thereof.
all Country Flags here!
Map of South Sudan here!
This page was last updated on June 16, 2020.