Kangaroo Island Map Australia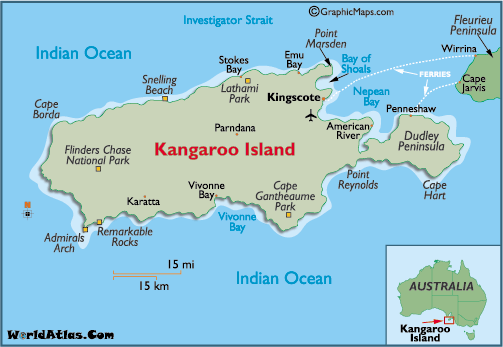 print this map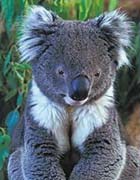 Kangaroo Island is Australia's third largest island - after Tasmania and Melville Island. It is 112 km southwest of Adelaide in the Indian Ocean.

The island is 150 km (93 mi) long and between 900 m (1,000 yd) and 57 km (35 mi) wide.
Kangaroo Island is famous for its honey and for being the oldest bee sanctuary in the world. Ligurian bees were imported from the Italian province of Liguria in 1881, and Kangaroo Island now has the only pure strain in the world.
Some of the animals native to the island include the Kangaroo Island Kangaroo, Rosenberg's Sand Goanna, Southern Brown Bandicoot, Tammar Wallaby, Common Brushtail Possum, Short-beaked Echidna and New Zealand Fur Seal. In addition, the Koala, Common Ringtail Possum and Platypus have been introduced and still survive here.
Kangaroo Island is one of our planet's last unspoiled refuges as it is literally crawling with wildlife. And more than one-third of the Island is a National or Conservation Park.
This popular tourism destination features uncrowded beaches, wonderful weather, and a great selection of lodging choices

This page was last updated on July 12, 2016.