Whitehorse, Yukon Map, Attractions, Facts, Latitude, Longitude, Links, Travel, Weather

"The Wilderness City" is the capital city of the Canadian territory of Yukon. Living up to its nickname, the city of Whitehorse is surrounded by hiking trails and the Yukon River flows directly through its heart. Trails and parks line the banks of the river, and although Whitehorse may be known for its wilderness, it also boasts the comforts of a contemporary city.
Whitehorse is constantly moving forward while still embracing its past. The city welcomes performers from all over the world and hosts various festivals each year, including the Yukon International Storytelling Festival and the Frostbite Music Festival. The city takes pride in the culture and traditions of its First Nations people of the Kwanlin Dun and Ta'an Kwäch'än.
With its humidity-lacking summers and relatively mild winters by Canadian standards, Whitehorse has one of the most comfortable climates in Canada. Since its dry climate results in very little precipitation, visitors and residents alike can enjoy its naturally scenic beauty year-round.
Located in the south-central part of Yukon, Whitehorse is within traveling distance of many of Yukon's major landforms like the Watson Lake on the British Columbia border, the Selwyn Mountains, and the Mackenzie Mountains, which rest on the line between Yukon and the Northwest Territories.

Moose are so abundant in Whitehorse and throughout the Yukon that they outnumber people by more than 2 to 1!
Whitehorse was established in 1898 as a transportation center during the Klondike Gold Rush.
Whitehorse was not always the capital of Yukon. In fact, it did not replace Dawson as the capital city until April 1, 1953.

Check out the following great things to do on your Yukon vacation adventures:
MacBride Museum of Yukon History

The richness of Yukon's history and culture is preserved in the MacBride Museum of Yukon History. With four different major exhibits, the Gold to Government Gallery offers museum visitors a personal view of the famous Klondike Gold Rush. Listen to individual accounts of men and women who made the treacherous journey to Yukon during the Gold Rush, or visit an original miners' saloon from 1898.

Aside from the Gold Rush exhibitions, the museum is fun for the entire family, attracting children to the Kids Discovery Zone with hands-on animal games and activities. Nature lovers can experience the immensity of a seven-foot grizzly and an albino moose in the museum's Natural World Gallery.

From a First Nations collection of artisan work to a display of the locomotive originally used to construct Yukon's famous railways, visitors rave about the excitement the MacBride Museum has to offer.

Muktuk Adventures

Open year-round, Muktuk Adventures appeals to thrill-seekers of all ages. In the winter, visitors to the Muktuk Adventures ranch can grab the reins and test their skills on dogsled expeditions. During the off season, they can attend exciting training sessions with the dogs, following along on ATVs.

Ranging from half-day trips to the 111-day Follow the Yukon Quest event, Muktuk attracts novice dogsled fans as well as master mushers. Dog-lovers will find themselves surrounded by friendly dogs, from newborn puppies to those retired from pulling sleds.

Along with the animals, visitors to Muktuk kennel won't be disappointed by the exhilarating adventures, experienced, welcoming staff and breathtaking Canadian scenery.

Takhini Hot Springs

For Yukon travelers looking to unwind during their stay in Whitehorse, Takhini Hot Springs offers two relaxing hot pools. While soaking in the hot pools, visitors can enjoy spectacular views of Yukon's mountains, whether snow-topped in the winter or illuminated by the blazing summer sun.

Takhini Hot Springs also boasts a new restaurant and a campground recognized as one of Canada's family favorites. Other activities suitable for all ages at Takhini Hot Springs include horse riding lessons, zip line rides and viewings of Yukon's famous northern lights—the aurora borealis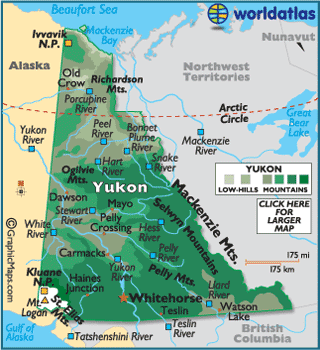 print this map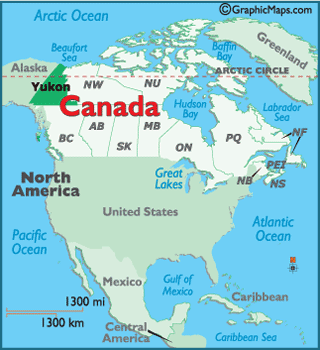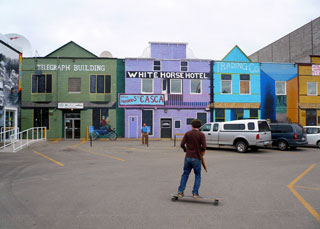 Downtown Whitehorse's historic center