Trinidad and Tobago Flag: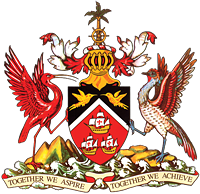 The shield of the coat of arms contains the same colors as the nation's flag, and carry the same meaning. The gold ships within the shield represent Christopher Columbus' ships: the Santa Maria, La Nina, and La Pinta.
The two birds above the ships, in the black section, are hummingbirds representing the more than sixteen different species of hummingbird that have been recorded on the island of Trinidad. On the left side of the shield stands a Scarlet Ibis, while on the right is a Cocrico. Below the Scarlet Ibis are three hills, representing the Trinity Hills in southern Trinidad.
Those were the hills that Christopher Columbus saw during his visit to the islands, and what prompted him to give the name, "Trinidad." The island rising out of the waters beneath the Cocrico represents Tobago, and below these birds is the nation's motto, "Together We Aspire, Together We Achieve."
About Trinidad and Tobago
Countries & Territories Of The Caribbean
This page was last updated on April 7, 2017.