Isla Mujeres Travel to

ATTRACTIONS: (a few major)
Isla Mujeres is known for many things, but a wide variety of water sports activities are on the top of most travelers' lists.

Here you can windsurf over calm coastal waters, snorkel through the coral landscapes at El Garrafon National Park, or explore the other reefs surrounding the island.

The island is ringed by powdery-white sand beaches; the largest is called Playa Norte (North Beach); there you can enjoy the sun, tropical breeze and tranquil, warm waters.

Isla Mujeres has lodging options for every budget, colorful shopping areas, trendy bars, and waterside restaurants where they serve fresh (just caught) fish at your table.

Some of the most popular off-island activities include day trips to Cancun, eco tours, and the nearby Mayan archaeological sites of Chichen Itza, Coba and Tulum on the Yucatan Peninsula.
CONVENTION AND VISITOR BUREAUS:
GENERAL INTEREST:
Electricity: 110/120V, 60Hz
Times to Travel: Tropical Isla Mujeres is a very reliable vacation destination as there are very little temperature variations throughout the year. In fact, the annual mean temperature is right at 27.0 °C (80.6 °F).

Rainfall is scattered across the calendar, with the heaviest period from from early August through October. Similar to the U.S. State of Florida, (brief) afternoon showers are the norm.



TRAVEL:


How to get to Isla Mujeres? Even though there is an airstrip on the island, there are no commercial flights. The only way to get to the island is by taking a ferry or boat.

We strongly recommend the (yellow) Ultramar ferries, leaving from Cancun's Gran Puerto. For about $5.00 US, the catamarans provide an air conditioned, comfortable ride with individual seats rather than benches, and there's a bathroom on board.

The ferries leave every 30 minutes, beginning at 5:30AM, ending at 11:00PM. It's a brief 20-minute ride, and if you're staying on Isla Mujeres for a few days, they help with your bags, both on and off the ferry.
Isla Mujeres Photographs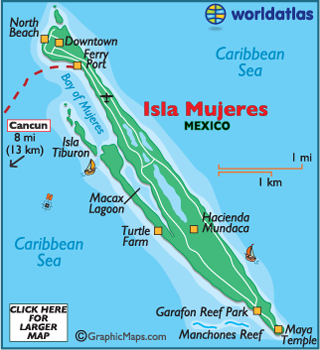 print this map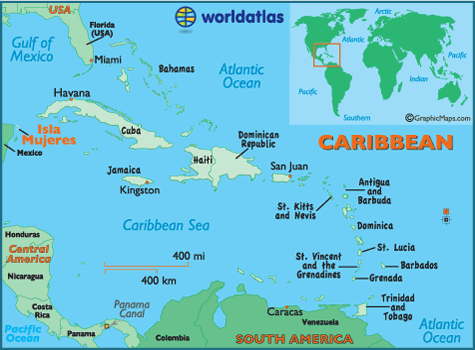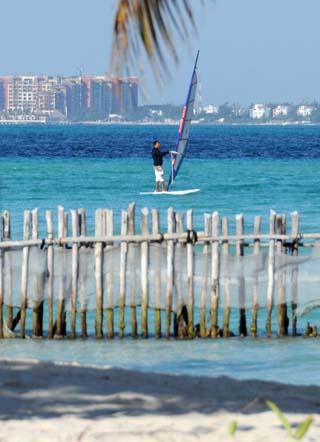 Windsurfing, Isla Mujeres. That's Cancun in the background.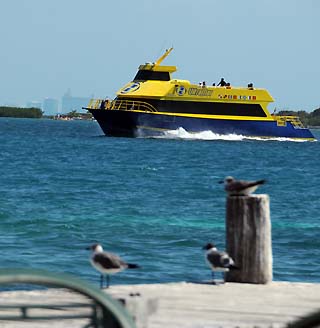 Take the (yellow) Ultramar Ferry to Isla Mujeres.