Isla Mujeres History Timeline



550 - 2011
(550 - 1500) As a part of the Mayan culture, the island was called Ekab, and was one of the four provinces or Mayan territories that formed what is today the State of Quintana Roo. It was also considered sacred by that civilization
(1517) In March, Francisco Hernandez Cordova discovered the island. When the Spanish expedition landed, they found many female shaped idols representing the goddess Ixchel, thus Isla Mujeres got its name, Spanish for "Women Island"
(1500s - 1800s) For three centuries the island was mostly uninhabited. The only visitors were fisherman, and the assorted pirates that used it as a refuge
(1821) On August 24, Mexico gained its hard-fought independence from Spain, and a small village began in what is now downtown Isla Mujeres
(1850) In August, the governor of the State of Yucatan, Don Miguel Barbacano, named the village, Pueblo de Dolores
(1858) Fermin Anonio Mundaca y Marecheaga arrived from Spain and began construction of a large hacienda he named "Vista Alegre" (Happy View). When finished it covered 40% of the total surface of the island, and controlled agriculture and cattle raising. Today it's a tourist attraction
(1949) A Mexican naval base was established on the island's western edge
(1967) The Mexican Government and its water department, with the help of many local divers, installed an under-the-sea purified water piping system, the first in the world. The 6" pipes were replaced with 8" pipes in 1988, and modern tourism facilities quickly developed
(1974) Cancun's International Airport finally opened, consequently more visitors arrived and tourism traffic increased on Isla Mujeres
(1988) Hurricane Gilbert, a category 5 hurricane, stormed into the Caribbean and struck Isla Mujeres and Cancun. North Beach all but disappeared, and the small Mayan temple on the south tip of the island was severely damaged
(2005) On October 21, Hurricane Wilma made landfall on Mexico's Yucatan Peninsula as a powerful Category 4 hurricane, with strong winds in excess of 150 mph (240 km/h); damage was severe. Isla Mujeres was not spared, as North Beach was once again damaged severely
(2007) The eye of Hurricane Dean came ashore 190 miles (310 km) to the south of Cancun. Fierce winds at the outside of its impact cone stripped some of the sand off 7.5 miles of Cancun beach; Isla Mujeres was also damaged along its western shoreline
Isla Mujeres Photographs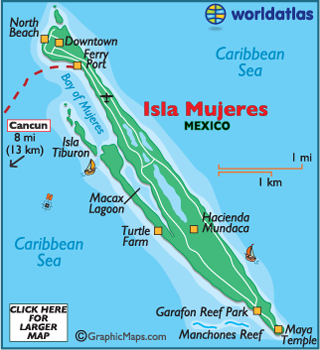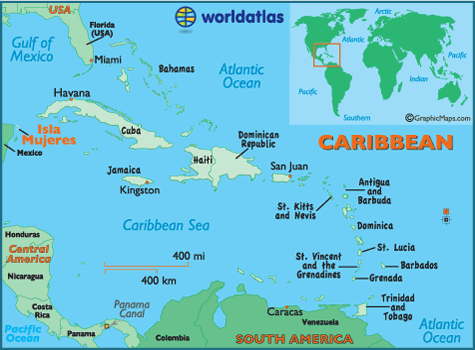 On the far-southerm edges of Isla Mujeres, the shoreline is quite beautiful, and rugged as well.