Cancun Travel to


ATTRACTIONS: (a few major)


Cancun is known for white powdery sand beaches, turquoise crystal clear waters, warm and comfortable weather throughout the year and welcoming Mexican hospitality.
Some of the most popular activities include watersports of all description, eco tours and the nearby Mayan archaeological sites of Chichen Itza, Coba, Isla Mujeres and Tulum.
There's lodging options for every budget, high-end shopping centers, trendy bars, a vibrant nightlife, waterside restaurants and some of the best scuba diving, snorkeling and fishing in the world.


CONVENTION AND VISITOR BUREAUS:

GENERAL INTEREST:
Electricity: 110/120V, 60Hz
Times to Travel: Tropical Cancun is a reliable vacation destination as there are very little temperature variations throughout the year. In fact, the annual mean temperature is right at 27.0 °C (80.6 °F).
Rainfall is scattered across the calendar, but most falls from early August through October. Similar to the U.S. State of Florida, (brief) afternoon showers are the norm.
TRAVEL:
PASSPORTS - TRAVEL VISAS - WARNINGS:
NOTE: Before making your travel plans to any worldwide destination, we strongly recommend you authenticate important details regarding all applicable health, passport and visa requirements. The people at Travel Visa Pro can answer all of your questions!

Cancun Photographs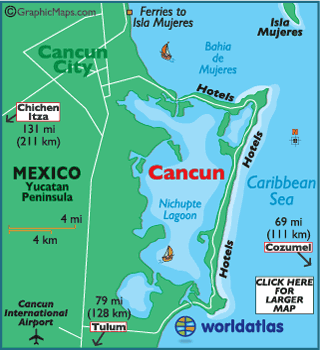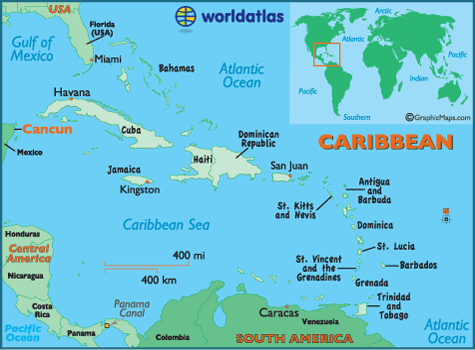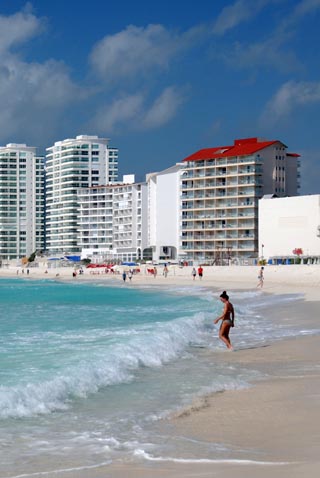 Cancun beach view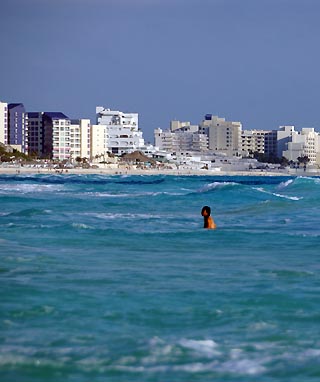 Cancun's cerulean blue water