Cancun Geography



Cancun is position on the northeastern edge of the Yucatan Peninsula, fronted by the Caribbean Sea, and a bit further north, the Yucatan Channel that separates Mexico from the island of Cuba.

In addition to the mainland, the resort area of Cancun is a long and narrow island lined with powdery white-sand beaches, connected to the mainland (on both ends) by bridges.

The somewhat shallow Nichupte Lagoon, between Cancun Island and the mainland, is a wildlife refuge.

Just to the west of Cancun City, the northern portion of the Yucatan Peninsula, is a low-lying jungle of sorts, void of lakes and rivers.

Swampy areas are common on the peninsula, and well as countless sinkholes (underwater caves) called cenotes.

The northern tip of the Gran Arrecife Maya lies off the southern edge of the hotel zone. It is the largest coral reef in the Western Hemisphere and one of the largest in the world.
Cancun Photographs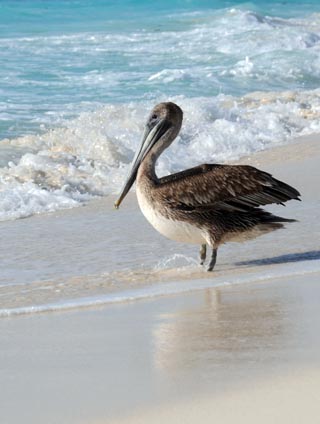 Pelican on the beach in Cancun