Panama's Information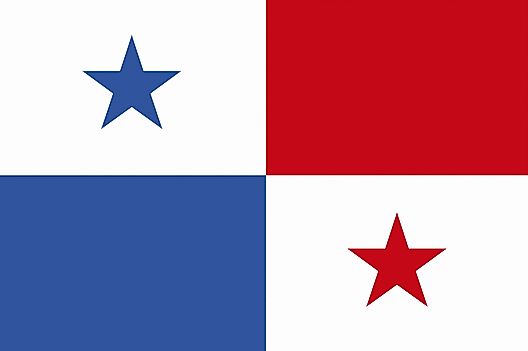 | | |
| --- | --- |
| Land Area | 74,340 km2 |
| Water Area | 1,080 km2 |
| Total Area | 75,420km2 (#116) |
| Population | 3,705,246 (#130) |
| Population Density | 49.84/km2 |
| Government Type | Presidential Republic |
| GDP (PPP) | $93.12 Billion |
| GDP Per Capita | $22,800 |
| Currency | Balboa (PAB) |
| Largest Cities | |
1500's
(1502) Spanish explorer, Rodrigo de Bastidas, visited Panama
(1503) Christopher Columbus built garrison at mouth of Rio Belen (western Panama)
(1509-1520) Spanish colonized area of Nueva Granda (present-day Colombia, Ecuador, Panama, Venezuela)
(1513) Vasco Nunez de Balboa, Spanish explorer, crossed Isthmus of Panama, claimed Pacific Ocean for Spain; King Ferdinand named Balboa governor of Panama and Pacific Ocean
(1514) 1,500 Spanish settlers went to Panama
(1519) Panama City founded
1600's - 1700's
(1624) Spanish silver fleet sailed to Panama
(1671) Pirate Henry Morgan defeated Spanish defenders, captured Panama
(1739) Admiral Edward Vernon captured Spanish city of Portobello, Panama
1800's
(1821) Panama became independent of Spain; joined confederacy of Gran Colombia, comprised of Colombia, Venezuela, Ecuador, Peru, Bolivia
(1830) Panama became part of Colombia, after collapse of Gran Colombia
(1846) Panama signed treaty with US, allowed US to build railway across Isthmus
(1848) First California-bound gold seekers arrived in Panama enroute to San Francisco
(1850) City of Colon founded as Isthmus of Panama became route for California gold rush
(1855) US built Panama railroad
(1873) US marines attacked Panama
(1880) President Rutherford B. Hays declared US would have jurisdiction over any canal built across Isthmus of Panama
(1880-1902) Number of rebellions staged to gain independence
1900's
(1901) Second Hay-Pauncefote Treaty signed; US given extensive rights by Britain for building, operating canal through Central America
(1903) Panama split from Colombia, became fully independent; US bought rights to build Panama Canal, received control of the Canal Zone in perpetuity
(1904) US acquired control of Panama Canal zone for $10 Million; US took over construction of Panama Canal; Panama adopted US dollar as its currency
(1906) President Theodore Roosevelt visited Panama, became first president to make official visit outside US
(1914) Panama canal completed; US declared Panama Canal Zone neutral
(1939) Panama ceased to be US protectorate
(1968-81) President Arias opened vote to women; General Omar Torrijos Herrera, national guard chief, ousted president Arias, imposed a dictatorship; General Omar Torrijos died in plane crash
(1984) Nicolas Ardito Barletta elected president
(1985) Manuel Antonio Noriega ousted president Barletta
1900s continued
(1988) US charged Noriega with drug smuggling; Noriega declared state of emergency in wake of failed coup
(1989) US invaded Panama, ousted Noriega, replaced with Guillermo Endara
(1991) Parliament approved constitutional reforms, included abolition of standing army; privatization began
(1992) Noriega found guilty of drug offences by US court, sentenced to 40 years imprisonment in US prison
(1999) Mireya Moscoso elected Panama's first woman president; Panama took full control of Canal
2000s
(2002) President Moscoso set up commission to investigate corruption; Panama removed from international list of uncooperative tax havens, promised to make tax system more transparent
(2003) National strike over management of social security fund paralyzed public services
(2004) Martin Torrijos won presidential elections; Panama Canal earned record revenues of $1 billion
(2005) President Torrijos promised to reform cash-strapped social security system
(2006) Voters backed $5.2 billion referendum plan to upgrade Panama Canal; US and Panama agreed on free trade deal
(2007) Widening of Panama Canal began
(2008) Fatal shooting of union leaders triggered violent clashes between police, construction workers in Panama City; Russian warship sailed through Panama Canal for first time since WWII; Noriega released from Florida prison after serving 17 years of sentence for drug trafficking
(2009) US federal appeals court stated that Panama's ex-leader, Manuel Noriega, could be extradited to France; Ricardo Martinelli won presidential elections; Canada signed free trade deal with Panama
(2010) Noriega went on trial in Paris
About the Author
John Moen is a cartographer who along with his wife are the orignal founders of worldatlas.com. He and his wife, Chris Woolwine-Moen, produced thousands of award-winning maps that are used all over the world and content that aids students, teachers, travelers and parents with their geography and map questions. Today, it's one of the most popular educational sites on the web.
Countries Of Central America
This page was last updated on July 10, 2020.