Scotland Flag
Scotland Flag:



First hoisted in 1512, the flag is the historic Cross of St. Andrew. When combined with the flags of England and the Patron Saint of Ireland, they collectively form the UK flag.

Larger Scotland flag

Scotland Coat of Arms: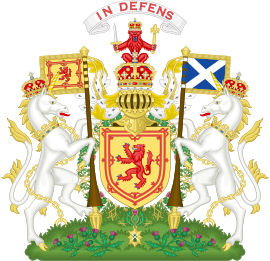 The coat of arms of Scotland consists of a yellow shield with a red rampant lion in the center. The shield is supported by two unicorns. The shield is flanked by two flag standards, one bearing the rampant lion and the other the Scotish flag. The shield is surmounted by a the Crown of Scotland.
This page was last updated on April 7, 2017.