Cyclades Islands Map / Geography of Cyclades Islands / Map of Cyclades Islands
Cyclades Islands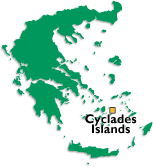 Some of these islands are arguably the most popular (and most recognized) destinations in all of Greece as their sandy beaches, whitewashed hilltop villages, perfect weather and scenic views draw tourists from around the world.
The Cyclades islands are off the southeastern coast of Greece in the Aegean Sea. The most visited islands in this group of about 40 islands include Andros, Ios, Milos, Mykonos, Paros and Santorini.
The volcanic crater island of Santorini is simply breathtaking, with tiny villages clinging to rugged cliffs that literally fall into the Aegean Sea.
All of the major islands are accessible by a ferry service from mainland ports, as well as by a wide variety of inner-island ferries. Most of the larger islands can be reached by air.
ISLAND ATTRACTIONS & MAPS