Northeast Aegean Islands Map / Geography of Northeast Aegean Islands / Map of Northeast Aegean Islands
Northeast Aegean Islands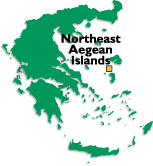 These scattered islands fronting the western coastline of Turkey are known for their ancient ruins, pristine beaches and stunning scenery, and yet, they're less overrun by tourists no-doubt because of their locations. The group includes about two dozen islands, with Ikaria, Levos, Samos and Thasos the most popular destinations.
Nature lovers and those wanting a more relaxed atmosphere (or vacation) will find these islands both inspiring and therapeutic, and generally undiscovered. Some feel that Ikaria is the most beautiful, while other travelers rave about the scenic views on Lesvos.
All of the major islands are accessible by a dependable ferry service from mainland ports, and some of them can be reached by air.