England Flag
England Flag:



First hoisted in 1191, the historic Flag of St. George became England's flag in 1278. The flag is dominated by a upright, deep-red cross. When combined with the flags of Scotland and the Patron Saint of Ireland, they collectively form the UK flag.

Larger England flag

England Coat of Arms: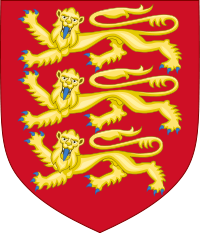 The coat of arms of England has three identical golden lions with blue tongues and claws. They are arranged in a column with a red background.
This page was last updated on April 7, 2017.