Sao Tome Flag: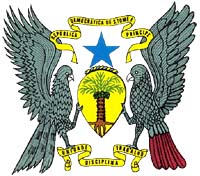 The coat of arms of Sao Tome and Principe displays a falcon on the left and parrot on the right holding a shield. A blue star rests above the shield and the national motto ("Unity, discipline, work") is displayed on a ribbon below.
About Sao Tome and Principe
This page was last updated on April 7, 2017.