The Yazoo River is located in Louisiana and Mississippi, in the United States . It is generally thought to mark the southern border of the Mississippi Delta floodplain. The river was named in 1682 by a French explorer named La Salle, who referred to it as "Riviere des Yazous," referring to the Yazoo tribe who lived near the river's mouth. The river has also sometimes been called the "River of Death," and that origin is debated. It could refer to a mass execution event of the Yazoo people near the river or to the strong undercurrents found in the river, which can prove deadly. 
Geography Of The Yazoo River
The Yazoo River is formed by the confluence of the Yalobusha River and the Tallahatchie River, just north of Greenwood, Mississippi. It is approximately 306 kilometers long and flows mainly south and southwest, paralleling the Mississippi River for much of its course. The Yazoo River then joins the Mississippi River at Vicksburg. Major cities along the Yazoo River are Greenwood and Yazoo City.
Levees and Watercourse Of The Yazoo River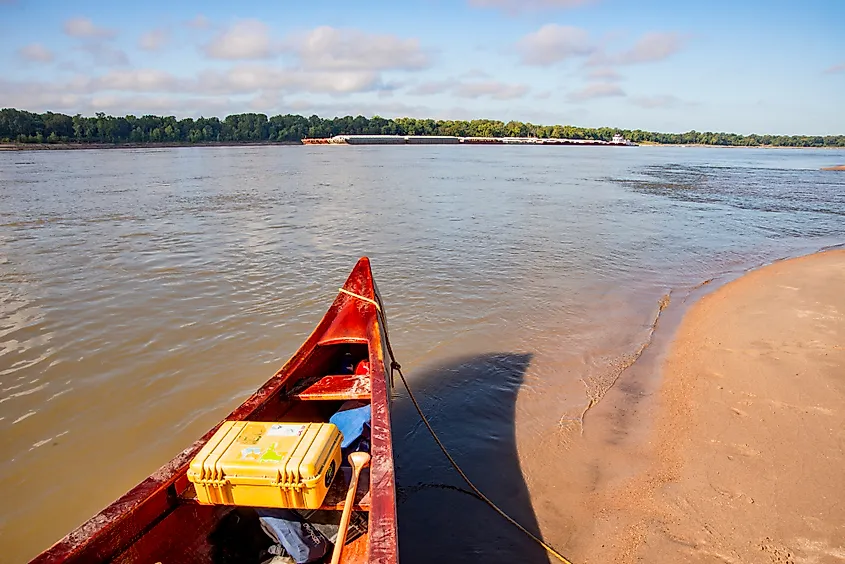 In 1867, the Mississippi River diverted its course to the west by several kilometers, which left the town of Vicksburg without any riverfront. The surrounding river basin was historically subject to flooding due to the nearby headwaters and large streams. In part, for this reason, a levee system was built and completed in 1886. This diverted water from the basin and the region became popular for cotton growing. In 1902 the Yazoo River was diverted into the old river bed, thus forming the Yazoo Diversion Canal. Some 320 kilometers of levees, starting south of Memphis and continuing to the mouth of the Yazoo, continue to protect the floodplain from flooding. This floodplain, or basin, is generally referred to as the Mississippi Delta, or Yazoo Delta. 
History Of The Yazoo River
The Yazoo River had a major role to play in the American Civil War. The first electrically detonated mine was used in the river in 1862. It was planted near Vicksburg and was used by Confederate troops to sink the Union ironclad USS Cairo. The ship's remains were pulled from the river in 1964 and placed on display at the Vicksburg National Military Park. Twenty-nine other sunken ships from the Civil War remain in the river. 
Yazoo National Wildlife Reserve
While not directly located along the river, the Yazoo National Wildlife reserve is nearby, in the heart of the Mississippi delta. The reserve is 52.4 square kilometers in area and is named after the Yazoo tribe. It was established to offer a haven for waterfowl and migrating birds coming through the Mississippi Flyway. In addition to birds, American alligators, white-tailed deer, rabbits, raccoons, and squirrels all live in the region. While their numbers are higher in the reserve, many of these same species can be found closer to the river edge as well.