The Dworshak Dam is a concrete gravity dam constructed on the North Fork Clearwater River in Clearwater County in the north-central portion of the US State of Idaho. The main purposes of the Dam are flood control and hydroelectric generation. The Dam was first proposed in 1953 by the US Army Corps of Engineers. Supporters of the Dam would cite the horrific 1948 flooding of the Clearwater River as the main reason the Dam was needed. The project was officially authorized in 1962, and construction began in 1966. The Dam was fully completed in 1973.
About The Dworshak Dam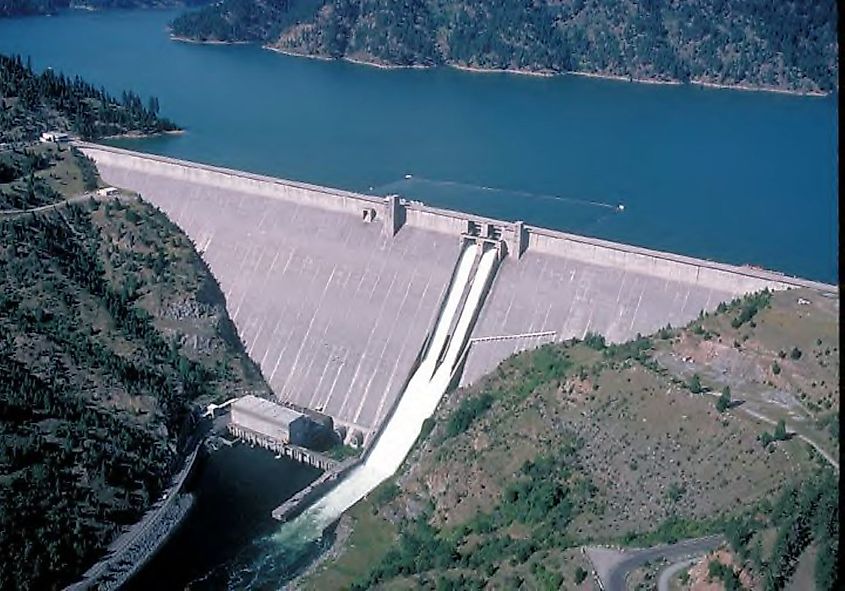 The Dworshak Dam was named after Senator Henry Dworshak of Idaho, who was crucial in gaining approval for the project. The Dworshak Dam is a gravity dam, meaning that the materials it is built with provide resistance against the water pressure and redirect the currents. Each section of the dam is intended to be stable on its own, not relying on other parts of the dam to hold them up. The Dworshak Dam has been controversial since its inception, as it has held up vital fish migration routes, disrupting both natural processes as well as the fishing industry. The Dworshak Dam's height stands at an impressive 219 meters. The dam is 1002 meters in length. The accompanying power station generates about 1.693 billion kilowatts of electricity per hour. The dam also created the artificial Dworshak Reservoir, at a capacity of 2,016,000 acre-feet. The closest human settlement to the dam is Ahsahka, with a population of 187 people. The next closest settlement to the Dworshak Dam is Orofino, with a population of around 3,000 inhabitants. The dam sits between the Big Eddy Recreation Site and Launch Area and the Bruce Eddy Recreation Area and Boat Launch Site. The Dworshak Dam is about 5 hours from Boise, the state's capital city.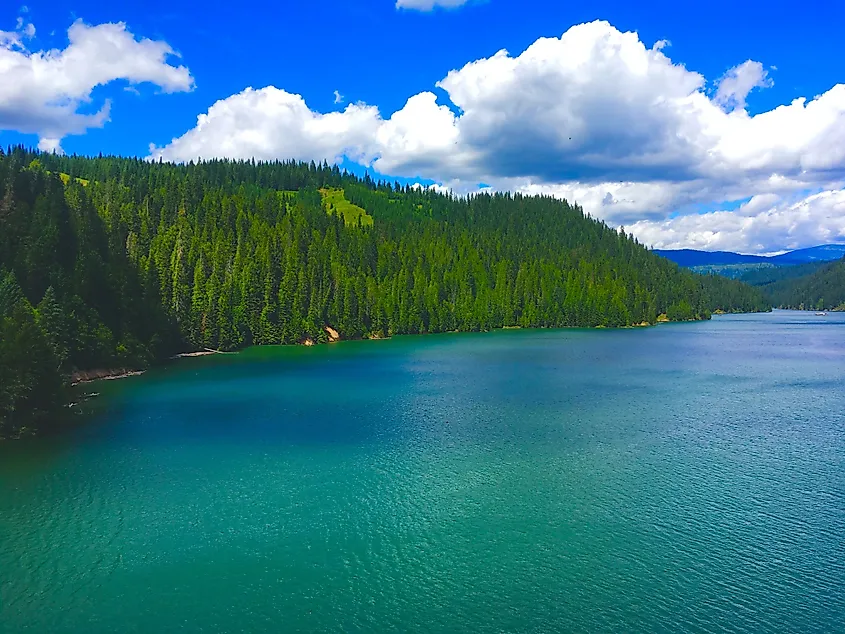 To mitigate the disruption to fishing, a fish hatchery was created in 1969, the Dworshak National Fish Hatchery. This facility artificially repopulates the Clearwater River, releasing millions of juvenile fish into the river system every year. The Dent Bridge was finished in 1971, crossing over the reservoir. When the Dworshak Reservoir was being filled, the Dam experienced cracking, and repairs had to be made in the form of drilled holes to offset the pressure of the water. The Dam had to be repaired again after it experienced leaks in 1980.