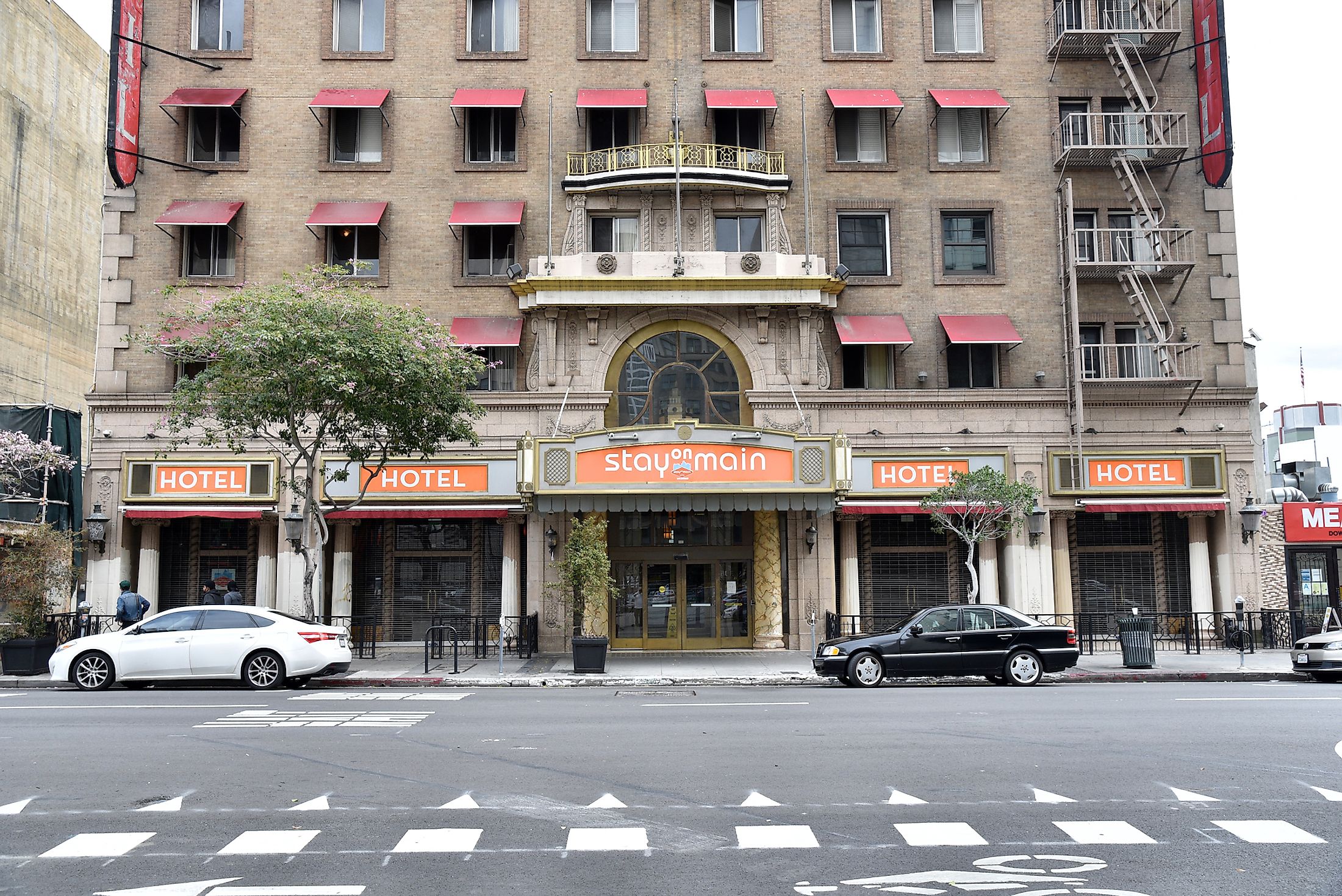 Although Los Angeles, for many, represents fortune, fame, and sunshine, as well as health and beauty, there must be a dark side to every bright one, despite the performance L.A. puts forth to lure one in. The opposite can be found in the dimmed light bulbs, the neglected lawns, and the ever-present homelessness, along with some stories, that are scarily magnetic for their inability to be explained or even to comprehend.   
Located in the heart of downtown, at 640 S. Main Street in Los Angeles, California, the notoriously famous Cecil Hotel is a landmark of many haunting stories. Having started off with a simple construction and unremarkable early history, it has quickly become known for the many successive murder and suicide cases, other disturbing and mysterious happenings, and even a feature in its own film. 
Construction And Early History Of Cecil Hotel
Costing $1,000,000 to complete in the course of three years, the hotel designed in Beaux Arts styles by Loy Lester Smith was constructed in 1924 by William Banks Hanner. Designed bold in expression to be excessive, the influence by the Jazz Age was seen in the opulent marble lobby, stained-glass windows, potted palms, and alabaster statuary. Some might say that the setting just a few blocks away from the Skid Row neighbourhood, known for its homeless population of some 10,000 living within the 4-mile radius, was a premonition, or a determinative factor in its unfortunate future. Built for business travellers and tourists, it was occupied as any other hotel in the vicinity at the time, and even flourishing as a fashionable destination of the 1930s, although quickly falling into decline following the Great Depression.
Reputation Of Cecil Hotel
Even the cheap rooms could not save the situation, with the hotel becoming a hotspot where drug addicts, sex workers, serial killers and other lost souls would find their nightly rest by the 1950s, with lives ending from unnatural causes in the following years, and soon earning the hotel a haunting reputation. The first death took place in 1927, when on January 22, a 52-year-old Percy Ormond Cook too his life in one of the hotel's rooms by shooting himself in the head, upon an un-reconciled relationship with his wife and child. Then, in 1931, W.K. Norton, a guest at the hotel was found dead with poison in his body, which he ingested in capsules. 
Elisa Lam
Events would unveil one after another, with the recent mysterious death of the 21-year-old Elisa Lam's, a Canadian college student, naked body found in one of the hotel's water tanks on the roof, in 2013, after several guests complained about the low water-pressure and the taste of the water. Ruling out accidental drowning, her death was connected to her depression and bipolar disorder having not made progress for several weeks, and behaving erratically and eerily as if hiding from someone, in one of the hotel's elevators, recorded on the now-infamous video. There are many conspiracy theories but no answers as to the way she got into the water tank, not how she got on the roof without setting off the alarm in the first place.
On the footage she is seen ducking and crouching in the elevator, pressing herself against the wall, and often peeking out of the door which remains open. Although pressing many buttons, the elevator didn't move, before she stepped out into the hallway and started gesticulating, as if talking to someone. Whether she was under mental stress talking to herself, or there was someone off-camera, will remain a mystery forever, since this happened the night before her disappearance.
Other Murders And Suicides
Having been spotted at the Cecil Hotel not long before her body was found gruesomely mutilated in L.A.'s Leimert Park neighbourhood after going missing, the 22-year-old Elizabeth Short's face was carved two-ways from the sides of her mouth to her ears in 1947. As well, a performance artist, Ana Mendieta, is thought to have been pushed out of the window by her husband.
In 1937, a Marine Corp member leapt to his death from the top of the building, while three years earlier, an Army Sergeant was found dead from cuts with a straight razor in his hands. The hotel saw numerous people jumping from its roof to their death in the 1950s, including the 55-year-old Helen Gurnee in 1954, a 50-year-old actress, Julia Moore, and a 27-year-old Pauline Otto in 1962. The latter suicide had another victim, the 65-year-old George Gianni, who was walking underneath the hotel. Other disturbing events include two suicidal women who jumped while their husbands were sleeping.
Serial Killers In Cecil Hotel
Richard Ramirez, the infamous American Serial killer, who would murder dozens of people after sexually assaulting them, earning himself the title of "The Night Stalker", terrorized much of Los Angeles from 1984 to 1985. He was captured in August 1985, staying in one of the hotel's room for $14 a night, after a consecutive murder, when he left his bloodied clothing in a dumpster behind the hotel, just to return to the room naked.
Jack Unterweger, another serial killer who was suspected of killing some dozen sex workers in Austria and the United States from 1990 to 1991, also frequented the hotel, with his "work" reportedly beginning upon travelling to L.A. to write about sex workers and crime for an Austrian magazine. Sex workers, his primary victims, some of which were strangled by him with their bras, were a suspected macabre tribute to Ramirez. 
More Disturbances
In 1930, a man was reportedly pinned to the exterior wall by a truck, while in 1944, unknowingly pregnant, the 19-year-old Dorothy Jean Purcell gave birth at the hotel, whilst staying in one of the rooms with her 38-year-old fellow, and, claiming she thought that the baby was dead, has thrown her child out of the window. She was arrested and admitted into a psychiatric institution.
In 1964, an eccentric local woman by the last name Osgoon, known as "Pigeon Goldie" for habitually feeding the pigeons in the neighbourhood park, was found stabbed, strangled, and sexually assaulted at the hotel. The last and most recent fall from the building's roof in 2015 is obscure and with an unidentified man's body found unconfirmed as a suicide.
Paranormal Activity In Cecil Hotel
While being infamous as a rendezvous for adulterous couples, sex workers, and drug activity, the Cecil Hotel has seen some 16 deaths, with none from natural causes, occur in or around the establishment. 12 of them are thought to have been suicides, while others are comprised of murder or supposed accidents, including falling from the building. These all, lead to a new nickname for the hotel, the "Hotel Death". While some believe that it was a place where people's luck would run out by mere chance at the time, others forward a theory of paranormal activity and dark energy surrounding the hotel, in an attempt to explain the hotel's disturbing past.
With some believing that the hotel is a hotbed for paranormal activity, based on the many murders, suicides and other unfortunate events that have unveiled there, Lam's disturbing behaviour, and the fact that Ramirez is believed to have been a Satanist, possibly causing demonic infestation at the hotel, only makes this theory stronger. The hotel was featured in a special episode of "Ghost Adventures" with an investigation led by the host Zak Bagans, as well as the feature in an entire season of the "American Horror Story". Premiering in 2015 and starring Lady Gaga along with Ryan Murphy, Sarah Paulson, Kathy Bates, Evan Peters, and Angela Bassett, the fifth season of the hit series, titled "Hotel," is set at a fictional Hotel Cortez, apparently based on the Cecil Hotel. 
Recent Incidents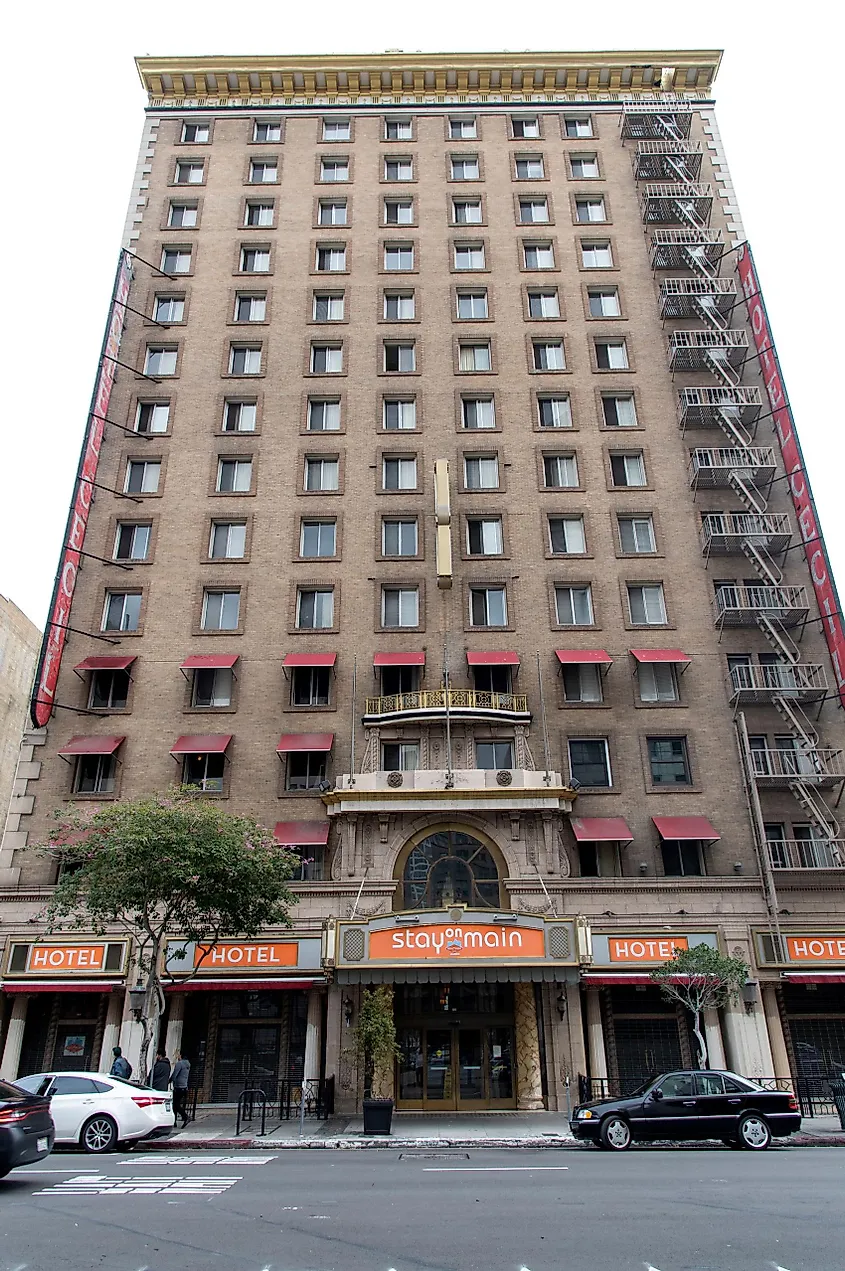 In 2007, the hotel was refurbished, while getting renamed "Stay on Main" in 2011. It was sold to New York City hotelier Richard Born in 2014 for $30 million, with Simon Baron Development acquiring a 99-year ground lease on the property under Matt Baron's lead. Wanting to preserve this architecturally and historically significant building, the renovation of the parts to regain its functionality was completed by 2019. Three years following Elisa Lam's death, the hotel was renovated and redeveloped, also earning a title of an L.A. landmark by 2017, voted by the Los Angeles City Council for its stylistic design. Not in operation, it was reported to open its doors to the world once again this year, welcoming guests with 299 refurbished hotel rooms and 264 residential units. With a non-descriptive present, the cursed Art Deco hotel is a monument viewed by thousands for its doomed or haunted reputation, while others believe that it was just poorly-managed. Many are also intrigued of what is awaiting to happen at the hotel in the future, based on its colorful, although grim, past.