The province of Alberta, in Western Canada, is where the vast prairies meet the grandeur of the Rocky Mountains. Naturally, there is a bounty of fantastic hikes to found here - arguably some of the best in the country. I have been fortunate enough to hike around Alberta for the last ten years. The following is a list of some of my personal favorite adventures and one that comes highly recommended by my wandering peers. I tried to highlight a range of options, including intensive summits, leisurely strolls, committed multi-day treks, and casual day-hikes. Many of these suggestions are simply leaping-off points, with plenty of additional side-trails and campgrounds to extend the experience in Wild Rose Country. 
Healy Pass To Egypt Lake (And Beyond!)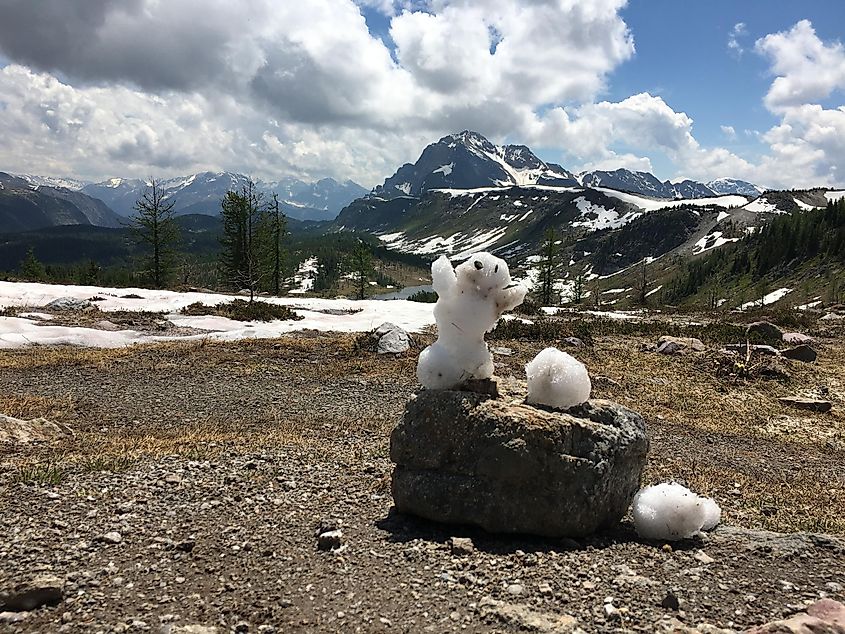 Wildflowers, a gorgeous mountain pass, a treasured backcountry campground next to a lovely lake, and all of this buried deep in Banff National Park - need I say more? Just getting to Egypt Lake requires quite a sustained grunt from the Sunshine Village Ski Resort, but an honest effort sweetens everything in Alberta's wilderness. The 15.4-mile out-and-back trek gains 4,413-feet of elevation, but it is a steady and, therefore, manageable incline. If desired, there is a simple but pretty campground about halfway up the pass, which can be used to help break up the hike. If you are craving extra explorations after a night at Egypt Lake, the off-shoot circuit to Pharaoh Peaks, Ball Pass Junction campground, Shadow Lake Lodge/campground, and Pharaoh Creek campground make for a perfect, long-distance trek through one of the best sections in one of the most prized national parks in Canada. 
The Canmore Quad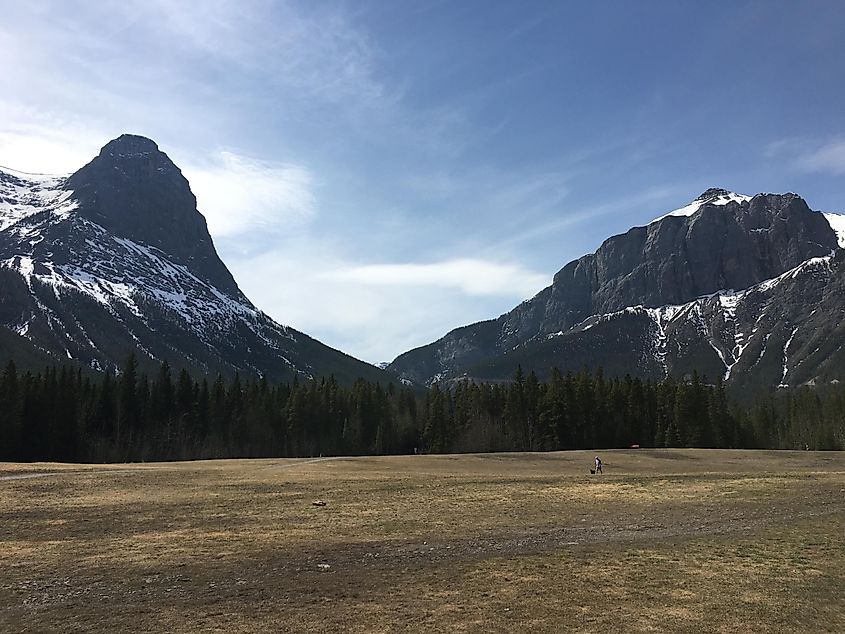 This informal, mega-endurance challenge includes each summit of "The Four Corners of Canmore." In reverse order of difficulty, these include Ha Ling, The East End of Mount Rundle (EEOR), Mount Lady MacDonald, and Grotto Mountain. Local trail runners constantly compete for the Fastest-Known-Time (FKT) for all four mountains done consecutively. For some, this includes running between the trailheads, while others are happy to drive across town to connect the West and East peaks. For those looking just to get a taste of this challenge, Ha Ling is a great place to start. The trail was recently upgraded and now features several wooden staircases on the steeper sections. The new route is also slightly longer, with more switchbacks and a gentler grade. 
Lillian And Galatea Lakes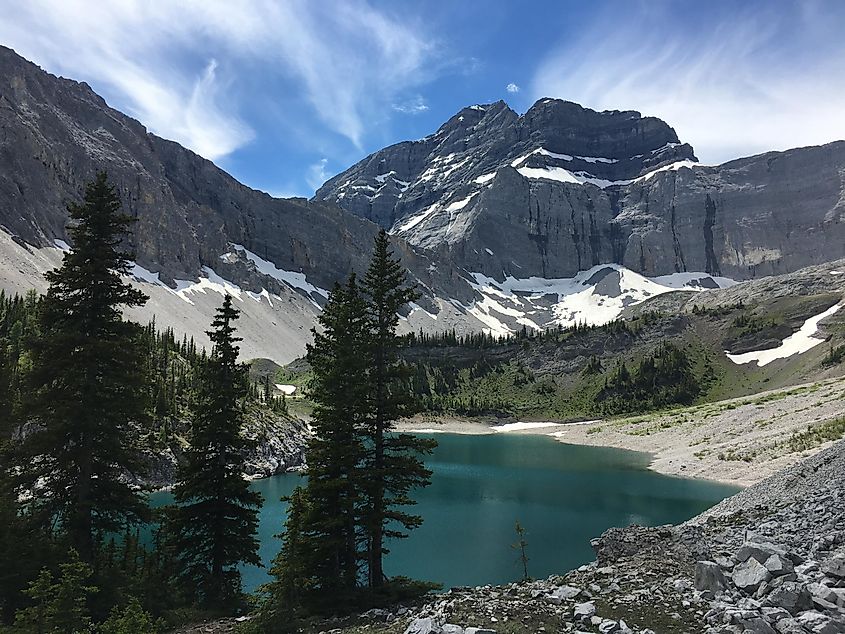 This immersive, out-and-back route is widely approachable due to its gradual ascent and multiple turn-around options. Located in Spray Lakes Provincial Park (Kananaskis), the trailhead for Galatea Lakes can be accessed from Calgary or by taking the back roads out of Canmore. Even though this is a popular hike, never forget that it goes deep into the Rocky Mountain wilderness. The last time I did it, there was a black bear just milling about in the parking lot. The well-maintained yet authentic trail is surrounded by forest until Lillian Lake pokes through. This makes for an excellent lunch stop, plus there is a campground for people who want to take this journey in prolonged stages. From Lillian Lake, the trail climbs steeply to the more barren yet equally stunning Galatea Lakes. For those going to the upper Galatea Lake, the total distance is 10.5 miles (round trip), and 2,850 feet of elevation are gained in the process. It is also possible to link this hike with Ribbon Lake Campground/Ribbon Falls, an adjacent gem that is just as deserving of a spot on this list. 
Johnston Canyon To Ink Pots And Beyond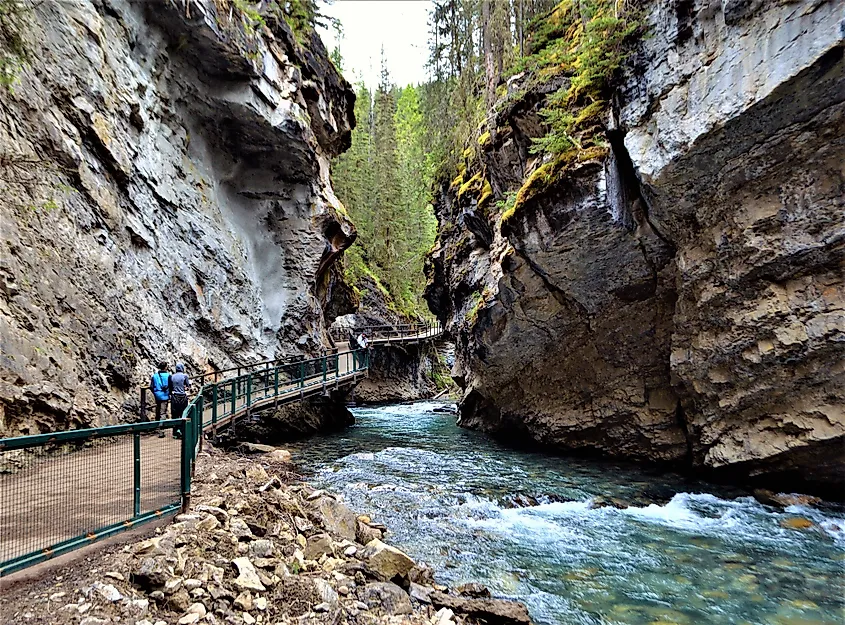 Not all great hikes have to be long or even difficult. The majestic scenery along every inch of the Johnston Canyon boardwalk in Banff National Park, Alberta, makes it worthy of the top-tier status. This hike has several layers, and each extension thins out the herd. For starters, the paved boardwalk to the Lower Falls (0.7 miles from the trailhead) is doable for absolutely anyone. This means the crowds are dense along the confined path, but this just presents an opportunity to appreciate the cool touch of the canyon walls and the high spirits of all the people. Continuing the extra mile to the Upper Falls requires a bit more technical footing but is still aided by friendly wooden guardrails. Beyond there, the route goes from a casual walk to a proper hike. The trail is wide and stable for a little over 5 miles beyond the canyon, but steadily gains in elevation. Eventually, a steep drop down opens into a mountain meadow that houses the "Ink Pots" - six spring water pools with a curious, green hue. From there, full-on trekkers can continue into the backcountry for overnight trips to either Luellen Lake (and beyond) or Mystic Lake (and beyond). 
Northover Ridge Loop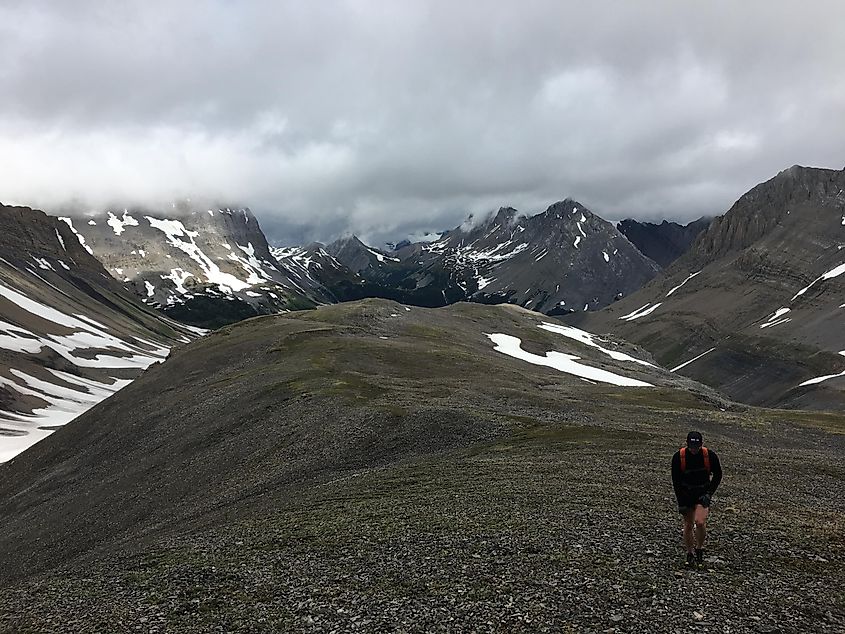 This taxing 20.6-mile circuit is located in Peter Lougheed Provincial Park and starts/finishes around the shore of the crystalline Upper Kananaskis Lake. Backpackers often choose to spread the distance, as well as the significant elevation gain of 7,123-feet, over the course of three days. There are also keen trail runners able to tackle this magnificent loop in one go. The trail passes by several glacial lakes, spends a good deal of time in the alpine, and many stoic peaks can be observed from anywhere on the loop. The best part is the traffic is nowhere near that of the more popular Banff National Park hikes. This ensures many moments of secluded, pantheistic splendor.  
Powderface Loop
The Powderface trailhead is just a short drive southwest of Bragg Creek's hamlet. This is a fine loop to explore the beauty of the Sibbald Area, with its more rounded, weathered peaks, dry/often eroded trails, and rolling backcountry landscape. Powderface Loop, in its entirety, is 13-miles and 2,244-feet of gain (a bit more of both if you side trip to Powderface Ridge). The full circuit goes out to Powderface Trail, a dirt road that branches North at the end of Hwy 66, but there is also a shorter loop that utilizes Prairie Link to connect Prairie Creek and Powderface Creek (both of which are paralleled by the hiking trails). Naturally, since this is a loop, it can be done in either direction. However, going clockwise gets the big climbing out of the way first. Stop in at one of the old-timey saloons in Bragg Creek afterward for well-earned refreshments.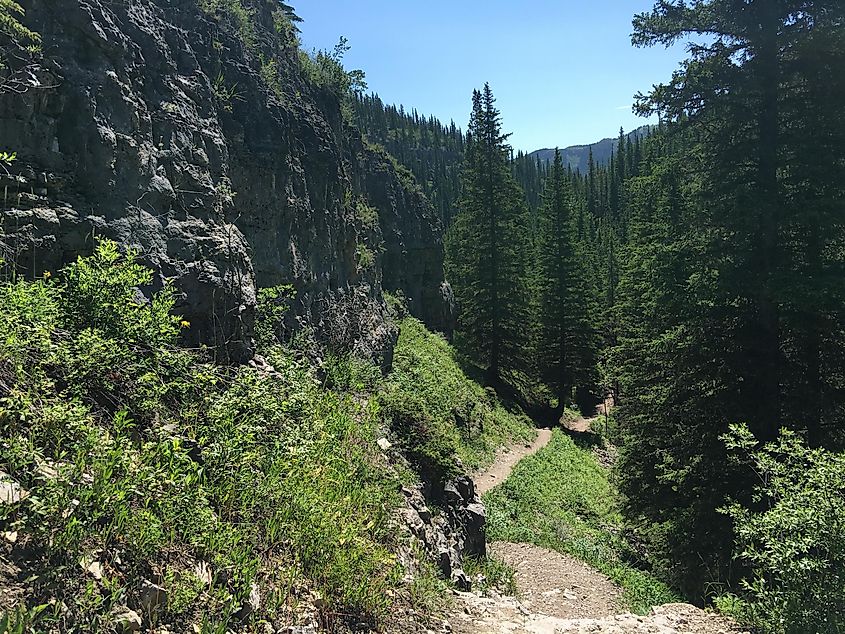 The Golden Larches Of Lake Louise (Sentinel Pass Larch Valley And Saddleback Pass)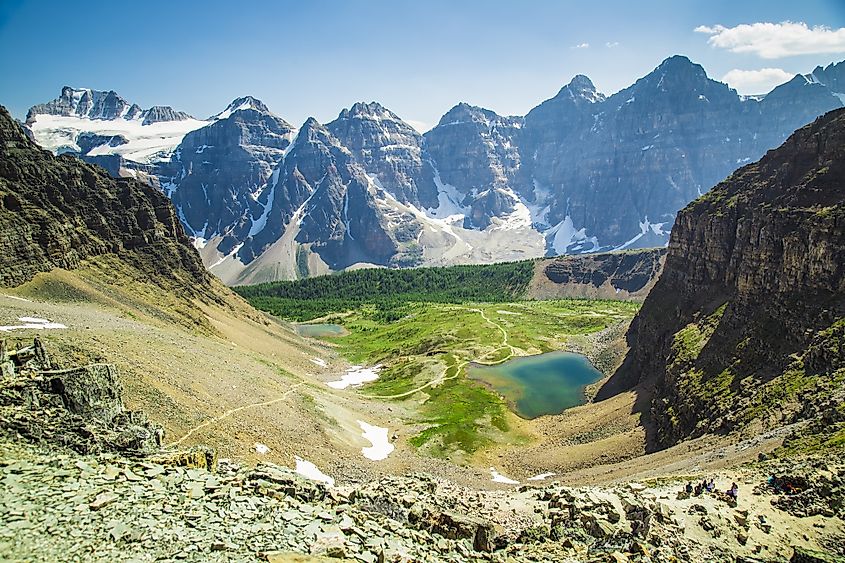 Visiting and hiking around Lake Louise is always a memorable experience. However, the cherry-on-top for this landscape is when the forest turns a bright yellow for a few weeks each fall. Since this is a spectacular, seasonal event, the people come in droves, which is the only downside of this otherwise perfect setting. But do not be discouraged! Some hikes are good for isolation, and some are meant to be more social. Hiking up to Sentinel Pass via the Larch Valley Trail (6.9-miles round-trip, 2,621-feet of gain) from Moraine Lake is the premier path to picture-town. Unfortunately, its sheer awesomeness means that no matter how early you arrive, the parking lot will still be full. What ends up happening is cars are directed to a secondary lot and then shuttle buses are provided to get people to the trailhead. If you can muster some patience, the outing will be well worth it. A slightly less popular and logistically easier option is heading up Saddleback Pass (4.6-miles round-trip, 1,592-feet of gain), which starts right from the shore of Lake Louise, near the iconic Chateau Lake Louise. 
Tent Ridge Horseshoe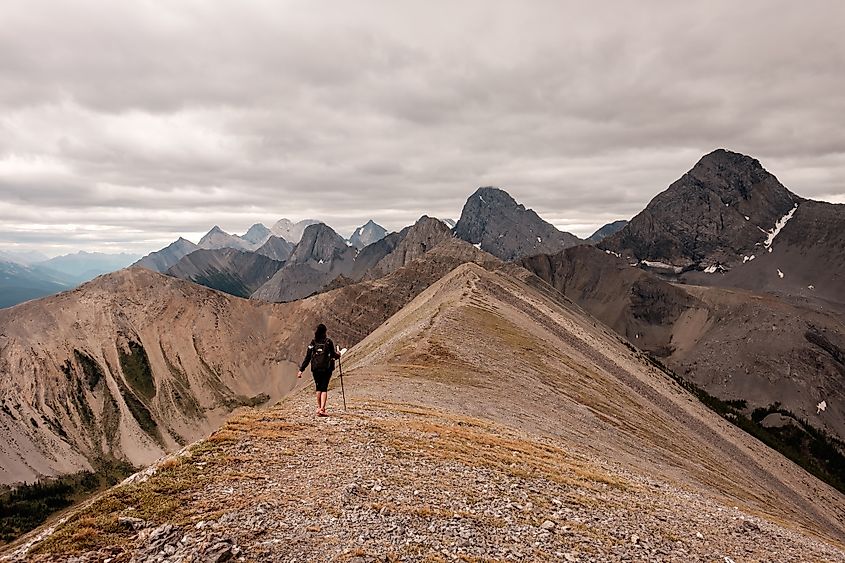 Tent Ridge is another jaw-dropping trek in Spray Lake Provincial Park. The magic of this hike comes from the insane amount of time spent riding mountain ridges. As the name suggests, once one gains the high ground, the route does a full horseshoe up there, complete with fun sections of rock-hopping, a bit of scrambling, some killer views (including the Matterhorn-shaped Mount Assiniboine), and some solid immersion therapy for anyone trying to conquer their fear of heights. This is one of those special hikes that clears the treeline quickly and keeps you in that fresh mountain air for a good chunk of the 6.3-mile circuit (2,716-feet of gain). 
Skyline Trail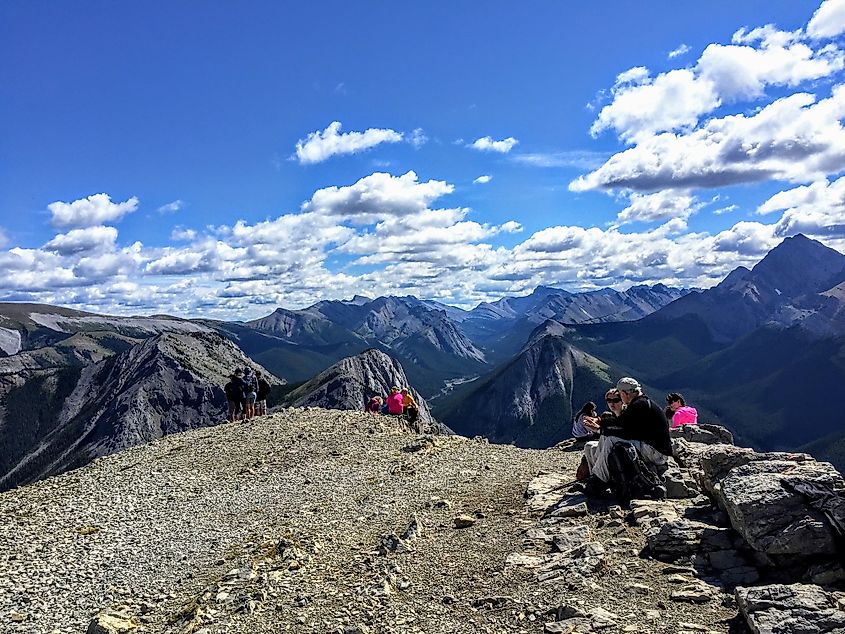 Skyline is a 27-mile, point-to-point, renowned alpine trek in Jasper National Park. A large duration of the generally 2 to 4 day hike is above the treeline. This layout ensures stunning, ever-evolving views of the Canadian Rockies throughout the journey. The six designated campsites require advanced bookings, which are notoriously competitive. Because of the strict logistics, this is another hike that sees a good number of runners and fast-packers going for a single-push approach. Note that some extra pre-planning is required in regards to transportation. Multiple vehicles, a pre-arranged pickup, or Jasper's shuttle/taxi services are needed to complete the one-way adventure. 
Wapta Traverse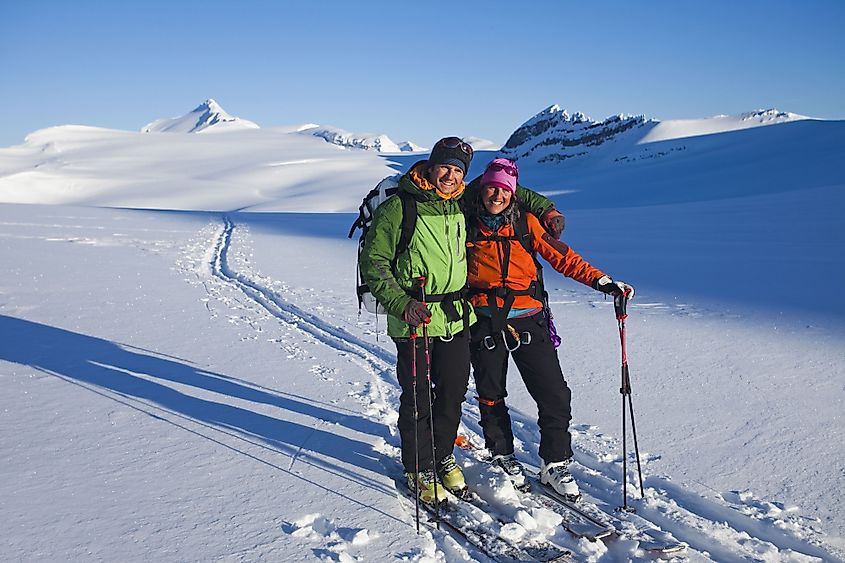 This final entry is one that requires proper equipment, technical prowess on top of the usually expected fitness, and a qualified guide certainly does not hurt. If you can muster those three things, then you will get to experience a once-in-a-lifetime outing. The Wapta Traverse starts at Wapta Lake just off the Trans Canada Highway in Banff National Park, crosses the Waputik and Wapta Icefields, and descends to Peyto Lake and the Icefields Parkway. Along the way, there are four mountain huts that are maintained by the Alpine Club of Canada. These make for great places to hunker down for a night or simply warm up by the woodstove before heading back out into the ice and snow. As stunning as this 31-mile traverse is, it can still be brutal and unforgiving. Aside from the magnitude of the undertaking, the weather up there can turn quickly, avalanches are a real possibility, and crevasses lurk beneath the surface snow, waiting to swallow anyone who drops their guard. Given the unique demands, the Wapta Traverse makes for an excellent, long-term goal. 
Alberta is a spirited, rugged, and special place. The nature here is raw and beautiful in a way that demands reverence. Lace-up those boots, pack a suitable bag (do not forget the bear spray), charge your camera, and get ready for some amazing memories in Western Canada's great outdoors.