America's 10 Most Beautiful Train Stations
Riding the rails is an easy-going, romantic, watch-the-world-go-by mode of transportation. Sure, there are faster ways to get around, but sometimes it is nice to do things slower to appreciate the sights and sounds around us. And while we are smelling the roses, why not take some time to enjoy the stations that facilitate these journeys? Many terminals in the United States have a sinusoidal history that can be felt in their living, breathing and ever-changing structures. These are ten such places that have made their beautiful mark along the country's locomotive lines. 
Grand Central Terminal, New York City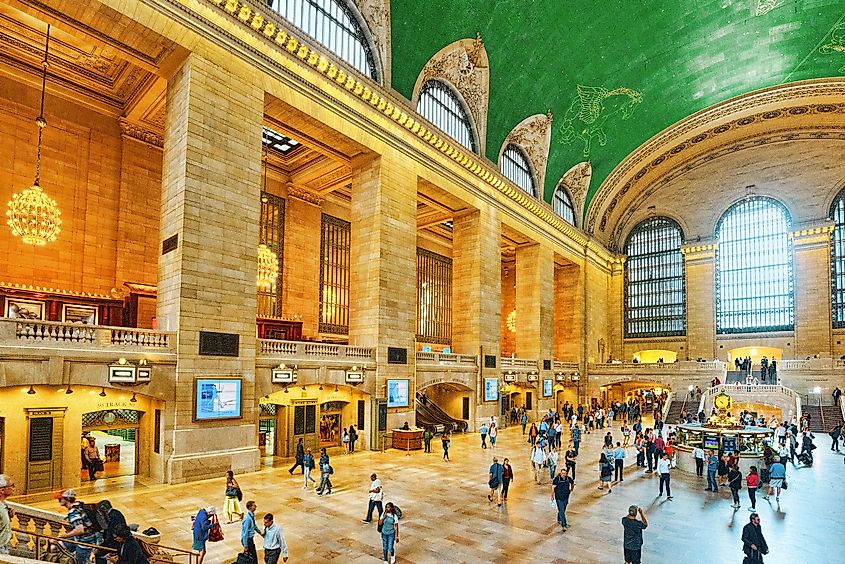 Perhaps the quintessential American train station, Grand Central Terminal is instantly recognizable and a cherished hub for New Yorkers. Grand Central opened in February of 1913, displaying its marvelous architecture to the public and quickly proving that this place was, and remains, more than just a train station. Grand Central Terminal features 60 shops, 35 restaurants/food stands, and regularly scheduled cultural events. 
Barstow Harvey House, Barstow 
Backdropped by the mountains and wilderness of the Mojave Desert, Barstow Harvey House is a unique place to explore while chugging through Southern California. This stalwart brick building was built in 1911 to replace the previous Barstow House that burnt down three years prior. Nowadays, the Barstow Area Chamber of Commerce and Visitors Bureau, the Western America Railroad Museum, the Route 66 Mother Road Museum, and reservable ballrooms all share the same roof with this pretty rail depot. 
Union Station, Washington, D.C.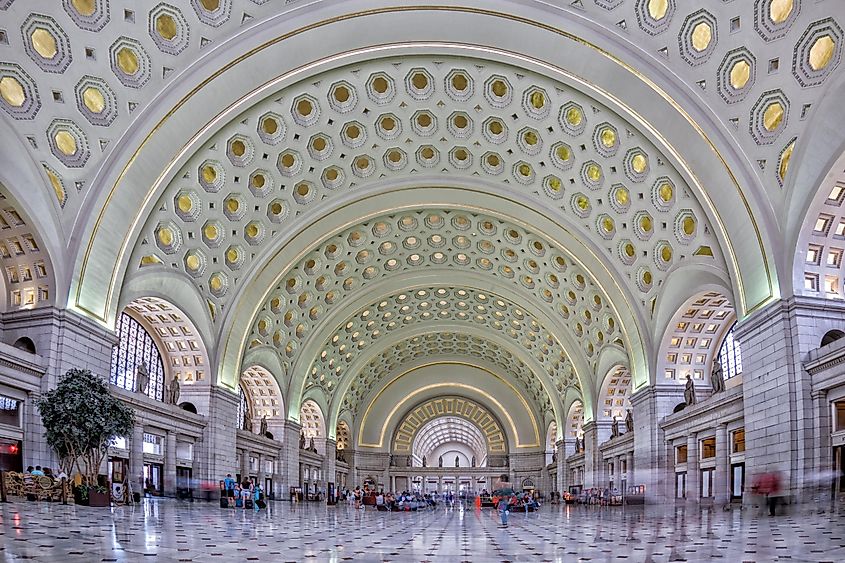 There are many Union Stations throughout the land, but none quite like the one in the nation's capital. The beauty of Washington, D.C.'s mixed-used building is not only the soaring arches and Presidential decor but also the long, hard-fought battle to keep the train station restored and relevant over the years. Decades of wear and tear, lack of funding, and unfortunate acts of nature took their toll. But in the end, Union Station is a thriving National Historic Landmark that not only exudes its original splendor but also boasts three popular levels for shopping and dining. 
Cincinnati Union Terminal, Cincinnati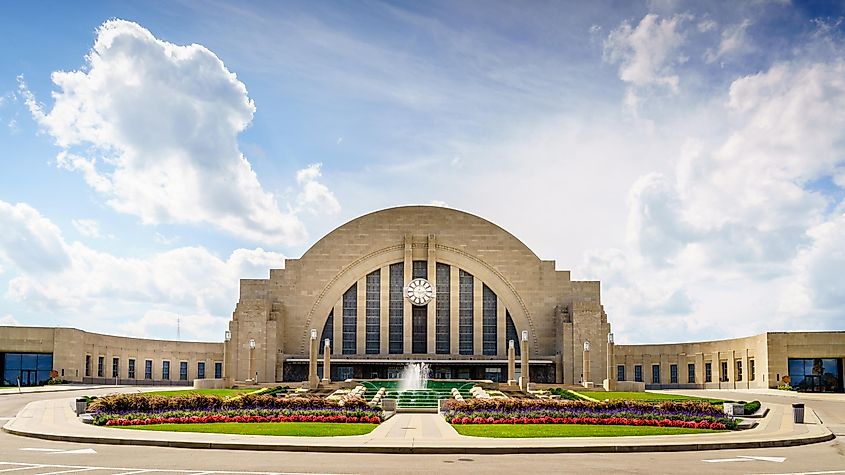 In front of the Cincinnati Union Terminal in Cincinnati, Ohio, a triumphant aquamarine water fountain beckons travelers and tourists. One's attention then inevitably shifts to the exterior of the building, which showcases the largest half-dome in the Western hemisphere. And finally, upon entering, visitors will have access to three museums, an OMNIMAX Theatre, the Cincinnati History Library and Archives, and an all-round artistic interior. 
San Juan Capistrano Depot, San Juan Capistrano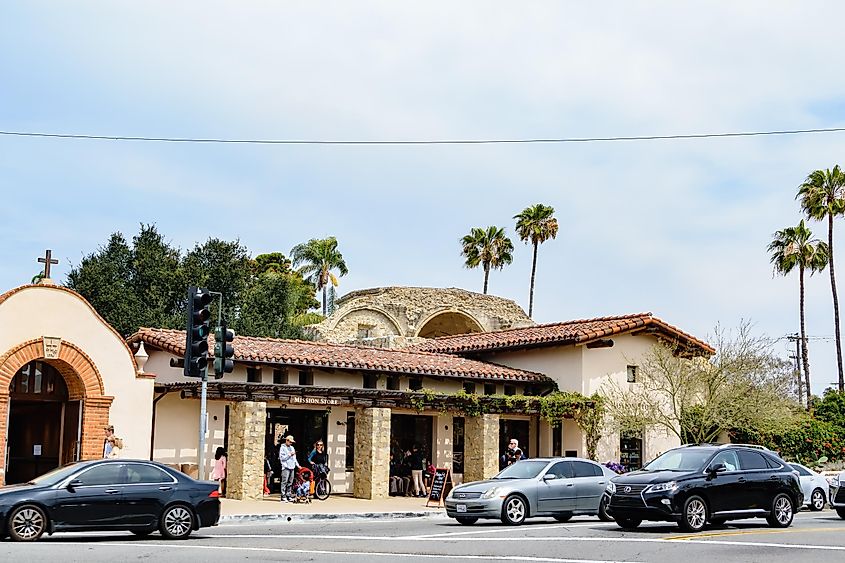 This quaint train station along the Southern coast of California dials back the grandeur for a more old-fashioned aesthetic and experience. There are no theaters or exhibitions here, just a modest brick building, complete with numerous arches and a 40-foot-high bell tower that is capped with a white dome and cross. Let the San Juan Capistrano transport you to a simpler time. 
Main Street Station, Richmond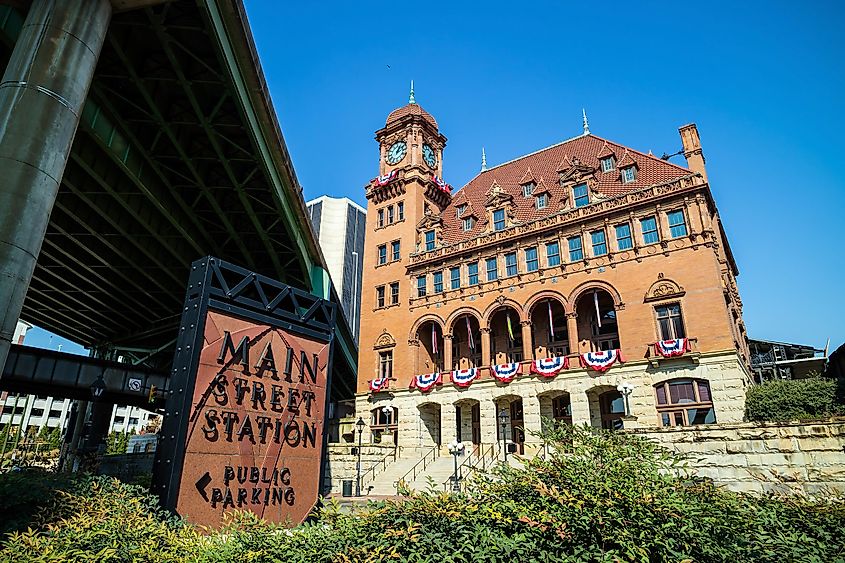 This six-story, red-roofed station in Richmond, Virginia, can be enjoyed with a mere drive-by on I-95. But all the better to arrive on the rails and get the up close and personal experience, as was originally intended when it opened in 1901. Since then, this site has also been registered as a National Historic Landmark. Before jetting off to your next destination, head up the clock tower and ponder how the panoramic views of the city have evolved over the years. 
Union Station, Kansas City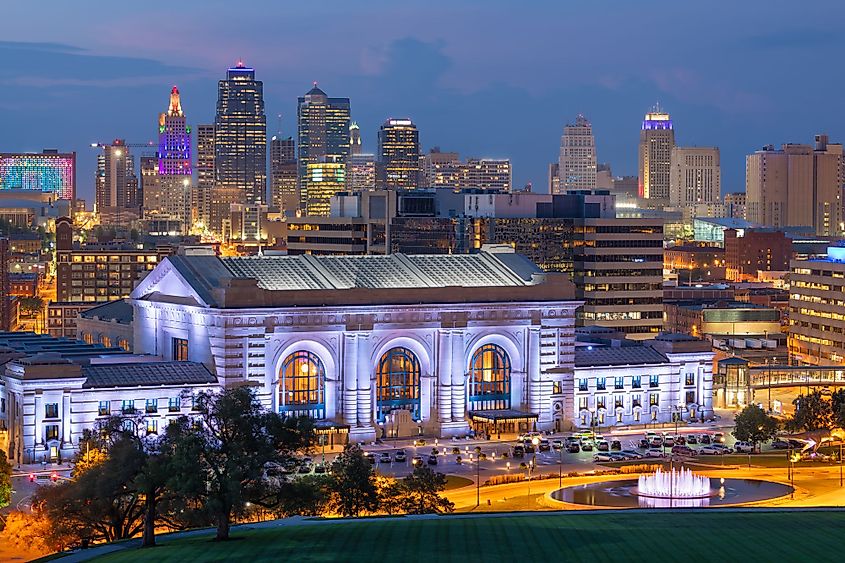 Union Station, this time in Kansas City, Missouri, emanates all the expected grandeur of a major-city train station that was built in excess of a century ago. What this Union Station offers on top of the classic architecture is the colorful and family-friendly Science City, the whimsical Planetarium, the City Stage Live Theatre, and the Regnier Movie Theatre. Catching a train is far from the only reason to visit this place.
King Street Station, Seattle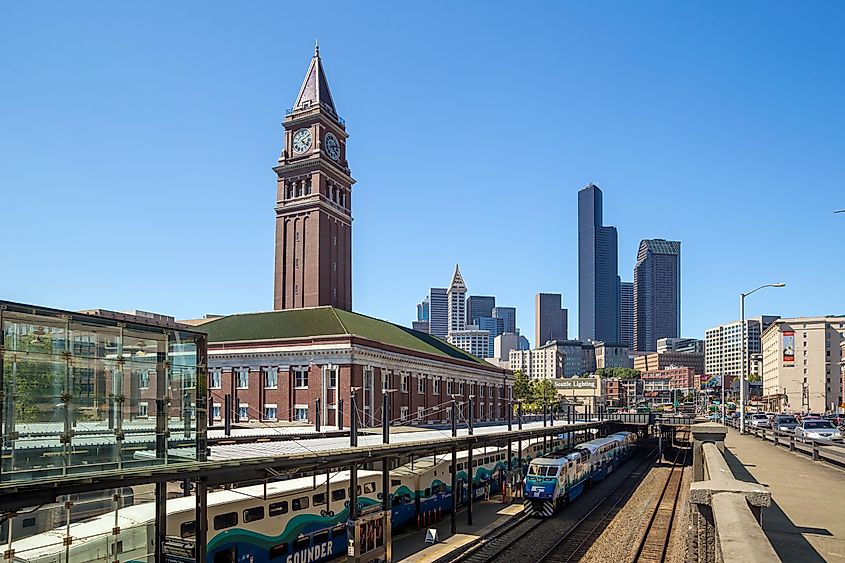 With a prominent red-brick clock tower, modeled after the Campanile San Marco in Venice, Italy, and a Starbucks-green rooftop, King Street Station screams Seattle. As with many prominent train stations on this list, King Street was born during the industrial boom of the early 1900s, fell into disrepair as the century rolled on, and then saw renewed enthusiasm and restoration efforts in the early 2000s. One such aesthetic highlight of the recent overhaul is the white, ornamental plaster ceiling and fluted Corinthian columns. 
Santa Fe Depot, San Diego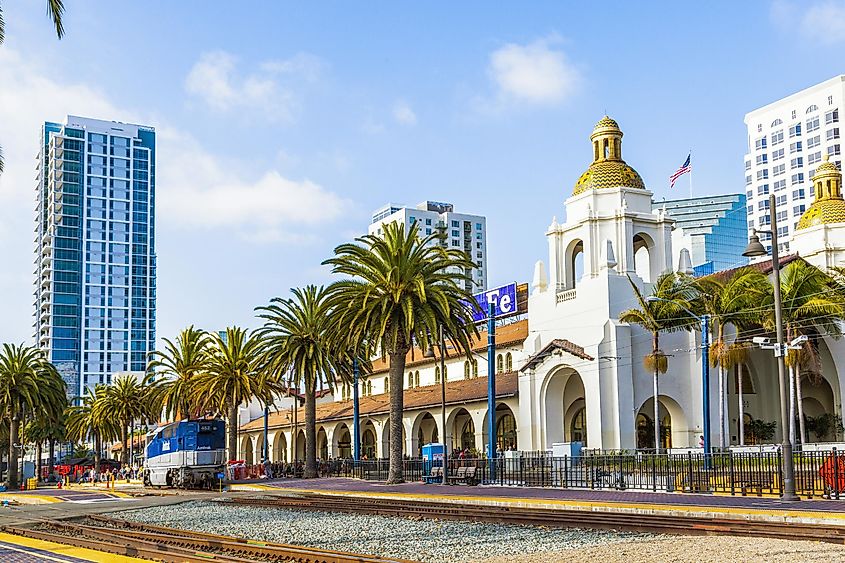 The Santa Fe Depot in San Diego is yet another eye-catching train station in California. This time, the Spanish Colonial architecture and charming, rough-around-the-edges aesthetic is what make this spot stand out. Around the station, commuters can enjoy the regular farmer's markets and cafes before heading into the eclectic border city.
30th Street Station, Philadelphia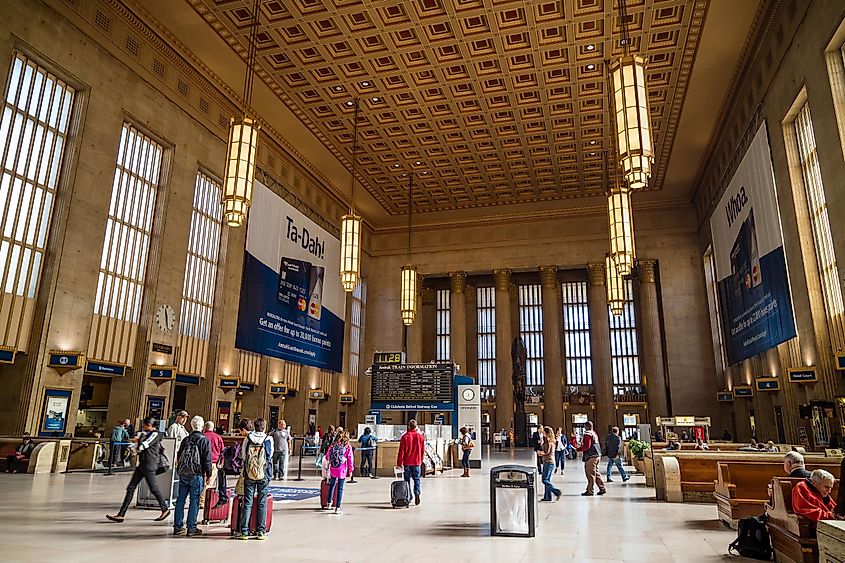 And finally, the wide open, high-ceiling main waiting room of 30th Street Station invites the ambient sounds of a bustling train station to echo freely throughout. Listen to the clickety-clack of fancy shoes walking swiftly across the marble floor and onto their places of business. Get lost in the mishmash chatter and regular announcements that crackle through the air. And maybe, just maybe, catch the rare shuffle of an actual newspaper - a rare auditory glimpse into the station's past. 
Though planes and automobiles have become dominant modes of transportation in America, the train still holds a tender place in the nation's heart, as evidenced by the recent wave of enthusiasm for preserving and restoring these multi-generational, tenderly-designed stations. Hence, if you are in the area, head on over to one of these sites. And if you are not, perhaps you can take a train!