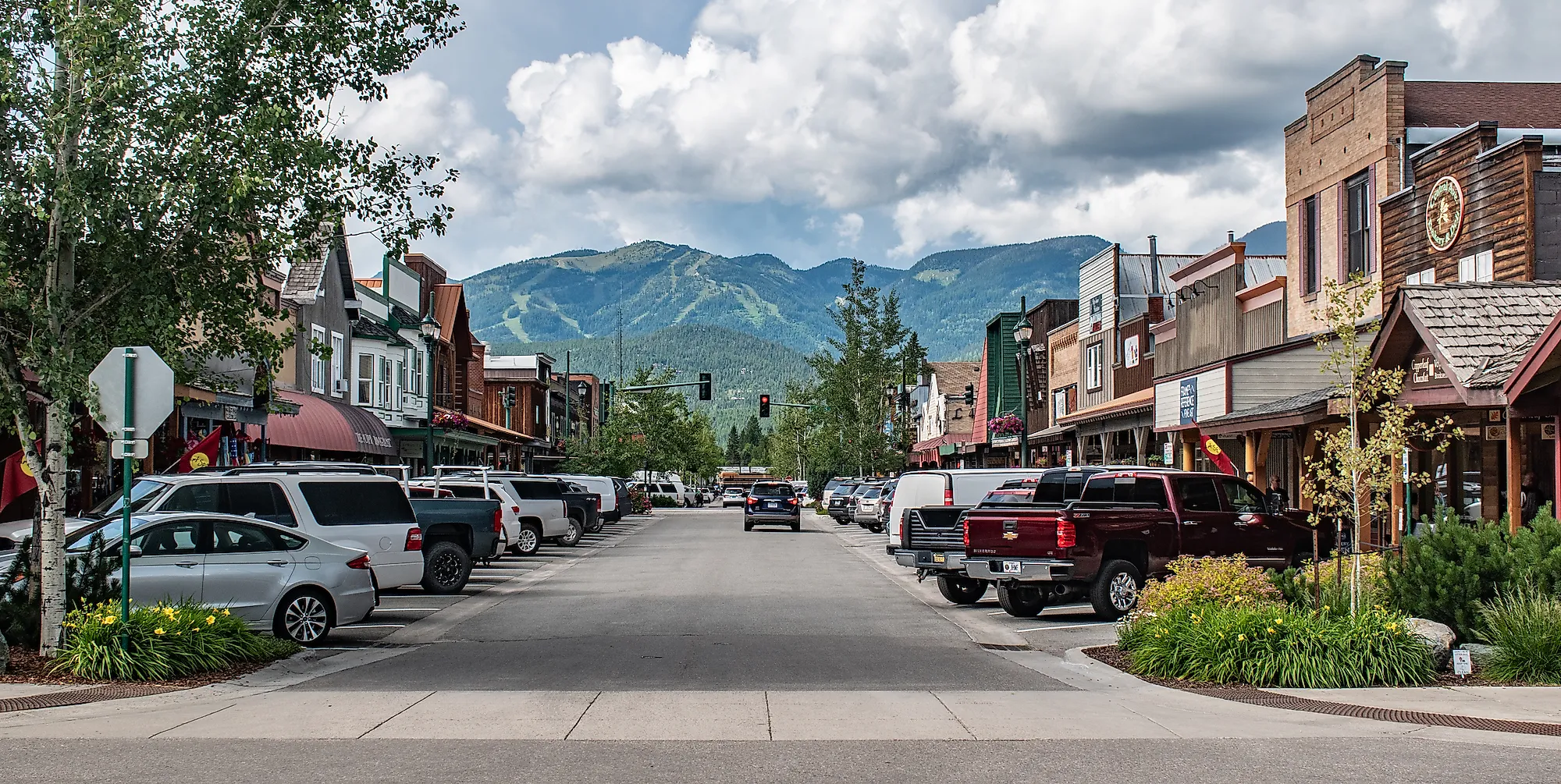 9 Ideal Destinations For A 3-Day Weekend In Montana
The state of Montana, often referred to as "Big Sky Country," due to its vast lands and lack of cluttered industrial buildings, is the perfect state for outdoor lovers. This state provides a variety of great locations for a memorable 3-day holiday with its gorgeous mountains, vast woods, clear lakes, and historic national parks. Every traveler can find something to enjoy in Montana, whether they're looking for peace and quiet amidst magnificent scenery or exhilarating outdoor activities. The following destinations are sure suit the travel needs for any occasion. Take a trip to see this spectacular state's wild beauty, where you may get lost in nature, take in the charm of little villages, and make priceless memories.
Glacier National Park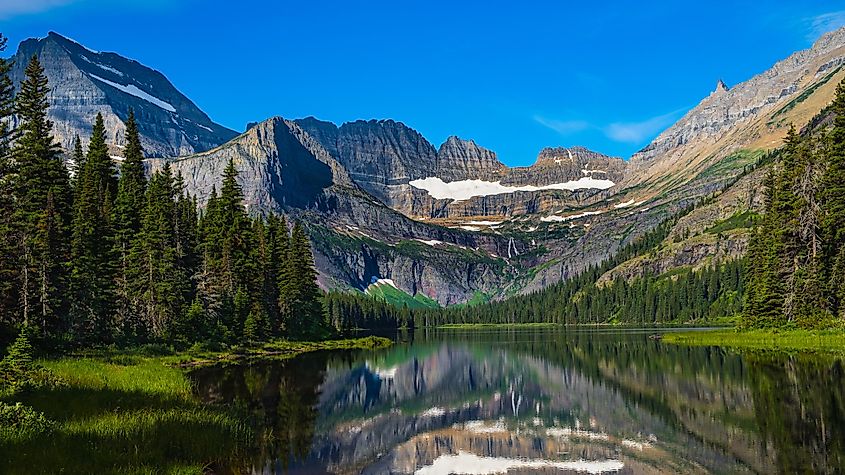 Glacier National Park, which is located in the center of the Rocky Mountains, is a genuine wilderness treasure. With its towering peaks, amazing glaciers, and beautiful alpine lakes, this park, which spans over a million acres of pure wilderness, is a sought-after must-see destination. Explore the breathtaking panoramas of Logan Pass, go on picturesque treks along the renowned Going-to-the-Sun Road, and snap some pictures of Grinnell Glacier and its turquoise waters. This park is a goldmine for photographers due to the dazzling scenery and the abundance of wildlife species, such as grizzly bears and mountain goats. Glacier National Park in Montana is a must-visit place because of the various activities it offers, including camping, hiking, fishing, and animal viewing.
Whitefish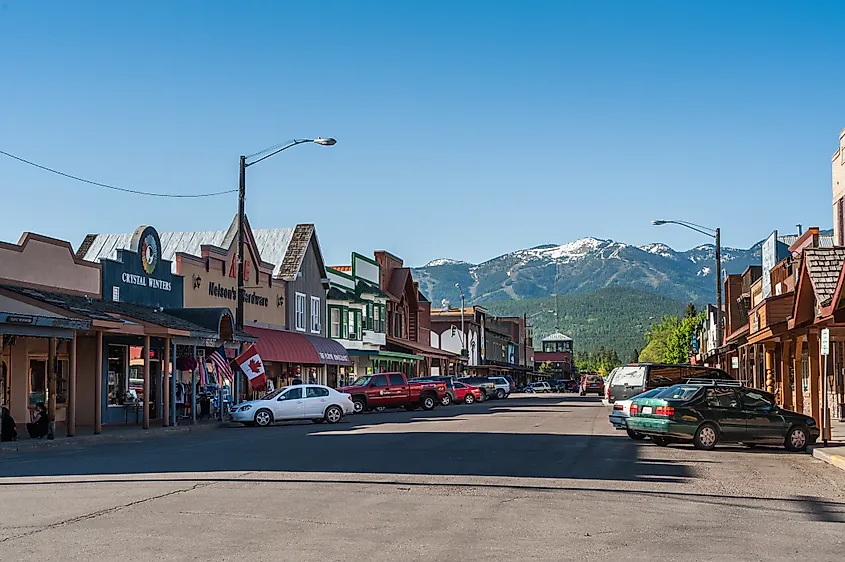 Not far from Glacier National Park is Whitefish, a quaint mountain town hidden in the Flathead Valley, which is the ideal combination of small-town charm and outdoor activity. This town serves as the starting point for outdoor activities including hiking, mountain biking, and skiing since it is surrounded by the untamed peaks of the Whitefish Range. Visitors are still located close enough to make a day out of exploring Glacier National Park, but they can also relax in a more luxe setting at one of the resorts close by such as Grose Mountain Lodge. Explore the charming downtown district of Whitefish and take advantage of the opportunity to visit Whitefish Lake, where visitors can go boating, fishing, or just relax on its sandy beaches. Whitefish is a pleasant refuge for anyone looking for both adventure and relaxation, with a bustling cultural scene and exciting events all year long, so check for local events online when booking.
Yellowstone National Park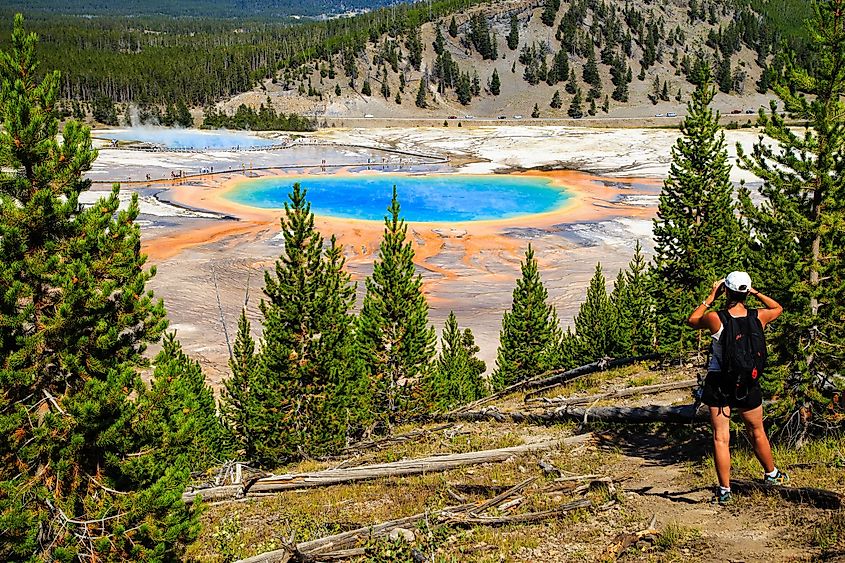 Yellowstone National Park is a great wonder since it is home to fascinating geothermal wonders and an abundance of species. This famous park, which spans three states, including Montana, and was home to the world-famous treasure hunt for Forest Fenn's treasure during the Pandemic, is brimming with natural sights. Check out the renowned Old Faithful geyser, take in the Grand Prismatic Spring's bright colors, and have a picnic by the spectacular Yellowstone Falls. For visitors seeking an immersive experience in the park's beauty, hiking routes, animal viewing, and camping are popular pastimes. Yellowstone is home to diverse fauna, which includes grizzly bears, wolves, and herds of bison. If camping isn't in the cards, there are several inns, hotels, and cabins located in and around Yellowstone. Truly a must-see location with unchartered territory and a rich history.     
Bozeman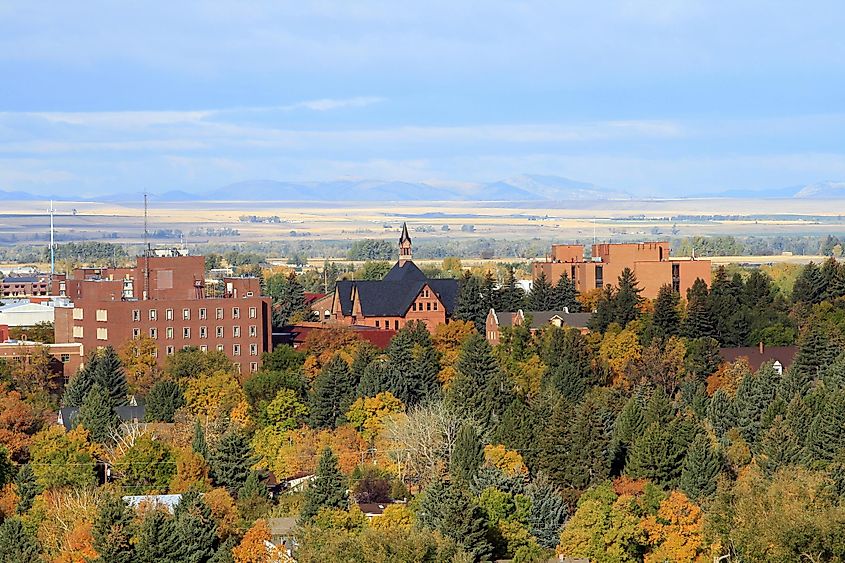 This energetic city is recognized for its outdoor activities, cultural attractions, and growing art scene. Bozeman is located in the Gallatin Valley and is surrounded by the beautiful Montana mountains. Visit the world-renowned Museum of the Rockies to learn more about the area's pre-historic past and check out some neat fossils while there. Hike in the neighbourhood Bridger Range or travel deeper into the magnificent Gallatin National Forest. For the more daring, try out the "M" hiking trail which is sure to give hikers sore legs from the climb. Visitors can later ease their sore legs by basking in the Bozeman hot springs before heading downtown for something to eat. Bozeman acts as a starting point for Montana's outdoor experiences due to its closeness to top-notch skiing, fishing, and hiking options. However, for those seeking a more low-energy getaway, Bozeman has no shortage of museums and galleries within short driving distance from the town's center.
Flathead Lake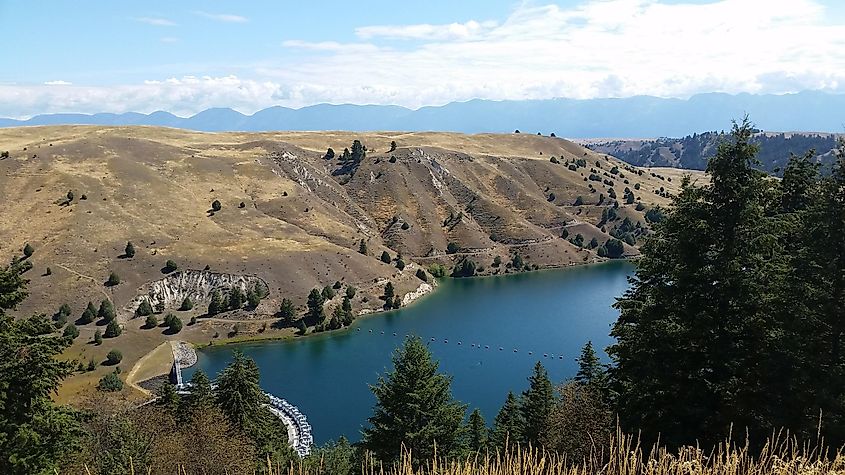 28-mile-long Flathead Lake is a stunning vacation spot for outdoor enthusiasts and visitors seeking a more secluded and calm getaway destination. The mountains encircling the area add to the atmosphere, blocking out any thoughts of the stress of city life. This area is ideal for kayaking, fishing, boating, and swimming on its crystal-clear waters. There are plenty of isolated beaches along the lake's shores to choose from and to unwind and enjoy the sunshine on. Take a scenic drive along the lake's edge while admiring the picturesque views and making stops in idyllic lakeside communities like Polson and Bigfork which also have great accommodation options. Take a boat to the lovely island of Wild Horse Island, which is well known for its thriving wildlife and hiking paths. Flathead Lake provides an array of recreational activities, delicious regional cuisine at lakefront restaurants, and a tranquil setting.
Missoula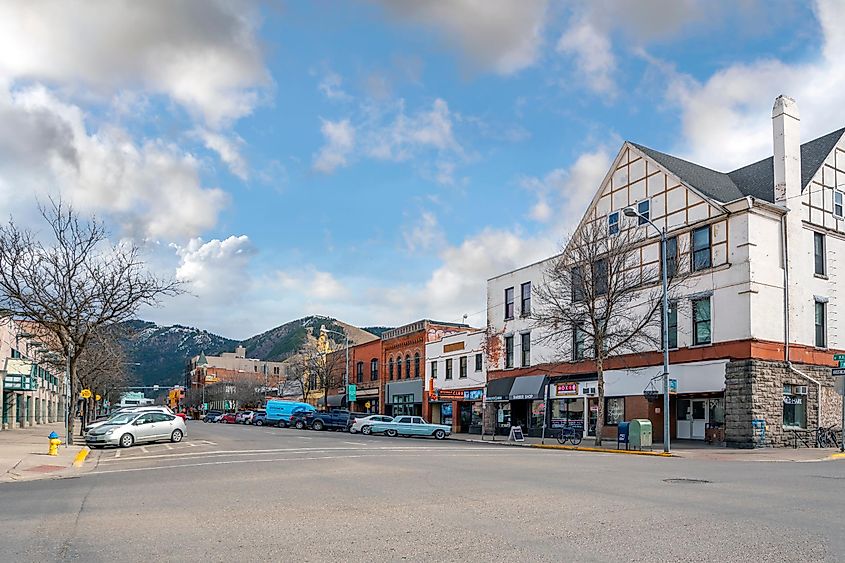 Missoula is a dynamic and diverse city that is an excellent getaway destination for visitors who are big on outdoor activities with cultural experiences. Located in the beautiful valleys of western Montana, Missoula is a hub for events and always has plenty of activities to do both in and outdoors. The downtown district has pastimes for any speed of vacation from relaxing spa trips to challenging bike rides. The Missoula Art Museum and the Wilma Theatre are great outlets for an immersive artful experience. For more thrills, visitors can experience rafting along the Clark Fork River, or head over to the adjoining Rattlesnake National Recreation Area which has a network of trails for hiking and mountain biking. Don't miss out on dropping by one of the local food trucks either, Missoula has some delicious options available.
Bighorn Canyon National Recreation Area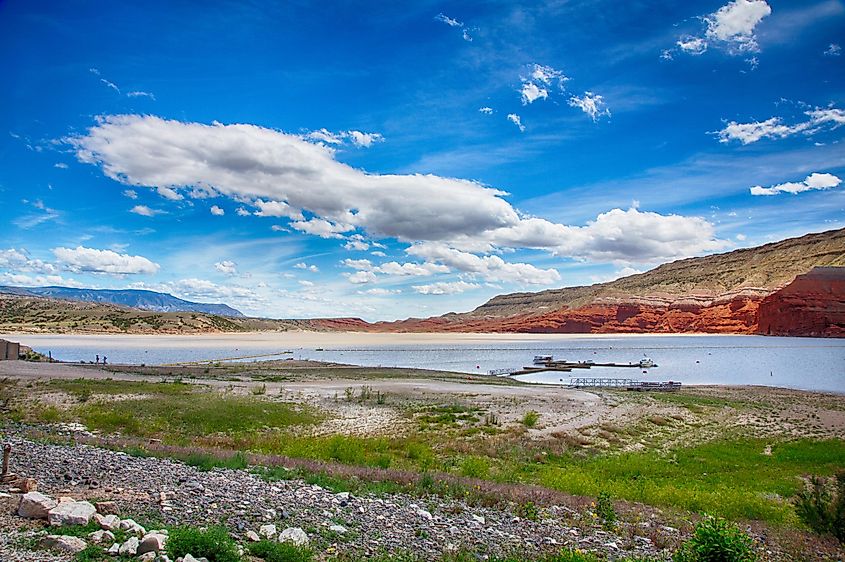 The Bighorn Canyon National Recreation Area, which is situated in southern Montana, is a hidden jewel that provides breathtaking views and distinctive recreational activities. This enormous canyon, which the Bighorn River cut through Wyoming and Montana, is home to towering cliffs, undiscovered waterfalls, and calm bodies of water. Hike the canyon's beautiful paths and bring a picnic, take a boat trip to see the spectacular rock formations, take a horse ride through the wilderness, or go trout fishing in the river's crystal-clear waters. It's highly recommended to pitch a tent at one of the campgrounds in the park so visitors can be fully immersed in the natural environment, but there are also inns and other lodging options a short drive from the park. Bring a camera as the likelihood of seeing bighorn sheep, deer, and several bird species is very high. Bighorn Canyon is a destination that offers a genuine retreat into nature with its untamed beauty and serene atmosphere.
Helena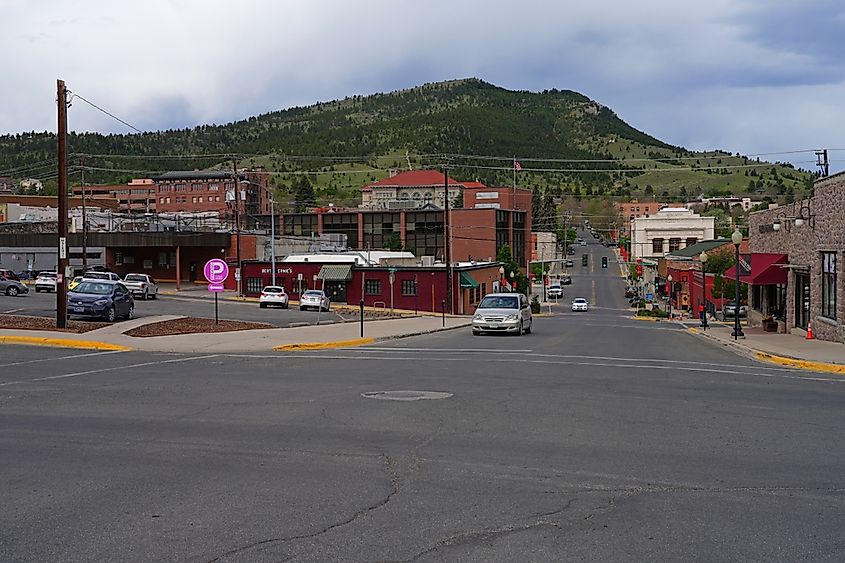 The state capital of Montana, Helena, is a picturesque city that mixes history and outdoor activities. Tucked away among the mountains of western Montana, visitors can explore the famous Last Chance Gulch, where gold was found, and learn about the city's colorful past by visiting its museums and well-preserved buildings. The Helena National Forest has plenty of chances for hiking, mountain biking, and animal viewing. Enjoy a hot day at the Canyon Ferry Recreational Area water skiing, swimming, or soaking up the sun. For a unique foodie experience, visit the Helena Farmers Market, where visitors can try regional foods and handcrafted specialty items, as soon as possible. For a three-day weekend in Montana, Helena is a pleasant location because of its small-town charm and many choices for natural attractions.
Red Lodge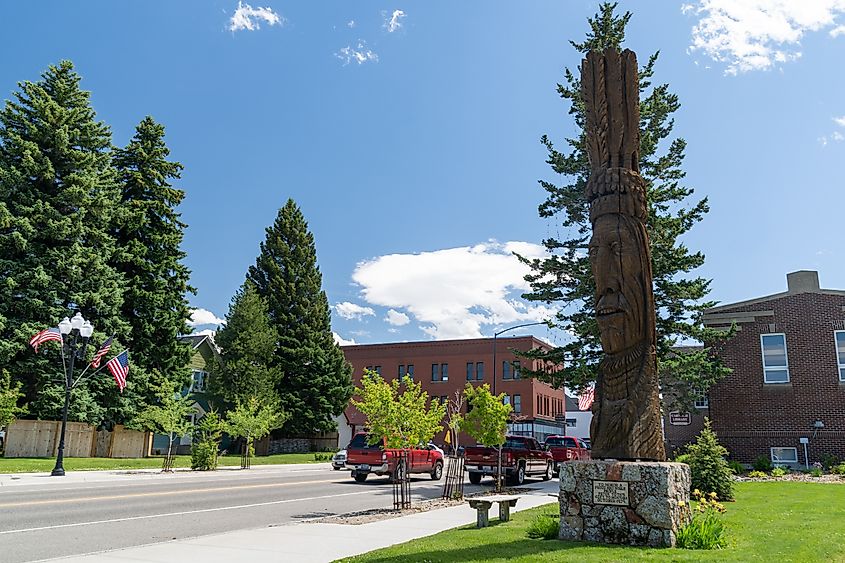 Red Lodge, a charming mountain village at the foot of the Beartooth Mountains, charms guests with its breathtaking beauty and welcoming atmosphere. The drive into town is the starting point of the local natural beauty, as it's one of the most beautiful drives in the country, and it includes stunning photo opportunities of alpine vistas with snow-capped peaks, alpine lakes, and flowing waterfalls. Spend time in candy stores, museums, and distilleries in the Red Lodge downtown area. For accommodations that aren't quite in the downtown area and have great views of the Montana landscape, visitors love staying at the Beartooth Hideaway Inn & Cabins. In the summer, it's recommended to book a getaway during the Red Lodge Rodeo, which is held yearly in the summer that takes the village back to the Old West.
In Conclusion
Ideal getaway destinations in Montana include three days packed with outdoor activities, cultural exploration, and tranquility. Pockets of undiscovered wilderness, breathtaking scenery, and friendly people await visitors in Montana. Whether the purpose of the getaway is to spend time in nature, go on an adventure, or just get away from the daily grind. Visitors can expect ample opportunities to go on adventurous walks, fish in magnificent lakes and rivers, or just unwind and chill out. Montana promises a one-of-a-kind and never-to-be-forgotten experience with its rich history, thriving villages, and stunning scenery. A three-day weekend getaway in Montana awaits, and it has the perfect amount of excitement, peace, and exploration in store.