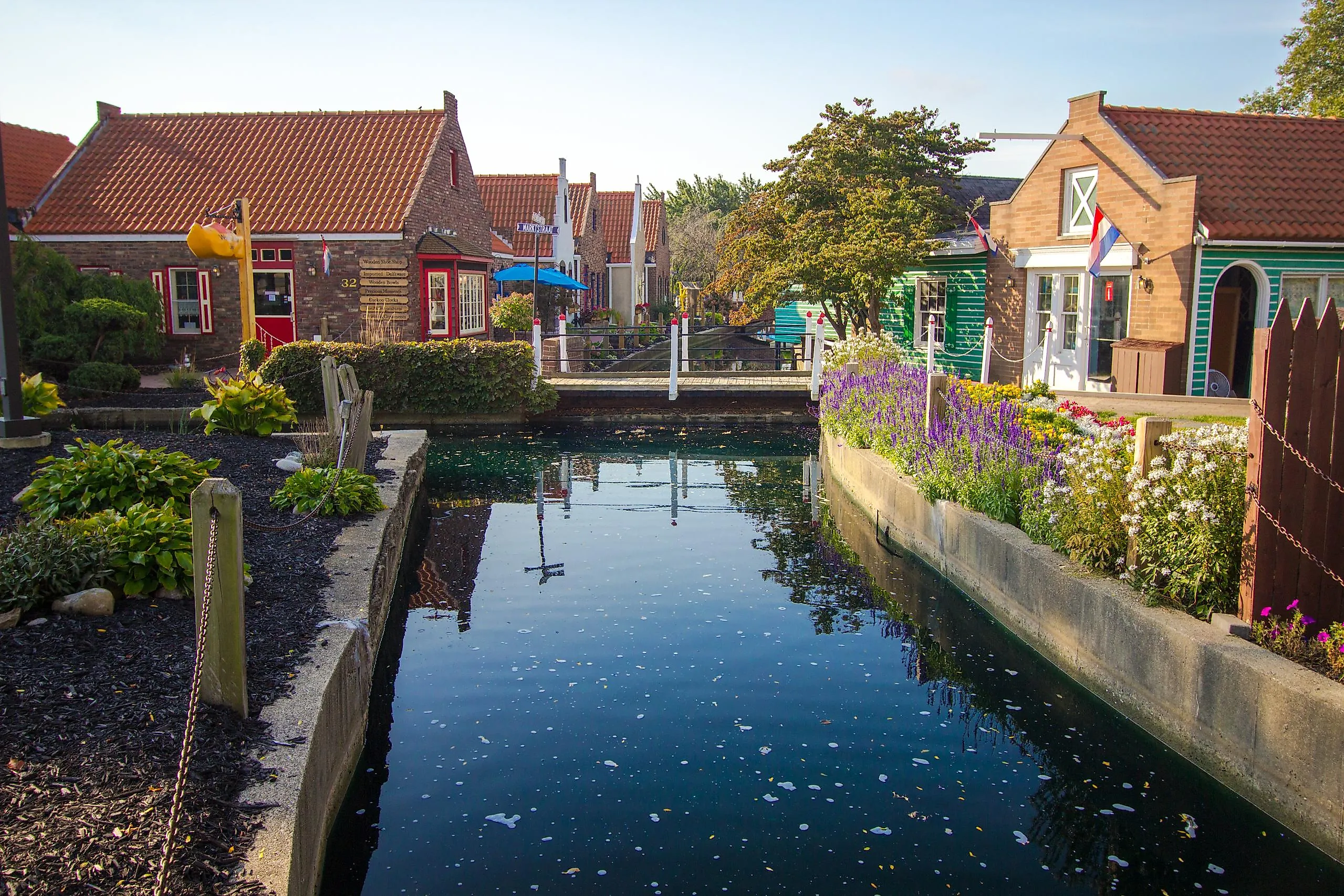 9 Affordable Summer Vacation Spots In Michigan
Michigan, the Great Lakes State, is blessed with sandy shores, clear waters, and stunning views of Lake Michigan. End your summer vacation with the budget you have left for one last hoorah. Choose from the gamut of small towns with inexpensive lodging options amid the natural world and access to the UP's many country parks and beaches all along Michigan Lake's expansive shoreline.
With numerous parks overlooking the beaches, you can enjoy varied outdoor recreation with hikes, camping, and swimming. Wake up to nature knocking at your doorstep for a revitalizing stroll through the woods, dip in the cool waters, or grab a java from the small-town cafe to bask in its atmospheric bliss—alien to the city feel.
Alpena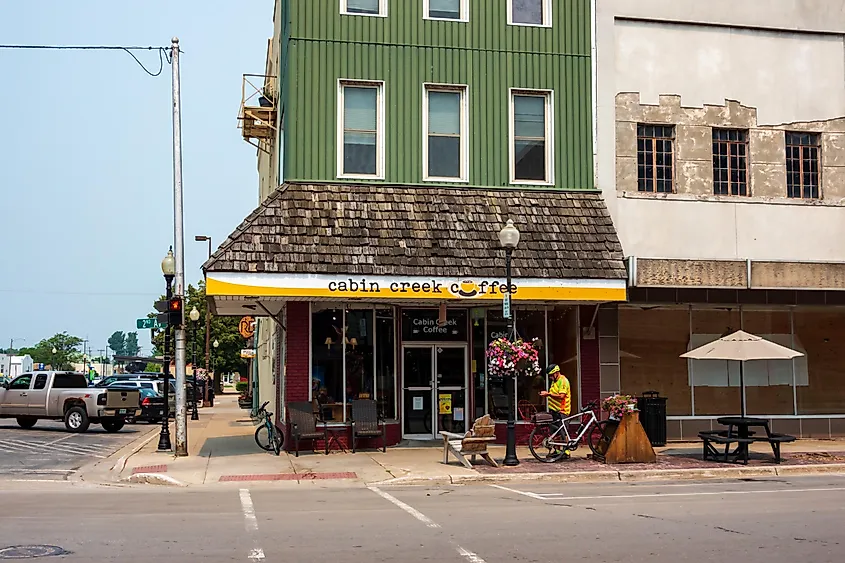 The small town on the coast of Lake Huron has natural beauty like no other and a cozy atmosphere downtown for a quaint summer vacation. Seek history-laden along the streets on a stroll down its limestone foundation with up-and-coming small-town businesses. From various shops selling local goods inside vintage facades to local markets, you will still have enough left for evening gatherings over locally brewed beers at Austin Brothers Beer Company. Downtown Alpena's developing culinary scene is out of this world, like at the Fresh Palate, which serves fresh farm-to-table organic gourmet dishes.
Easily find an affordable Airbnb in Alpena, including beach and downtown locales, to immerse yourself in a whole itinerary of outdoor pursuits. Visit wildlife at the fantastic Island Park with its adjacent sanctuary, or spend nights at the Rockport State Park Recreation Area, an official Dark Sky Preserve with full-spectrum views. The Besser Bell Natural Area at Rockport is strewn with trails for all levels of hiking, while the nearby, quiet beaches and the ghost town of Bell guarantee many fun summer day trips. Head to Hubbard Lake, Long Lake, Grand Lake, or Fletcher's Pond for the best fishing opportunities.
Grand Rapids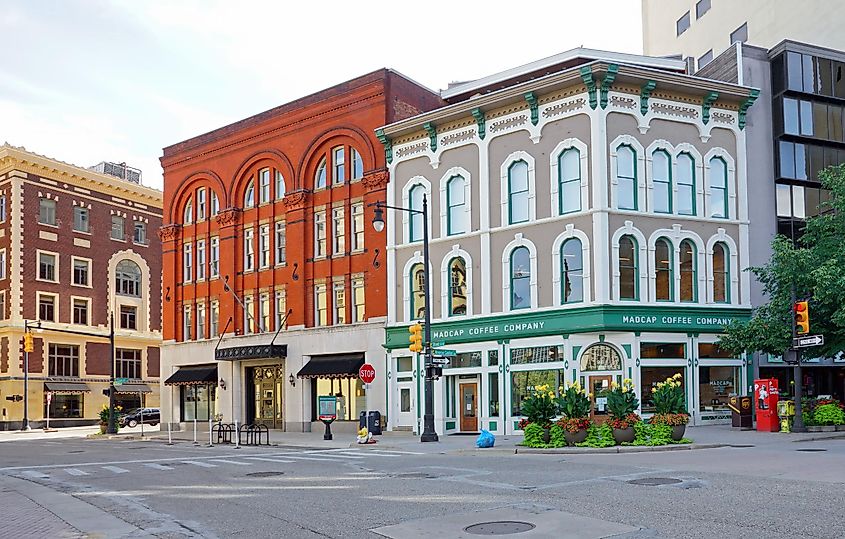 Grand Rapids is a highly sought-after summer vacation destination for budget-conscious travelers, with a family-friendly atmosphere where everyone has fun and relaxes. Start every morning with a stroll along the arts and history-strewn downtown with a cup of coffee from a cafe, and seek inspiration from nature throughout your vacation. With its special recipe of feel-good pursuits, the town will make you feel refreshed and return ready to jump into the hustle, money in hand. Enjoy priceless outdoor adventures and top free or cheap attractions like the Frederik Meijer Gardens & Sculpture Park, a stunning botanical garden and sculpture park for art strolls, relaxation, and mingling against a natural backdrop. Visit the Grand Rapids Art Museum (GRAM) to view contemporary and modern art in its rotating exhibition, with both places offering free entrance on Tuesdays.
Stay a bit longer for the ArtPrize in autumn, a free, lively, international art competition when the town, at the mercy of artists from all over the world, offers amazing art on display and the whole downtown is a big art gallery. Seek nature's inspiration at Riverside Park, a real break from the bustle with a beautiful expanse of green space to picnic, stroll, and enjoy scenic biking along the charging Grand River. Grand Rapids doesn't know the definition of crowds, and with more affordable accommodations than other towns around, you can score a long-stay vacation deal. It is also home to a brewing scene like no other, with many breweries for every budget, like the famous Mitten Brewing Company in a Victorian firehouse from the past. Visit the magnificent landscape of the Frederik Meijer Gardens with Rodin sculptures for hand-in-hand strolls with your loved ones.
Holland
Holland, a cute little town in southwest Michigan with rich culture and heritage, surprises visitors with great affordability for a summer's worth of vacation here. There is much to see just by wandering around the aesthetic streets strewn with hotspots like entertainment venues, shopping (with over 100 local shops and restaurants), and cute cafes. Visit Holland for its trademark tulip season as a romantic vacation destination when you start your summer vacation early in May. Sightsee millions of tulips through town in unique and beautiful displays, with other Dutch cultural vestiges peaking in between full bloom during the Tulip Time Festival. The photogenic lineup of restaurants in authentic buildings welcomes hungry architecture fans downtown, window shoppers, and shopaholics for a quirky fusion of Midwest and Dutch styles.
Stay active with Holland's over 150 miles of paved bike paths and off-road trails, including US Bicycle Route 35 and the best fat biking in the region, and seek shade at the beautifully landscaped Centennial Park. The Windmill Island transports you into a real Dutch Neverland, with tulips and the picturesque De Zwaan traditional Dutch windmill. Find solace in nature on a fresh-air stroll through the scenic Holland State Park on Lake Michigan, home to the magnificent Ottawa Beach and a campground for an epic budget vacation, along with its iconic red Holland Harbor Lighthouse nearby. Come back for the winter wonderland of North America's largest municipal snowmelt system, featuring unique, fully heated sidewalks and the iconic Kerstmarkt, a Dutch "Christmas market."
Isle Royale National Park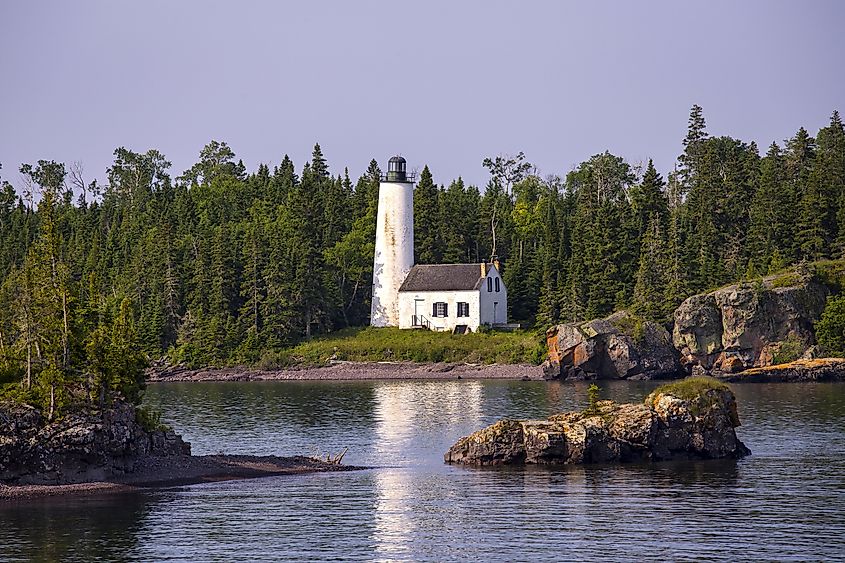 It may be a surprise that, out of all states, Michigan boasts the title of hosting the least-visited national park in the contiguous US. Isle Royale, one of the most remote national parks, is overwhelmingly dazzling, and the effort to reach this beautiful natural world is a lifetime of rewarding adventures on top of camping for budget-conscious vacationers. Start by taking a ferry through Lake Superior, and bring your provisions for the sail. The park is as wild as it gets and lacks civilization along its destined shores.
Immerse yourself in a whole otherworldly atmosphere with miles of untouched forest trails to explore for all lengths and roughness levels. Take the spectacular lakeside paths for views and a true feeling of desolation thanks to the secluded island spirit with wildlands to one side and an immense lake on the other. All this nature is entirely free to enjoy (no bikes), with campsites accessible only by foot or watercraft. Find tent sites and outhouses near a body of water, like campgrounds on Lake Superior with shelters and picnic tables. Boaters and parties of six or fewer get free overnight permits, so sail off from Houghton and Copper Harbor in Michigan or Grand Portage and Grand Marais in Minnesota for a dreamy escape in the middle of nowhere.
Kitch-iti-kipi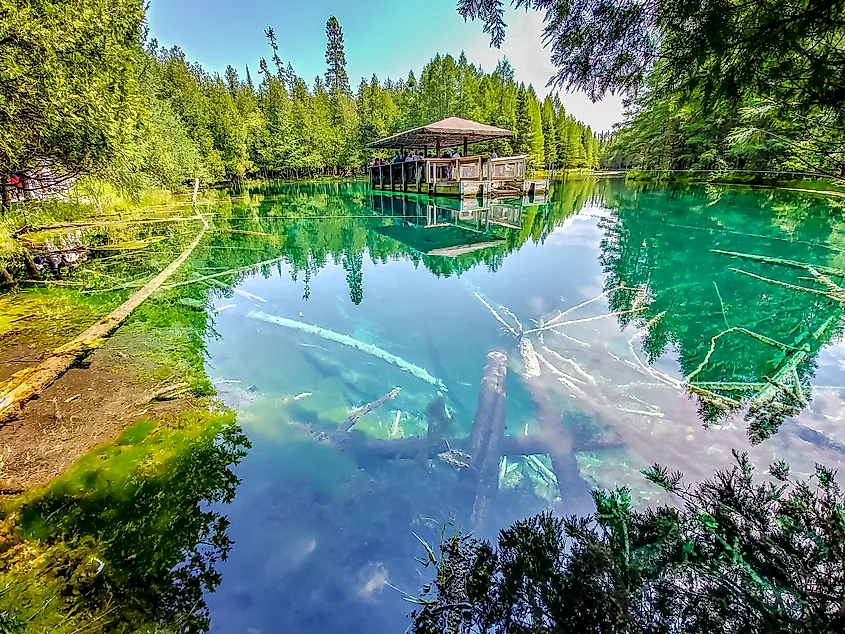 Manistique, a town of around 3,000 residents, is not only a popular entrance into the state's UP but also a cheap summer vacation destination for every group at the mouth of the Manistique River. Located on Lake Michigan at the door to Hiawatha National Forest, you can explore some 900,000 acres of wilderness, with three lakes around to cool off, like Lake Michigan and Lake Superior, depending on how deep you get. Bring along your tent for the budget vacation of your dreams, with camping, fishing, kayaking, and canoeing around the shores of the beautiful Manistique River as well as the Indian Lake near town for all your groceries. Kitch-iti-kipi, a short drive away into the Palms Book State Park, Michigan's largest natural freshwater spring, means "big cold spring" in the Ojibwe language, or "Mirror of Haven."
Venture into the town's cozy cafes for your morning coffee and savor Michigan's fast-growing microbrewing culture at the statewide craft beer festival of Hops on the Harbor in the evenings through August, a perfectly fun way to unwind at the end of the summer. The Kitch-iti-kipi spring immerses you in the cultural wilderness of the area around the Chippewa Indians' culture, while the Pictured Rocks, an hour's drive north, is a national park with dramatic cliffs opening onto the wild dunes on Lake Superior's shore—a real getaway for solitude amid some of the best nature in the entire country. Choose a campsite, affordable lodging, or Airbnb with water fun all around and access to the UP for an unforgettable summer, and return to the famous winter wonderland here.
Ludington State Park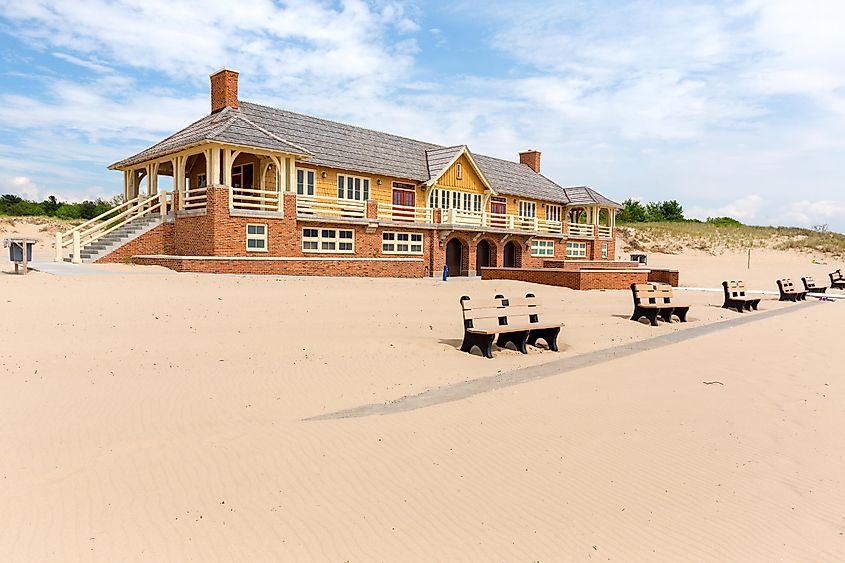 With its 5,300 acres just north of the namesake town, the park is a popular place to escape into nature in the state, with much to offer for summer vacationers on a budget. The wonderful area, full of fishing opportunities, is also a haven for hikes and biking in its natural embrace. From the beautiful sand dunes with spectacular views to the fresh-scented hardwood forests and marshlands, the seven-mile-long Lake Michigan shoreline awaits all levels of trekkers for a cooling dip and scenic lounging. History fans enjoy the historic Lake Michigan beach house in the day-use area with interpretive exhibits and programming, while water enthusiasts can utilize the boat launch to access Hamlin Lake.
Get the Michigan State Park Recreation Passport to the park with entrance at the end of M-116, paying only $13 for this annual Recreation Passport if you are a state resident, and renew your Michigan license plate at the Secretary of State office. Choose from three campgrounds in between the lake and wilderness and tackle the 21 miles of marked trails, or head straight for a sunset viewing at the iconic Big Sable Point Lighthouse. The Big Sable River runs through the park for one mile, allowing for more fishing, paddling, and tubing along the flowing waters.
Pictured Rocks National Lakeshore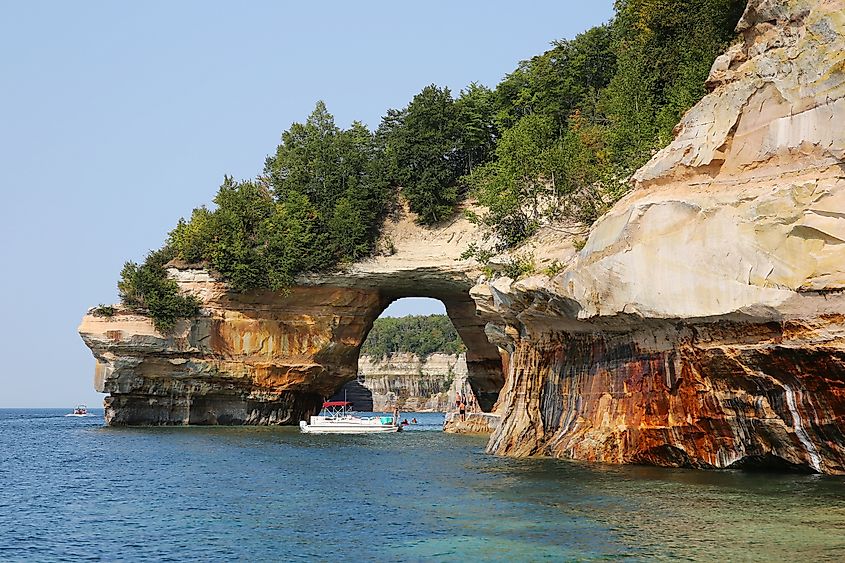 Spending a summer vacation along one of the most drop-dead gorgeous places in America sounds like a dream, but add in the freshest air feel, mighty waterfalls, paddling, coastal trails, and hikes deep into the park's wilderness, and you've got yourself Pictured Rocks National Lakeshore. This foremost natural attraction of Michigan's Upper Peninsula offers a breathtaking display of multicolored rocks in unforgettable pure beauty at the hands of Mother Nature, which you can enjoy for a whole low-cost vacation with three rustic drive-in campgrounds.
Choose from Little Beaver Lake, Twelvemile Beach, or Hurricane River, with all sites featuring a picnic table, a fire ring with a grill, and a tent pad, all for only $25 per night per campsite! Trek to the magnificent waterfalls into Lake Superior for a photo shoot in the mist, a picnic to relax, or to scramble around the force of nature against the backdrop of the otherworldly multicolored rock formations. Take a breezy kayak ride for exercise and the best way to explore the arches and the rest of the Pictured Rocks National Lakeshore. The Lake Superior waters await all venturers for cooling dips afterward, along with plenty of pristine beaches to relax on.
Sleeping Bear Dunes National Lakeshore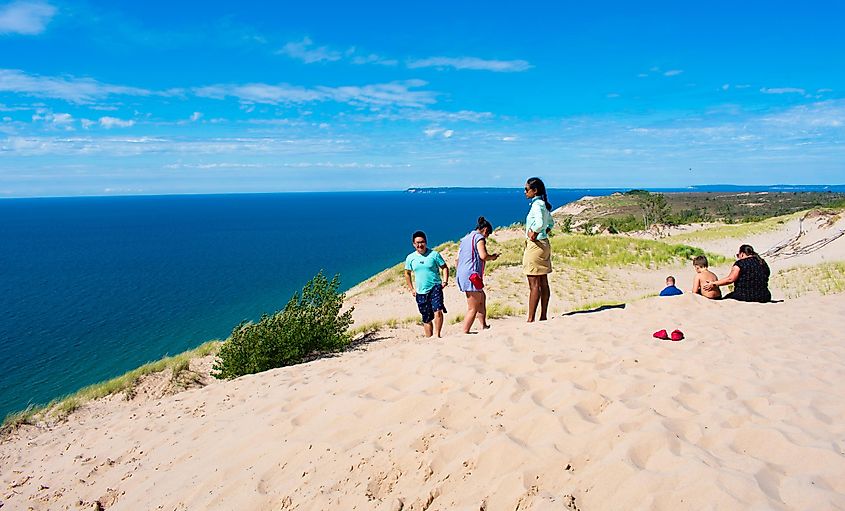 Visit the free Sleeping Bear Dunes, home to some of the best beaches in the Midwest, in the northwest part of the state near Traverse City. It is a popular destination for a quick getaway or a whole vacation's worth of the outdoors and family-friendly activities to enjoy with your loved ones. The wonderful destination encompasses the Lake Michigan shoreline stretch and the surrounding natural world of forests, wetlands, and beaches for all levels of activity, fun, and relaxation in the scenery. Famed for the towering sand dunes, you can venture, climb, and enjoy photoshoots along these windswept piles, followed by a cooling dip in the crystal-clear waters and lounging at the stunning views of Lake Michigan, great for swimming, kayaking, and paddleboarding.
Take a drive along the Pierce Stocking Scenic Drive on a rainy day, overlooking the dunes and the lake, with many charming villages and towns along the way, like the most popular Traverse City. The sturdy sandy dunes are great for climbing at the sight of the jade-shaded waters on an equally active and relaxing vacation in unrestricted beauty that feels like a real escape. Find pristine beaches, countless hiking trails, camping grounds, and a number of lighthouses, and even try scuba diving in the lake. The untouched beauty of the North and South Manitou Islands, part of this national park, inspires and adds diversity to your exploration.
South Haven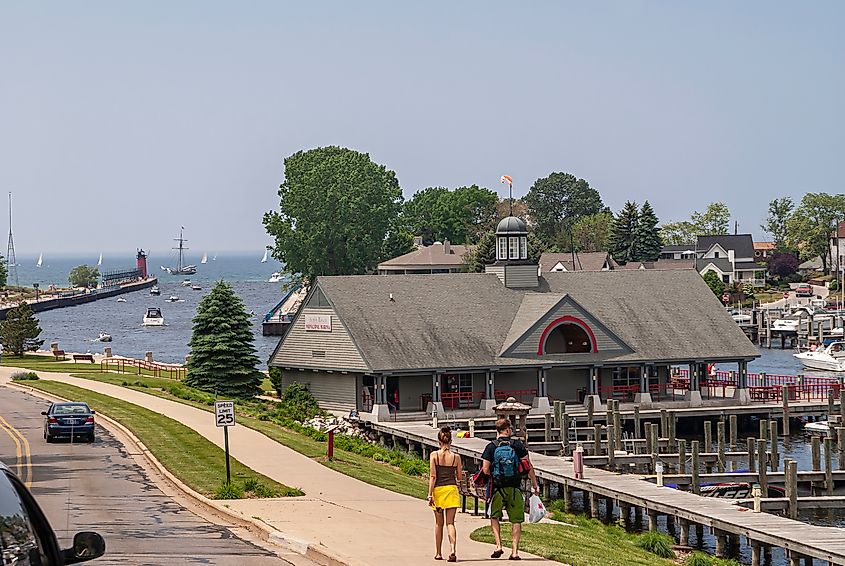 This small town in western Michigan boasts a high family ranking and equal affordability, including accommodation options, with numerous outdoor activities and beaches around. You can find kid-friendly beaches with calm and shallow waters to swim and play your heart out. South Haven shines with small-town charm and feel-good pursuits along its charming streets, like unique shops, local eateries, and ice cream parlors. This veritable "haven" of beach perfection wrapped in small-town charm is a delight for seafaring fans, including the Michigan Maritime Museum, the South Haven Lighthouse, and the Maritime District Harborwalk.
With gentle summers of sunny days and pleasant temperatures, you can immerse yourself in the great outdoors without breaking a sweat, visit wineries, and peruse the downtown scene of boutiques, cafes, and art galleries. Take a hike along the Black River Preserve or bike 34 miles to Kalamazoo on the scenic Kal-Haven Trail Head, which turns into a cross-country skiing path in the winter. Take a sunset cruise or enjoy free activities along the 23-mile Bangor-South Haven Heritage Water Trail, like fishing, kayaking, canoeing, and paddleboarding.
Spend nights under the stars for under $30 a night when the whole world is your oyster during the day. From unique beach experiences to varying landscapes for trekking and every small town with its own quirky character, you will not be remiss in spending the last weeks of summer basing yourself in the glorious Wolverine State.
Choose a pet-friendly campground with picnic areas, hiking trails, and play areas for your whole family of outdoor enthusiasts to have fun and relax. Enjoys days of varied pursuits, from nature ventures to history and feel-good wanderings through the town's boutiques, local eateries, and markets. You can have a cookout or roast marshmallows at your site or near the beach after watching the sunset.