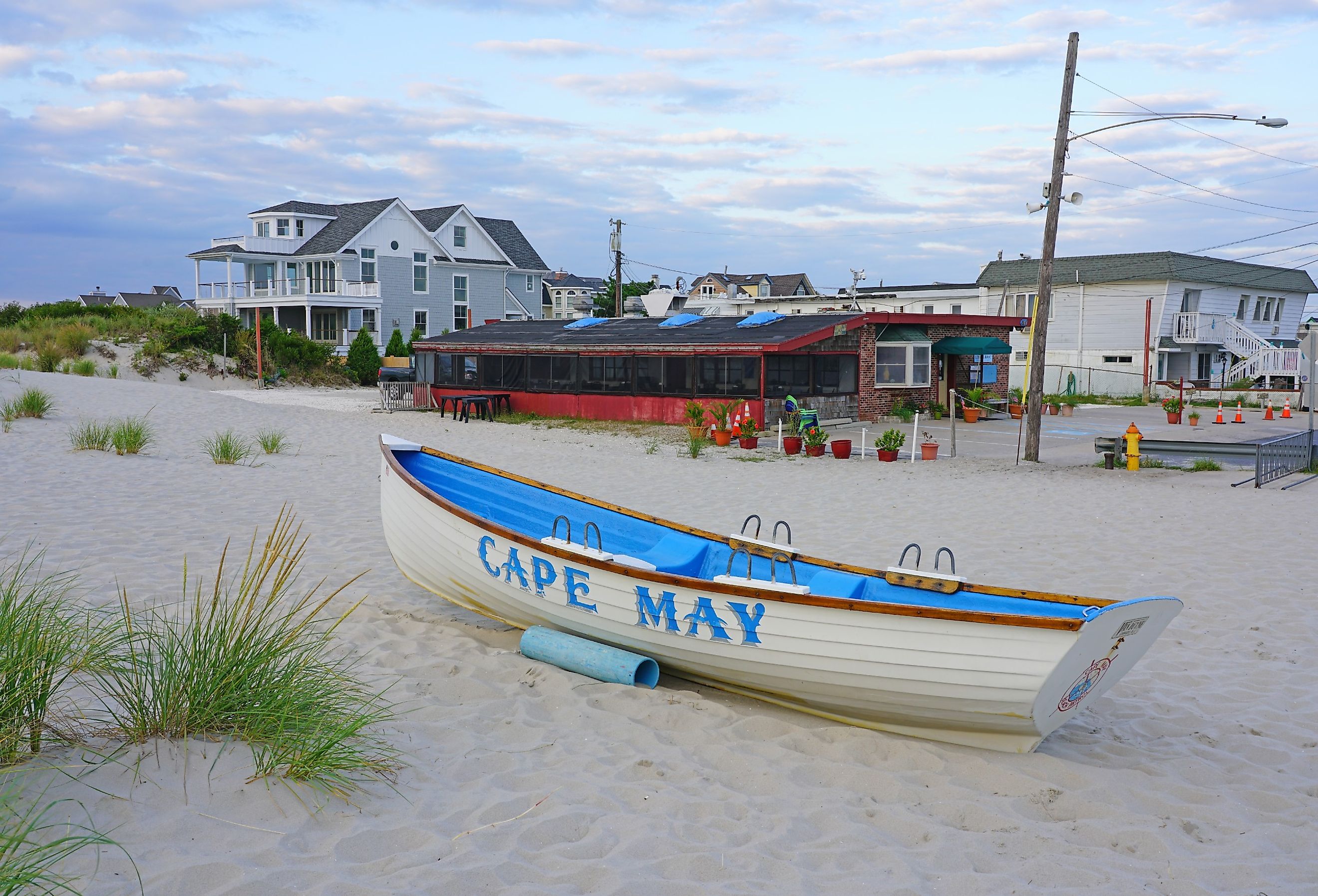 8 Ideal Destinations for a 3-Day Weekend in New Jersey
Located in the Northeastern United States, New Jersey is a beautiful state to visit. Nicknamed "The Garden State," it is home to an endless array of horticultural wonders and natural sights. Whether a natural park or coastal town, there is no end to natural wonders in New Jersey. The state is also filled with rich history, amazing food, and an upbeat culture that can keep anyone happy. With so much to offer, New Jersey boasts some of the most superb destinations perfect for a 3-day weekend!
Cape May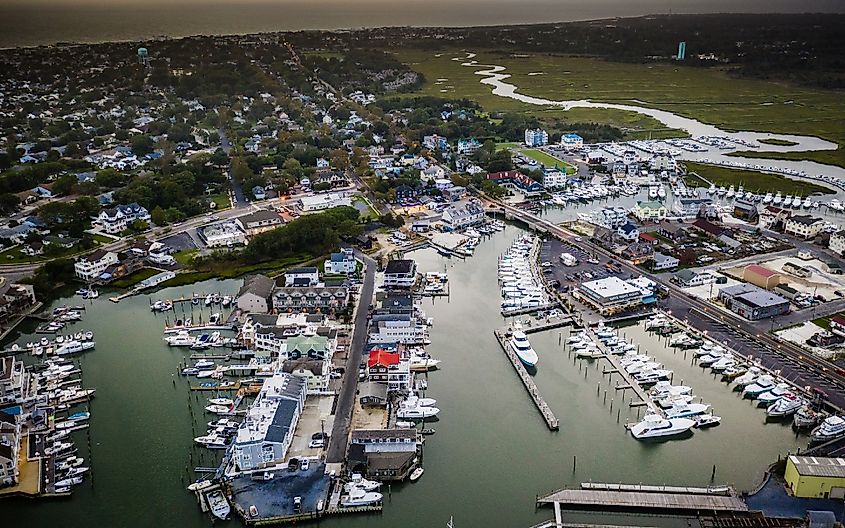 Cape May is a scenic coastal city in southern New Jersey and the perfect waterside destination. The city is home to a quaint population of 2,800 but is always filled with thousands of tourists from all over. This is because it has some of the best beaches in America, and is often ranked within the top 10! Sunset Beach is popular, with its wide-open land and stunning horizon. The beach has a tourist strip filled with ice cream stores and games for a fun day out. Another amazing waterside destination is Higbee Beach. This stunning beach has unique sights such as sand dunes, and tree trunks for an interesting view of the shore. With these and many others, there is no shortage of beaches in Cape May.
Apart from the beaches, Cape May is famous for its rich history and culture. First charted by the Dutch in the 1610s, this city is America's oldest seaside resort! To this end, you will find an endless array of historic sights, such as the Cape May Lighthouse. This lighthouse was built in 1859, and visitors can climb 199 steps to the top for a panoramic view of the city. Apart from this, the city has amazing culture and entertainment options, such as the Washington Street Mall. Here, you can find busy crowds, a plethora of stores, and eateries. So, no matter what you are looking for, Washington Street Mall is the perfect way to have fun in Cape May. All in all, this city is the ideal weekend destination in New Jersey, with everything from the ocean to shopping.
Paterson Great Falls (Passaic River)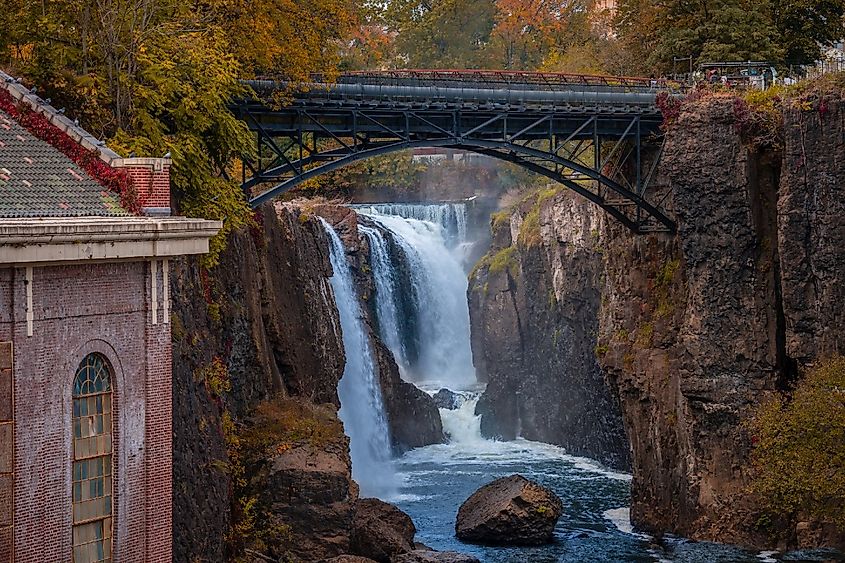 Paterson Great Falls is an iconic waterfall situated on the Passaic River in New Jersey. Boasting a height of 77 feet (23 m), this beautiful natural sight is one of the most famous tourist destinations in the region. Along with this, Paterson Great Falls is the second largest in America by volume, with more than 2 billion gallons of water flowing through it daily! So, you can spend hours admiring the rushing water surrounded by beautiful forests and rugged rocks. For a better view, climb up to Haines Overlook Park on the south, which offers a panoramic view of the entire river and nearby areas.
Surrounding Paterson Falls is Paterson Great Falls National Historic Park, offering endless activities to keep you busy all weekend. This park preserves both the history of the falls, as well as surrounding ecology. Taking a guided tour is the best way to learn about these things, as you can witness the surrounding industrial city and also learn about the area's past. After your tour, grab a room at one of the nearby lodging facilities in Paterson, and you will be set for a fun 3-day weekend.
Jersey City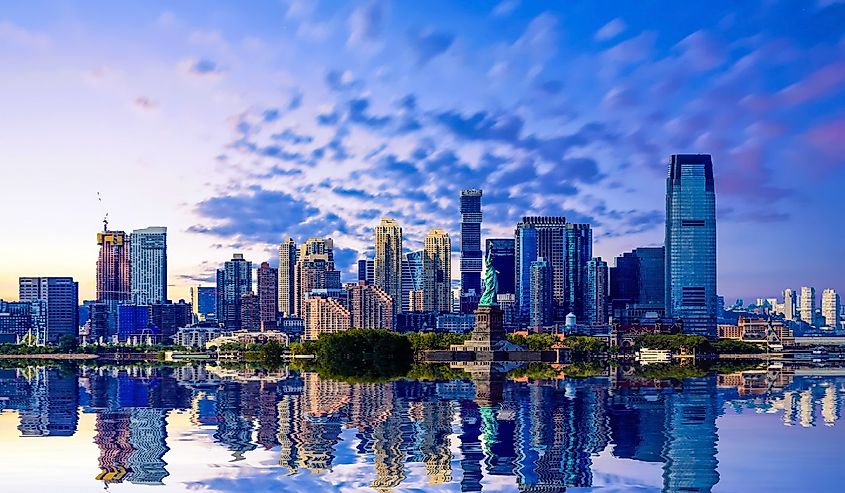 One of the largest cities in New Jersey, Jersey City is a bustling metropolis full of people and life. Home to a lively 292,000 residents, this place is the perfect destination for a fun and energetic weekend in New Jersey. From beautiful skyscrapers to quaint cafes, Jersey City has everything you can ask for! For history buffs, check out the Central Railroad of New Jersey Terminal or Newkirk House. The Central Railroad Terminal is a popular spot that once catered to the transportation needs of thousands of immigrants. While it isn't active anymore, the terminal has been restored for use as a ferry and historic site. On the other hand, the Newkirk House is a tad bit older, dating back to the 1600s! It is one of the oldest standing structures in New Jersey and offers an aesthetic environment for photography!
Once you have delved into the city's past, it is time to enjoy Jersey City's vibrance. In this regard, the first place on your list should be the Liberty Science Center. Home to unique exhibits such as the Touch Tunnel and Pixel Art, this is the perfect place to have fun with family. Or, if you're with friends, visit the center during their "LSC After Dark" party, with food, drinks, and a dance! While the sights are more than enough for a weekend stay, you might also be looking for some souvenirs from your trip. So, head over to Kanibal & Co., a lovely shop with many branded souvenirs, local crafts, and stylish clothing! So, if vibrance and fun gets you going, your weekend has to be in Jersey City.
Vernon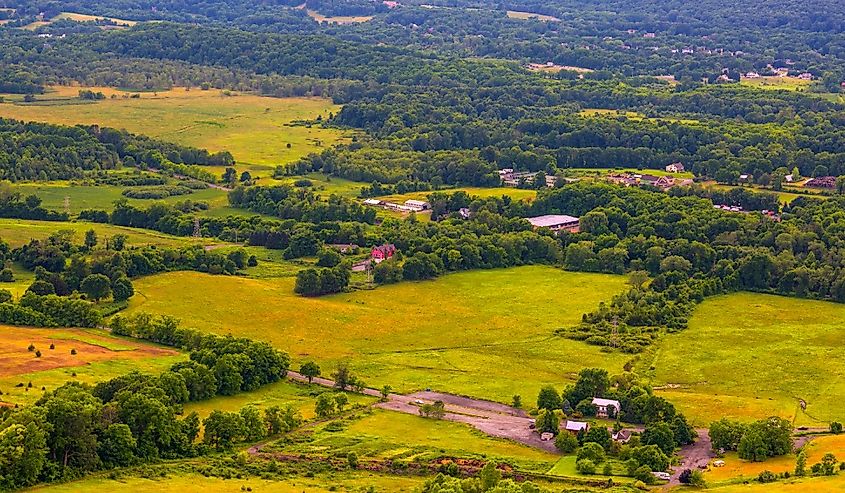 While other places may be seasonal destinations, Vernon is an amazing weekend destination throughout the year. About an hour's drive from New York, Vernon is the perfect getaway from urban life. The township houses natural parks, outdoor activities, and a laid-back vibe, so you can enjoy yourself the way you want to. If you visit during spring and summer, you can appreciate luscious green parks that are great for outings with friends and family. For example, Biosphere Pool is a great indoor-outdoor facility with a pool and waterfalls! If you want to cool off in the summer sun, you can also spend the at Mountain Creek Water Park; this large water park has dozens of rides and attractions perfect for people of all ages.
For those visiting during winter, you will be pleased to know that Vernon gets even better. Surrounded by skiing resorts and large mountains, there is no end to the outdoor fun you can have in Vernon. Mountain Creek is one of the most popular ski resorts nearby, with a skiable area of more than 150 acres. This includes 46 runs of all levels, so you can spend an entire weekend out in the snow. Along with this, the park also boasts a snow tubing area, a zip line, and an alpine coaster, so you will never get bored here! To spend your vacation burning calories outdoors, Vernon can help you out!
Ocean Grove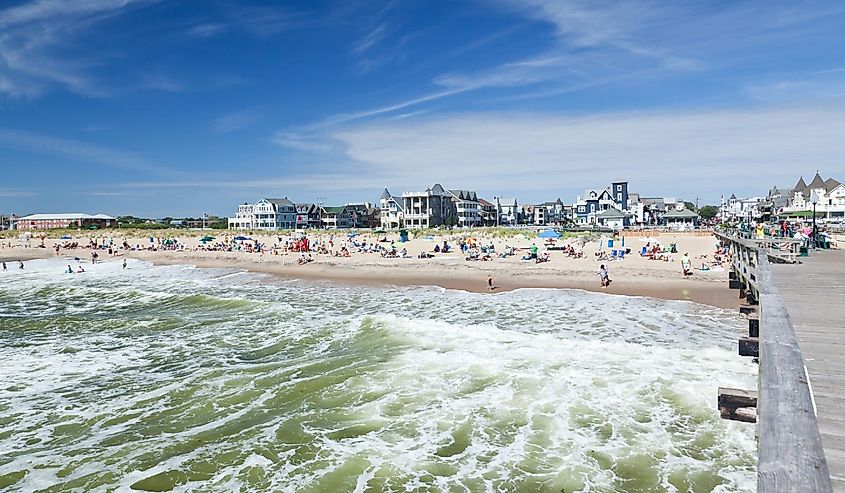 Testament to its name, Ocean Grove is a lovely waterside location to spend your weekend. The city, nestled along New Jersey's eastern coast, is a beach lover's dream. Stroll over to Asbury Park in town, and you will find yourself at one of Jersey Shore's best beaches. With amazing music venues, a lively boardwalk, and scenic waves, this is the place to be! If this beach is too lively for you, you can opt for Shark River Park instead. While it may sound scary, this park is quite peaceful, with picnic spots, hiking trails, and even fishing locations.
After spending your time along the water, walk back into town to take in the vibrant culture of a seaside town. A unique way to do this is by checking out Tent City. Developed through an age-old tradition, this area boasts hundreds of canvas tents where you will find people chilling, mingling, and having fun. If you like the concept, you can rent your own for a fun stay right in the middle of town! From here, you will also be close to some of Ocean Grove's amazing restaurants. For delicious seafood, SeaGrass Restaurant is a must-visit with its fresh scallops, cod, and other famous dishes.
Delaware Water Gap National Recreation Area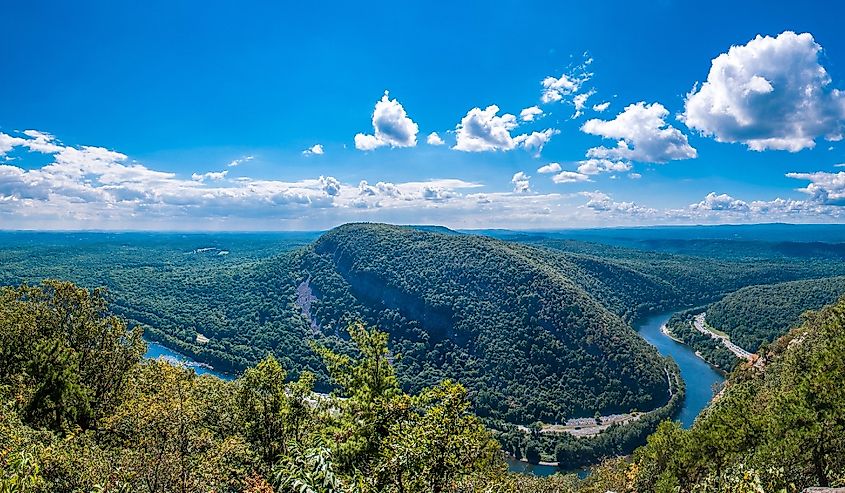 The Delaware Water Gap National Recreation Area is a 70,000-acre national area filled with amazing sights. Stretching along the Delaware River in both New Jersey and Pennsylvania, it is a premier attraction. This water gap is at the point where the Delaware River cuts through a ridge of the Appalachian Mountains. This creates a unique geographical area that has become a popular tourist destination. So, you can spend the day watching the river from either side of the gap for a tranquil nature experience. The Gap also offers amazing rock climbing routes where you can often find experienced climbers from all over America.
Apart from the water gap itself, the Delaware Water Gap National Recreation Area offers a lot more! The area gets more than 4 million visitors per year who enjoy activities such as hunting, cycling, and horseback riding throughout the forests and mountains. If you want to cool off during summer, you can spend the weekend swimming, kayaking, or rafting in the Delaware River. After a day out in the sun, set up camp in one of the many river campsites, which have facilities for RVs and tents.
Montclair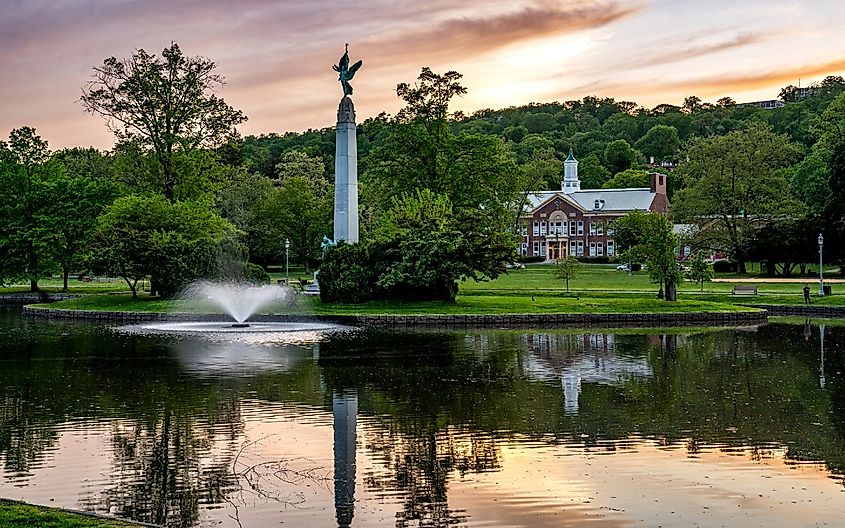 Flush with all kinds of beauty, Montclair is a lovely township in Essex County, New Jersey. Nestled along the Watchung Mountains, it offers an upscale vibe with everything you can ask for. Take a short walk through town, and you will find a plethora of quaint stores and establishments. For example, Watchung Booksellers is a famous bookstore that has been open since 1991. The store sells thousands of books from hundreds of authors and genres. If you are more into art, check out the Essex Fine Arts Gallery, which showcases fine art for sale and framing. After spending the day out shopping, unwind at the Woodhouse Day Spa, which offers dozens of unique and tranquil treatments.
Apart from the dozens of attractions to see, Montclair also offers some of the best places to eat in New Jersey. So, to make the most of your 3-day weekend, grab a bite at spots such as De Pepo, Samba, or Egan & Sons. De Pepo is an authentic Italian-American restaurant with aromatic food, such as their famous spaghettoni chitarra with crab meat. On the other hand, Samba is a small Brazilian food joint with a unique ambiance for the perfect day out with friends. For those looking to drink more than you eat, Egan & Sons is the place to be with its amazing tap beers and pizza. With so much to offer, spend your days out exploring and evenings enjoying food for a jam-packed weekend in Montclair.
Appalachian Trail National Scenic Trail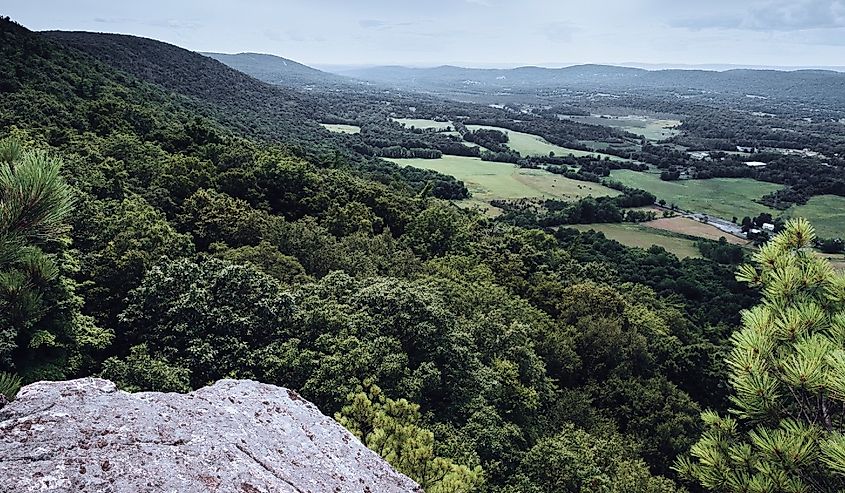 Spanning a whopping 2,190+ miles throughout various American states, the Appalachian Trail is an awe-inspiring natural experience. This trail traverses all sorts of biomes, such as mountains, forests, woodlands, and more, for a complete look at the environment and its beauty. Revered as the longest hiking trail in the world, it also goes through various elevation changes. While the trail is massive, New Jersey is home to a 72 miles (116 km) portion of it. This part is ideal for a 3-day hiking trip and covers sights such as the Delaware Water Gap, Stokes State Forest, and Greenwood Lake so that you can take in the state's sights.
The trail itself is hiking only, but there is one thing that follows along. With an abundance of wildlife, the Appalachian Trail is an ideal location for wildlife watching. It is home to thousands of species of animals, such as the American black bear, porcupine, bobcat, and eagle so you can enjoy them in their habitat. Although, be careful when you are near these animals, as some of them can be dangerous if provoked.
All in all, you are going to have an enjoyable weekend no matter where you decide to spend it in New Jersey. From the waterside views of Cape May to the stunning cliffside at the Delaware Water Gap, there is no shortage of unique attractions in the state. Moreover, with accommodation in the form of tents, camps, or hotels available throughout, a 3-day stay is sure to be comfortable. So, book your tickets now and enjoy a fun weekend in New Jersey.