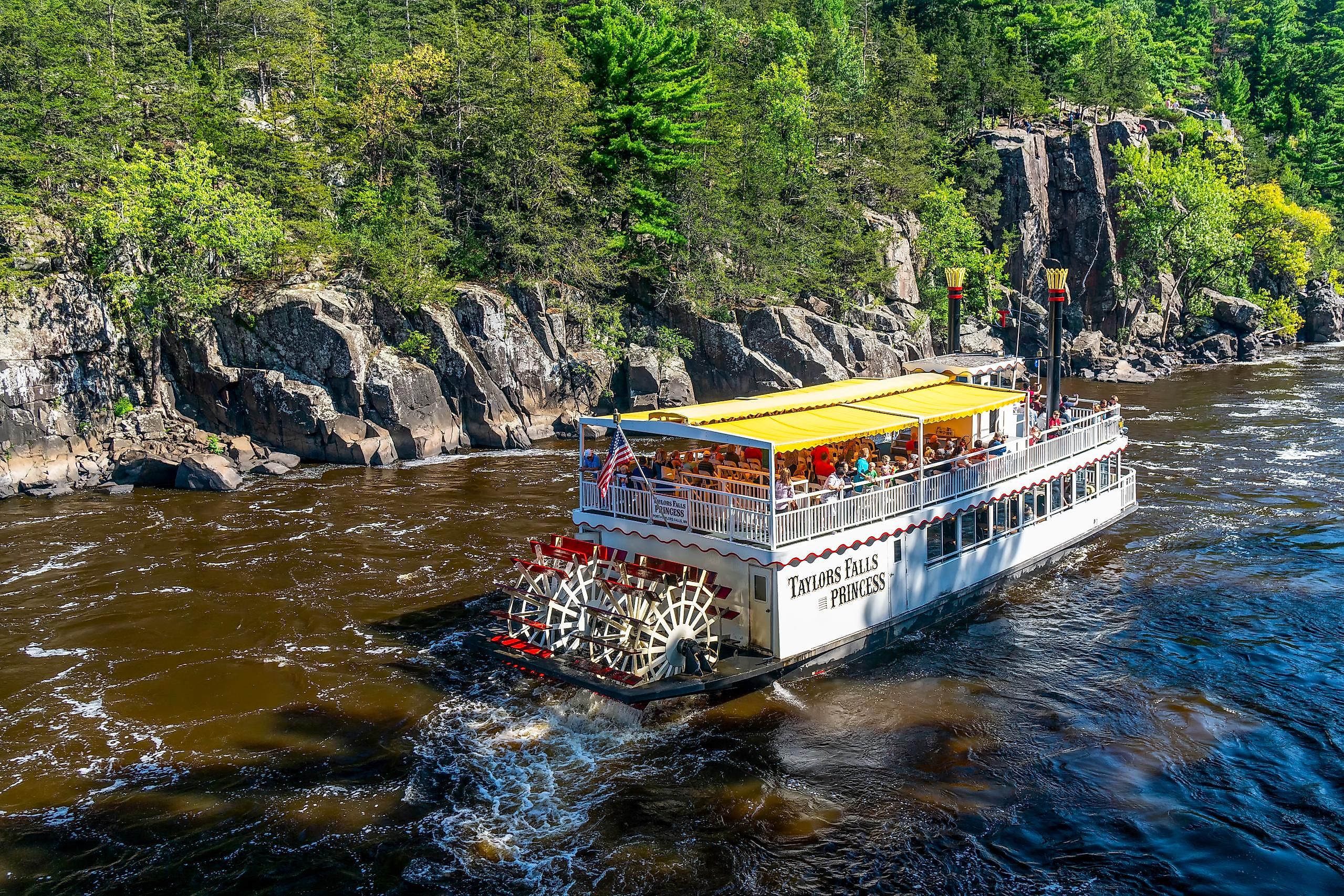 13 Affordable Summer Vacation Spots In Minnesota
Spending summer in the great state of Minnesota can be a magical experience. There is no shortage of charming holiday destinations to let visitors make the most of the cozy weather. Popularly known as the "Land of 10,000 Lakes," Minnesota is endowed with stunning natural beauty, marked by endless waterways, lush forests, and sprawling prairie lands, proving to be the ideal getaway for outdoorsy travelers with a penchant for nature.
With a history dating back to the 11th century, the 12th largest American state was initially inhabited by indigenous tribes, with its name originating from the Dakota language. The first European explorers stumbled upon the region in the 17th century, with permanent settlers coming in the first half of the 1800s when the maiden U.S. settlement was established at Fort Snelling. 
Today, Minnesota beckons vacationers to explore miles of hiking trails, relax on sandy beaches, soak in breathtaking views, and play in its numerous lakes. The best part is that tourists don't have to break the bank to enjoy this little piece of heaven; Minnesota has many affordable summer vacation spots to check out. 
Ruttger's Bay Lake Resort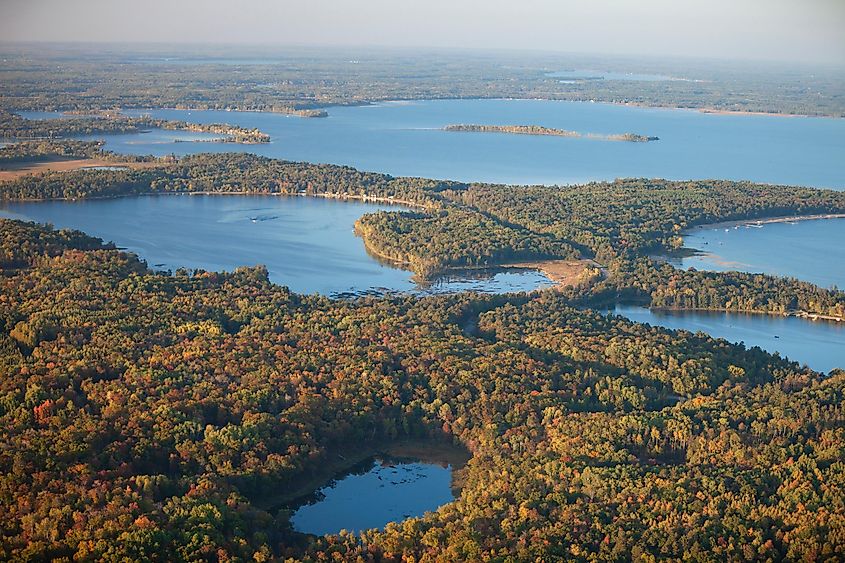 Nestled in the beautiful Brainerd Lakes region, Ruttger's Bay Lake Resort spoils visitors with stunning views of Bay Lake, placing them in the heart of nature. The oldest family-owned resort in the state is a short drive from the Cuyuna Country State Recreation Area, where miles upon miles of hiking and mountain biking trails await exploration, ideal for beginner and experienced adventurers. 
But while at the resort, guests can enjoy luxurious amenities with a laid-back vibe. For a $125 per night package, enjoy daily access to Ruttger's Bay 18-hole golf course, plus a complimentary gourmet breakfast at the charming Ruby's On The Lake. To get on the water, take advantage of the 30% discount on the marina rentals and enjoy a laid-back cruise or opt for a guided fishing trip, pontoon, or wave-running excursion organized by the resort. On the resort's historic Main Street, several retail stores and an ice cream shop allow vacationers to curb all their shopping cravings.
Larsmont Cottages On Lake Superior
Inspired by Scandinavian fishing villages, this delightful resort, hidden amidst acres of private woods, is an excellent option for tourists seeking peace and tranquility. Famous for its family-friendly atmosphere, Larsmont Cottages on Lake Superior offers guest rooms tailored to allow rest and rejuvenation. Starting at $132 per night, these come with all the creature comforts, including air conditioning, free wifi, and a flat-screen TV. 
When not relaxing in the pool, hitting golf balls on the 18-hole course, or savoring a sumptuous lobster meal at Ledge Rock Grille, take a day trip to Stoney Point (2.9 miles away) to enjoy the best of Lake Superior and Twin Harbors with water activities like kayaking, paddleboarding, and jet skiing. Alternatively, visit the Lake County Historical Society Museum to glimpse the area's past. 
Grand Marais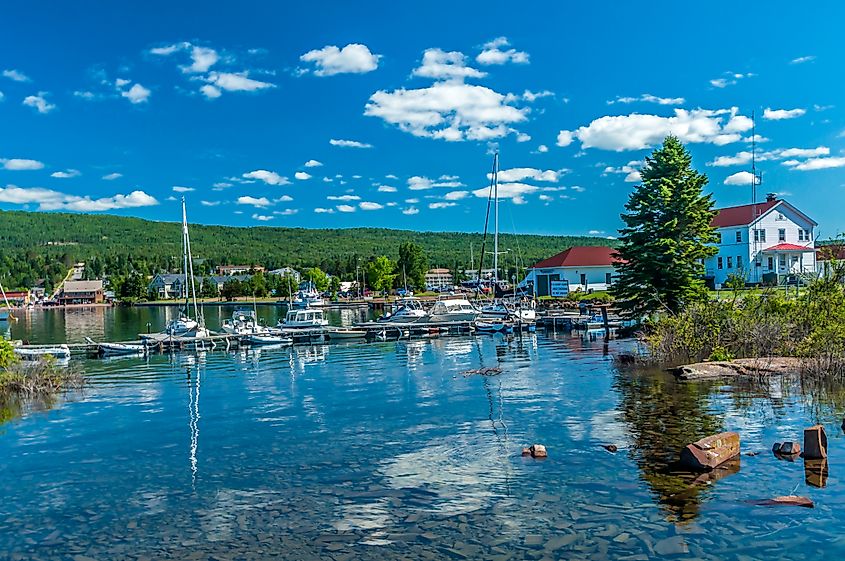 Grand Marais' scenic lakeside locale on Lake Superior's North Shore offers travelers a much-needed reprieve from the rigors of urban life. It is an excellent spot for explorers who will enjoy discovering the Grand Marais Lighthouse, a beautiful landmark with even more impressive water views. Alternatively, visit Artist's Point to soak in the glory of Lake Superior, marked by stunning scenery with jagged rock formations. 
Looking for a cozy place to stay? Tourists can check out Grand Marais Campground and Marina, which places them right on Lake Superior. For as low as $24 a night, wake up to a hot cup of coffee while enjoying the spectacular sunrise over the Big Lake. The campground is also an exciting basecamp for all-out adventurers, offering scenic hiking excursions to Grand Portage and Devils Kettle. But for those who prefer to take it easy, walk along the smooth rock beaches on Lake Superior and admire the intricate rock features. 
Lanesboro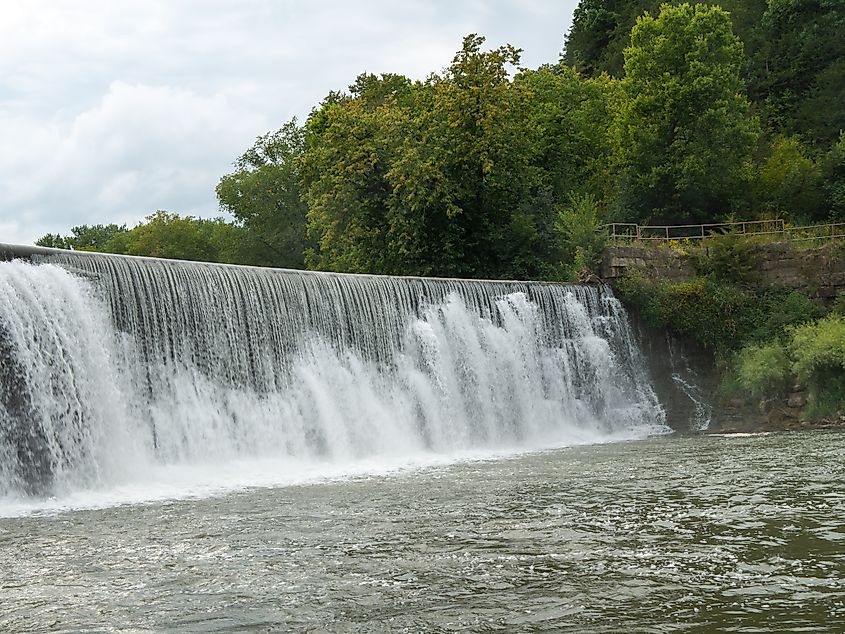 This charming small town in Southeast Minnesota lures adventurers with its endless trails, scenic limestone bluffs, cool streams, and lush forests. One of the most picturesque small towns in Minnesota invites the outdoorsy traveler to hop on two wheels and ride along the Root River State Trail or find the right shoes for an audacious hike in Mystery Cave State Park, which harbors the Palisade Trail, Sandbank Trail, and Oak Ridge Trail. After the adventure, choose from the 145 campsites in the park to rest for a nightly fee of $17 or opt for the more comfortable hotel room Eagle Cliff Campground & Lodging for $45.
Visitors who aren't afraid of the water can rent kayaks, canoes, and tubes from Root River Outfitters for a thrilling cruise down Root River or get a fishing set from local companies for a remarkable fishing expedition. When craving a sweet treat, Another Time Ice Parlor sells delicious ice creams, but for a proper meal, grab battered cauliflower at Juniper's Restaurant for a delightful dish above the river. 
Nisswa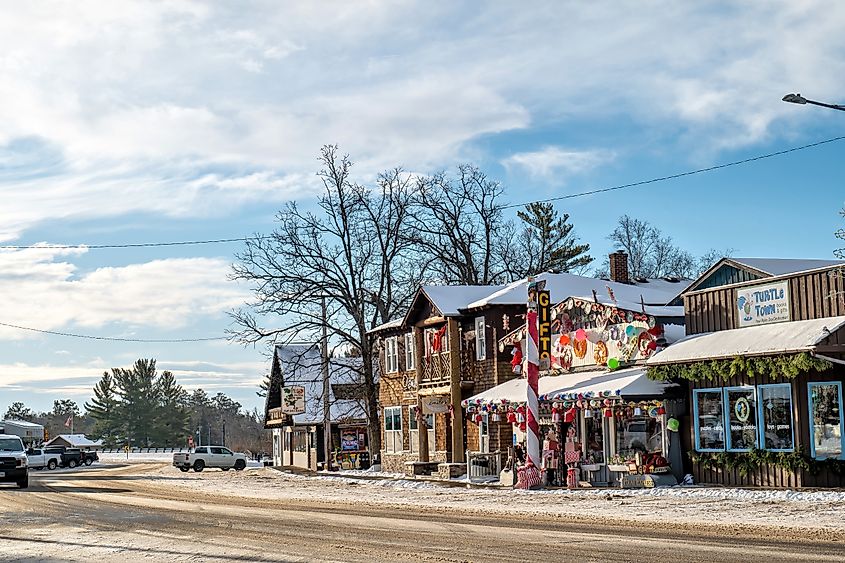 Nisswa is an idyllic waterfront town in the Brainerd Lakes region, offering the perfect mix of small-town charm and aquatic adventures. Thanks to its proximity to multiple water bodies, tourists can look forward to endless recreational activities, including swimming, kayaking, paddleboarding, and canoeing at Bay Lake and Gull Lake. At Gull Lake Recreation Area, camping fees start at $28 per night, surrounded by raw nature, and more outdoor fun beckons at Northland Arboretum, ideal for nature photographers, hikers, mountain bikers, and wildlife observers. 
History enthusiasts can visit the Crow Wing County Historical Society museum to sample the region's past as art lovers head to the Walker Art Gallery to watch live performances and film shows. For a more adrenaline-rushing adventure, try the zipline tour over the Brainerd Lakes area at Mount Ski Gull, which ends with a 50-foot free fall.
New Ulm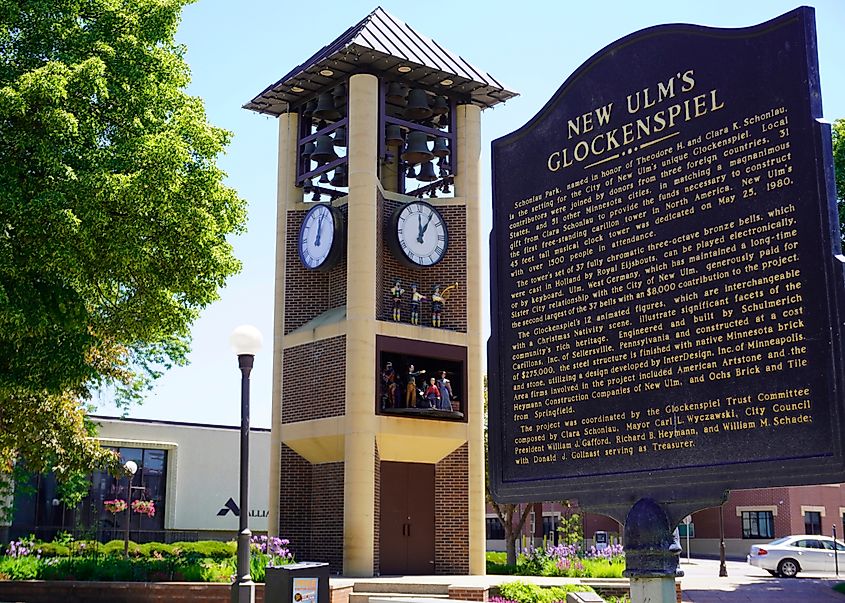 Popularly referred to as the most "German town in America," this modest rural community in Brown County delights with its rich history, unique German heritage, and small-town charm. At the Brown County Historical Society, visitors pay $7 to learn about the town's conflict-laden history and check out ancient household relics from Germany. Historical landmarks like the Hermann Monument, Defender's Monument, and Glockenspiel shed light on the area's storied past. 
Flandrau State Park is a must-visit for tourists and allows travelers to appreciate the open spaces, offering opportunities to hike, snowshoe, picnic, and camp for as low as $15 per night. Meanwhile, a stay at Harmony Inn costs around $84 and places visitors in the heart of the town's rich German heritage at Doemier's German Store, where they can enjoy a refreshing glass of German beer at August Schell Brewing Company. 
Blue Mounds State Park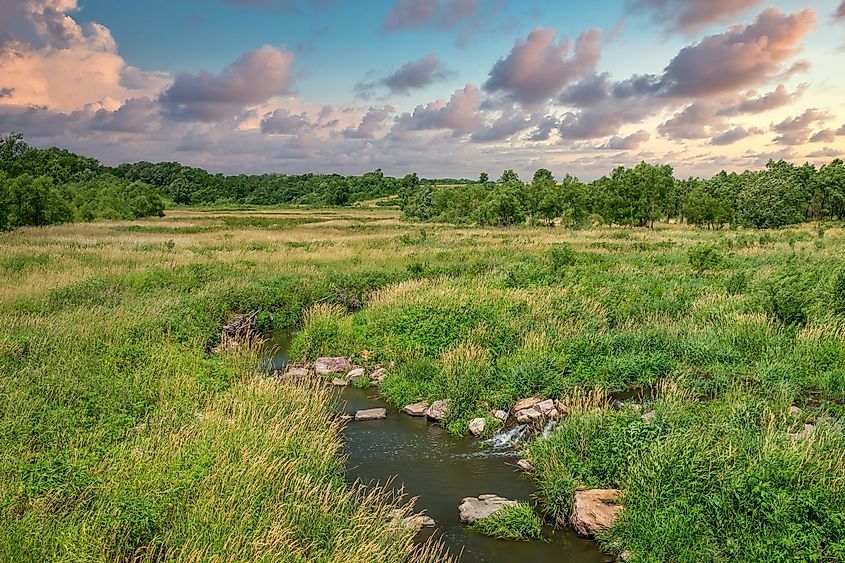 Blue Mounds State Park in Rock County is a sweet escape full of natural surprises. At Blue Mounds Campground, campers get the ultimate outdoor experience of sleeping under the stars in a secluded locale away from the city noise for a nightly fee of $34. Take on the numerous trails in the park, paved and unpaved, to explore the wilderness, and the views from Eagle Rock, at 1740-foot elevation, are simply unprecedented. 
Former guests can't stop talking about the 1.5-hour-long Prairie and Bison Tour, which brings them within meters of the majestic beasts as they graze on the sprawling prairie land, starting at $10 for adults and $6 for the youth. Birdwatchers are in for a treat, with more than 150 bird species to stake out, including Henslow's sparrows and Bobolink. Water-based activities abound at Mound Creek, perfect for swimming, canoeing, and fishing.
Mystery Cave State Park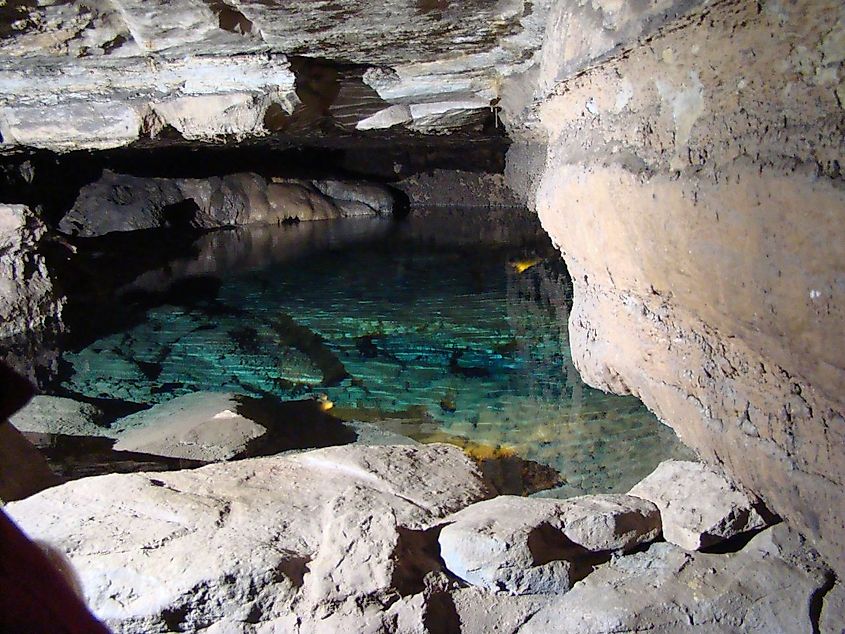 Mystery Cave State Park is an adventurer's dream come true in one of the most underrated cities in Minnesota, thanks to its vast array of fun outdoor activities. Enjoy hiking through the rugged wooded landscape to the stunning Mystery Cave and marvel at this natural wonder. The Big Spring Trail takes visitors across the Root River towards Canfield Creek, granting them epic views of majestic limestone cliffs towering over the South Branch Root River. 
Several blue-ribbon trout streams allow anglers to partake in their favorite pastime in the laid-back atmosphere of the park, with picnic areas to soak in the summer sun. Camping fees start from $17 per night, while a scenic tour to the Mystery Cave will set visitors back a mere $5 per person. Don't forget to visit Historic Forestville for a brief trip back in time and admire the ancient 1800s structures in the restored village before stopping by the 1857 Meighen General Store. 
Jeffers Petroglyphs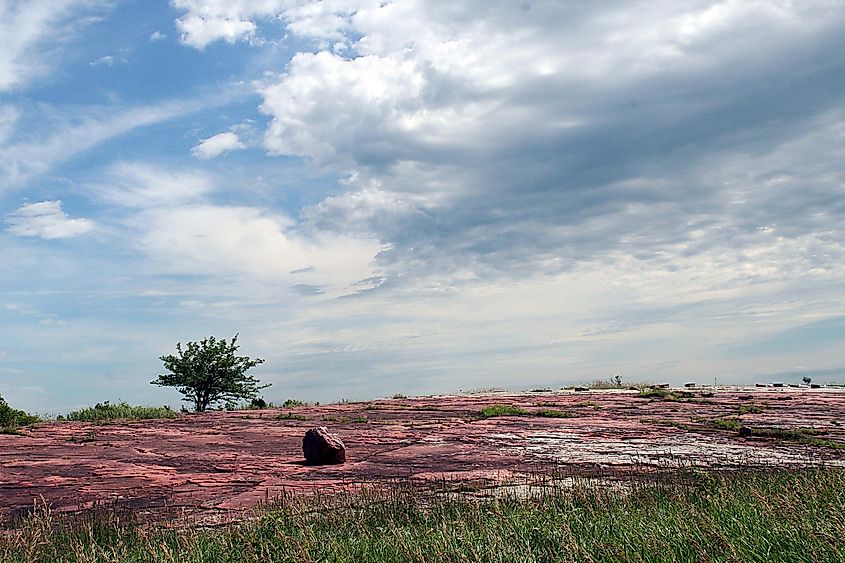 In this adventurous journey into the heart of the sprawling prairie grasses of Watonwan County, travelers can discover more than seven millennia of Native American history. Over 5,000 images carved into the rocks of the Red Rock Ridge by ancestors of the Dakota Indians tell the story of the prehistoric civilization in a surreal manner. At the visitor center, guests pay a $10 admission fee and enjoy an insightful lesson about Native American culture by exploring an interactive display of artifacts. 
By taking a self-guided tour along the deserted trails through the native prairie, explorers will encounter at least 200 species of wildflowers, grasses, and lichens on their way to the awe-inspiring petroglyphs. The venue also schedules exciting field trips where archeology, history, and anthropology intertwine as participants learn about the well-preserved rock carvings. For accommodation, check into the OYO Hotel Lamberton Hwy 14 for only $56 a night. 
Itasca State Park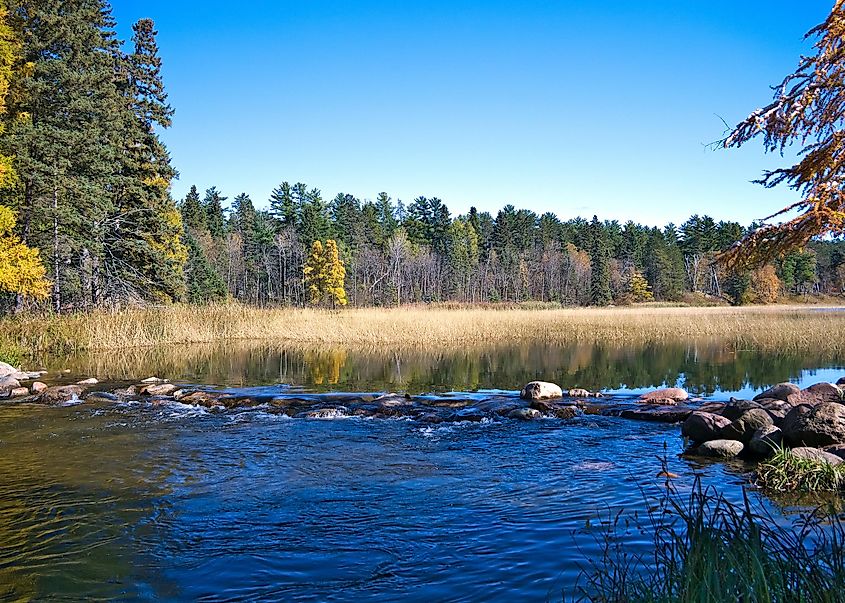 The amazing Itasca State Park offers travelers a prime opportunity to experience the magic of Minnesota's natural landscapes. Established in 1891, it is the state's oldest state park and brings adventurers in contact with the headwater of the great Mississippi River. Guests can check into the historic Douglas Lodge (1904) for $85 a night, in a cabin for $75, or opt for a more rustic experience in a primitive campsite for $24. 
Birdwatchers can bring their binoculars to easily spot exotic species, like cormorants, woodpeckers, tanagers, finches, and kinglets. Meanwhile, hikers can choose from 49 miles of trails, with the Old Fire Tower presenting some of the most scenic views in the park. After wandering the trails, take to the water on a relaxing boat excursion with Corbon's Lake Itasca Tours for $16, or rent a kayak or canoe to take in the stunning surroundings from the water. 
Gooseberry Falls State Park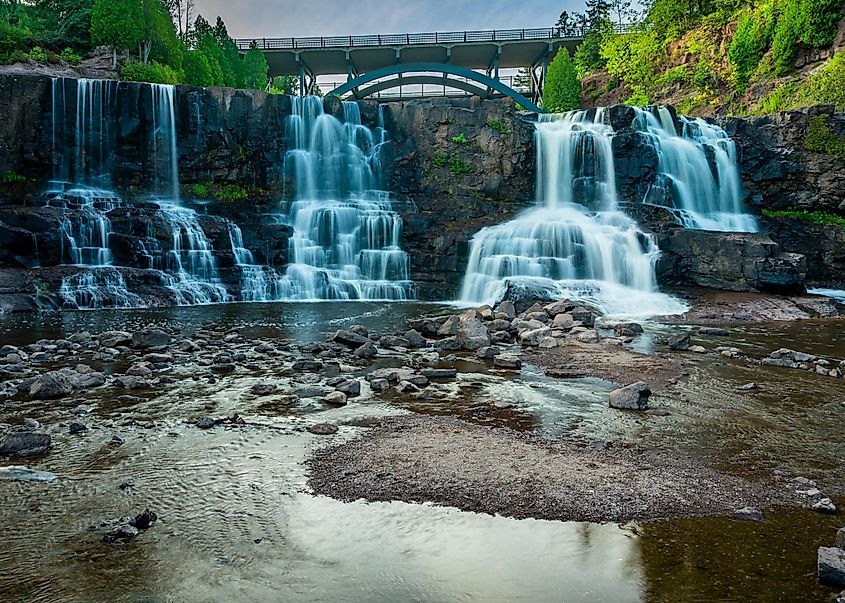 This remarkable North Shore park delights explorers with unparalleled natural beauty and fun activities, featuring gorgeous waterfalls, picturesque overlooks, and scenic hikes. Pass by the visitor center for a park map or grab a quick snack before kicking off the adventure with a trek along the Gooseberry River to Lake Superior and get rewarded with stunning vistas of its rocky shore. 
However, chasing waterfalls is the main theme at this awesome location, and the highlight for visitors is watching the spectacular waterfalls against the backdrop of lush vegetation as the water drops into the dark lava bed for the perfect photo opportunity. There are almost 120 campsites up for grabs, for which campers pay $17-$23 nightly to enjoy the total outdoor experience. But before that, find a calm spot to picnic and admire the picture-perfect setting in one of the coolest small towns in Minnesota for a summer vacation.
The Lost 40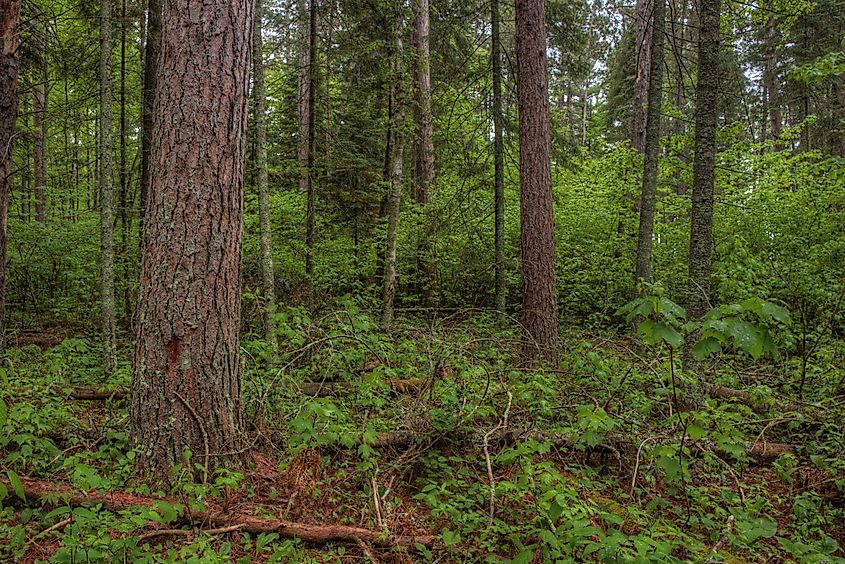 Tree huggers and nature lovers can freely access and get lost in this ecological piece of heaven and one of Minnesota's crowning jewels at the Lost 40 Site. A result of a surveying error from the 1880s that left trees untouched by loggers, the forest is today a go-to spot for environmental enthusiasts and green explorers. Walking through the thick vegetation, surrounded by 300-year-old pine trees, is therapeutic. 
Several marked trails enable adventurers to delve into the forest at the Lost 40 Site, with a one-mile route leading to the adjacent Chippewa National Forest. When it's time to lie down, head to Noma Lake Campground and Picnic (8 miles away) Area for a wild camping experience. The best part is no camper fees are charged, and anglers can prospect for panfish, northern pike, and bass at the beautiful Noma Lake. 
Taylors Falls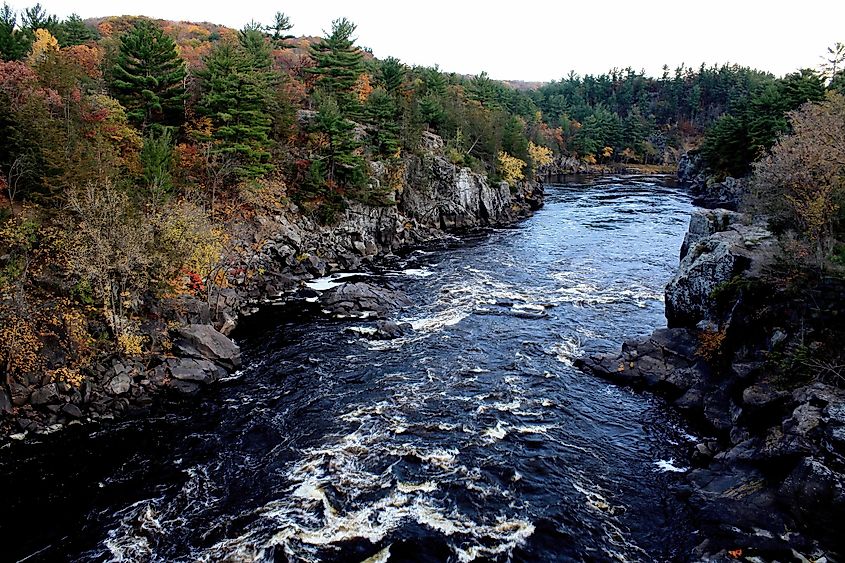 Taylors Falls is an excellent destination for unadulterated family fun in one of the most beautiful small towns in Minnesota. This historic riverfront town is the gateway to a jam-packed adventure. Head to Interstate State Park to enjoy a serene atmosphere full of natural beauty and cruise along the St. Croix River Valley with Taylors Falls Boat Tours for a $26 fee per person. With over 100 RV campsites at the park, guests can find a cozy place to lay their heads for just $25 per night. 
More family fun awaits at the Franconia Sculpture Park, where delightful picnic spaces and fascinating sculptures dot the 50-acre open-air art museum. And at Taylors Falls Overlook, rising over 230 meters above sea level, guests get a bird's-eye perspective of the breathtaking scenery. 
The Takeaway
The North Star State is home to endless hidden gems that lead vacationers into the depths of natural beauty, making it the ultimate getaway for outdoorsy travelers seeking unforgettable adventures. Fortunately, these can easily be accessed even when operating on a tight budget. The above affordable summer vacation spots in Minnesota promise to be an excellent option for the thrifty tourist.