Nestled in the heart of the lofty Himalayas, the Indian state of Jammu and Kashmir is a place of incredible natural beauty. Often nicknamed 'Heaven on Earth' the state attracts nature lovers from across the world. The snow-capped peaks, glistening lakes, green valleys, and enchanting gardens of Kashmir host a wide range of species suitably adapted to the varied habitats. However, just like other parts of India, the natural environment of Jammu and Kashmir is rapidly changing. Developmental activities are disturbing the pristine natural habitats and bringing humans in close contact with wildlife. Cases of human-wildlife negative interactions are thus steadily rising in the state triggering concerned residents of Kashmir like conservationist Aaliya Mir to take action to mitigate such situations.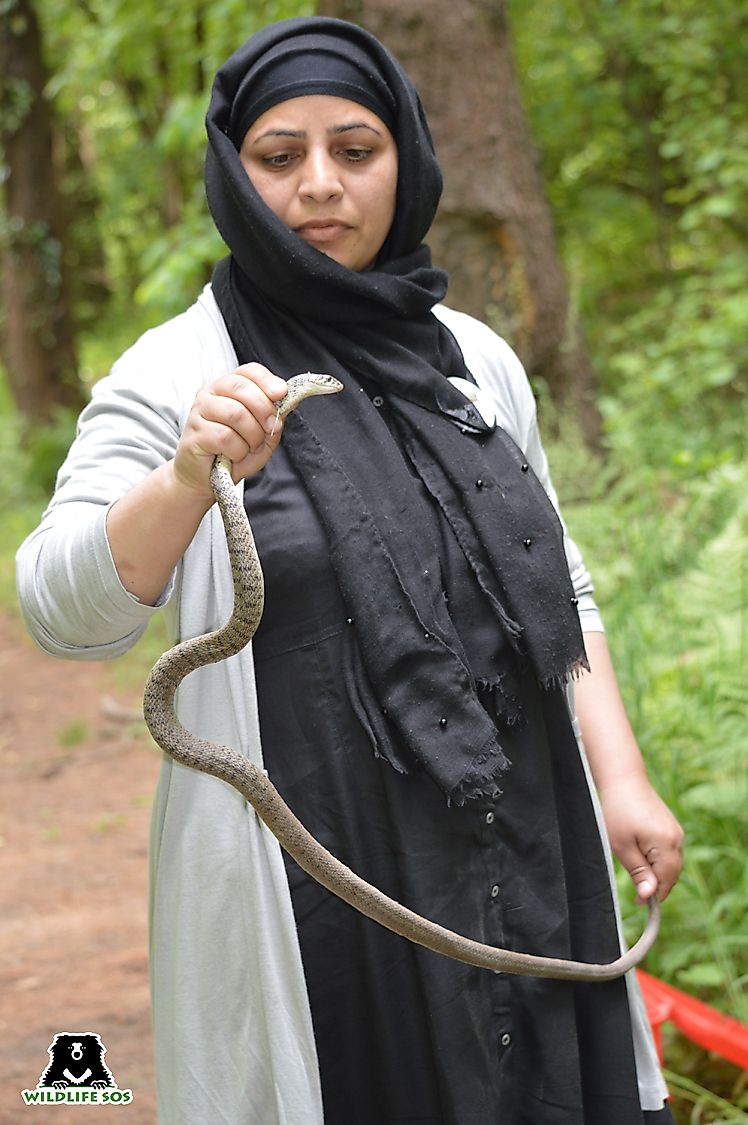 Aaliya, a resident of Srinagar City in Jammu and Kashmir, is a mathematician by education. Her courage and determination have helped her break all gender-based stereotypes in a patriarchal society to work for the cause of wildlife protection. Today, with the support of one of India's leading NGOs in wildlife conservation, Wildlife SOS, Aaliya and her team are spearheading the rescue and rehabilitation of Jammu and Kashmir's rare and threatened fauna. 
"I have always been passionate about animals but my resolution to help save Kashmir's precious wildlife grew out of a tragic event—I witnessed a bear being burnt alive and dragged through the streets following an escalating human-wildlife conflict situation in the state. This horrifying display of brutality compelled me to take the initiative to help the threatened and misunderstood wildlife in my community. My husband, a wildlife veterinarian, was also thrilled to learn of my interest in this field. His passion and enthusiasm towards his profession also influenced me to take serious interest in wildlife conservation and work for the cause," Aaliya informed World Atlas.
With a burning desire to save helpless wild animals and prevent them from falling prey to cruelty, Aaliya became a Wildlife SOS volunteer in 2002. At that time, she was in Delhi, the national capital. In 2007, she joined the organization as a staff member and started working for the welfare of Kashmir's wildlife. Currently, she serves the role of Project Manager and Education Officer for Wildlife SOS and leads the organization's conservation program in Jammu and Kashmir.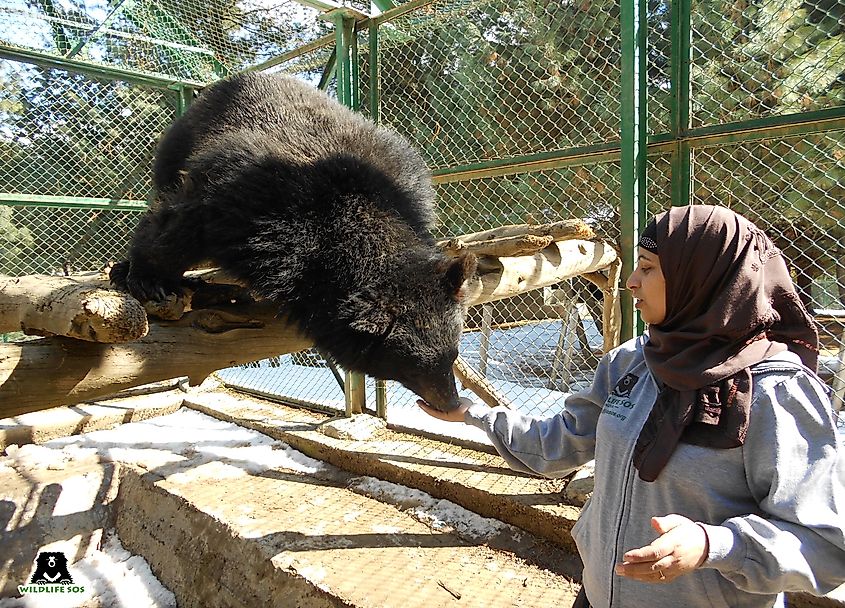 Aaliya and her team are always on their toes to attend to any SOS call whenever a potential human-wildlife conflict situation flares up. They have helped rescue wildlife of all shapes and sizes from top predators like leopards, bears, and raptors to tiny birds and even snakes, and turtles. They also arrange and execute awareness programs in localities and educational institutions to promote tolerance towards wildlife. Aaliya also monitors rescue and rehabilitation facilities in Dachigam and Pahalgam that currently house six Asiatic black bears and two Himalayan brown bears rescued from human-wildlife conflict situations. With human intrusions into wild habitats increasing by the day, the workload of Aaliya and her team has also increased in both volume and complexity.
"Recently, a leopard was seen roaming on the streets right in the heart of Bagh-E-Mehtab which is a highly densely populated area in Srinagar. The situation was tense. We had to work tirelessly for five days with the staff of the Wildlife Protection Department of the state to rescue the leopard. The animal was so agile that it managed to give a slip to our team of around 20 rescuers multiple times. The continuous snowfall created another hurdle for our rescue mission. However, we finally managed to track the leopard down with the help of its pug marks and fecal samples," Aaliya described a daring wildlife rescue event managed by her.
"In another incident, we rescued a cobra from the highly guarded Apron Area of Srinagar Airport. Since that cobra species was not native to our place, it was concluded that the snake had hitched a ride in a plane from some other part of the country, and its release was arranged accordingly," Aaliya shared another memory of a challenging rescue.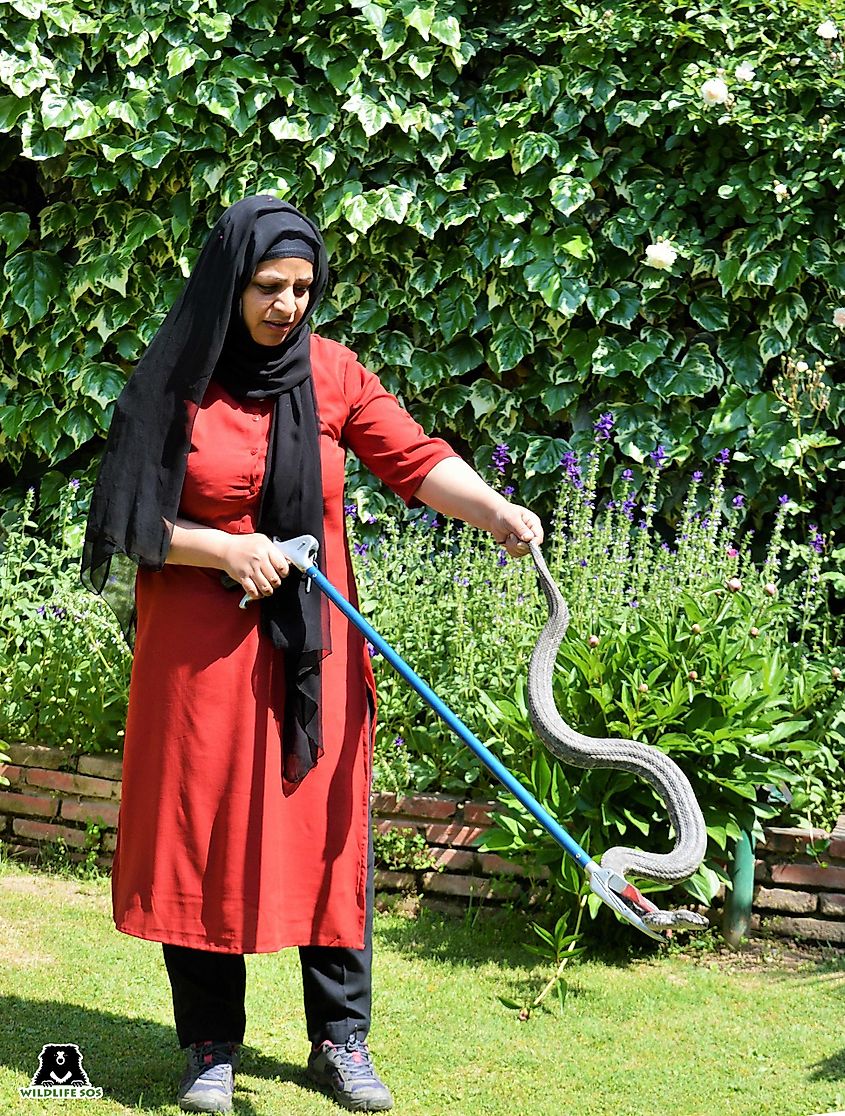 While in the above cases, the animals were successfully rescued and released, results are not always satisfactory. The work of Aaliya and her team comes with both rewards and disappointments. The ability to save the lives of both animals and humans is definitely highly motivating but often certain situations are out of their control as the one described below:
"I clearly remember the time when we rescued two newborn Asiatic Black bear cubs from a massive tree trunk. The cubs were yet to open their eyes. Their mother had left the spot because the local people set the tree on fire. Later efforts were launched to unite the cubs with their mother. Unfortunately, however, she was never to be found," Aaliya recounted.
In all of the above cases of rescue, one thing is common - the entry of wild animals into human dominated landscapes creating a potential for a negative encounter between the animal and humans. But what makes these animals leave the safety of their wild homes and wander into areas where their possible death awaits? According to Aaliya, humans are to blame for such incidents.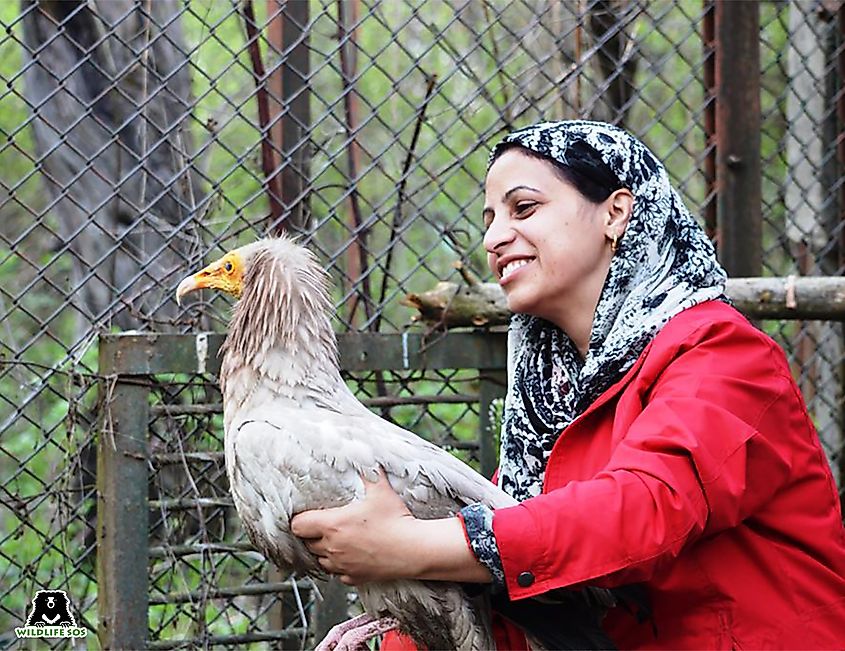 "In Jammu & Kashmir, bears, leopards, porcupines, snakes, and more recently, wolves and wild boars, are some of the most common victims of human-wildlife conflict situations. Human activities like habitat destruction and changes in land-use patterns are primarily responsible for rising cases of such negative interactions. Agricultural fields have turned into hotspots of human-wildlife encounters. The shift from single-crop cultivation (usually paddy) to multi-cropping attracts more wild animals, especially bears. Hence, 70 to 80% of the conflict cases occur in such places. When we visit such fields for awareness camps, we make loud sounds to alert the animals of our presence."
She also mentioned how improper waste disposal creates a gigantic hurdle in conservation. It conditions wild animals to feed on garbage making them more dependent on humans for food. 
"Communities residing in the forest fringes must learn to dispose of their waste properly instead of leaving it out in the open as it draws wildlife to such areas. Since bears have a sense of smell 2000 times stronger than humans, they can smell rotting waste from miles away. Hence, they visit human settlements for any food left outside the homes and a conflict situation flares up. Another step we can take is to install proper lighting in and around our homes to enhance visibility and detection of wildlife in the vicinity," she said.
"If we want to start mitigating conflict, we must also plant trees to increase the forest cover. Wildlife will stay away from us only when their homes and their natural prey base are secure," she continued.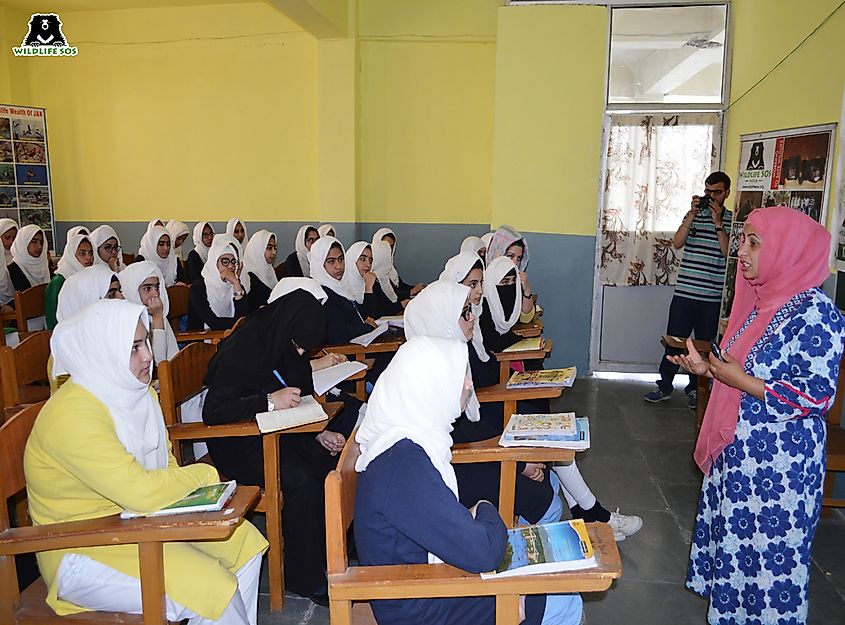 But it is not just the wildlife that faces such human-inflicted atrocities but wildlife rescuers as well. Aaliya and her team often meet resistance to their work from the very people for whose benefit they are conducting daring rescue missions. And as a woman, she faces further discrimination.
"Rescuing wildlife brings you not only in direct contact with a wild animal but you also need to manage people who crowd around as spectators or who are already disturbed by a wild animal's presence in their midst. Thus, every time one has to face new and unprecedented challenges during a rescue operation," said Aaliya.
"In addition, as a woman, in the initial stages of my job, I was often dismissed or belittled by many people who did not believe that I was capable of handle wildlife rescues. Even today, I hear people at rescue sites whispering about me and asking me to stand aside as they believe it is a man's job to handle wild animals. However, every time I also do notice the flabbergasted expression on their faces when I end up successfully rescuing the animal! Gradually, however, opinions are changing in our society, and today, enforcement agencies in the state have also started to rely on our team for wildlife rescues," Aaliya continued.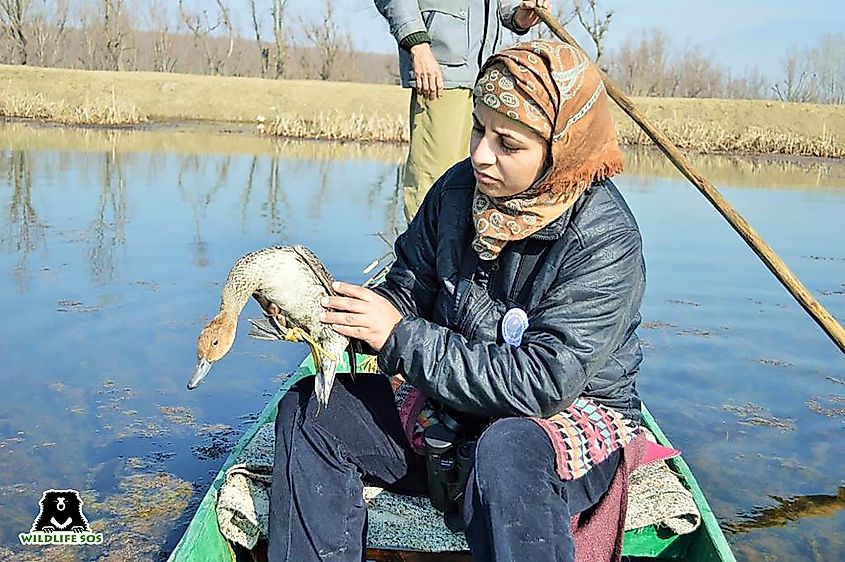 Aaliya strongly feels that altering people's attitudes towards wild animals is the most difficult part of her job. People who have blamed animals for loss of income due to crop or livestock depredation must be taught to love them for the future well-being of all species. And that is not an easy thing to do. In addition to that is the extreme weather of Kashmir, the rugged terrain of the place, and its fragile political situation - all these factors act together to make life difficult for the wildlife conservationists of Kashmir.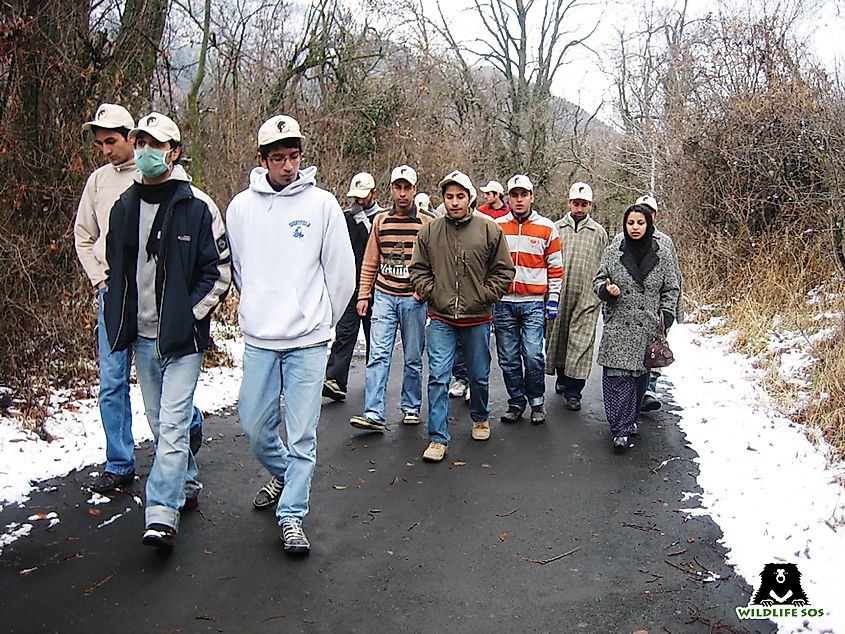 Aaliya also feels that the unique and diverse wildlife of Jammu and Kashmir deserves more attention. It is a place with extremely rich biodiversity that demands tremendous resources to ensure its conservation. There is also a huge potential for wildlife research in the area but hardly anything is done in that direction. Despite the grim circumstances, Aaliya rests her hope in the younger generations.  She believes that they are more aware and concerned about the region's disappearing species and more willing to take action to save them.
"I would request everyone including the people of Kashmir to exhibit increased tolerance towards wildlife. Everywhere, wildlife plays an integral role in maintaining a healthy ecosystem, and Kashmir's wildlife is a treasure that needs to be conserved well and passed on to the coming generations for their well-being," Aaliya send out a message to everyone.