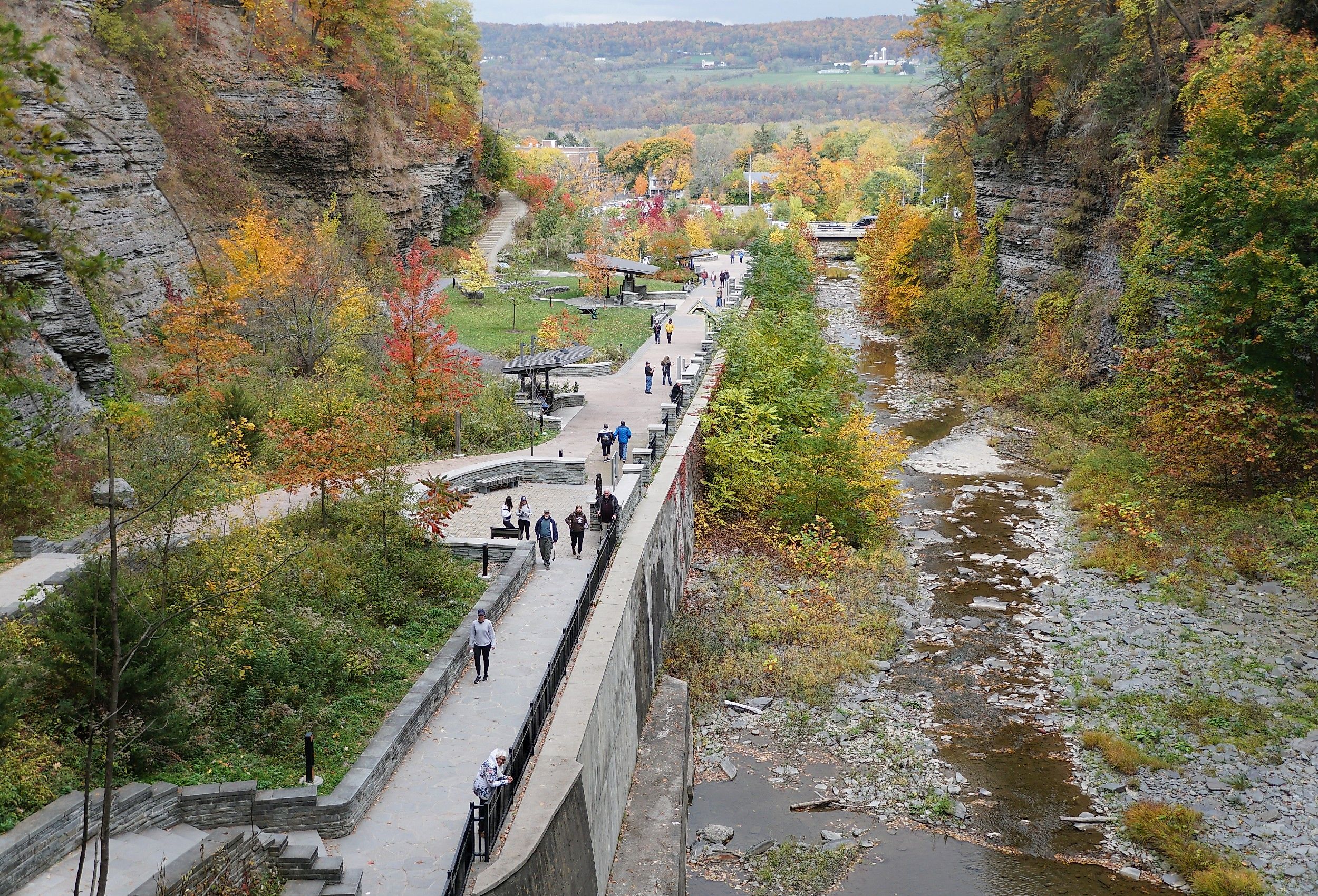 Best Fall Hikes In New York
A visit to New York City in the fall may bring thoughts of Central Park to the front of your mind, its winding walkways illuminated with gold and scarlet leaves scattered along its stone paths. And while these city strolls are definitely scenic, for a more adventurous side of the state's autumn scenery, consider hiking New York's mountains and state parks. Their awe-inspiring overlooks, riveting waterfalls, and vast valleys of fall foliage will have you breathless, both from the exertion and from the jaw-dropping views. As the air starts to cool and the leaves turn, veer away from the paved park paths this fall and hike some of these spectacular New York landscapes instead.
Gorge Trail (Letchworth State Park)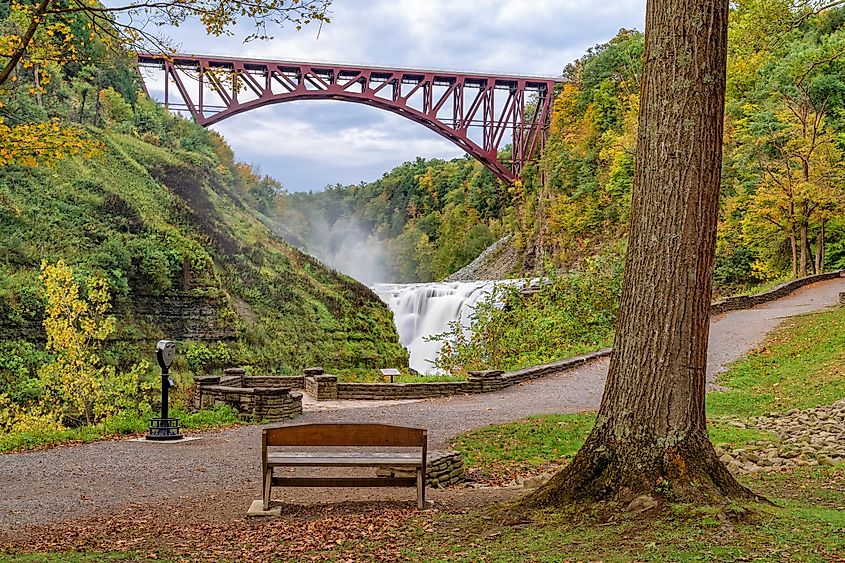 Letchworth State Park, fondly nicknamed the "Grand Canyon of the East" for its epic Genesee River Gorge, is one of New York's more highly-sought after hiking destinations, with 66 miles of trails to traverse for just $10 USD per day/per vehicle. Of the more popular paths, the Gorge Trail is an excellent choice if you want to see a diverse mix of nature.
Lace up your hiking shoes and follow the Genesee River for views of the surrounding gorge and various waterfalls, including the park's famous Upper and Middle falls (the latter being the river's tallest waterfall, at 107-feet high). Make sure to visit in early to mid-October if you are looking for a more colorful autumn landscape, since, by then, the foliage has transformed to breathtaking clusters of reds, yellows, and oranges, making for a truly stunning 7-mile fall hike.
Hemlock Trail and Mary Jemison Trail (Letchworth State Park)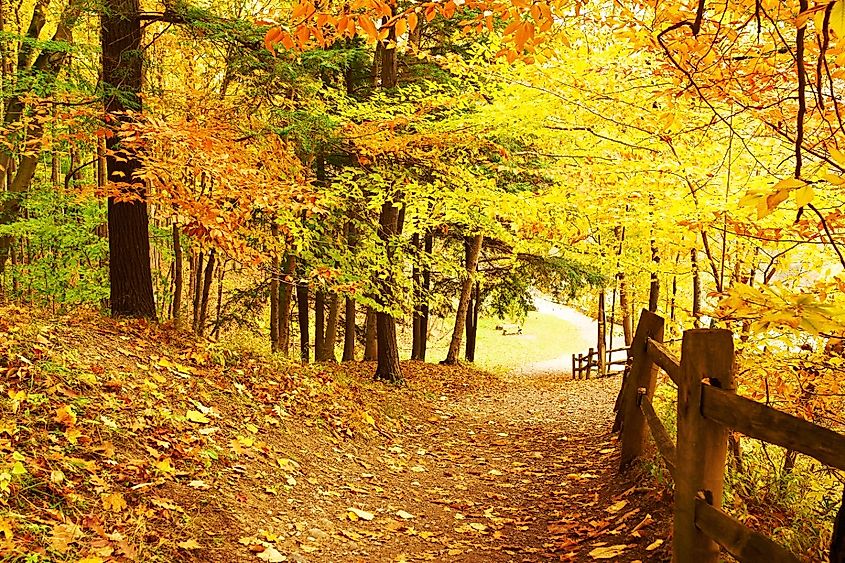 For a less busy, but nonetheless stunning, fall hike at Letchworth State Park, the Hemlock Trail is not only a quieter hike but a shorter one. At just 2.5 miles, the path offers a breezier alternative to the Gorge Trail. Inhale the pine-scented air as you make your way through the 100+ year old hemlock trees towering above and around the path, and savor the sights of Pine Pond and Deh-ga-ya-soh Creek on your way through.
If you find the views too pleasant to leave behind so soon, combine the hike with the equally scenic Mary Jemison Trail to create a convenient loop. This second 2.5-mile shaded trail is another one of the park's more secluded hikes, taking you past a charming beaver reservoir and stone dam.
Brooks Pond Trail Loop (Bear Mountain State Park)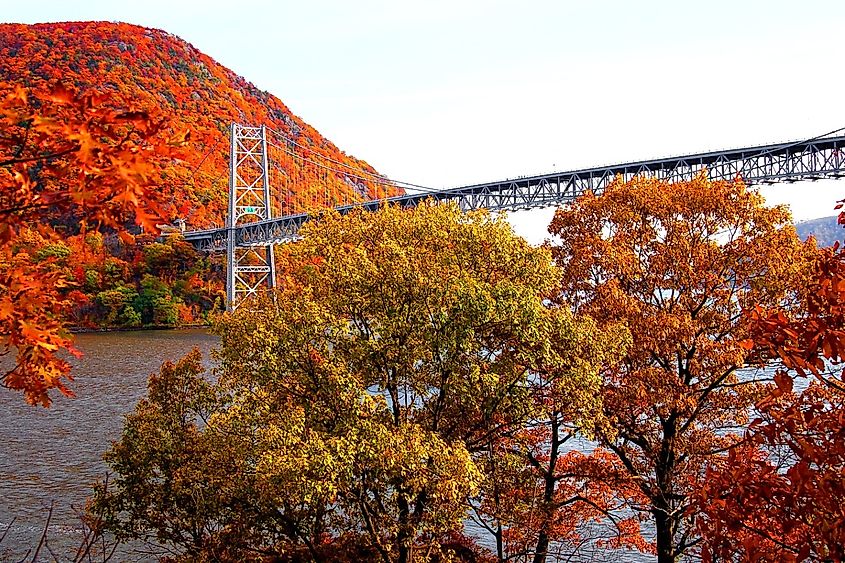 If you like your fall hikes short and sweet, head to Bear Mountain State Park for the Brooks Pond Trail Loop. At just under a mile long, the path encircles the beautiful Brooks Lake, and can be completed (on average) in a little over 20 minutes, but with views this stunning, you may want to do a few laps. In fall, the surrounding trees reflect vibrant yellows and reds into the lake, creating a truly stunning effect on less windy days when the water is calm.
But what is especially great about this hike, is you can travel the loop at your own pace, anything from a brisk walk to a leisurely stroll, making it an awesome way for kids and less experienced hikers to get out and experience nature. This family-friendly/ beginner-friendly trail is an excellent fall hike for those in a hurry, or those wanting to experience seasonal foliage without going too deep into the mountains.
Storm King Mountain Loop (Storm King Mountain)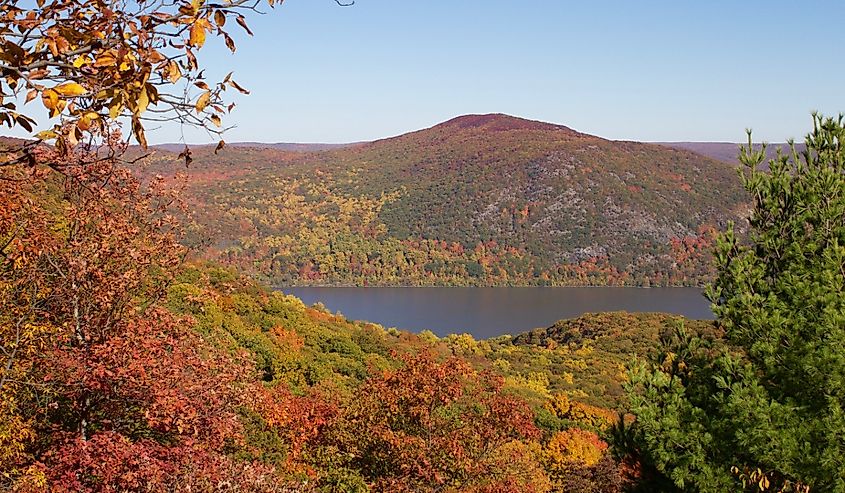 On the other hand, if a mountain adventure is what you are after, less than thirty minutes north of Bear Mountain State Park, you can find the gorgeous Storm King Mountain range, whose views of the Hudson River and Hudson Valley make it a super popular hiking destination in the fall. Trek popular trails like the moderately easy Storm King Mountain Loop, a 2.4-mile journey with a 400-foot elevation gain, and a mix of steep inclines and flat stretches.
The hike starts off a bit steep — be prepared to use your hands a bit — but once you pass the initial rugged parts, you can stop at the various ledges overlooking the valley before heading deeper into the trail for Storm King's main overlook. Before you make your way back down the mountain, pause, breathe in the cool mountain air, and snap incredible shots of the valley's tapestry of warm autumn tones.
Gorge Trail (Watkins Glen State Park)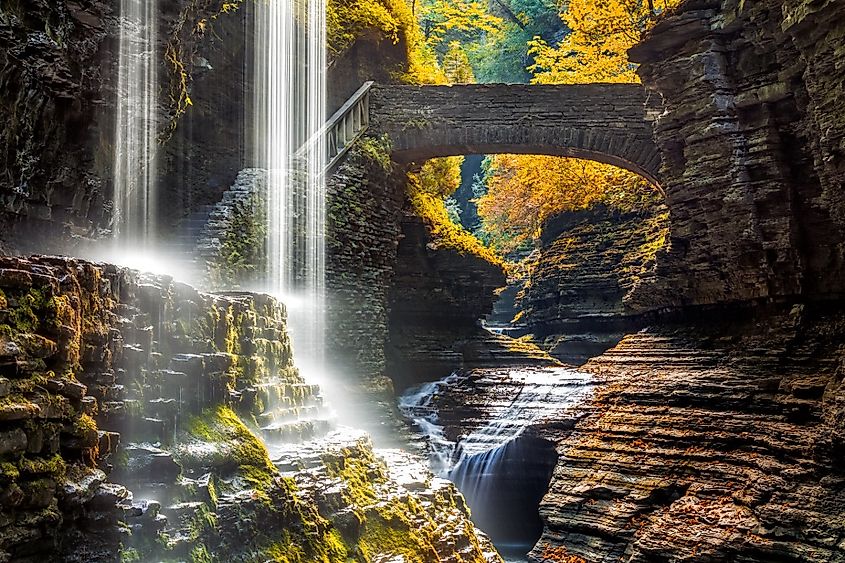 For a more challenging hike with out-of-this-world views, head over to the Finger Lakes Region and visit Watkins Glen State Park for its famous Gorge Trail. If you are up for the challenge, the exertion of this moderately difficult path is beyond worthwhile. Hike through the gorge on a winding 2.5-mile one-way trail and take in the unique rock formations, along with an astounding 19 waterfalls in total.
Once you reach the Cavern Cascade (the third waterfall on your hike), travelers can trek behind the delicate waterfall — be prepared to get a little wet — before ascending the Spiral Tunnel above the cascade to continue your hike. The Gorge Trail is the park's most popular attraction, so be ready to share the path. But fall is a great time to visit since, if you visit in September (post-labor day) through October, the crowds are much smaller.
South Rim Trail (Watkins Glen State Park)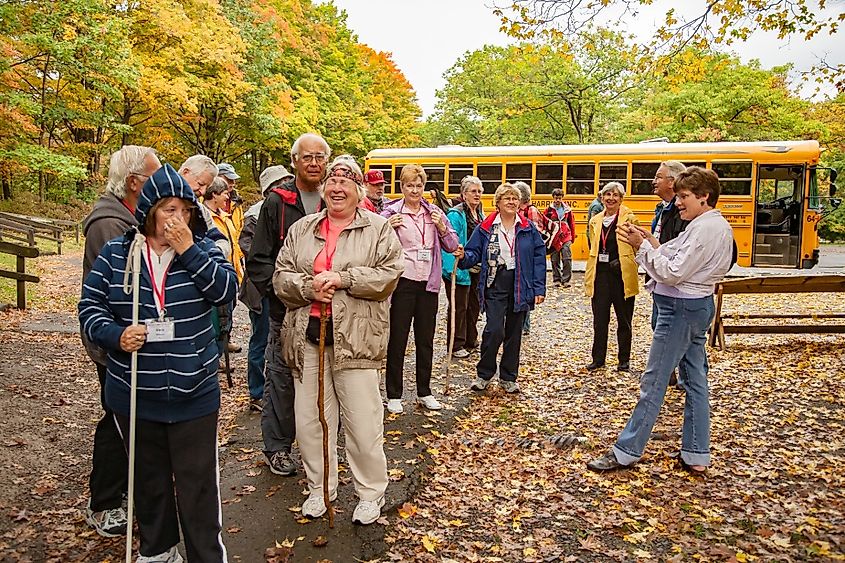 Watkins Glen State Park is equally stunning from above. Hike the scenic South Rim Trail, a 2.4-mile, moderately difficult, and partially uphill path that runs along the south rim of the gorge. Start your adventure from the park's entrance, and keep along the rim for epic views of several waterfalls, including the park's star of the show, Rainbow Falls.
To witness the misty rainbows that earned the waterfall its name, make sure to hike on a bright day, if you can, during the late afternoon. Continuing up the rim, the Central Cascade is another fantastic waterfall you will see on your journey, its 60-foot plunge making for one of the park's most picturesque views. The South Rim Trail is a great option if you would prefer a hike with open air and astounding overhead views of the park's waterfalls.
Giant Ledge Trail (Catskill Mountains)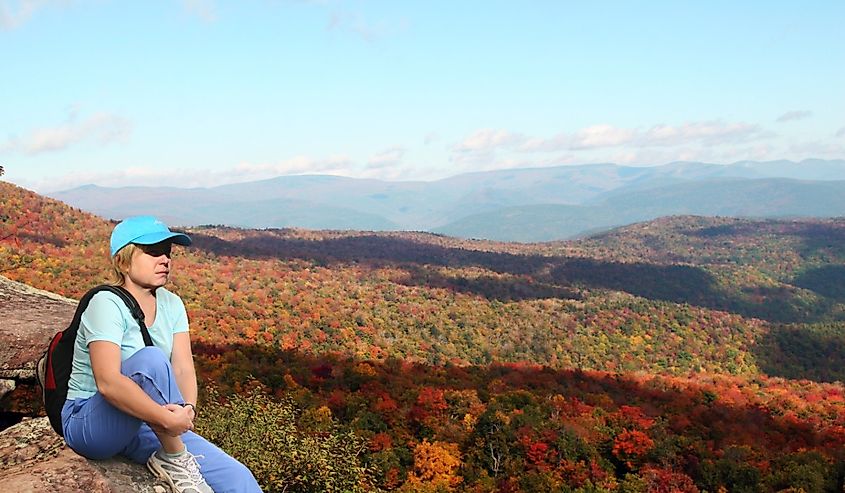 No list of New York fall hikes would be complete without mentioning the mighty Catskill Mountains. With many of its peaks reaching more than 3,000 feet, the Catskills are home to some of New York's best fall hikes. To witness the leaves changing color, visit any time between the last week of September and mid-October, and for the ultimate overhead view, hike trails like Giant Ledge. The name might be deceiving, though, as the trail includes not 1 but 5 rocky ledges, each offering splendid views of the awe-inspiring Catskills, whose tree-covered peaks are especially breathtaking during the fall. Even though this 3.2-mile round-trip adventure hike is considered moderately strenuous, the view makes up for it tenfold. 
Whether traversing Letchworth State Park's Gorge Trail for its astonishing mix of gorge, river, and waterfall or the Storm King Mountain Loop for a sweet mountain escape, New York's hikes take on a certain magic in the fall, their landscapes transformed from summer's lush scenery, to decadent amber mosaics. While many of these adventures require a strong pair of hiking boots and a good bit of experience, a number offer a more relaxing nature experience fit for the whole family. But all in all, each shares the sublime beauty of nature's autumn metamorphosis.