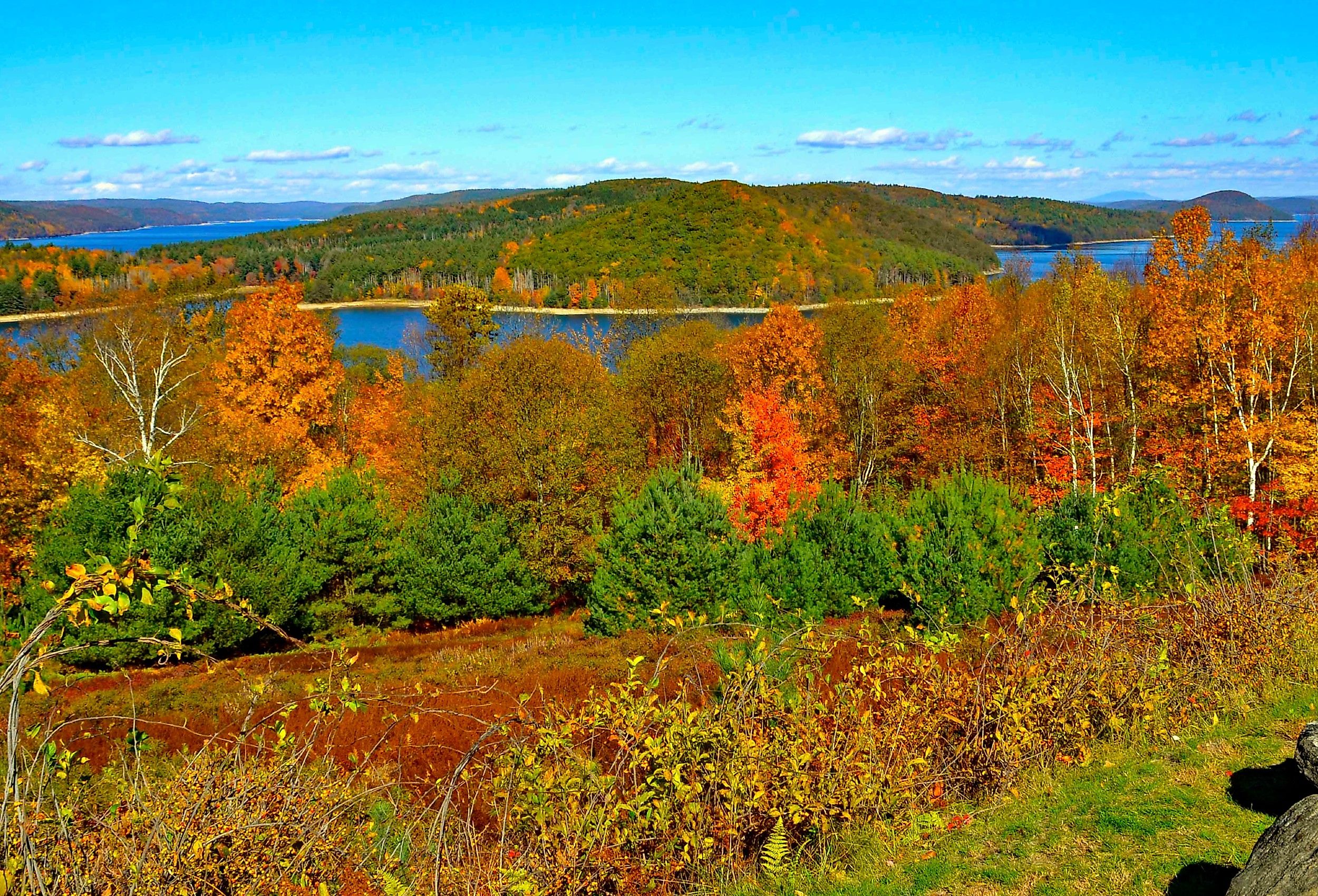 Best Fall Hikes In Massachusetts
Filled with thick, forested woodlands and situated along the sparkling Atlantic Ocean, Massachusetts is a beautiful state for any who enjoy the outdoors, no matter the season. However, no season is more beautiful when exploring nature along the East Coast than autumn. From September to early November, Massachusetts comes alive with vibrant reds and yellows, crisp weather, and the lingering scent of fall. Experiencing the beautiful weather and vistas of Massachusetts in all its magnificence is best done the old-fashioned way when possible.
Hiking allows the wandering soul to become absorbed in nature and disconnect from the hubbub of everyday life, something many no longer get the chance to do. Hiking is also easily accessible, and multiple trails are available for all ages and experience levels, not to mention it is a great form of exercise! If you were planning a fall hike in Massachusetts, read on and learn more about the opportunities this state has in store.
Appalachian Trail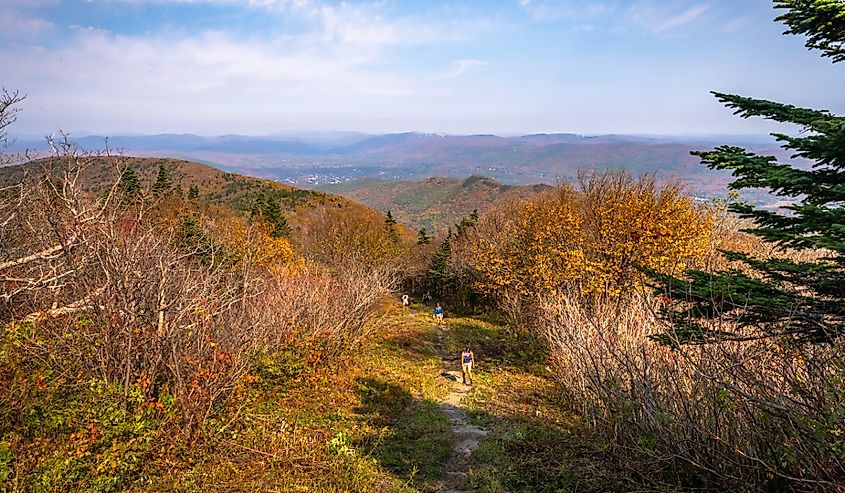 The Appalachian Trail designated a National Scenic Route, was conceived with beauty in mind, a beauty that only grows in the fall. It was created in 1921 with the intention of offering a place for people to reconnect with nature through the pictorial forests and ridgetops of the Appalachian Mountains. The land upon which the trail is situated is protected, in order to preserve the miles of sweeping valleys, forested bluffs, and lush rivers the Appalachians are known for.
The Appalachian trail meanders 90 miles near the western border of Massachusetts, winding through multiple state parks and forests, such as Mt. Greylock Reservation Area, which features the highest point in Massachusetts! This trail provides access to other gems as well, like East Mountain State Forest and Mount Washington, which boast stunning landscapes, diverse vegetation, and numerous types of wildlife.
With multiple entry points, branching trails, campgrounds/cabins, and rest areas, this trail is perfect for the solo hiker who wants to spend a few days in nature, or a quick day trip with the family. The stunning vistas of the Appalachian Trail lead you through diverse forests, over mountainous ridges, and alongside picturesque rivers. Combined with the beautiful colors of fall, this trail is one of the best hikes to check out if you find yourself in Massachusetts during September to early November. 
Soapstone Hike, Quabbin Reservoir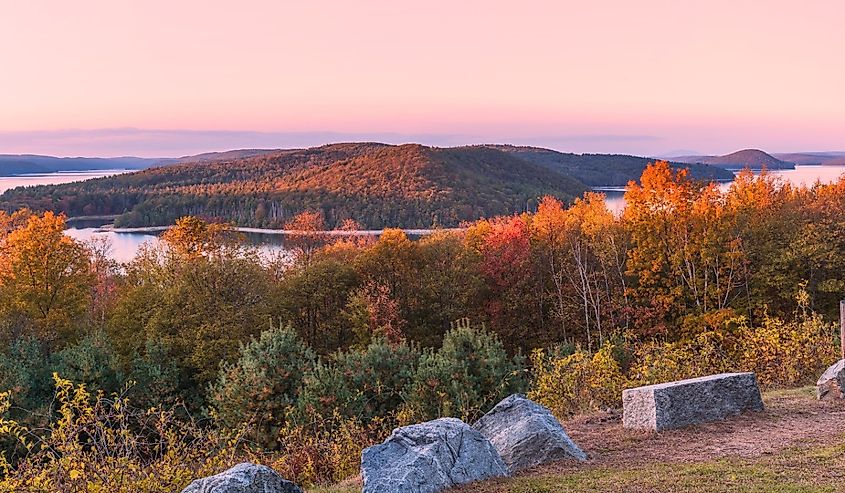 If you enjoy rocky viewpoints overlooking sparkling water bordered by dense forests, then the Soapstone Hike in Quabbin Reservoir may be to your taste. Quabbin Reservoir is the largest lake in Massachusetts, containing a whopping 412 billion gallons of water, and supplies over 3 million people. This hike leads you to a sweeping viewpoint that showcases the Reservoir and the surrounding forest in all its glory, but it is a view you will have to work for.
Although the hike is only 2.7 miles, it features a 500-foot elevation increase, all while scrambling over and around boulders and through trees. There is nothing like the crisp autumn air to keep you cool as you tackle this challenging hike! When you go, remember bug spray and water, and do not bring your dogs, as they are not allowed anywhere in Quabbin Reservoir. So, if you are looking for a beautiful view of the fall colors overlooking the largest lake in Massachusetts, then strap on your hiking boots and give the Soapstone Hike a try!    
Skyline Trail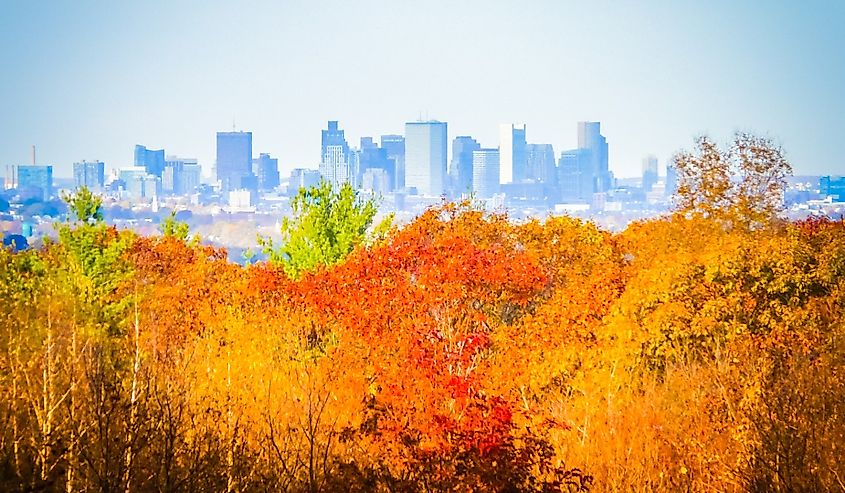 Located near Boston, Skyline Trail is great for those who enjoy the juxtaposition of untamed nature and bustling urban life. Approximately 3 miles long, and only taking about 2 hours to complete, this hike is on the short side, but it still manages to take you to multiple summits, including Blue Mountain, the highest point in the area. Due to some intense changes in elevation, this hike is not for everyone, as it can get challenging. However, it is well worth the effort.
This trail winds through dense forests and provides ample opportunity to stop and enjoy the beautiful scenery. On top of Blue Mountain, not only will you see the rustic autumn colors of the surrounding forest, but you also get a gorgeous city skyline view of Boston, and the Atlantic Ocean! As an added bonus, along the Skyline Trail, you have the opportunity to take a 30-minute detour to an observation tower, taking the Hancock Hillside trail. Climb the stairs to the top of this tower, and you have the opportunity to see a panorama showcasing the beautiful fall colors Massachusetts is known for!
Bash Bish Falls Trail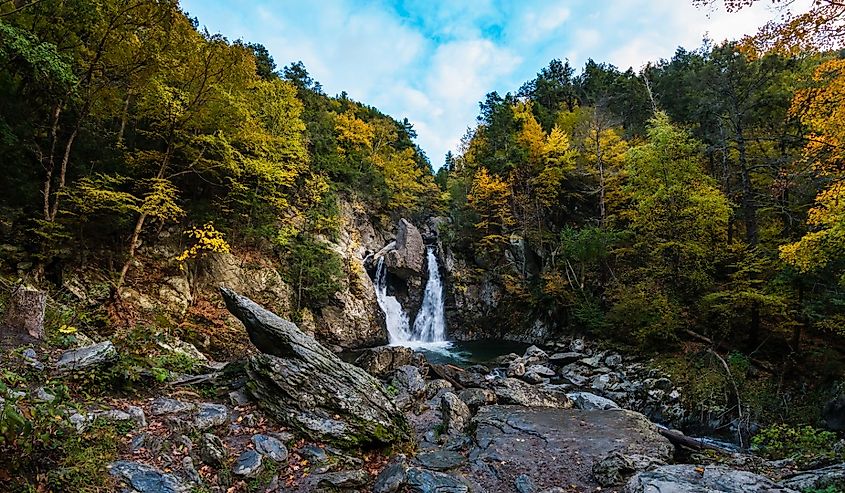 Ever wanted to visit Massachusetts' largest waterfall? If so, then take a walk down Bash Bish Falls Trail. Located near the Massachusetts-New York border, the falls are sandwiched in between Washington State Forest, MA, and Taconic State Park, NY, meaning many more hiking opportunities are just a stone's throw away! The hike is only 1.5 miles long, well marked and traveled, with moderate elevation gain.
Although the falls are in Massachusetts, the trail starts at the Bash Bish Falls parking lot in New York. It takes hikers through beautiful woods alongside the meandering Bash Bish Brook and ends at the bottom of the towering, 80-foot-tall drop of Bash Bish Falls. Make sure you bring sturdy footwear because this trail can get a bit rugged and rocky. The hike's short duration, coupled with its beauty, especially in fall, makes it the perfect hike for a short getaway!
Great Island Trail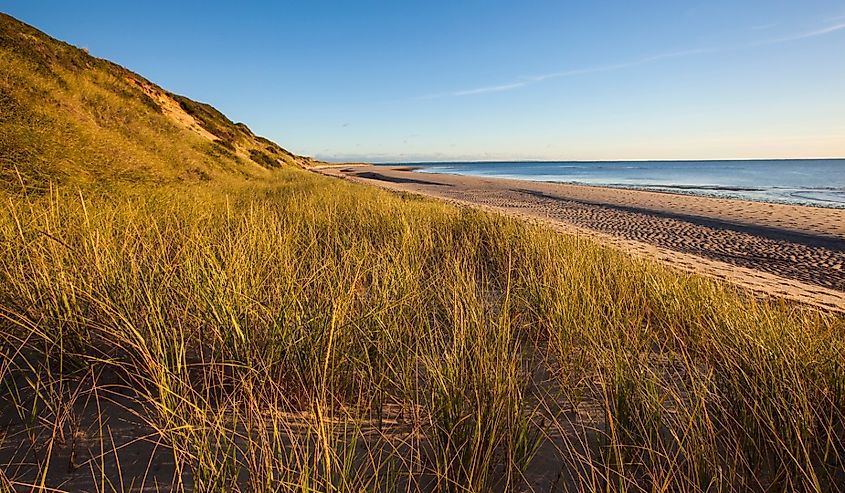 With 1,519 miles of coastline, Massachusetts provides ample opportunity to hike along the Atlantic Ocean. Along the coast, there is no better place to hike than on Cape Cod, specifically the Great Island Trail. This trail is in Cape Cod National Seashore Park, and goes all the way to Jeremy's Point, a small peninsula on the western side of Cape Cod. This trail follows sandy expanses and over the heights of Great Island and Great Beach Hill.
The walk through sand and the trail's higher elevation gives the avid hiker spectacular vistas as they walk within a thick, pitch-pine forest. Now, pitch-pine may not turn color in the fall, but there are plenty of other shrubs and foilage that turn color with the change in season. All this, mixed with the Atlantic Ocean backdrop, allows for some spectacular scenery. Although this hike is a nice walk on the beach, it is not for the inexperienced. The soft sand, elevation gains, and 9-mile round trip distance mean you will need to bring your A-game as you hike through the sand.
Fall in Love With Massachusetts
Massachusetts offers a diverse range of hiking experiences, each showcasing the state's natural beauty, especially during the colorful fall season. The Appalachian Trail, winding through forests and state parks, invites solo hikers and families to explore forested landscapes. The Soapstone Hike at Quabbin Reservoir rewards adventurers with a challenging ascent to a stunning viewpoint overlooking Massachusetts' largest lake. The Skyline Trail near Boston offers a taste of nature and urban life with a short but challenging hike that showcases multiple summits and panoramic city skyline views. Bash Bish Falls Trail leads to Massachusetts' largest waterfall, all while offering a short reprieve as you wander through the trees. Finally, the Great Island Trail on Cape Cod provides a unique coastal experience with sandy expanses, pitch-pine forests, and spectacular ocean views, making it a must-visit for hikers seeking coastal beauty with a touch of challenge.
Massachusetts' hiking trails offer something for every level of hiker and a chance to immerse oneself in the splendor of fall. Strap on your boots, bring your friends and family and go out and explore fall the way it was meant to be.