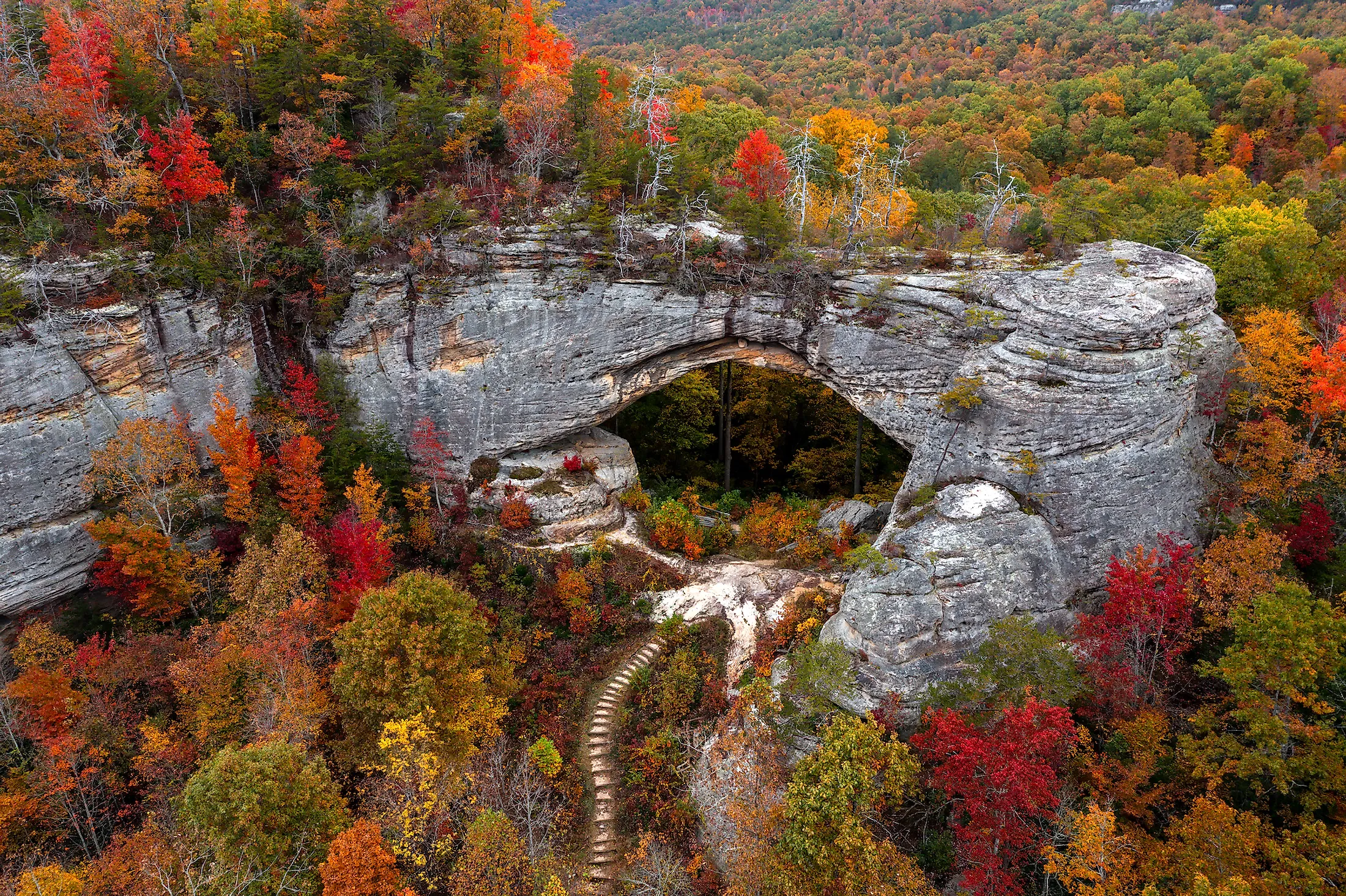 5 Best Fall Hikes In Kentucky
Kentucky is an incredible place for nature lovers to visit, especially in the fall. Filled with dense forests, rocky outcroppings, sandstone cliffs, and beautiful streams, Kentucky provides the perfect backdrop for the leaves as they change color. Although there are many ways to appreciate Kentucky during the fall, one of the best ways to fully experience the season is to feel it beneath your feet.
Hiking gives you the unique ability to experience the nature around you. Instead of watching fall slowly change the land around you from an outside perspective, hiking lets you see fall as it is occurring. There is something entirely different between viewing autumn and walking amongst the trees as fall runs its course. Read on and learn about hikes in Kentucky, which take you from waterfalls in the forest's depths to sweeping fall vistas atop rocky cliffs.
Pinch Em' Tight Trail to Hanson Point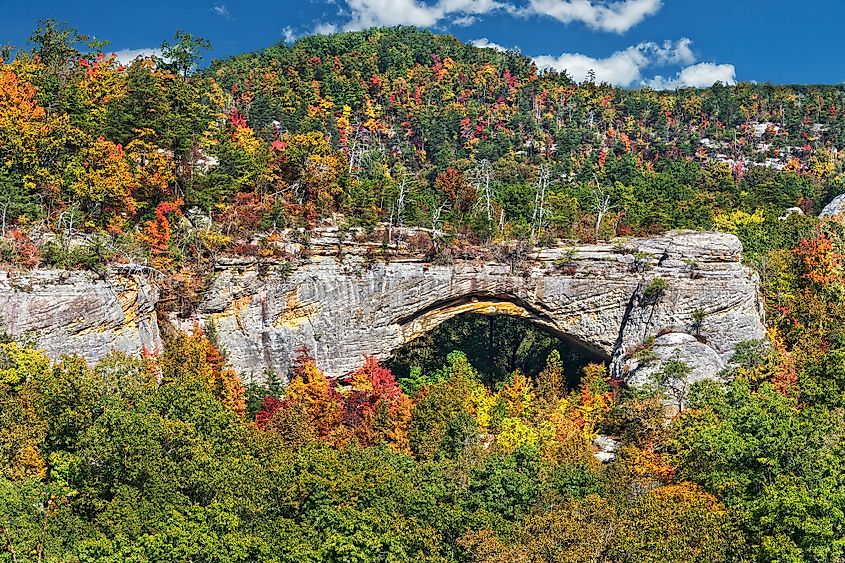 Nestled deep within the awe-inspiring Daniel Boone National Forest in Central Kentucky, Red River Gorge is a fantastic location to check out if you want to experience the beauty fall has to offer. The landscape of Red River Gorge landscape is incredibly rocky, boasting more free-standing stone arches, rocky outcrops, and rock bridges than any other area in the United States east of the Rocky Mountains. This area is so unique that it has been named a National Natural Landmark. Pinch Em' Tight Trail allows you to see the Red River Gorge in all its glory.
The trail is 5 miles long and features almost 700 feet of elevation gain, making the hike challenging. However, the hiker who takes this trail is rewarded with soaring, sweeping views from the top of a rocky ridgeline overlooking the beautiful Red River Gorge. Due to the rocky trail, route-finding can be difficult, so make sure you bring a map! If you are interested in catching fall colors while staying in Kentucky, visit Red River Gorge and take a walk on Pinch Em' Tight Trail! 
Canal Loop Trail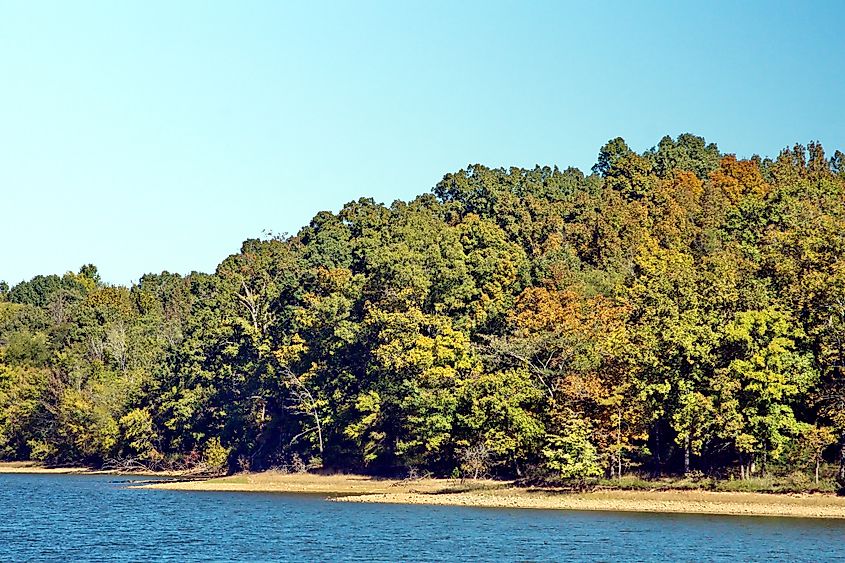 The Canal Loop Trail can be found in southern Kentucky within the Land Between the Lakes National Recreation Area. As its name suggests, this outdoor recreation area is sandwiched between two lakes – the Kentucky and Barkley Lakes. Thanks to its wooded surroundings and proximity to water, this trail not only provides gorgeous autumn views but also serves as a gateway to activities like cycling, fishing, birdwatching, and camping. The trail spans 11 miles and has an elevation gain of almost 1000 feet, making it of moderate to challenging difficulty. However, this extended route offers a comprehensive experience of all that the Land Between the Lakes has to offer.
The trail meanders through forested hollows and open glades, traversing multiple creeks and passing by the remnants of homesteads. Moreover, it provides opportunities to explore the picturesque shorelines of both the Kentucky and Barkley Lakes. This trail can be comfortably completed within a day, and you can find designated spots along the way where campfires are allowed, making it an ideal spot to pause for a picnic and savor the autumn scenery. Whether solo or as a group, this hike is a fantastic way to experience fall if you are in southern Kentucky!
Mammoth Cave National Park Trail System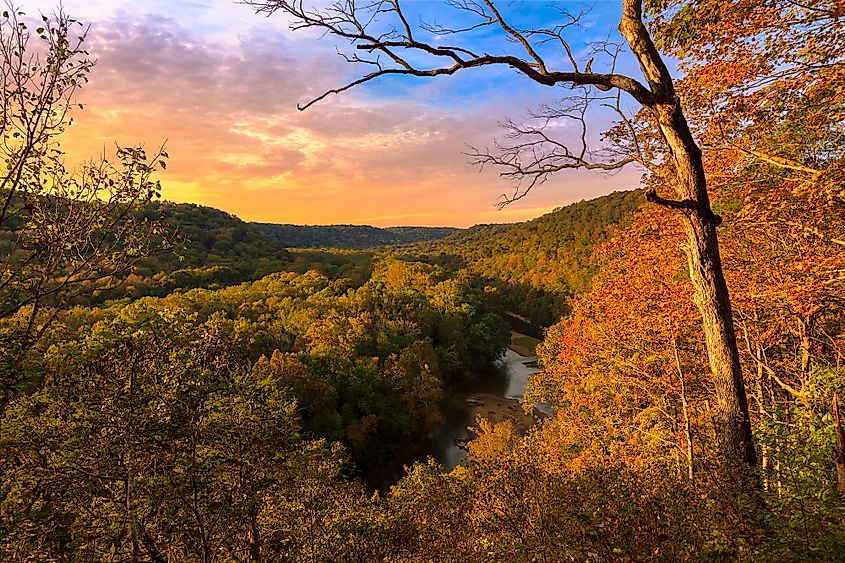 Mammoth Cave National Park is best known as the home of the longest cave system in the world; however, it has miles upon miles of beautiful hiking trails. This national park is heavily forested and filled with rocky geological features, making it a great place to hike in the fall! Almost all the trails in this park are interconnected, so it can be challenging to pick a route that makes the most of the beautiful fall scenery in the area. However, the combination of the Green River Bluff, Echo River Springs, Sinkhole, and Heritage Trails create a short, moderately challenging 4-mile loop trail, which allows the autumn hiker to experience a wide variety of scenery in a short period.
On this hike, you will see trees, follow streams, rough it over rocky terrain, and walk along towering bluffs. It truly allows you to experience the different views fall has to offer. This trail is easy to find, as it begins at the park's picnic area, which is accessible by car. All you need to do is follow the clearly marked trails!
Three Forks Of Beaver Creek Trail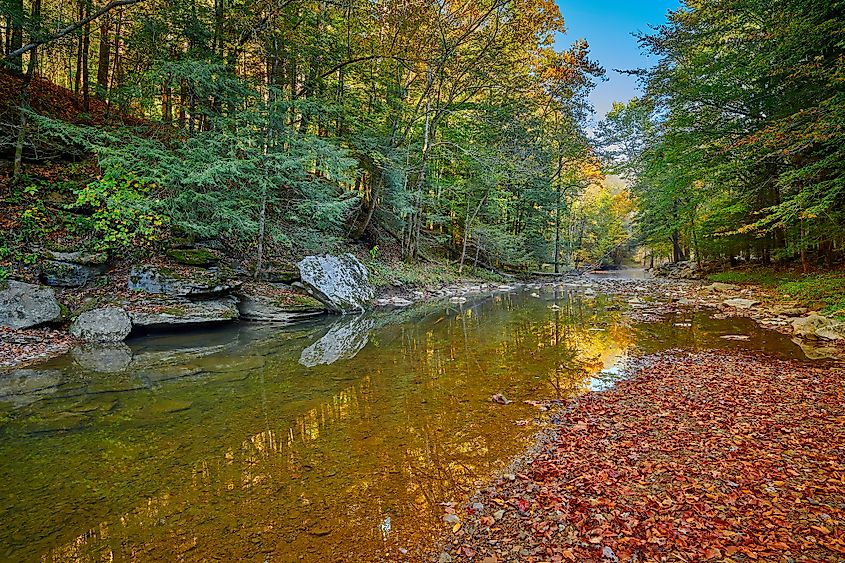 As another trail found deep within Daniel Boone National Forest, the Three Forks trail has much to offer. Found just off Service Road 51 in the wilderness of Beaver Creek Wildlife Management Area, this trail is best suited for fall hikers who want to experience the forest in its more primal state. The Beaver Creek Wildlife Management Area is extremely secluded, and the trails are not always well-marked, so you will need to bring a map. However, with this seclusion comes the opportunity to experience fall without the interruptions of other hikers or signs of modern life – it is the perfect hike to take when you need to disconnect from the business of everyday life.
The trail itself is only 3 miles long and relatively simple, making it a great hike to bring children along! It takes you along a winding river to the base of rocky bluffs and provides a stunning valley view of the surrounding forest atop a cliff ledge, which is only accentuated with the colors of autumn! In addition, the area used to be the site of an old coal mine in the early 1900s. Lucky hikers might even see remnants of the past as it is slowly reclaimed by nature.
Copperas Falls Trail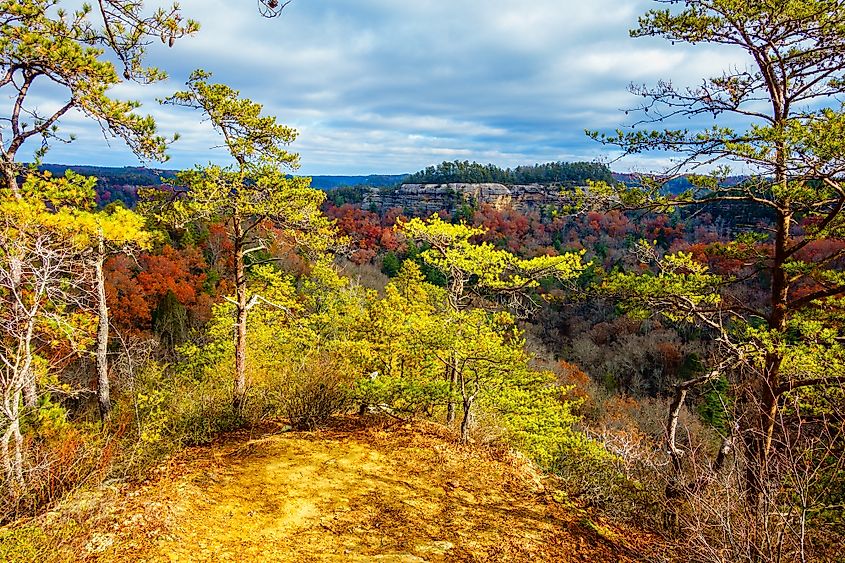 Found in the northeastern part of the Red River Gorge Geological Area, Copperas Falls Trail is another off-the-grid, immersive experience into the rugged woods of Kentucky. This trail is a local favorite - it is not an official trail, but a well-worn path has formed from years of avid nature-seekers coming to the falls. The trail itself follows Copperas Creek the entire way, allowing you ample opportunity to enjoy the serenity of fall with the gentle water backdrop. This trail takes you around rocky bluffs, under stone arches, and reaches its climax at its namesake: Copperas Falls. The falls themselves pour off a massive rock shelf and cascade down into a small basin almost entirely surrounded by rocky cliffs. If you choose to hike on an especially hot fall day (or if you like to cold plunge), you are allowed to go for a swim! Just make sure you do so safely.
Despite not being an official trail, this hike can be easily found due to its popularity. However, do not let its popularity fool you – it can be difficult to find your route at times, so you will need to be vigilant while hiking. The trail has minimal elevation gain and is only 3 miles long, making it a perfect day hike to take with anyone!  
Hiking the Kentucky wilderness during fall is an unforgettable experience. Kentucky's dynamic landscapes, ranging from the rocky outcrops of the Red River Gorge to the wooded trails of Mammoth Cave National Park, offer hikers the opportunity to experience the changing colors of autumn. Whether you want panoramic vistas, serene creek-side walks, or off-the-beaten-path adventures, these carefully selected trails provide a variety of ways for you to let the beauty of fall truly sink in. So, suit up, grab a map and maybe some snacks, and embark on the journey of your choice to witness the splendor of Kentucky in its autumn glory. Just be sure to do it before all the leaves fall!