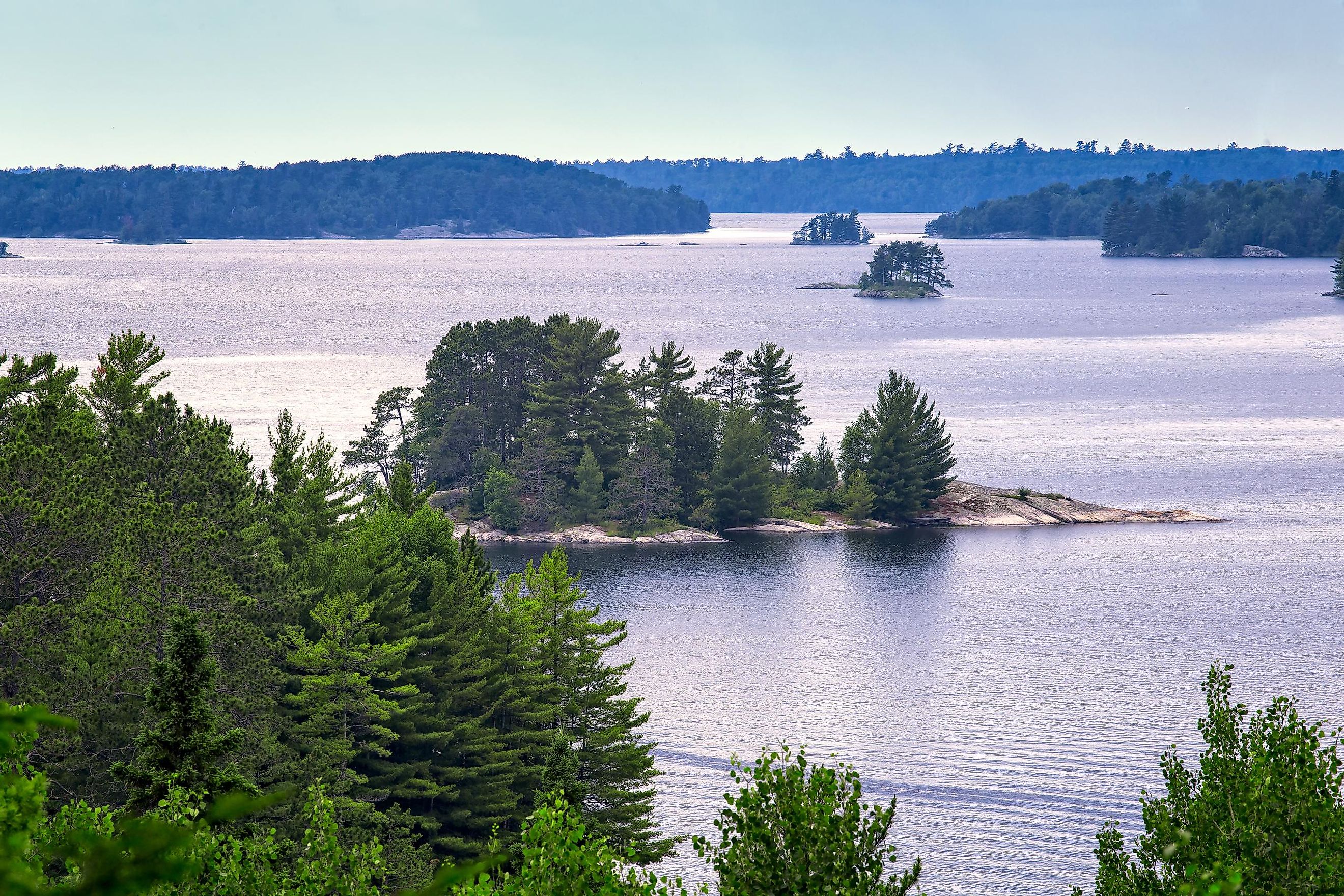 Lake Kabetogama, Minnesota
Nicknamed the "Land of 10,000 Lakes," the American state of Minnesota is home to an abundance of beautiful lakes. With a total of 11,842 lakes in the state, there are countless miles of water to explore. Lake Kabetogama is one of these spectacular lakes of the state and is located in St. Louis county. This lake is known for housing a vast range of aquatic animal species and is also one of the largest in the state. Moreover, it lies parallel to the nearby Rainy Lake, giving both water bodies an interesting shared history. 
Geography Of Lake Kabetogama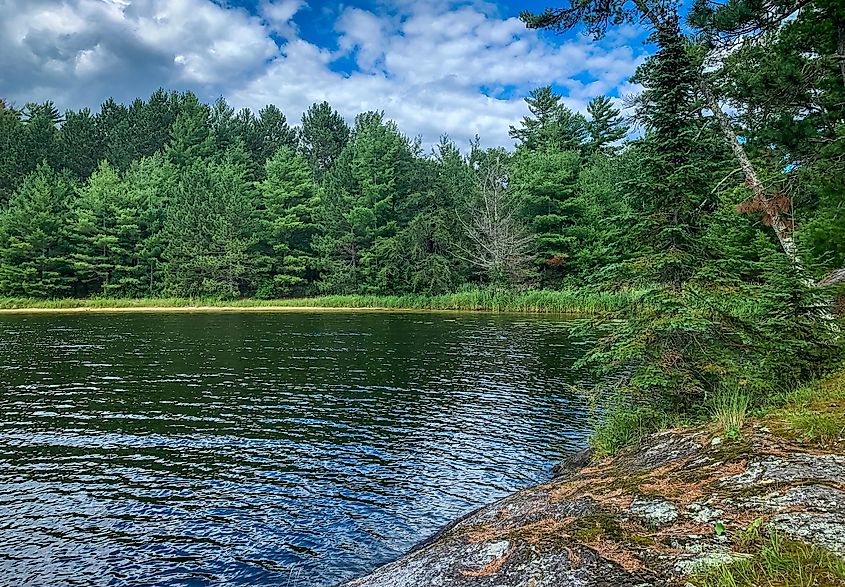 Lake Kabetogama is located in the Voyageurs National Park in St. Louis County in the northern part of the state, which is also right below the U.S.-Canada border. It is surrounded in the north and east by other lakes, such as Rainy Lake, which runs parallel to Lake Kabetogama with only a thin strip of land separating them. Lake Kabetogama itself is also quite large, with a total surface area of 40.25 square miles, which puts it among Minnesota's largest inland lakes. Moreover, with a depth of more than 80 feet at its deepest point, this lake is quite profound. Get out of the water and you can still find a whopping 78 miles of shoreline and more than 200 small islands, which are great for recreational purposes. If you plan to go here, you can reach this lake from the nearby city, International Falls, via U.S. Highway 53.
Climate Of Lake Kabetogama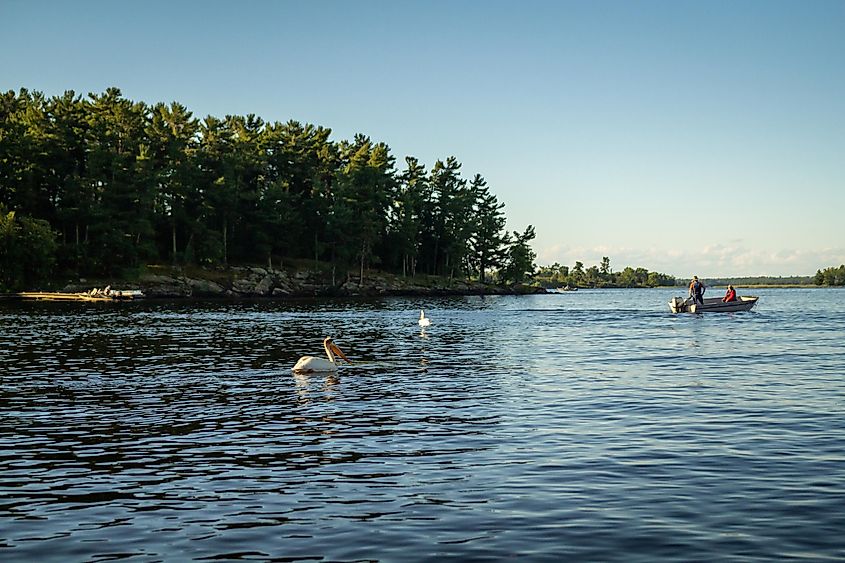 Similar to most of Minnesota, Lake Kabetogama is located within a Warm-summer humid continental climate type according to the Koppen Climate Classification. This major climate type has seasonal temperatures with hot summers and cold winters. Thus, temperatures at Lake Kabetogama also vary quite drastically throughout the year. Summers can reach average highs of 77 °F during the hottest month, July. On the other hand, winter temperatures go far below freezing and can fall to averages of 0 °F in January, during which time the lake freezes over.
In terms of precipitation, the lake gets both rain and snow as the region stays below 32 °F for four months, from November to March. However, with winters being significantly wetter at Lake Kabetogama, there is a much higher percentage of snowy days, with each winter month getting snow for approximately 20 days! However, this chilling environment is offset by the abundance of sunny days throughout the rest of the year, with August getting an incredible 240 hours of sun on average.
History Of Lake Kabetogama
As it is located just south of Rainy Lake which has often been more popular, Lake Kabetogama's history is majorly overshadowed by its parallel neighbor. That being said, Rainy Lake has also been of major cultural significance, which is why the indigenous peoples' Ojibwe language named Lake Kabetogama "Gaa-biitoogamaag-zaaga'igan," which translates to "the lake that lies parallel with another lake." Similarly, French fur trappers in the region referred to Lake Kabetogama as Travere, which means "alongside" due to its position alongside Rainy Lake. Apart from that, Lake Kabetogama has been known for long as a lake with a rich ecology and beautiful surroundings. However, it is still frequently overshadowed by its northern partner lake.
Ecology And Recreation In Lake Kabetogama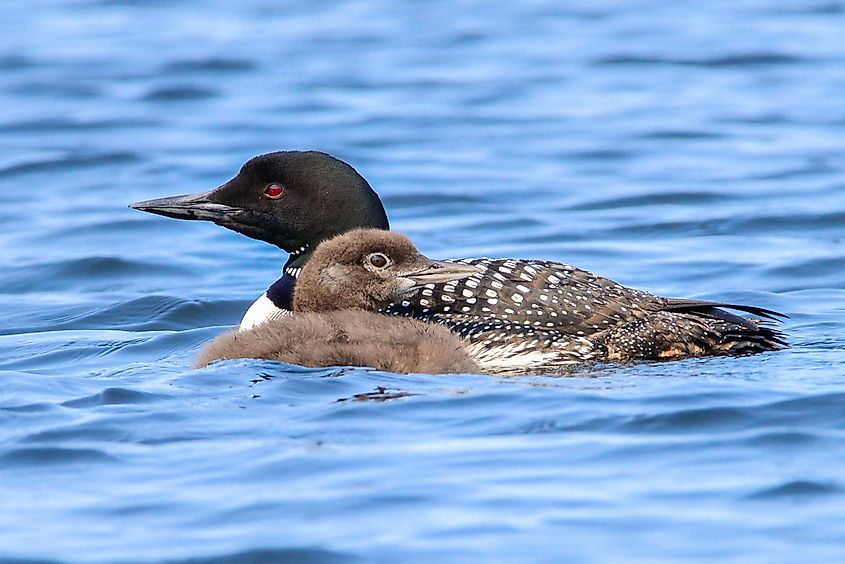 One of the most noteworthy features of Lake Kabetogama is its rich animal life which is teeming with many unique fish species. Specifically, you can find species such as Black Crappie, Silver Redhorse, Smallmouth Bass, White Sucker, Tullibee, Lake Whitefish, and many others within the lake. It is also home to a large walleye population, a popular species among anglers. Apart from fish, the lake and its surroundings are home to animals such as the Green Frog, Painted Turtle, eagles, and more. Similarly, plant life is also abundant with a range of beautiful flowers, such as the Northern Blue Flag, Red Clover, Orange Hawkweed, etc., spread throughout.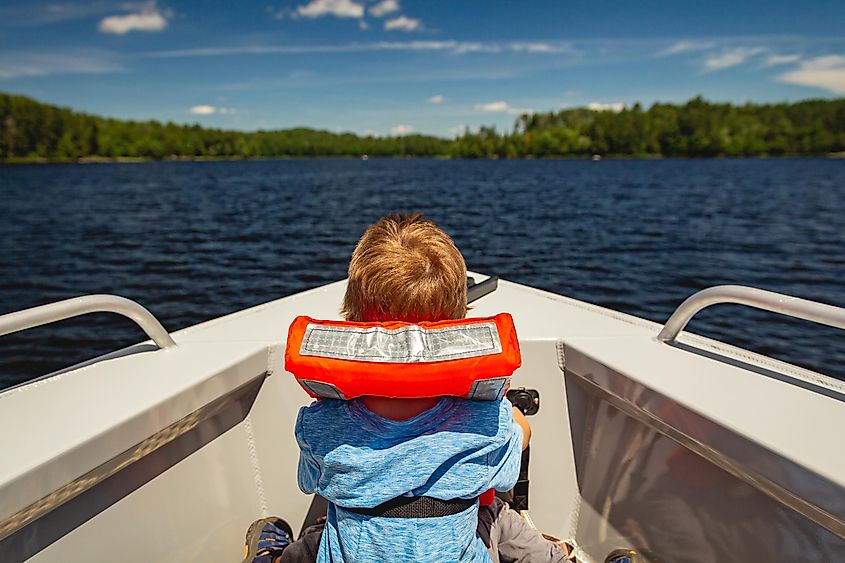 In terms of recreation, this lake's expansive shoreline and large fish population make it ideal for fishing. The walleye population is a key fishing attraction and is easily caught with live bait, while other fish, such as bass, are usually caught with artificial bait. For people who want to spend their day relaxing by the lake, the beautiful Lucette Beach offers scenic views of the surrounding nature. There are also camping opportunities nearby for a weekend trip!
All in all, Lake Kabetogama is a unique lake that often goes under the radar due to its location. So, if you want to spend the day checking out a hidden gem and spend a cozy time in a less-crowded nature destination with your loved ones, this is a lake you need to visit!