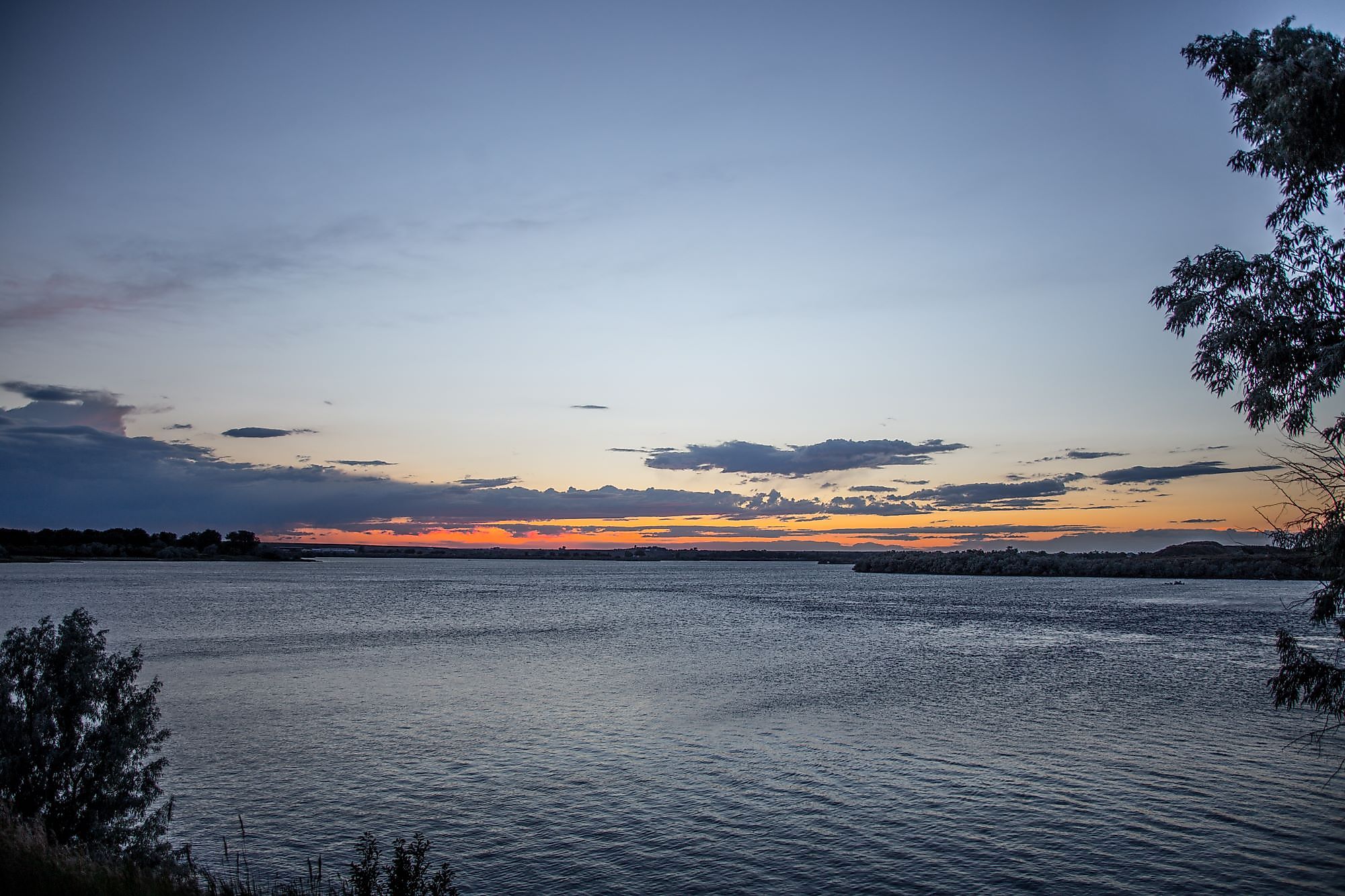 Fort Peck Lake is a vast reservoir created by Fort Peck Dam, the United States' biggest hydraulically filled dam, on the Missouri River in the northeastern portion of the US State of Montana. Fort Peck Lake covers a surface area of 245,000 acres, making it the largest lake in Montana and the 5th largest manmade lake in the United States. In addition to flood prevention, one of its original goals, when developed in the 1930s, the reservoir's another goal was to provide employment in a depressed economy. Fort Peck Lake is a gem in Montana revered for its size and the several recreational activities it offers. Six recreation sites have access to fishing, hunting, and water sports within a few miles of the Fort Peck Dam.
Geography Of Fort Peck Lake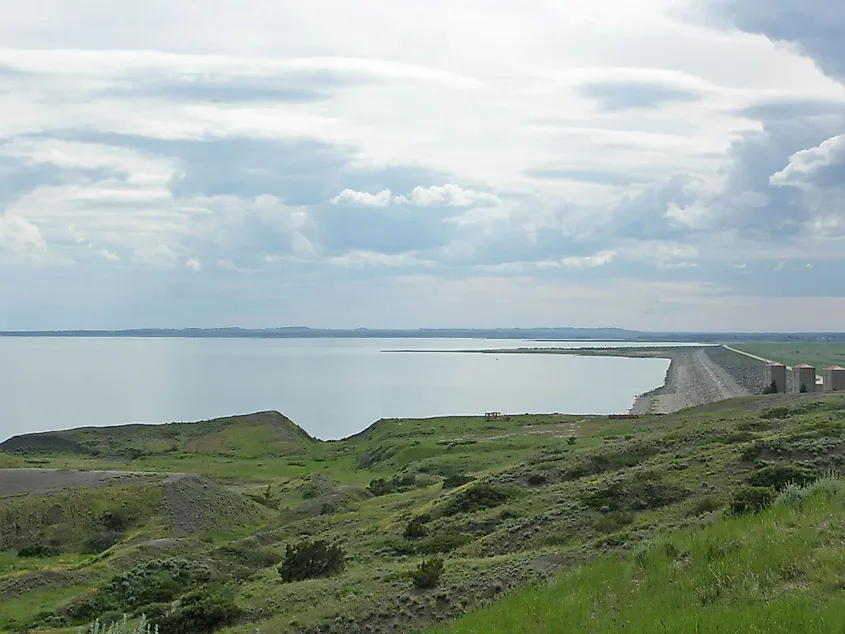 The Fort Peck Lake reservoir is located about 230km east of Great Falls and 190km north of Billings. Fort Peck Lake has a length of 216km, an average depth of 23.3m, a maximum depth of 67m, and a 2,450km long coastline. Located adjacent to the town of Fort Peck, the Fort Peck Dam has a length of 6,409m and a height of more than 76m. The entire reservoir is surrounded by the Charles M. Russell National Wildlife Refuge, which covers an area of 4,450 sq. km. 
History Of Fort Peck Lake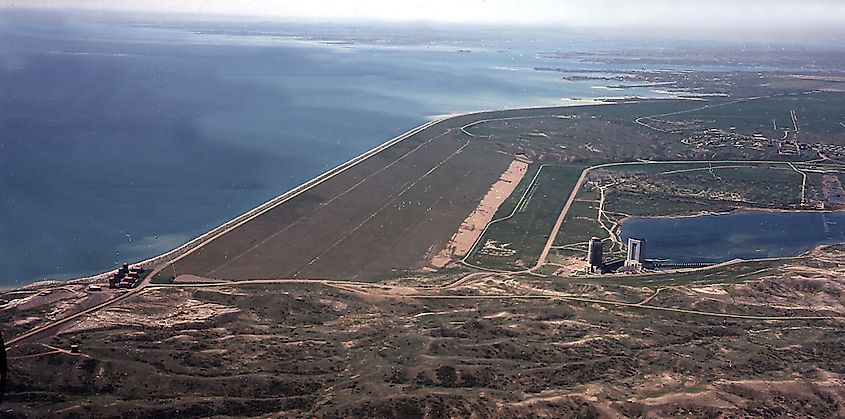 The 76m high Fort Peck Dam was constructed by the US Army Corps of Engineers in 1933. President Franklin D. Roosevelt approved the Fort Peck project, which during the Great Depression, gave individuals over 10,000 work opportunities. In 1938, a sizable slip stalled construction on the dam. The dam, which has the name of a trading station from the nineteenth century, was finished in 1940 and started producing energy in July 1943. Fort Peck Lake is utilized for fish and wildlife, recreation, irrigation, navigation, public water supply, flood damage reduction, enhanced water quality, and hydroelectric power generation, in addition to its many other uses.
Wildlife In Fort Peck Lake
Fort Peck Lake is located within the Charles M. Russell National Wildlife Refuge. The 3,706.17 sq. km of natural terrain that makes up the Refuge encircles the lake entirely. Mule deer, elk, bighorn sheep, buffalo, pronghorns, sage grouse, ducks, and bald eagles are found in the area. 
Fishing is a popular sport at Fort Peck Reservoir since it is said to have more than 50 different species of fish. Fort Peck Lake is mostly known for trophy pike, lake trout, and walleye and offers outstanding fishing all year long. Bass, catfish, crappie, walleye, trout, sunfish, perch, salmon, paddlefish, sauger, and pike all have thriving populations in the lake. During the warmer months, major lake points and ledges close to the river channel make excellent fishing spots.
Recreational Activities In Fort Peck Lake
Camping
Around Fort Peck Lake, there are two primary campgrounds: "West End Tent and Trailer Campground" and "Downstream Campground." There are approximately 100 camping sites between them, and although the first one is a little farther away, it is far less crowded and has some lovely lake views.
Hiking
If you enjoy exploring isolated, vast landscapes, this lake's entire region is a hiker's dream. Hiking the numerous Missouri River trails, such as Beaver Creek Nature Trail and Hell Creek Trail, is one thing, but Fort Peck Lake's shoreline gives any hike a sense of the vastness and openness of the landscape, which is truly breathtaking.
Fort Peck Lake is currently renowned as a haven for outdoor leisure, despite its former fame as the site of the first dam built along the Missouri River. For many tourists, Fort Peck Lake's greatness stems from its seclusion and isolated location, which makes it a wonderful getaway to escape from the busyness of daily life.