California can be blazing hot, and the closer you inch to the equator, the higher the heat. So for your own sake and medical safety, visiting one of these refreshing and cooling lakes is essential for survival (at least, that is all your boss needs to know). Thankfully, the fiery geologic events of California's past were gracious enough to carve out these nine sweet little sanctuaries; it is in bad taste to refuse a gift, after all. So do yourself a favor and take a glimpse at what Southern California has to offer you on a sweltering summer day.
Big Bear Lake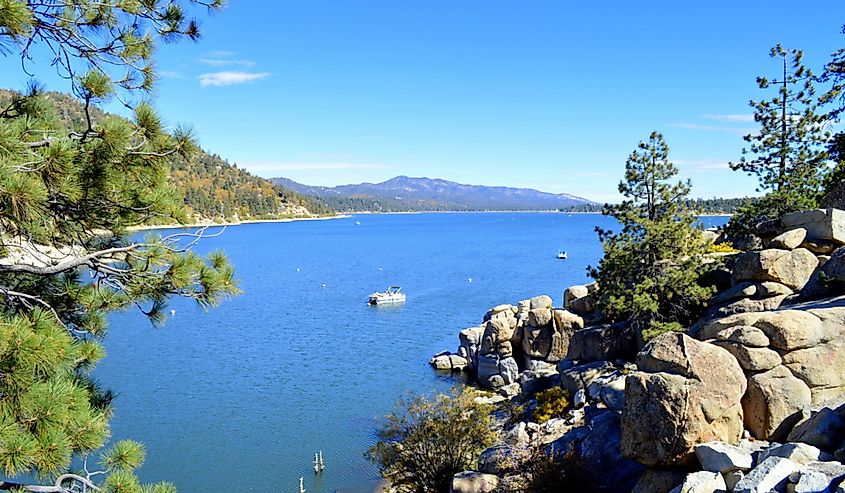 Nestled high in the San Bernardino Mountains, Big Bear Lake offers a stunning retreat from the hustle and bustle of city life. Surrounded by lush forests and spectacular mountain vistas, this lake stretches over 2,900 acres and reaches depths of up to 72 feet. Visitors enjoy a variety of recreational activities, including fishing, boating, and hiking along the many surrounding trails. In winter, the nearby ski resorts provide ample opportunities for skiing and snowboarding, making Big Bear Lake a year-round destination for outdoor enthusiasts.
Lake Arrowhead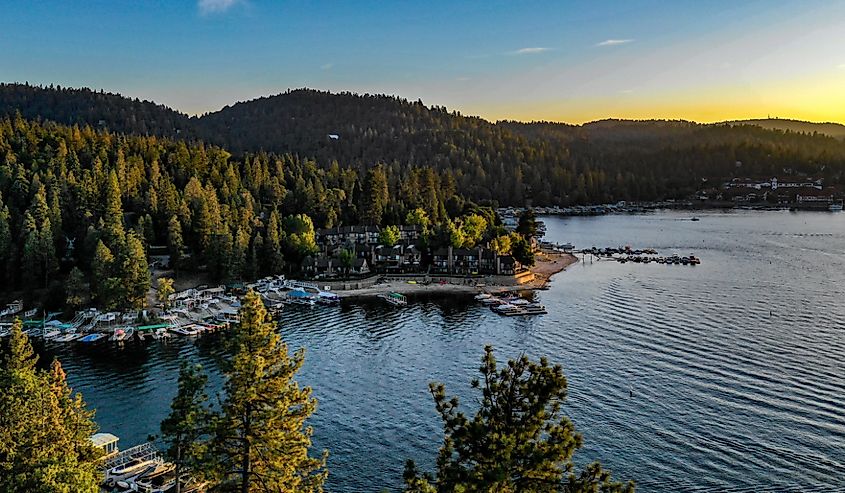 Lake Arrowhead, another prize of the San Bernardino Mountains, is a private lake known for its pristine waters and idyllic atmosphere. The lake covers approximately 780 acres and features 14 miles of forested shoreline. Although access to the lake is exclusive to residents and their guests, visitors can still appreciate the area's beauty through scenic drives, hikes, and a picturesque village offering shopping, dining, and entertainment options. The surrounding mountains and lush greenery create a serene backdrop for this beautiful alpine oasis.
Silverwood Lake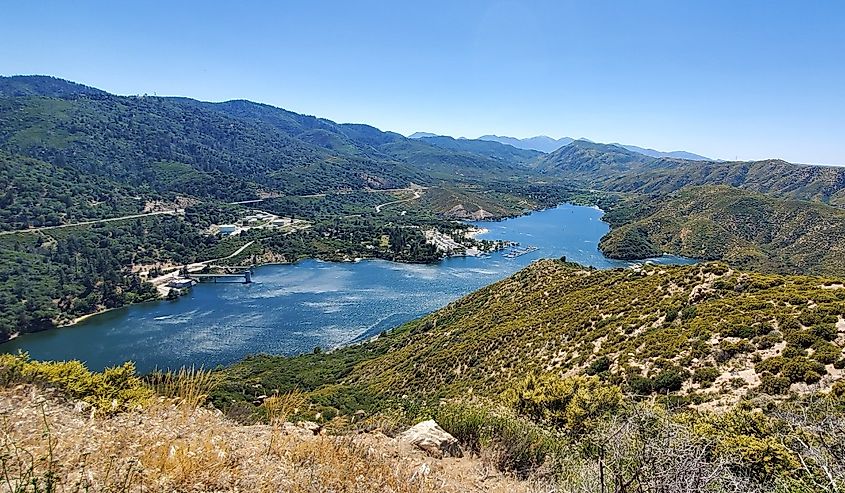 Silverwood Lake, a popular state recreation area located in the San Bernardino National Forest, covers 976 acres and offers a range of activities for visitors. The lake, created by the construction of the Cedar Springs Dam, boasts sparkling waters that attract boaters, anglers, and swimmers. The surrounding park provides ample space for picnicking, camping, and hiking along the various trails. With its clear waters, Silverwood Lake offers an inviting and refreshing escape from the heat of the Southern California summer.
Lake Perris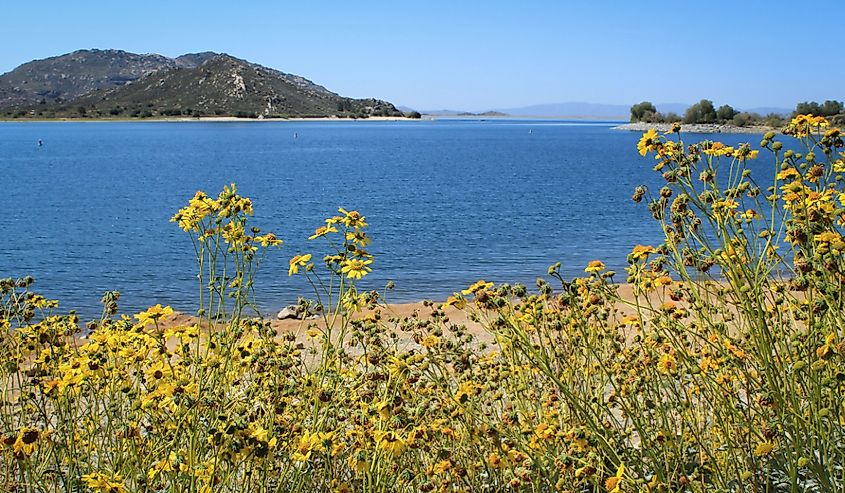 Lake Perris, situated in the heart of the Lake Perris State Recreation Area, and spanning 2,250 acres, is a reservoir that serves as a hub for outdoor recreation in Riverside County. The lake's clear blue waters are perfect for boating, fishing, and swimming, while the surrounding parkland offers opportunities for hiking, biking, and horseback riding. The shoreline features several sandy beaches and picnic areas, making it a desirable destination for families seeking a fun day out in nature. The nearby Bernasconi Hills provide a striking backdrop for this beautiful Southern California lake.
Lake Skinner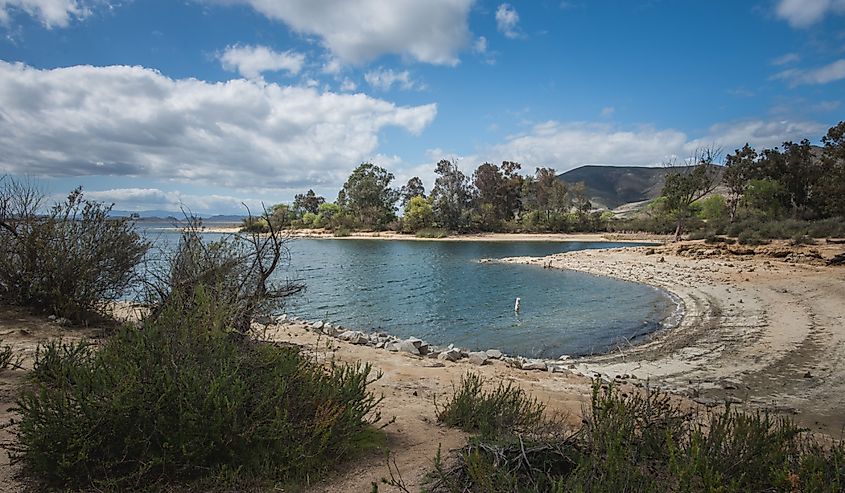 Located near the rolling hills of Winchester, Lake Skinner is a popular recreational spot known for its pristine waters and scenic surroundings. The lake, which spans over 1,200 acres, offers ample space for boating, fishing, and kayaking. The surrounding park features expansive picnic areas, a campsite, and miles of hiking trails that wind through the hills and valleys. Lake Skinner is also home to the annual Temecula Valley Balloon and Wine Festival, a lively event that showcases the region's local wineries and offers breathtaking hot air balloon rides over the picturesque landscape.
Lake Cuyamaca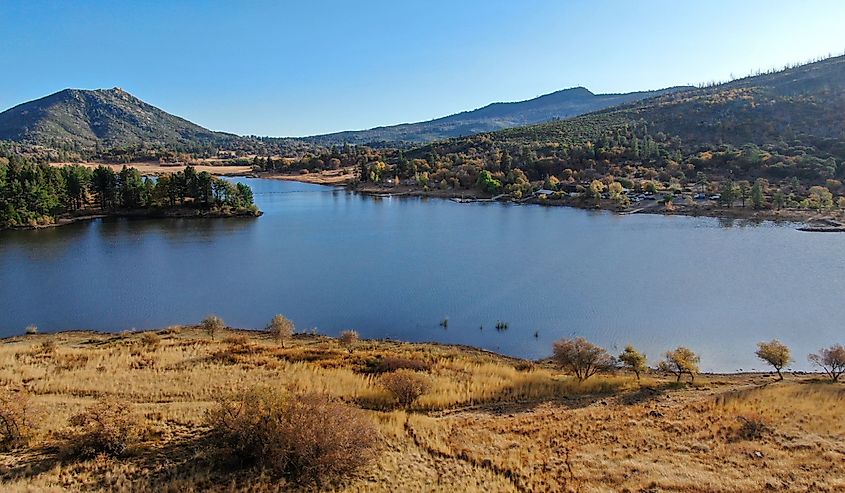 Set against the backdrop of the Cuyamaca Mountains in San Diego County, Lake Cuyamaca offers a tranquil retreat for nature lovers. This 110-acre reservoir, surrounded by the Cuyamaca Rancho State Park, features crystal-clear waters that are perfect for fishing, boating, and birdwatching. The lake, stocked with trout, bass, and catfish, is a popular destination for anglers. The surrounding parkland offers a variety of hiking trails, picnic areas, and campgrounds, providing an incomparable setting for a weekend getaway or a day trip.
Lake Casitas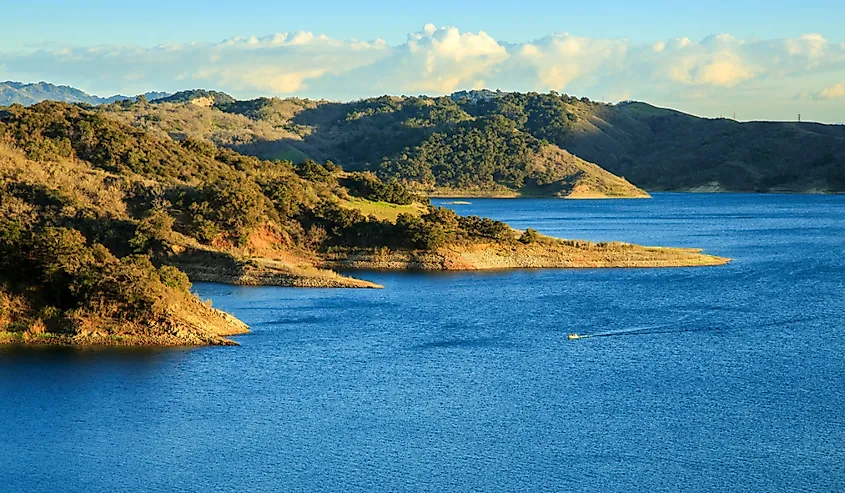 Lake Casitas, situated in Ventura County, is a large reservoir that serves as a vital water source for the region and a haven for outdoorsy types. Covering an area of 2,760 acres, the lake boasts crystal-clear waters that are perfect for fishing, boating, and kayaking. Anglers flock to Lake Casitas for its excellent bass fishing, while birdwatchers delight in the variety of migratory and resident bird species found around the lake. The surrounding park provides numerous picnic areas, campgrounds, and hiking trails, making it an ideal spot for a peaceful retreat or a family outing.
Crane Valley Lake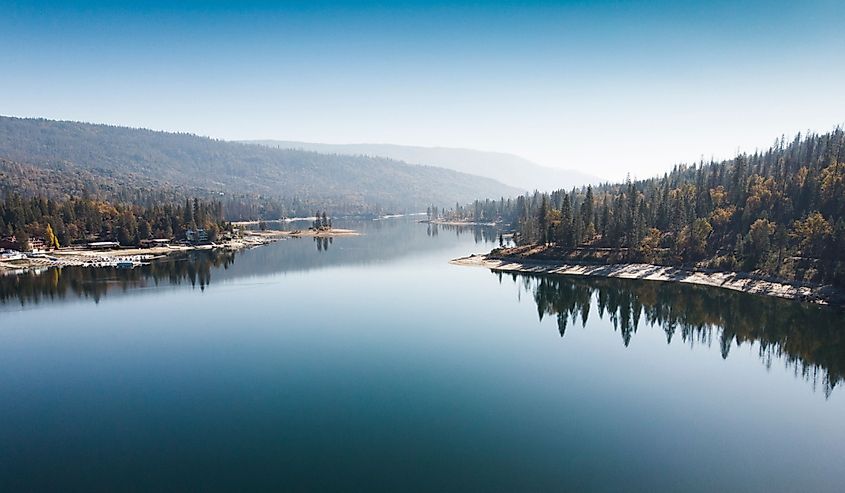 Crane Valley Lake, also known as Bass Lake, is nestled in the Sierra National Forest in Madera County. This picturesque lake, covering an area of 1,100 acres, features calm waters surrounded by towering pines and stunning mountain views. The lake is a common destination for boating, fishing, and water sports, such as jet skiing and wakeboarding. The surrounding forest provides ample opportunities for hiking, mountain biking, and wildlife spotting. With its clear waters and scenic backdrop, Crane Valley Lake is an inviting place for visitors seeking outdoor adventure.
Cachuma Lake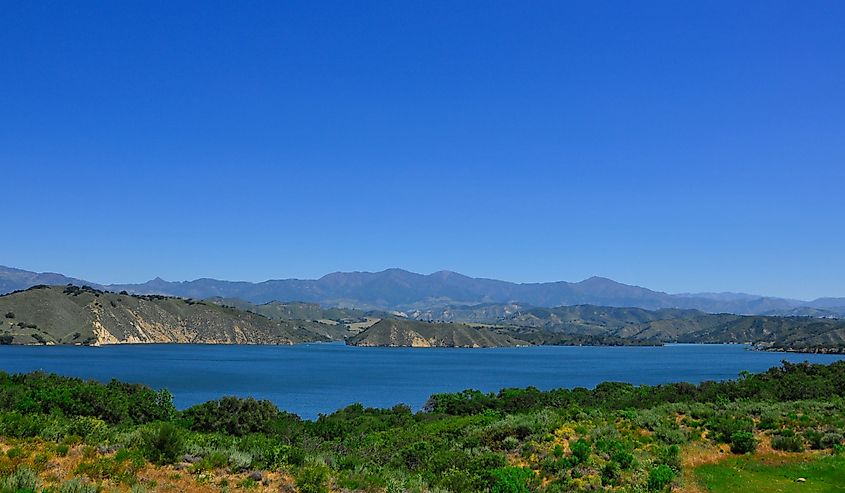 Located in Santa Barbara County within the Los Padres National Forest, Cachuma Lake is a large reservoir that offers a serene escape for nature lovers. The lake, spanning over 3,100 acres, provides an idyllic setting for boating, fishing, and birdwatching, with the majestic Santa Ynez Mountains serving as a backdrop. The lake is home to a variety of fish species, including bass, trout, and catfish, as well as numerous bird species, such as bald eagles and ospreys. The surrounding parkland features campgrounds, picnic areas, and hiking trails that meander through the rolling hills and oak woodlands.
Southern California's lakes provide a wide array of breathtaking landscapes and recreational opportunities for visitors to explore. From the alpine beauty of Big Bear Lake and Lake Arrowhead to the rolling hills surrounding Lake Perris and Lake Skinner, these bodies of water showcase the region's natural splendor, meaning that cooling off in the summer heat is more appealing than ever. Each of these lakes represents the best of Southern California's aquatic beauty, beckoning visitors to explore its shores and immerse themselves in the great outdoors. Hopefully, the takeaway that guests bring with them is the desire to preserve and protect these oases for future generations.