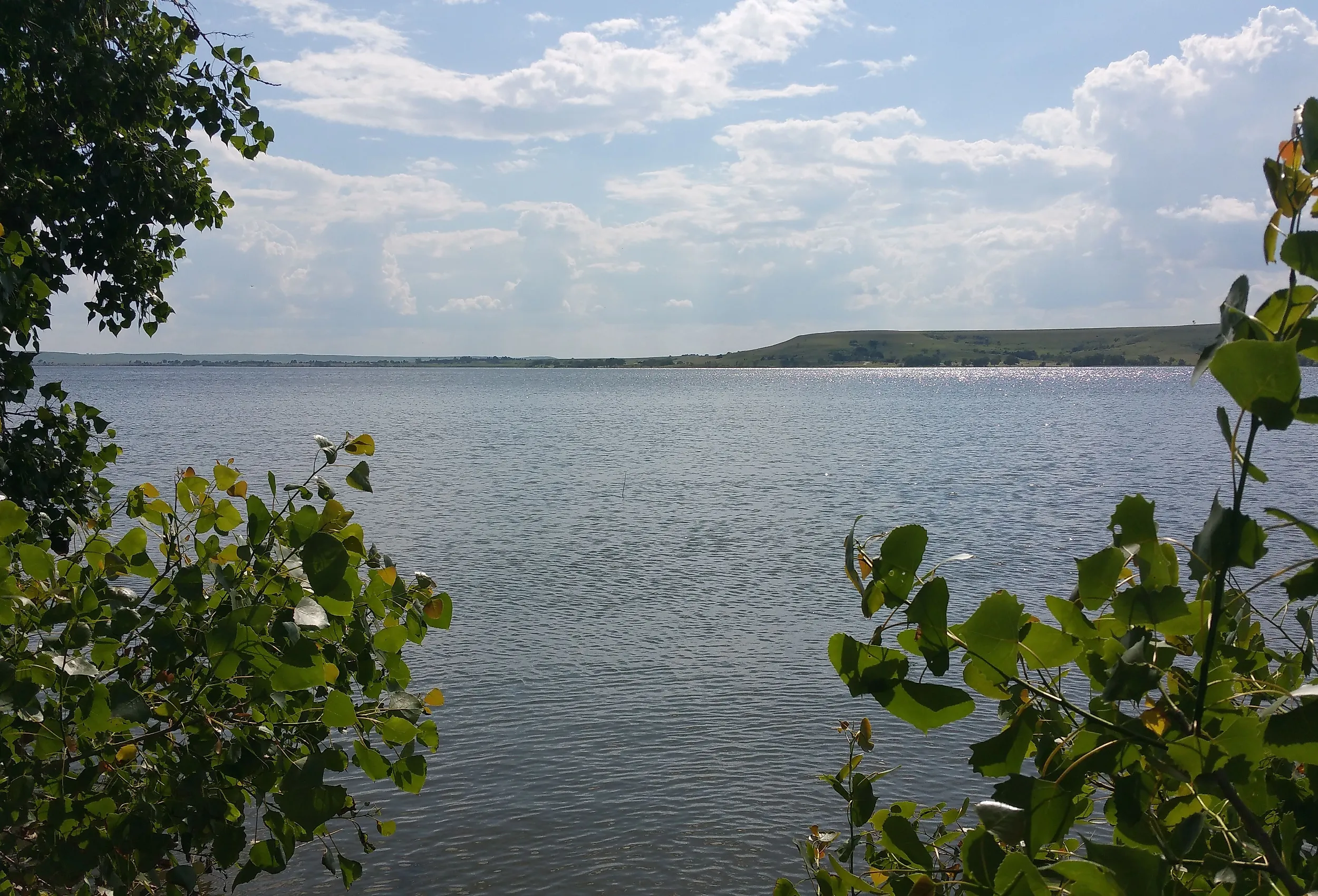 9 Most Beautiful Lakes In Kansas
Unlike states such as Minnesota and Florida, Kansas is not a place that immediately comes to mind when talking about lakes. There are not many natural lakes in Kansas—of the state's estimated 120,000 lakes and ponds, the vast majority are man-made. However, Kansas does have a few natural lakes and numerous reservoirs that are picturesque spots for boating, fishing, sightseeing, and outdoor recreation. Many of these lakes and reservoirs are in state parks, making them easily accessible to residents and visitors alike.
Wilson Lake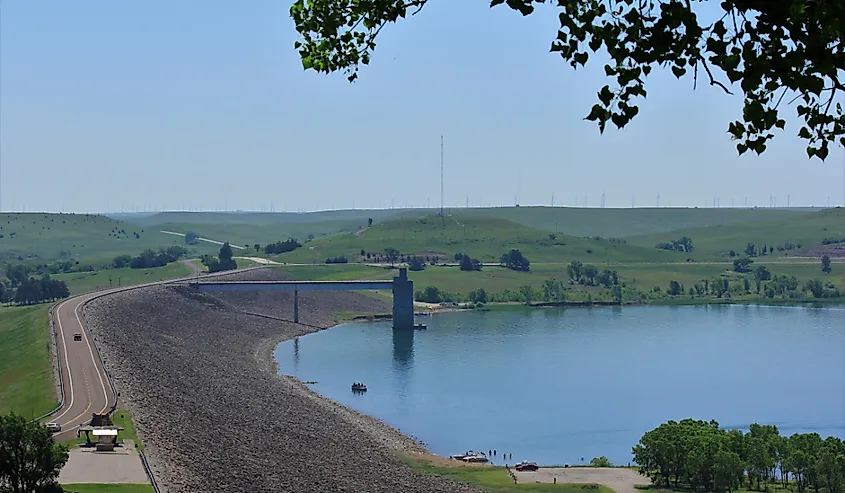 Situated in the Smoky Hills of central Kansas, Wilson Lake is a man-made reservoir that covers around 9,000 acres. It was created by the damming of the Saline River in 1964 for irrigation use, but the elevated salt content of the water made it unsuitable for that purpose. The hilly terrain creates a rugged shoreline, with numerous cliffs and rocky outcroppings that give Wilson Lake a distinctive beauty among Kansas reservoirs. Wilson Lake is also known as one of the best bass fishing locations in the state, while the surrounding game lands are good for small game hunting. Wilson State Park is well regarded for its challenging bike trails, and the 9,000-acre Wilson Wildlife Area is great for sightseeing.
Kanopolis Lake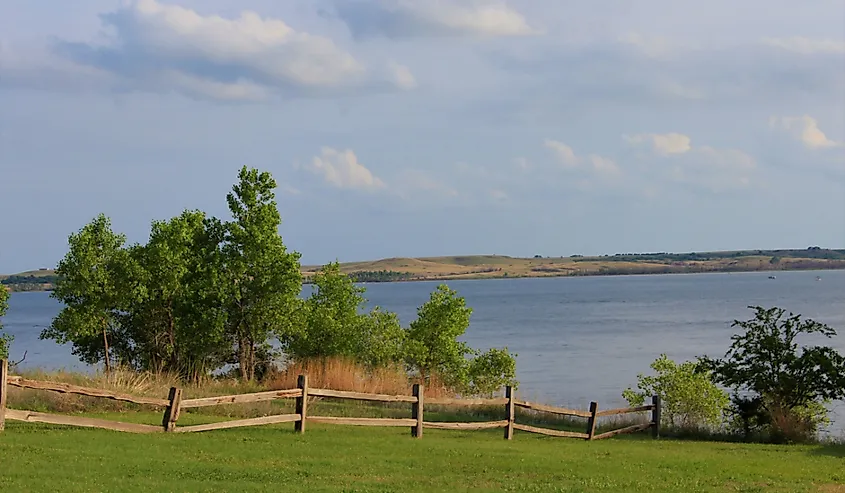 Like nearby Wilson Lake, Kanopolis Lake is in central Kansas' Smoky Hills, giving it a similarly rugged and picturesque shoreline. Established in 1948 with the completion of the Kanopolis Dam on the Smoky Hill River, the reservoir covers around 3,500 acres. The surrounding area includes several attractions, including Kanopolis State Park, Kansas' first state park; the sandstone bluffs and caves of Horsethief Canyon; the 12,500-acre Smoky Hill Wildlife Area; and the Faris Caves, used by 19th-century settlers for shelter and storage. While the reservoir itself provides excellent fishing, the shoreline landscape is great for bird watching, with plentiful songbirds, ospreys, and eagles.
Cedar Bluff Lake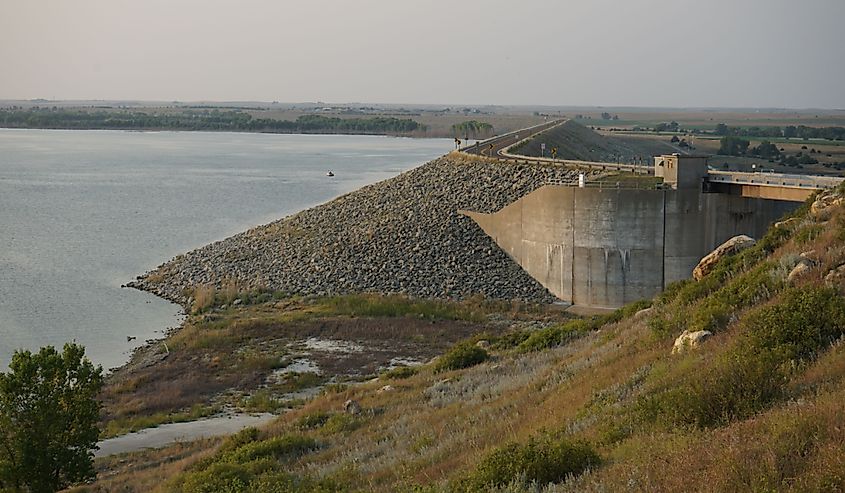 Situated in Trego County in west-central Kansas, Cedar Bluff Lake is a reservoir created by the completion of Cedar Bluff Dam on the Smoky Hill River in 1951. The reservoir, which covers about 6,800 acres, was originally intended for agricultural irrigation in response to the "Dust Bowl" drought of the 1930s but transitioned to use as a recreational area by the 1980s. Cedar Bluff State Park is broken into two separate areas along the reservoir's shoreline: Bluffton Area to the north and Page Creek Area to the west. Bluffton Area is more developed, with bike trails, volleyball courts, rental cabins, and more, while Page Creek Area maintains a more rustic camping experience.
Tuttle Creek Lake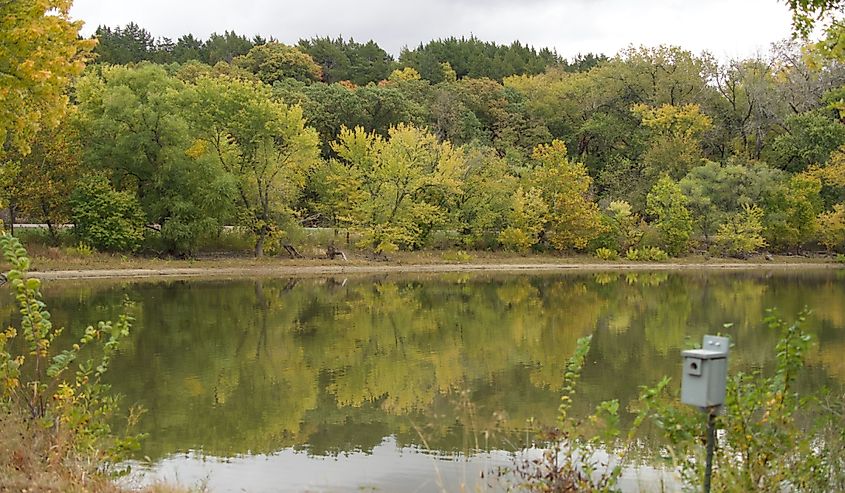 In 1962, a dam was completed on Tuttle Creek to control flooding in nearby Manhattan, Kansas, as well as the city of Topeka further downriver. While the dam continues to provide flood protection, the resulting reservoir, Tuttle Creek Lake, has become a major recreational area in the Flint Hills of northeast Kansas. The reservoir and dam area attract many anglers seeking trout, bass, crappies, flatheads, and more, and surrounding the lake are thousands of acres of hunting and wildlife-watching areas. Tuttle Creek State Park comprises five different areas, each with a range of campgrounds and amenities. River Pond Area, for example, has fully-equipped cabins, a swimming beach, and an archery range.
Council Grove Lake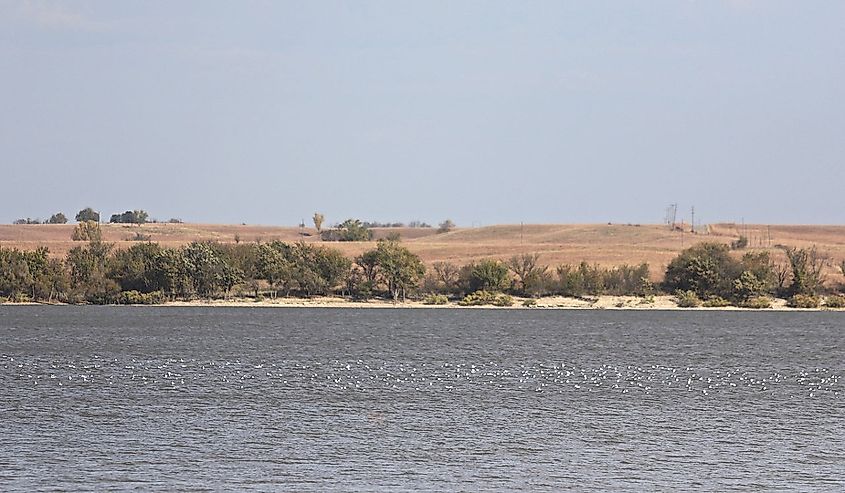 Council Grove Lake is a V-shaped reservoir in east-central Kansas, resulting from a dam built on the Neosho River near the town of Council Grove. While there are no state parks on the lake, the US Army Corps of Engineers (which built and maintain the dam and reservoir) oversees eight park areas around the lake. These areas are great for bird watching, most especially the songbirds in spring, eagles in winter, and migrating ducks, geese, and gulls in both spring and autumn. The state does maintain the Council Grove Wildlife Area to the northeast of the reservoir, and this is an excellent place to see squirrels, deer, and more seasonal birds.
Milford Lake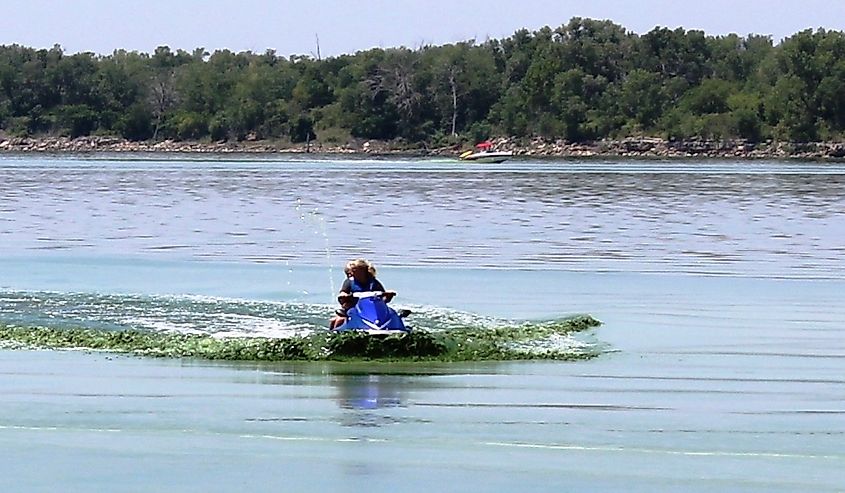 Milford Lake, located in northeastern Kansas near Junction City, is the largest lake in the state, covering nearly 16,000 acres. The lake is a reservoir created by Milford Dam on the Republican River and was first filled to capacity in 1968. Milford State Park, located along the southeastern shore of the lake, is one of the most popular recreational areas in the state. It includes several campgrounds as well as multiple marinas and boat launches that anglers can use to prowl the lake for walleyes, crappies, catfish, and bass. There is also a 19,000-acre wildlife area along the west shore, which is teeming with reptiles, mammals, and birds, including bald eagles.
El Dorado Lake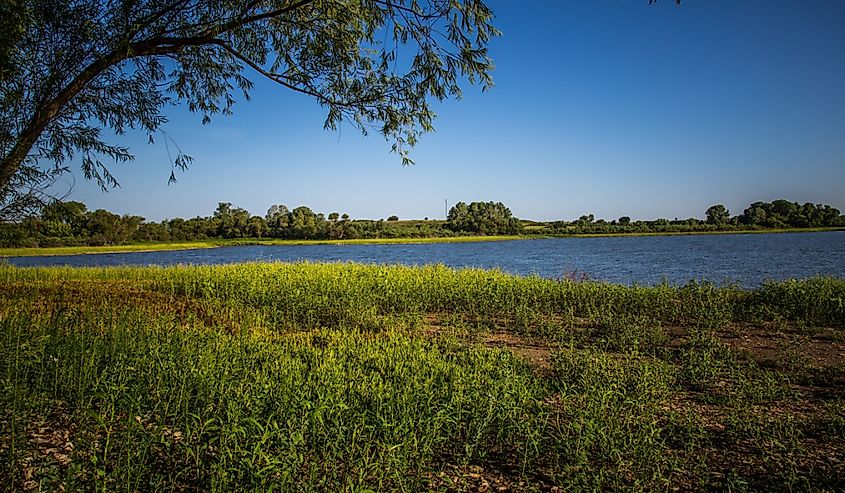 Like most of the larger lakes in Kansas, El Dorado Lake is a reservoir created as a flood control measure in the mid-20th century by the US Army Corps of Engineers. The 8,000-acre reservoir is the result of a dam on the Walnut River, completed in 1981. El Dorado Lake is near the town of the same name in southeastern Kansas, about 30 miles northeast of Wichita. The adjacent El Dorado State Park contains numerous hiking, biking, and horse trails, and the 4,000-acre wildlife area is a great place to spot white-tailed deer, other small mammals, and a wide range of songbirds and waterfowl.
Hillsdale Lake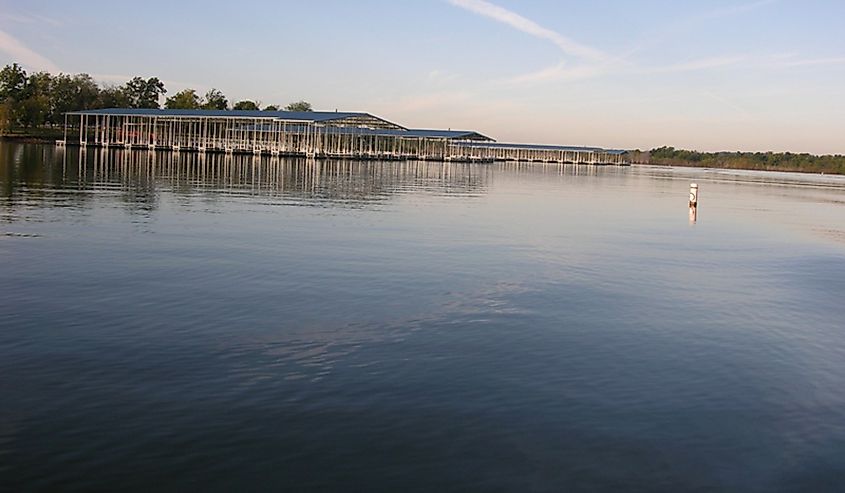 Located just south of the metro area, Hillsdale Lake is about 30 miles from downtown Kansas City, Kansas. This convenient location makes the reservoir, filled in 1982 with the damming of Big Bull Creek, and adjacent Hillsdale State Park extremely popular among urban dwellers seeking an escape into nature. The V-shaped, 4,500-acre reservoir has several beach areas, along with boat launches for anglers seeking walleyes, catfish, bass, crappies, and bluegills. Wildlife watchers will spot deer, otters, hawks, eagles, and more, while hunters can utilize the 7,000-acre hunting area. Meanwhile, horseback riders can enjoy the 32 miles of trails in the Saddle Ridge Equestrian Area along the east shore.
Clinton Lake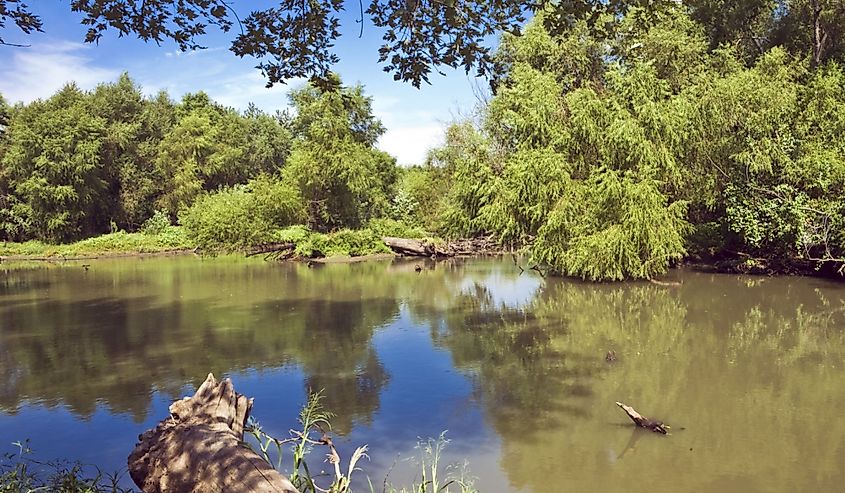 Like Hillsdale Lake, Clinton Lake is a popular escape for urban residents, located just southwest of Lawrence and about 50 miles from downtown Kansas City. Another man-made reservoir (this time from the damming of the Wakarusa River in the 1970s), Clinton Lake covers about 7,000 acres. The lake is well-stocked with fish, while the surrounding woodlands are full of migratory birds and songbirds. The adjacent Clinton State Park has nearly 400 available campsites, nearly half of which are "primitive" (without water or electricity hookups) for those seeking a true return to nature. The park also includes hiking, biking, and ski trails, a beach, and an 18-hole disc golf course.
While it is true that Kansas is not a natural "land of lakes," 20th-century flood control and irrigation measures led to the creation of numerous reservoir lakes spread out across the state. Even if they are man-made, these lakes have become integral parts of the natural landscape, serving as homes for a diverse array of fish, fowl, and other wildlife. So, if you are looking to experience the natural beauty of Kansas, visit any of the nine picturesque lakes.