Nebraska is an underrated, often overlooked state, but that does not hinder its natural beauty influence from calling the names of adventurous travelers across North America! With loads of reservoirs and lakes, Nebraska is not lacking in the bodies of water category boasting loads of natural parks, campgrounds, fishing spots, and more. From small lakes to 35,000-acre lakes spanning across state lines, Nebraska is a charming state with loads to offer. Travelers must ensure they do not miss out on the stunning marine life, interesting history, and outside adventures offered by the great state of Nebraska!
Lake Wanahoo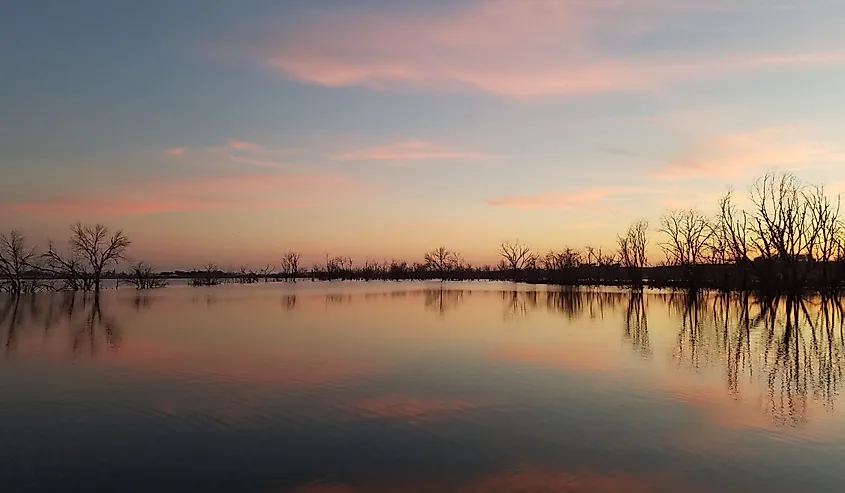 As one of the youngest lakes on this list, Lake Wanahoo was primarily conceived to serve as flood prevention in the 1990s, but, it passed all expectations and began to thrive as a sought-after vacation spot for many visitors across Nebraska. Being a smaller lake unlike some larger bodies of water in the state, its smaller size of 662 acres is not necessarily a bad thing, especially for families with young children. Its size never stopped the stunning lake from hosting a variety of family, young adult, and senior-friendly activities such as swimming, canoeing, kayaking, boating, and fishing. Lake Wanahoo is perfect for a summer heat wave getaway!
Lake McConaughy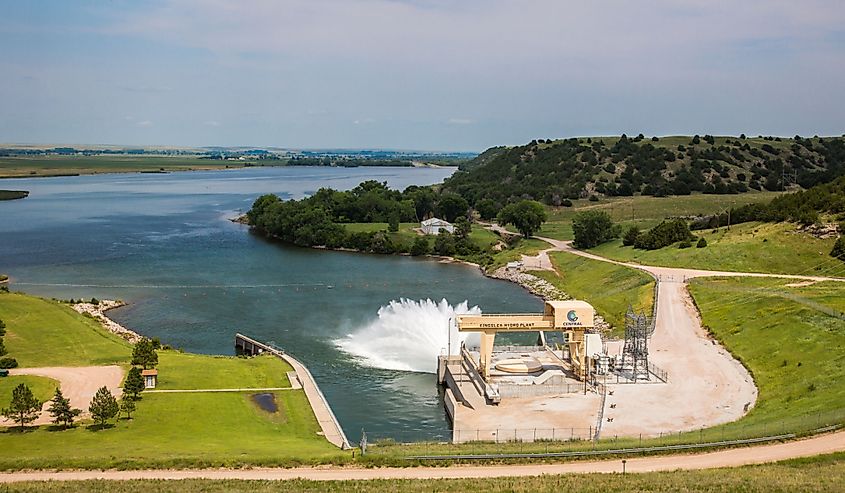 Lake McConaughy, created through the construction of the Kingsley Dam spans over 35,000 acres and takes the cake as the largest reservoir in Nebraska. Named after a former mayor and grain merchant named Mayor Charles W. McConaughy, the stunning Lake McConaughy is a huge and gorgeous lake on the edge of the Nebraska Sandhills. There are amazing camping accommodations like Lake McConaughy State Recreation Area and Little Thunder Bay Campground for visitors looking to stay the night near the lake. Thanks to the lake's beautiful nature and lovely waters, swimming, fishing, and boating are popular activities!
Harlan County Reservoir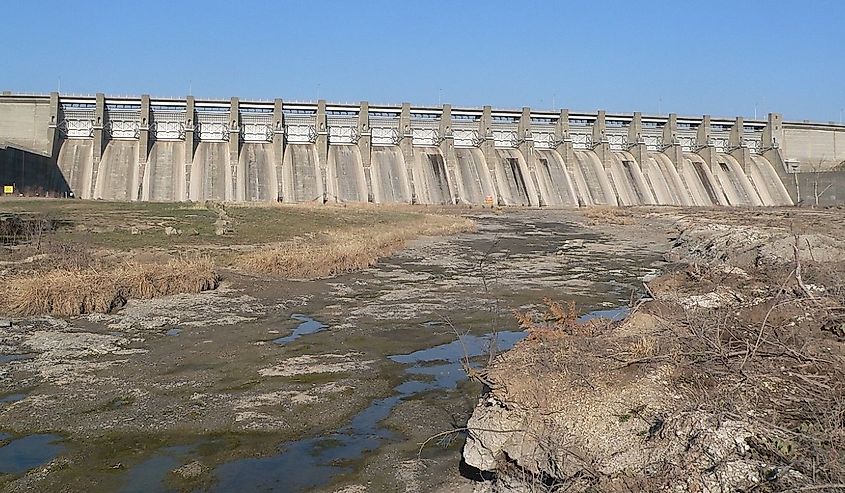 Nestled along the Republican River in beautiful south-central Nebraska, Harlan County Lake is an extremely popular destination for travelers from all over who are searching for the perfect summer getaway. Due to the Harlan County Reservoir's large size covering over 13,000 acres, the beautiful body of water wins the award for being the second-largest lake in the refreshing state of Nebraska. Packed to the rim with fascinating wildlife, must-catch fish, and various tree species, the gorgeous Harlan County Reservoir is a slice of heaven for nature lovers. The lake is home to a variety of fish species such as walleye, catfish, wipers, crappie, white bass, and pike.
Lewis and Clark Lake
At a whopping 31,400 acres, Lewis and Clark Lake is a huge reservoir located in Cedar County, situated around the northeast border of beautiful Nebraska and the gorgeous state of South Dakota. Named after the Lewis and Clark expeditions, the lake sits along the Lewis and Clark National Historic Trail. Fishermen will be beyond excited to toss their lines into Lewis and Clarke lake due to the many different species of fish present including walleye, northern pike, sauger, sunfish, yellow perch, common carp, black bullhead, channel catfish, and smallmouth bass. For horse lovers, there is a large variety of equestrian trails along with wonderful campgrounds. If visitors enjoy golf, you are sure to enjoy the Lakeview Golf Course at the very east end of the Lake on the Nebraska side as well as other recreational areas surrounding the glistening waters.
Glenn Cunningham Lake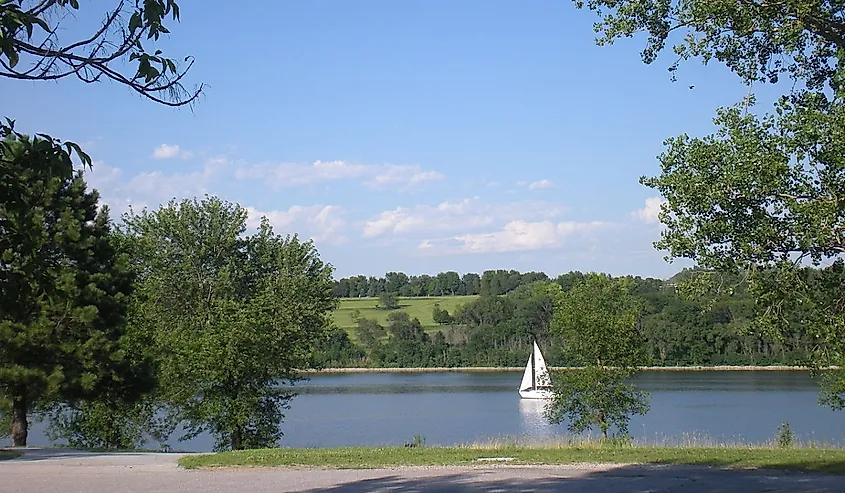 In the lovely Douglas County, the magnificent Glenn Cunningham Lake is a well-loved lake named after former the Mayor and Congressman. Popularly used for sailing and kayaking despite its smaller size of 390 acres, Glenn Cunningham Lake remains a great choice for travelers and a relaxing scenic getaway. Nature lovers are bound to fall in love with the beautiful Glenn Cunningham State Park adorned with spectacular trees and trails. If fishermen are looking for a lake to fish for largemouth bass, then Glenn Cunningham Lake is sure to deliver in that category and is also home to channel catfish and black crappie. Glenn Cunningham Lake is definitely an underrated lake.
Morning Star Lake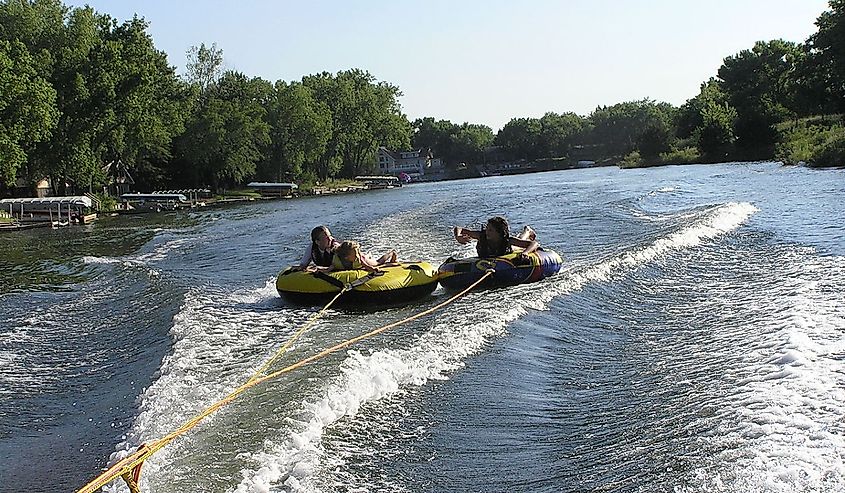 Sitting just east of the Platte River, located near the quaint village of Clarks in Nebraska, Morning Star Lake is a wonderful lake open to the public nestled within the beauty of nature, sure to please families, friends, couples, and individuals who visit. With sparkling, clean, and clear water, Morning Star Lake is perfect for swimming and safe for boating, waterskiing, jet skiing, fishing, and much more. The best time of the year to visit Morning Star Lake is definitely during the lake's Fourth of July celebration, but either way, Morning Star Lake has loads to offer and is surely an amazing travel experience.
Branched Oak Lake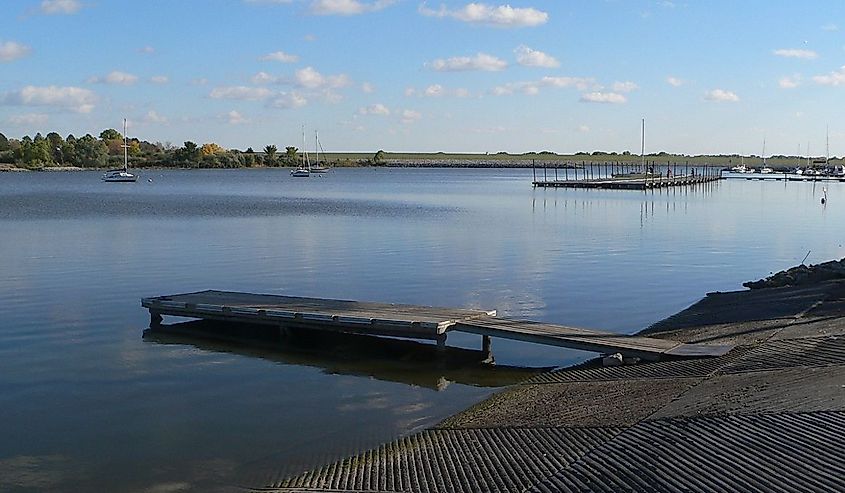 This 1,800-acre lake created for flood control as part of the 20 Salt Valley Lakes is a lake you will never forget, with sunsets decorating the beautiful sky over the stunning lake view, visitors will feel enchanted by Branched Oak Lake. For visitors looking to take a fun swim in this ravishing lake, two swimmable beaches will not disappoint. Other popular activities include boating and camping along the stunning lake area, definitely a relaxing and fun experience for visitors. In terms of marine life, fishermen may find walleye, wipers, largemouth bass, and bluegill. For travelers in Nebraska, Branched Oak Lake is an attractive destination.
Conclusion
Any traveler that crosses into the naturally beautiful and bountiful state of Nebraska will be pleased and enchanted by the gorgeous natural scenery, kind locals, and clear, glistening waters of Nebraska. Whether visitors come as a family, couple, or individual, Nebraska has activities along the state's magnificent lakes for everybody. From big to small, beachy to rocky, tourist-filled, or local, Nebraska is a great destination for camping, swimming, hunting, and fishing. Nebraska may even be the home of your new lakeside cottage.